Carciofi alla Romana is one of the most delicious artichokes recipes in Rome – in fact in Italy. Easily found in many restaurants and trattorie in Rome, it's something we make at home as soon as artichokes are in season.
The traditional recipe calls for Romanesco artichokes, which harvest between February and April, and napitella, a wild herb that grows in some parts of Italy.
For this recipe, I used Sardinian artichokes, which are known for being smaller and softer despite being prickly, and which are actually harvest earlier than Romanesco artichokes.
Curious to learn how to make them? Check out this easy recipe below!
How To Make Carciofi Alla Romana
You don't have to boil the artichokes
Once the artichokes will be trimmed of all the hardest bits and stuffed with the mint and garlic mixture, they will have to simmer really slowly and on low heat and this way they turn really soft and moist. Make sure to add some water as they cook if necessary.
You can add some white wine
You certainly can, as long as it is a dry, white wine. In this case, you will want to pour wine directly into the pot together with the oil, before laying the artichokes.
Dry mint is ok to use
You sure can! I actually use a mix of the two and the result if packed with flavor.
As well as other herbs
This is totally up to you! Some people like adding fresh parsley and oregano to the mix as they think this mix better resembles the taste of nepitella (also known as mentuccia). In this case, the proportion should be: 1 cup chopped parsley, two spoons of chopped mint leaves, two spoons of chopped oregano leaves.
Mint and garlic should be finely chopped
How much, is up to you. If you are a fan of garlic, you can chop it really finely. If like me you'd rather take it out once cooked, leave it nice and big.
Yield: 12
How To Make Carciofi Alla Romana
A very easy recipe for carciofi alla romana that calls for just a handful of ingredients.
Total Time
1 hour
30 minutes
Ingredients
12 medium size artichokes
2 whole lemons (to keep the artichokes fresh)
15 tablespoons extra virgin olive oil
1/2 cup finely chopped fresh mint leaves or nepitella, plus some basil leaves
1 clove of garlic
Salt
Instructions

STEP 1 - CLEAN THE ARTICHOKES
Halve the two lemons and in a large bowl add water and squeeze their juice. You can also leave the leftover squeezed lemons in the water.
Remove the outer leaves of the artichokes, then, with a sharp knife, trim off the rest of the outer leaves with a sharp knife, as shown in this video.
When you are done, chop off the top third of the artichoke, then trim off the greenest and hardest sides of the artichoke.
Remove the furry choke with a teaspoon or a melon baller. You can also use a small knife.
Trim the stem so that the artichoke can sit flat, but save what you chop off, clean it and place it in the pot as well.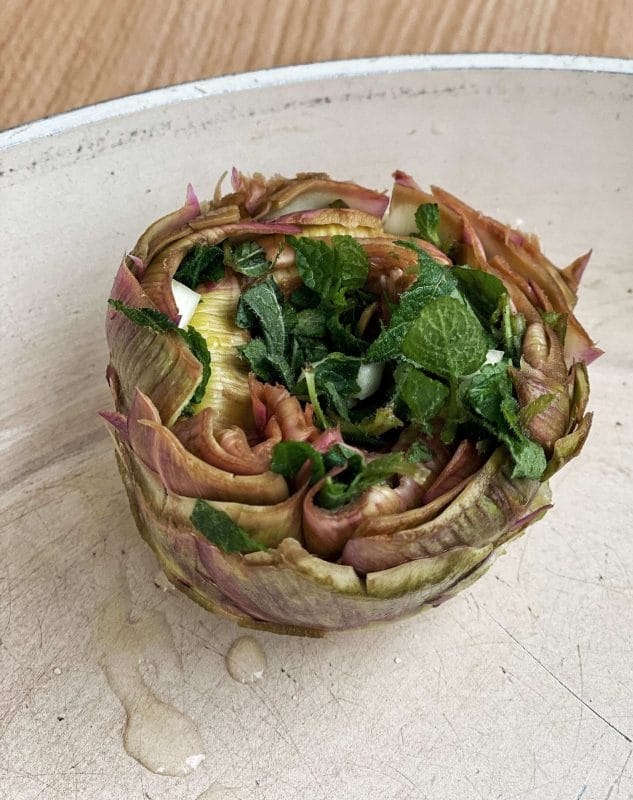 STEP 2 - STUFF THE ARTICHOKES
Once the artichokes are clean, wash them under cold water trying to loosen the leaves, then start stuffing them with the mix of chopped mint leaves, garlic and basil, trying to place some mixture among the leaves and the rest in the center.
Salt the artichokes - including on the bottom part - and place on a large pot or pan (it has to be large enough to old all the artichokes closely), pour a tablespoon of extra virgin olive oil on each artichokes, and three more spoons in the pot.
STEP 3 - COOK THE ARTICHOKES
Place a lid over the pot and cook the artichokes on low heat for about 35 minutes. Check every now and them and if necessary, add some water to make sure they don't dry up. This way, they will at the same time steam and poach, for a softer result.
STEP 4 - FLIP THE ARTICHOKES AND CONTINUE COOKING THEM
Check whether the artichokes are fork-tender and flip them to cook for 10 more minutes, with the lid on. Add some more water if necessary.
STEP 5 - SERVE
Remove the artichokes from the pot and place on a serving platter - they can be served stem side up or down, depending on how you prefer them.
Notes
Serve warm or at room temperature.
Nutrition Information:
Yield:
6
Serving Size:
1
Amount Per Serving:
Calories:

437
Total Fat:

35g
Saturated Fat:

5g
Trans Fat:

0g
Unsaturated Fat:

29g
Cholesterol:

0mg
Sodium:

244mg
Carbohydrates:

32g
Fiber:

15g
Sugar:

3g
Protein:

7g
Further Readings
Make sure to read my other posts:
Pin It For Later!