Visiting the Sistine Chapel is quite simply a must during a trip to the Eternal City, especially if it is your first time in Rome. Whether you are an art lover, a fervent Christian, or simply interested in seeing one of the most important frescoes in the world, you simply have to go.
While the decision of visiting the Sistine Chapel is fairly easy – there's no way you should not go! – deciding how to actually visit the Sistine Chapel is a bit more complicated, what with having to book a time slot in order to access the Vatican Museums, where the Sistine Chapel is located; deciding whether a tour is worth your time and money; finding the best way of getting there and even what to wear for your visit.
Are you confused? Don't worry! In this post, I will tell you everything you need to know for visiting the Sistine Chapel, with lots of information that will help you make the most of it.
Make sure to also read my posts The Most Interesting Facts About The Vatican and The Best Things To Do In Vatican City.
The History Of The Sistine Chapel
The Sistine Chapel is usually the highlight of a visit to the Vatican Museums. Part of the Vatican Palace, the chapel started being built and decorated in 1473 on the orders of Pope Sixtus IV (that's who it's named after), who hired architect Giovannino de Dolci for the job. After being built, the chapel was covered in gorgeous frescoes by some of the most famous artists of the High Renaissance: Sandro Botticelli, Pietro Perugino, Domenico Ghirlandaio, and Michelangelo.
The latter was specifically called to repaint the ceiling of the chapel in 1508, and history goes that he was actually intimidated by the scale of the project, seeing himself to be more of a sculptor than a painter. He completed the work by painting stories from the Book of Genesis, all in very bright colors. He painted the Last Judgement behind the altar of the Chapel. For that, he depicted the second coming of Christ on Judgement Day, as per the Book of Revelations. Needless to say, back when the Last Judgement was revealed, it caused much criticism because of the nude figures. Michelangelo was accused of immorality and obscenity.
The first mass was celebrated inside the Sistine Chapel on 15th August, 1483. The Chapel is now where the Conclave of the College of Cardinals takes places – in other words, this is where new Popes are elected.
Now that you know how this masterpiece came about, let's discover how to visit the Sistine Chapel.
Make sure to also read my post Where To See The Works Of Michelangelo In Rome.
Practical Information For Visiting The Sistine Chapel
Sistine Chapel opening hours
The Sistine Chapel observes the same opening hours of the Vatican Museums, from where it is accessed. You can visit Monday to Saturday, from 9:00 am to 6:00 pm. The last entry is 4:00 pm.
From April to October, the opening hours of the Vatican Museums on Fridays and Saturdays are extended until 10:30 pm (last entry 8:30 pm).
The Vatican Museums – and with that the Sistine Chapel – are usually closed on Sundays. However, on the last Sunday of every month they are open from 9:00 am to 2:00 pm, with the final entry at 12:30 pm.
You will be requested to leave the museum half an hour before the closing time.
Best time for visiting the Sistine Chapel
The Sistine Chapel is a busy spot year round so no matter the time of year you are planning to visit Rome, make sure to book your visit in advance. If you want to avoid the largest crowds, try to visit as early in the morning as possible, before the crowds arrive.
Guided tours are available that allow early access to the Vatican Museums and Sistine Chapel and typically include breakfast on the grounds, in a lovely setting – I will be talking a bit more about it below. Make sure to also avoid visiting on Saturdays, as that is usually the busiest day.
Head over to my post The Best Time To Visit Rome.
Tickets to the Sistine Chapel
Tickets to the Vatican Museums and Sistine Chapel must be booked ahead of time and you need to select a time slot for your visit.
A full price adult ticket is €17. Tickets for children aged between 6 and 18, and students up to 25 years old, are €8. People with certified disabilities are able to get free access to the museums. There is a €4 online reservation fee to pay so the total price of a ticket for an adult is €21.
You can buy tickets to the Vatican Museums and Sistine Chapel directly on the official website here.
Another option of getting tickets is via third party booking sites such as Tiqets. In this case, you can expect to pay a bit more but there is more flexibility in case of cancellations. You can get your tickets here. For last minute tickets, click here.
Make sure to also read my post How To Get Vatican Tickets.
Guided tours of the Sistine Chapel
Most people will suggest you don't need a guided tour to visit the Sistine Chapel, but – you guessed it – I disagree. Joining a guided tour will not only mean that you can get in swiftly and you don't have to worry about buying your tickets. It also means getting a more insightful and meaningful experience.
Tours generally last three hours and are run by licensed guides, and they always include a stop inside the Sistine Chapel, though you will usually get an explanation before and immediately after you go in, as you have to observe silence inside. The cost of a guided tour of the Vatican Museums and Sistine Chapel varies based on the size of the group.
Last time I visited, I opted for an early morning tour that started at 7:00 am and included breakfast. This tour is available on Walks of Italy and you can book it here.
Walks of Italy also runs an after hours tour that starts at 3:30 pm and lasts about four hours, and includes aperitivo inside the Vatican. You can book it here.
For a more budget friendly tour, click here.
For a tour that also includes St. Peter's Basilica, click here.
Security checks
Much like in most attractions in the Eternal City, you will have to go through an airport style security check to access the Vatican Museums and the Sistine Chapel. You wont be able to take in any sharp objects, such as knives or scissors, as well as umbrellas, tripods, selfie sticks (walking sticks are allowed) and large bags – you can leave any large bag or other items that aren't allowed at the cloakroom, which is free of charge.
Dress code to observe when visiting the Sistine Chapel
One important thing to remember when visiting the Sistine Chapel is to observe the dress code, which is strict – you will be denied entry if you don't abide by it.
Make sure to cover your shoulders and wear a skirt or dress that covers your knees. Hats and shorts are not permitted. Tattoos may also be deemed inappropriate.
Make sure to read my post The Vatican Dress Code.
Photography
While photography for personal use is permitted in the Vatican Museums, it is absolutely forbidden in the Sistine Chapel. Don't try to take photos thinking you won't be caught: there is security staff everywhere and if you get caught you will be escorted out on the spot. The use of smart phones is forbidden inside the chapel.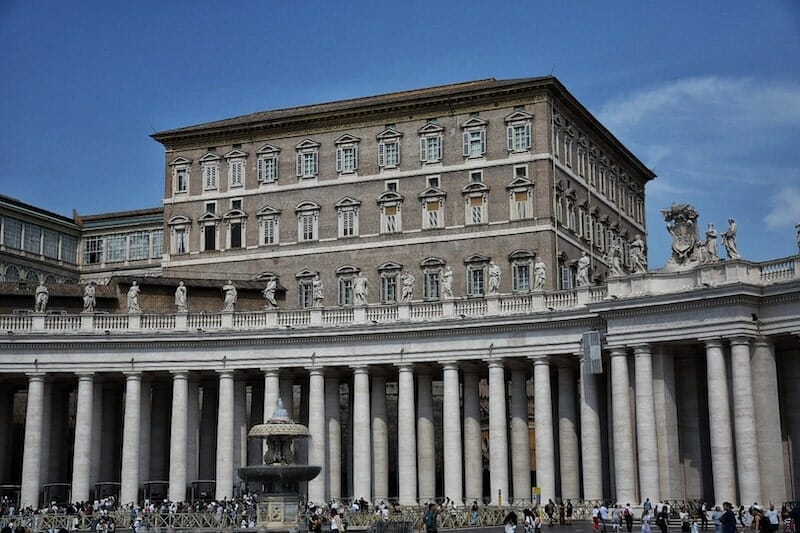 Disabled access
People with reduced mobility or on wheelchairs will be able to access the Vatican Museums via a ramp and there are several elevators and lifts that take to the various floors. To get to the Sistine Chapel there are two flights of stairs so wheelchair users will need to make use of the elevator. Disabled toilets are available throughout the Vatican Museums.
Guide dogs are allowed to enter the museum.
Toilets and other services
Toilets, disabled toilets and baby changing facilities can be found throughout the museums. You will also find a cafeteria and souvenir shops inside the museums.
How to get to the Sistine Chapel
The official address of the Vatican Museums and Sistine Chapel is Viale Vaticano. The easiest way of getting there is by metro – you need to take Line A and get off at either Ottaviano or Cipro, both around a ten minute walk.
Various buses will take you there too: you can take bus number 49 which stops in the square right in front of the Vatican Museums, or buses 32, 81, and 982 which all stop at the nearby Piazza del Risorgimento. Buses 492 and 990 stop at Via Leone IV and Via degli Scipione respectively.
If you want to take the trap, hop on number 19 and get off at Piazza del Risorgimento.
If you prefer walking, you will find the Vatican Museums at a 25 minutes walk from the Pantheon, and 30 minutes from the Trevi Fountain. St. Peter's Square is a 15 minutes walk away.
Check out my posts How To Use Rome Metro and How To Use Public Transport In Rome.
Nearby attractions
One of the perks of visiting the Sistine Chapel and the Vatican Museums is that there are many attractions you can easily access nearby, so plan to spend the entire day in the area to take in all that it has to offer. First of all, you can access the Vatican Gardens directly from the museums – though keep in mind they can only be visited on a guided bus tour.
Nearby places to visit include the magnificent St. Peter's Square and St. Peter's Basilica, home to more masterpieces by Michelangelo and Bernini. Keep in mind that unless you are joining an early morning tour that includes a dedicated entrance to St. Peter's Basilica from the Vatican Museums, you will have to walk out of the Museums, along Viale Vaticano and the perimeter of the Vatican for about one km before reaching the square, where you'll have to go through security in order to access the Basilica.
Once in the Basilica, you can also walk up St. Peter's Dome (there's a fee to access it) to enjoy one of the best views in the city. However, for the best views over St. Peter's Basilica, head over Castel Sant'Angelo – once Emperor Hadrian's Mausoleum, and now an interesting museum.
You should also read my posts A Guide To Visiting St. Peter's Basilica, A Guide To St. Peter's Square and A Guide To Castel Sant'Angelo.
Pin It For Later!