Internationally lesser known compared to the more famous cacio e pepe, spaghetti all'amatriciana or alla carbonara, pasta alla gricia remains one of the staples of Roman cuisine, and a dish you should definitely try during your trip to the Italian capital – you will easily find it in any good trattoria in the city.
This dish is actually the ancestor of the amatriciana sauce – it has the same ingredients (pecorino romano cheese and guanciale); minus the tomato sauce. It is said that the reason for the lack of tomato sauce is that when the dish was invented, tomatoes were still not available in Europe!
Making good pasta alla gricia is fairly easy – provided you actually have the right ingredients. Continue reading, as I have the best recipe for you. Follow it carefully, and you'll wow your dinner guests!
How To Make Pasta Alla Gricia
Use any kind of pasta
My favorite pasta shape for this kind of sauce is rigatoni, but you can also opt for spaghetti, bucatini or even tonnarelli. What's important is that you use a good kind of pasta – here in Italy we only use 100% durum wheat semolina pasta – and that you cook it al dente (firm). Once ready, instead of draining the pasta, use a skimmer or tongs to pick the pasta and transfer it to the pan to whisk it with the sauce.
Use guanciale
Some will tell you that it is ok to use pancetta instead of guanciale, but I dissent. The flavor is completely different and the end result will be overall different. If you don't have guanciale, simply prepare pasta alla gricia some other time.
Don't add garlic or onions
Both have a rather strong flavor, which doesn't go well with the already strong flavors of pecorino and guanciale. Don't ruin a dish that is already perfect as it is!
Only use Pecorino
The taste of Parmigiano or other aged cheeses is very different from that of Pecorino, and the end result would not even remotely remind you of what a real pasta alla gricia is meant to taste like. If you don't have pecorino at home, simply run to the store and get some. Or prepare gricia when you actually have it.
There's no need for cream
Like many other sauces in Italy, this one is creamy but without actual cream. The creamy texture of the sauce is the result of masterfully mixing the few ingredients available. Things such as cream or butter will cover the flavor of the sauce. Follow the recipe carefully, and the sauce will be creamy, without cream.
Don't add oil to the guanciale
There's no need. Guanciale is already fat enough!
Don't add chili
You really should not! This dish is already full of flavor, and adding chili to it will definitely alter the taste of the sauce. If you don't have black pepper, just don't put anything. Guanciale is already peppery enough, anyways.
Use an iron pan for the guanciale
Try to use an iron pan or a non-stick one: this way, it will turn out nice and crispy. Definitely don't cook your guanciale in a pressure cooker! It also goes without saying that this recipe is not meant to be a one-pot recipe. I am afraid you'll have to use various pots for this one!
Yield: 4
How To Make Pasta Alla Gricia
A quick and easy recipe to prepare the best pasta alla gricia.
Ingredients
0.7 pound (320 grams) rigatoni pasta
5 oz (150 grams) guanciale in one piece
3 cups (200 grams) grated pecorino romano cheese
Black pepper
Salt to boil the pasta
Instructions
STEP 1 - PREPARE THE GUANCIALE
Remove the pork rind from the guanciale, and cut it into slices about 1/4-inch (1 cm) thick and after that cut it into small cubes about 1/8-inch (1/2 cm) wide.
STEP 2 - GRATE THE CHEESE
In a separate bowl, grate the pecorino cheese and set it aside.
STEP 3 - COOK THE GUANCIALE
Put a large pot of water to boil and add salt right before it starts boiling.
In a large non stick pan, add the guanciale cubes. Let it brown on low heat for about 7 minutes until the fat melts and stir occasionally.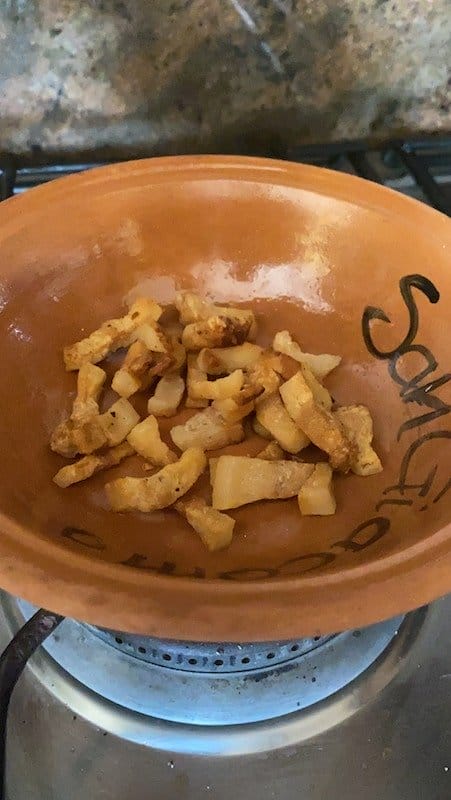 STEP 4 - SEPARATE THE GUANCIALE FROM THE MELTED FAT
Once the fat has melted, separate the guanciale from it, setting it aside in a bowl. Make sure to keep the fat!
STEP 5 - START COOKING THE PASTA
Once the water boils, throw in the rigatoni pasta. Stir occasionally to make sure it does not stick.
STEP 6 - PREPARE THE CHEESE SAUCE
Add 8 spoons of fat and 8 spoons of pasta water to the grated cheese and whisk energetically, until creamy.
STEP 7 - DRAIN THE PASTA AL DENTE
Drain the rigatoni with a skimmer about two minutes before they are meant to be fully cooked. Keep the pasta water! Throw the pasta in the pan with the melted fat and add a bit of water as needed to finish cooking the pasta. Make sure it doesn't dry out.
STEP 8 - SERVE
Turn the heat off; add the cream of cheese and the guanciale to the rigatoni stirring vigorously, and grate some pepper. Let it rest for about a minute. Serve hot, adding a bit of crispy guanciale on top.
Nutrition Information:
Yield:
4
Serving Size:
1
Amount Per Serving:
Calories:

443
Total Fat:

21g
Saturated Fat:

12g
Trans Fat:

0g
Unsaturated Fat:

8.1g
Cholesterol:

68mg
Sodium:

1270mg
Carbohydrates:

36g
Fiber:

1.7g
Sugar:

1.6g
Protein:

26g
Other Recipes
Want to taste more dishes of Roman cuisine? Try these ones:
Pin It For Later!