Are you planning on walking the Inca Trail? That's great news, and I am really happy for you. This really is a once in a lifetime experience, that you will remember forever. I did it twice (once actually very recently), and I'd do it again in a heartbeat.
If hiking the Inca Trail is in the plans during your trip to Peru, you will have to pack accordingly. Having a good Inca Trail packing list is a good starting point to have a better idea of which essential items to bring with you, and which ones to leave at home.
If you are curious to see what to wear on the Inca Trail and what you should include in your Inca Trail packing list, continue reading and bookmark this post: here you will find plenty of ideas and tips.
I have walked the Inca Trail myself, and wrote extensively about it. Make sure you read my post Walking The Inca Trail To Machu Picchu.
3 Things To Consider When Packing For The Inca Trail
Temperatures vary from one day to the other
The change in temperature from one day to another during the Inca Trail reflects many things.
First of all, there is a variation in altitude. You will be starting at around 2,800 meters (9,186 feet) above sea level and only gaining around 300 meters (984 feet) during the first day of walking, so it will inevitably be hotter compared to day two when you go above 4,200 meters (13,779.5 feet) above sea level.
Then, there is a variation in the kind of environment you will be crossing. You'll go from a valley to the higher mountains, crossing the cloud forest too. And that means a variation in the weather, with the first day typically very sunny, and the second day almost certainly bringing rain at some point.
Temperatures drop at night
Another thing to keep in mind when packing for the Inca Trail is that there is quite a big difference in temperatures between day and night, with daytime temperatures more or less mild (except it was freezing cold when we reached Warmi Wañusqa, or Dead Woman's pass, the highest point in the trail) and nighttime temperatures dropping heavily.
It can rain a lot
Finally, there are high chances of rain during the hike – even during what should be the dry season. I hiked it once in mid April, and it rained for a while on the second day, and once (the last time) in mid October, and it rained a lot on the third day and on the final day as we walked to Machu Picchu. So your Inca Trail packing list should include rain-proof gear.
Packing For The Inca Trail: Luggage Logistics
If you've decided to take the plunge and book your dream trip trekking on the Inca Trail to Machu Picchu, then you're probably pretty excited. But before you hop on the plane and set off on your adventure, it's important to think about what you need to pack and the logistics of your luggage.
The first thing you should know about luggage on the Inca Trail is that there are weight limits. Specifically, the porters assigned to work on the Inca Trail can only carry a total of 25 kilograms (which drop to 20, depending on the company), and you will be limited to 6 kilograms for the bag to give to the porter (and that included the weight of your sleeping bag and air mat).
Your bag will be weighed at the beginning of the hike, and if it's over, you will have to remove items until it is the correct weight or under. Most of your luggage, therefore, will be left in storage at your hotel in Cusco.
Before you head off, you must arrange the essentials you need for the Inca Trail into two separate bags:
A DAY PACK – This will have your daily essentials packed in it – things you will need while actually hiking on the trail, such as water, snacks, and your camera (I'll go into more detail later).
A SECOND BAG FOR THE PORTER – The tour company usually supplies this bag, the cost of which will be included in the tour. The rest of your items – toiletries, clothes, etc. – will be in this bag.
The porters who will be assigned to accompany you on the Inca Trail usually come as part of the cost of the tour (in some cases, there is an additional fee to hire one). There will be a whole team of them, who will carry cooking equipment, your bags and all the camping gear.
Essential Items To Add To Your Inca Trail Packing List
For those of you who have spent any amount of time hiking before, the chances are that you will have many of the items required for trekking already, and you can easily add them to your Inca Trail packing list. But it is still important to not leave any of your important gear behind – the last thing you want to do is to worry about something you've forgotten while you're miles from anywhere on the Inca Trail!
Here are a few of those important items to ensure that you purchase them before you travel – or don't forget them…
If you forget anything, you will be happy to know that Cusco has a great selection of shops that sell top quality hiking clothes and gear.
Daypack
Your daypack will be essential. You will be carrying this for the entirety of the trail, and so it is best not to overload it. This should be around 25 liters in capacity (or under), and will be where you'll carry items such as your camera, phone, money, snacks, water bottle, toilet paper for the day, sunscreen – everyday things you may want close to hand when you're hiking.
You should also make sure that your daypack is comfortable and lightweight and that it comes with a rain cover.
These are my favorite options for daypacks:
Osprey Daylite Plus – a very compact backpack with two side pockets where you can place your water bottle. It has a small front pocket to fit items such as a phone or tissues.

Lowe Alpine 22l

– I really like the adjustable waist strap and the waterproof rain cover. It also has lots of small pockets for things such as tissues, phone etc.
Good hiking boots
If you are thinking about tackling the Inca Trail with sneakers, think again. This is a heavy-duty hike and requires good quality footwear to fit the bill. Conditions on the trail can be slippery, the path is often uneven, and the chances of rain are high, so having rain / waterproof hiking boots with ankle support and good grip is crucial to your safety and comfort.
Not only that, but it is also a good idea to have worn in these shoes before you start hiking this multiple-day trek. Wearing a pair of hiking boots for the first time on the Inca Trail is not a good idea, and is almost a sure way to get blisters, thus greatly affecting your enjoyment of an otherwise amazing experience.
My go to hiking boots are the Salomon Quest 4D 3 GTX – they have both a man and women's version; they are perfect even on rough terrain, and are also waterproof. You can get them here.
Flip flops / sandals
To allow your feet to breathe when you take your hiking boots off, having some flip flops or sandals is a good idea. It's not essential to have these (eventually, I had to leave them at the hotel the second time I walked the Inca Trail as my duffel bag was too heavey), but it is a nice alternative to wearing the same shoes almost 24 hours a day!
You can get your sandals online here.
Rain / waterproof jacket
Even if you are hiking in Peru's dry season, the chances of rain along the Inca Trail are quite high – so don't forget about keeping dry. A lightweight rain jacket that you can quickly and easily take out of your bag and throw on over your layers is a good option. Something that can be rolled up and stashed in your bag easily. Weather can be unpredictable in the Andes, and you definitely don't want to get soaked.
Kuhl Stretch Voyagr is a great option for a jacket that is at the same time lightweight and top performing. You can get it here.
You should also pack a poncho or two, as this will go over your pants and even your bag for extra protection. They are easily found in Cusco for just a dollar or two. You will be better off getting a sleeveless one as those with sleeves break easily.
Clothes to add to your Inca Trail packing list
Working out what clothes to add to your Inca Trail packing list is important, no matter what time of year it will be when you choose to hike. The weather can vary wildly, and you will find yourself cold, hot and possibly wet at some points along the way – I only know too well.
In order to prepare for all eventualities, it is important to pack your clothes smartly. Based on my experience, I recommend the following:
UNDERWEAR – Of course, underwear seems obvious, but it's very necessary. You'll need four pairs to last the route. You don't want to be wearing the same pair twice!
SPORTS BRA – Those of you who wear bras will want to pack comfortable and supportive bras for the journey. One is enough actually – the one you will be walking with.
BASE LAYERS – High-wicking base layers such as vests and T-shirts (rather than those made from cotton) are best for this challenging hike.
THERMALS – These will come in very handy at night time when the temperature drops. Many people trekking the Inca Trail choose to sleep in their thermals – I am one of them, actually. Just one set of long-sleeved and full-leg thermals will be fine. I am a fan of the Toasty Trascender Legging and the Akkomplice Crew by Kuhl.
SHORT SLEEVE SHIRTS – This is the sort of thing you will want to change into once you arrive at camp, rather than sitting around in your sweaty clothes. Make sure to pack two. I swear by Kuhl t-shirts as they are very comfortable and pretty at the same time. My favorite is the Cashmerino tee! You can check them out here.
LONG SLEEVE SHIRTS – For the same reason as above, and also to help keep you warm. Again, make sure to pack a couple of these.
BEANIE HAT – While you may not need one, if you are someone who feels the cold quite easily, you should have a beanie hat with you. One that covers your ears is a good idea, as it can get pretty chilly. In fact, I used mine on the second night, when it got super cold. Check them out on Kuhl here.
TROUSERS – A pair of lightweight but durable trousers is a good idea for the Inca Trail. Alternatively, you may want to opt for hiking leggings. Kuhl has a fantastic range of pants to pick from. I really like Kuhl's Trekr or Freeflex Dash for extra comfort. Check them out here.
SHORTS – It can get surprisingly warm on the first or last day of the Inca Trail once you are in Machu Picchu, and so it is nice to have shorts to hike in. Once again, Kuhl is my go-to brand for this kind of item. Check them out here.
HIKING SOCKS – Do not overlook the importance of hiking socks! You will need at least three pairs of these thick, durable socks. They'll help you not get blisters and make sure your feet feel comfortable and supported in your hiking boots. Make sure to pack extra socks to wear at night to keep your feet warm.
SWEATER – A sweater is definitely a good idea. Try to get one with a hood so it can keep you extra warm. It's a good thing to have at the end of each day to wrap up warm after the hike. I swear by Kuhl Flight Jacket.
SWIMSUIT – If you are thinking of hanging around in Aguas Calientes in order to take a dip in the town's famous hot springs, then you will need one.
SUN HAT AND SUNGLASSES – These are both essential items. The sun can be very strong during the hike, and you'll be hiking at high altitudes without much shade to speak of, meaning that you can get burned quite easily. A hat with a big brim is a good idea, so your neck is protected. Sunglasses help you to actually see when the sun is very bright – and protect your eyes from UV rays.
Essential toiletries
You don't want to take too many toiletries with you, as they can really weigh you down once you start to factor in everything you'd usually use on a day to day basis. When packing for the Inca Trail, remember that showering is out of the question anyways! Here are the very bare necessities you should consider bringing:
Sunscreen – As mentioned above, there can be very strong sun on the Inca Trail, so you'll need sunscreen to protect yourself.
Lip balm – Another tip against the sun is to bring along some lip balm: you'd be surprised how much the sun's rays can affect your lips. That and the wind can lead to chapped lips, too, so it's a good idea to bring some along.
Toothbrush – Keep your oral hygiene in check. It's a must!
Toothpaste – Same as above. Opt for just a small tube so you can keep it light.
Hand sanitizer – You won't be able to wash your hands much (if at all) when you're out on the Inca Trail, and hand sanitizer can keep your hands clean before meals, among other things.
Wet wipes – Along with washing your hands, you also won't have any opportunity to shower on the Inca Trail. Bring along wet wipes to do the job; opt for eco-friendly ones and bring a bag for your litter.
Deodorant – Even though you're in the middle of nowhere, no one wants to have a smelly hiking buddy.
Toilet Roll – and a few packs of tissues. When nature calls, this is quite essential and it's not provided in the toilets along the trail!
Medications
Trekking the Inca Trail takes your right out into the middle of nowhere, and so any prescription medications that you take should be with you at all times. This includes things like insulin, EpiPens – anything you need – and should be kept in your daypack.
Small first aid kit
Your tour company will have an essential first aid kit with them that includes an oxygen tank, but it is a good idea to add one to your Inca Trail packing list. Pack painkillers (paracetamol, ibuprofen) just in case you get any pain during your trek. You should also bring rehydration sachets, diarrhea tablets, antiseptic cream and band-aids for blisters.
You can get your first aid kit here.
Altitude sickness is almost never a cause of concern – travelers on the Inca Trail usually spend a few days in Cuzco to get accustomed to the altitude.
Insect repellent
Even though you're up high in the Andes, there can still be a problem with mosquitoes. You should bring some repellent along, otherwise you may get eaten alive by a swarm of mosquitoes. A small bottle of spray is enough.
Get your mosquito repellent here.
Hiking poles (if you like them)
Even though I don't personally like them myself, hiking poles are a good friend to many walkers and hikers out there – my sister found them really helpful when we were going down the mountain on the second day, and on the last day when the trail to get to the Sun Gate was very muddy and slippery. Hiking poles can help to ease the impact on your knees so that you feel less achy at the end of each day.
You could buy lightweight hiking poles before you go (or take ones you already own), but you can also rent them in Cusco or from your tour company.
Check out hiking poles here.
Good sleeping bag
It can get very cold when it's night at high altitude, so not only will you need lots of layers to keep you warm after dark – you'll also need a good quality sleeping bag. Most tour companies will rent sleeping bags for an additional cost – but the cheaper companies have lower quality sleeping bags. To be sure of the quality, you may want to bring your own.
If you do so, make sure that it is both lightweight, packing down to a small size, and that it is suitable for very cold temperatures.
Check out sleeping bags here.
Pillow
Unless you want to use your bag or a jumper for a pillow, then you might want to bring one along for the Inca Trail. Pillows are not provided by the tour company, so you might want to consider bringing an inflatable pillow or a travel pillow (like the kind people use on buses and planes).
Get your camping pillow here.
Other items for your Inca Trail packing list
Finally, here are some miscellaneous items to add to your Inca Trail packing list:
HEADLAMP – If you need to get up in the night, you will need a head torch: there will be no electricity. The tour company will provide some lighting while you are having dinner, but other than that you will be in complete darkness. You will definitely be happy that you have this hands free option when you're heading out to the toilet at night, or scrabbling around your tent looking for something. Get yours here.
CAMERA – You are going to be seeing some truly spectacular scenery while you are trekking along the Inca trail, so if you're a keen photographer you should not forget your camera. Keep it lightweight though (or rely on your phone). If you are bringing along a camera, make sure that you bring at least one spare battery pack and a couple of SD cards.
PHONE – If your phone is decent enough, you will be fine taking photos on that. And if you don't have a head torch, then you'll be using your phone for light. You may also have apps or games on your phone to keep you entertained at night, too. However, you shouldn't use it too much, as again there is no electricity.
POWER BANK – A power-bank is essential if you are going to be using the phone a lot, so bring a good capacity one (and a charger wire) along with you.
WATER BOTTLE WITH A FILTER – If you are already out traveling in South America, you'll probably already have a travel water bottle complete with a filter. You will be provided with drinking water throughout the trail – during any meal.
SNACKS – Snacks are a very good idea. It is not fun to be hungry while out on a hike. Essential snacks like nuts, trail mix, protein bars and the like are important. You will want to keep your energy high, especially if you know for a fact that you are prone to feeling the effects of hunger, or low sugar levels.
PASSPORT – Definitely do not leave this at your hotel! You will need your passport to even enter the Inca Trail in the first place. It will be used to verify your permit at the checkpoint and you will also need it to enter Machu Picchu. It has to be your original passport: no photocopies allowed.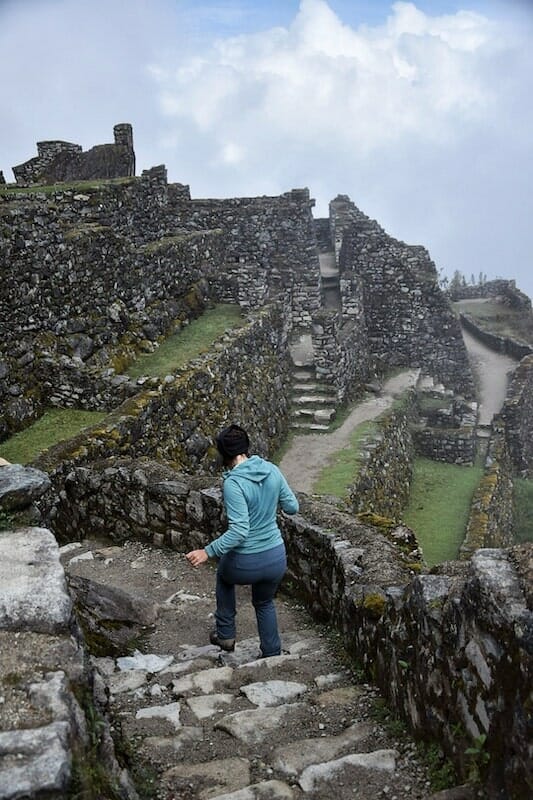 CASH – Small notes and coins will be needed, even though you won't be passing by many shops on the way (though there are some stalls and vendors). This is mainly to tip any guides and porters at the end of the trail. You'll need small denominations to pay for souvenirs at Machu Picchu – and to have access to the toilets.
TRAVEL INSURANCE – It's a very good idea to have travel insurance when you're hiking the Inca Trail. You should have travel insurance if you're in Peru anyway, but for a big trek like this one, I recommend purchasing it – just in case! Get a quote for yours here.
Further Readings
For more tips to help you plan your trip to Peru, check out these posts:
Pin It For Later!