If there is one place you shouldn't be missing when in Peru, that's the Sacred Valley. Surrounded by the peaks of the Andes, scattered with many impressive Inca ruins and lovely colorful villages, this is one of the top tourist destinations in the country.
Most travelers usually visit the Sacred Valley on day trips from Cusco before they make their way to Machu Picchu. However, if you can, you should definitely give it more time. Once the many day trippers leave, you will be rewarded with a peaceful atmosphere that will make you fall in love with it.
I have been to this part of Peru twice myself – and I'd definitely go again – so I thought I'd put together a short guide to help you discover its history, the most impressive sights and to give you some practical information that will help you plan your trip and make the most of it.
Make sure to read my posts The Most Impressive Ruins In Peru, The Best Things To Do In Cusco and Where To Stay In Cusco.
Where Is The Sacred Valley
The Sacred Valley is located around 20 kilometers (about 12.5 miles) north of Cusco, and around 100 kilometers (62 miles) from Machu Picchu. It is also known as the Urubamba Valley, named after the river of the same name that winds its way over 100 kilometers down from the Andes towards Urubamba, Ollantaytambo and on to Machu Picchu.
Interesting Facts About The Sacred Valley, Peru
This area is known for its rich Inca culture, with many fortresses and towns situated along the valley. But it wasn't always the territory of the Incas, with the Urubamba Valley actually being incorporated into the Inca Empire gradually over a period of hundreds of years, from around 1000 to 1400.
Before this, however, the rich soil of the Urubamba Valley was utilized for agriculture from around 800 BC by the Chanapata civilization. Following that, it changed hands between various different civilizations, with the Qutacalla in the valley between 500 to 900 BC, and then the Killke people occupying the region from 900 BC until the Incas showed up. The Incas ruled until the arrival of the Spanish.
Today, the Urubamba Valley is a major tourist destination, welcoming over a million people to its archaeological sites and towns along the valley. There are many high altitude settlements and sights along the so-called Sacred Valley; Pisac, for example, soars to 3,000 meters (9,800 feet) above sea level.
Mountains overlook the valley, with one of the most prominent being Veronica at 5,893 meters (19,334 feet) high.
The region has been intensely cultivated, and boasts many agricultural terraces – these are called andenes and were developed by the Incas. It was the most important area for maize production in the whole of the Inca Empire.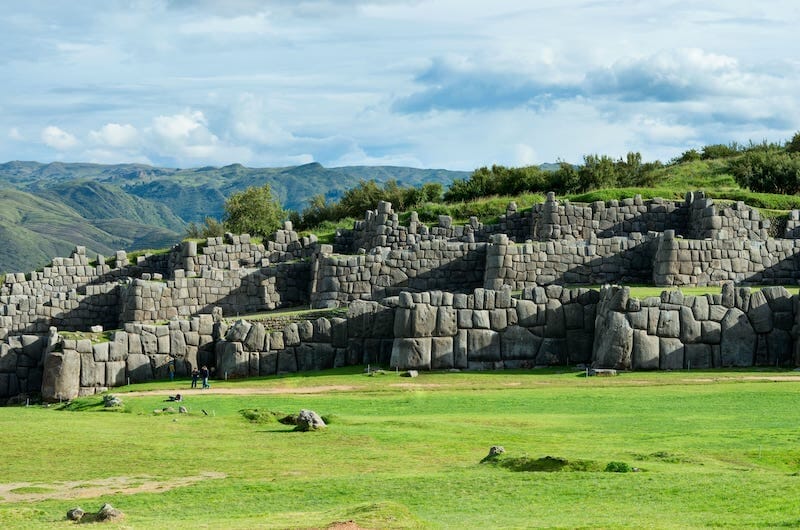 The Best Places To Visit In The Sacred Valley, Peru
A visit to the Sacred Valley takes in not just one destination, but many different places – all of which were once crucial to the Inca civilization. There is a long list of ruins and archaeological sites set among the undulations of this deep valley, overlooked by the snowcapped Andes.
Since it is located over such a long distance, seeing everything that the Urubamba Valley has to offer would be very difficult. However, if you just hone in on a few of the top destinations, you can get a good idea of what this majestic place is all about.
Here are a few of these to spark your imagination.
Sacsayhuaman
The first site in the Sacred Valley is also the closest to Cusco, and you can literally walk there from the center of town, hop on a colectivo and even take a guided tour.
Built in the 15th century, Sacsayhuaman is known for the massive dry-stone walls made of large boulders. Not far from it you will find other sites such as Puka Pukara, Tambomachay and Qenqo.
Sacsayhuaman is open daily from 7:00 am to 5:00 pm. Admission is part of Cusco Boleto Turistico – you can get that here.
For a guided tour of Cusco that also goes to Sacsayhuaman and the nearby archeological sites, click here, here or here.
Make sure to read my posts A Guide To Visiting Sacsayhuaman and A Guide To Cusco Boleto Turistico.
Pisac Ruins
As I already mentioned, Pisac is a high-elevation destination, and is set around 3,000 meters above sea level. The ruins of Pisac themselves sit on a hill outside of the modern day town of the same name.
Made up of ceremonial baths, a large Inca cemetery and residential buildings, the stunning settlement of Pisac overlooks the modern-day village and grassy terraces where crops once grew. The ruins here are a beautifully photogenic spot. You will have to watch carefully to spot them as you approach them, as they are incredibly well hidden in the mountains!
Pisac ruins can be reached on a hike from the small town down below – and affords many stunning vistas along the way – though at this altitude it could be hard-going for some. Alternatively, you could take a taxi.
Pisac is easy to reach by colectivo from Puputi Street. Colectivos depart when full, from 7:00 am onwards. You will be dropped off in town, and you can either hike all the way to the site, or take a taxi to the ruins. To get back to Cusco, catch a colectivo on the road intersecting Pisac.
The ruins of Pisac are open every day from 7:00 am to 5:00 pm. Admission is part of Cusco Boleto Turistico – you can get that here.
For a day trip to the Sacred Valley that also goes to Pisac, click here.
Make sure to also read my post A Guide To Visiting Pisac Ruins.
Moray Ruins
Situated a little to the west of the village of Maras, Moray constitutes another of the Sacred Valley's archaeological sites. The complex is made up of three interconnected amphitheatre-like terraces, called muyu in Quechua.
Each of these has 12 levels, and the largest of the three has a depression of 600 feet. These almost hypnotic structures look particularly amazing on the backdrop of the jagged Andes.
The purpose of these muyu is still unknown. One theory is that they were used for experimental agricultural practices – including using the terrace as a microclimate, which allowed the Incas to study the effects of altitude. This shows a potential understanding of the environment, and more importantly: how to manipulate it.
Moray is open every day from 7:00 am to 5:00 pm. Admission is part of Cusco Boleto Turistico – you can get that here.
Moray and Maras aren't easy to reach on public transport. Your best option is to opt for a tour of Moray and the Salt Mines of Maras. For more information click here, here or here.
Maras Salt Pans
Also situated near to the village of Maras are the Maras Salt Pans (Salinas the Maras in Spanish). Unlike vast, flat salt pans elsewhere in South America, these ones consist of gleaming white ponds of salt cascading down the side of the mountain in terraced formation.
Around 6,000 ponds make up the entirety of the Maras Salt Pans, and some of them are still used to this day by local families. They have been in use almost continuously since before the arrival of the Incas, providing local inhabitants with salt for multiple generations.
Fed by a small stream, which is itself is rich in salt; when the water evaporates, the residual salt is scraped away, and they are filled again.
Maras is open every day from 7:00 am to 5:00 pm. Admission is part of Cusco Boleto Turistico – you can get that here. The salt pools have an additional fee of 10 Peruvian Soles ($2.50 USD).
For a tour of Moray and the Salt Mines of Maras, click here, here or here.
Chinchero
This small Andean village, around 30 kilometers (18.6 miles) from Cusco, was known by the Incas as the birthplace of the rainbow. Despite its size, Chinchero is a thriving town and is well known for its popular market. There's also a beautiful 16th-century church, built on Inca foundations and housing some enchanting religious and natural artwork.
The market is less touristy than others in the region, and is particularly worth visiting on a Sunday when locals from the nearby hills arrive dressed in traditional garb to sell produce.
Ruins can also be found in Chinchero – in the form of terracing and carvings. Head out of the village and you'll find rocks carved with staircases and seats.
Admission to the Inca ruins and museum in Chinchero are part of the Boleto Turistico – you can get that here.
The best way to get to Chinchero is on a Sacred Valley tour from Cusco. For more information, click here.
Ollantaytambo
Ollantaytambo is a small town in the Sacred Valley, situated around 72 kilometers (44.7 miles) from Cusco. There are not just one but two sets of Inca ruins to see here, as well as a quaint present-day village that makes for an interesting place to see Inca city planning in action. These narrow streets have been continuously inhabited since the 13th century.
The first set of ruins sit high above Ollantaytambo village, and comprise a fortress and a temple. Surrounded by large, stepped terraces, this is a particularly interesting spot as it marks the location of a historic defeat for the Spanish conquistadors.
Nearby, there's the option to climb up to a second ruin: Pinkulluna. As well as terraces and some buildings, there are some fantastic panoramic views to be seen at this higher vantage point.
Ollantaytambo can be reached by colectivo from Pavito Street in Cusco. There's one every 40 minutes and it takes about an hour and a half (it costs around 15 Peruvian Soles / $3.70 USD). You can also join a Sacred Valley tour from Cusco – they all go to Ollantaytambo.
For a day trip to the Sacred Valley, which includes a visit to Ollantaytambo, click here.
Admission to Ollantaytambo ruins is part of Cusco Boleto Turistico – you can get that here.
Make sure to read my post A Quick Guide To Ollantaytambo.
Local communities
You will definitely enjoy visiting the local communities that live in the Sacred Valley of Peru. I recommend trying to see the Ccaccaccollo Community and Women's Weaving; and the Cuyo Chico Pottery Making. The first one is a small weaving project whose profit exclusively go to the support of the local community, and a great place to buy high quality alpaca wool souvenir – I bought a fabulous blanket, but you'll also find socks, hats, sweaters and much more.
The pottery making community will give you a demonstration of how adobe bricks – which are used to build traditional homes in the area – are made. It's also a good place to buy smaller souvenirs.
We visited the local communities as part of a G Adventures tour of Peru; but should you decide to do it make sure to enquire locally in Cusco for a responsible operator that runs the tour.
You should also read my post 16 Best Souvenirs From Peru.
Practical Information For Visiting The Sacred Valley, Peru
What's the cost of visiting the Sacred Valley
Many of the sights in the Sacred Valley can thankfully be entered using Cusco boleto turistico. This paper ticket gives you access to popular attractions both in Cusco and the region as a whole.
Costing 130 Peruvian Soles (around $32 USD) for adults and 70 Peruvian Soles (around $17 USD) for students, the tourist ticket is valid for 10 days.
Specifically it will give you access to:
Cusco cathedral
Religious Art Museum
Church of San Blas
Regional History Museum
Sacsayhuaman
Qenko
Puka Pukara
Tambomachay
Pisac ruins
Ollantaytambo ruins
Chinchero
Moray
Maras Salt Pans
Pachacutec Monument
Performance of Andean dance and live music
You can buy the boleto turistico on arrival in Cusco, at the COSITUC office in the center of town. You can also purchase this ticket at any one of the above sites on the list. You don't need to purchase in advance, as there is no limit on the number sold each day.
You don't need to purchase the boleto turistico specifically – especially if you haven't got the time to make full use of the 10 days the ticket offers. If you're only in the area for a short amount of time, you could opt for a boleto parcial. This costs 70 Peruvian Soles ($17 USD) per adult. There are three different options for these, each covering different areas.
Unfortunately, you cannot buy an individual entrance ticket for each attraction or site in the Sacred Valley. You either need to have the boleto turistico or one of the boletos parciales.
To get your Cusco Boleto Turistico click here.
How to get to the Sacred Valley, Peru
Cusco is the traditional base or jumping off point to get to the Sacred Valley. Many of the valley's top sights are around an hour away from the city. Because of this, there are a range of different transport options to take from Cusco to get you where you need to be in the Sacred Valley. Here are the most commonly used methods.
Getting to the Sacred Valley by bus/colectivo
Local buses and colectivos connect up most of the destinations around the Sacred Valley. These low-cost buses will set you back just 2 Peruvian Soles ($0.50 USD) for a bus ride, or for a colectivo it's a little more: 10 Peruvian Soles ($2.50 USD).
Buses and colectivos typically depart from Pavito Street in Cusco. Though they are the cheapest option, the downside to buses is that they can take some time. You may also have to change buses in the transport hub of Urubamba. The same goes for colectivos.
Getting to the Sacred Valley by taxi
Opting for a taxi to whisk you to the Sacred Valley in most cases means hiring the car (and its driver) for the day to take you to the sights you want to see. It costs upwards of around 80 Peruvian Soles ($20 USD), but this could work out quite cost effective if you are traveling in a group.
Taking a Sacred Valley tour from Cusco
Because it's not always easy to get around, many people opt to take a Sacred Valley tour from Cusco – especially if you have time constraints. Prices are surprisingly reasonable, and you'll be able to go to the sights that you want to see without having to change for different buses, or wait around in transport terminals.
Options for tours for the Sacred Valley include taking a day tour around some of the most popular sights in the valley; or taking a half-day trip to Moray and the Maras Salt Pans.
For a day trip to the Sacred Valley that also goes to Pisac, click here.
For a guided tour of the Sacred Valley that also goes to Moray and the Salt Mines of Maras click here, here or here.
For information on guided tours that also stop in Chinchero, click here.
For a day trip to the Sacred Valley, which includes a visit to Ollantaytambo, click here.
Can you get to the Sacred Valley by train?
While there are trains from Cusco to Machu Picchu that also stop by Ollantaytambo on the way, you can't really get around the Sacred Valley by train. First of all, trains actually leave from Poroy, a small town near Cusco. Secondly, they don't really stop at the villages – only in Ollantaytambo, and only to allow people to get on.
How long to spend in the Sacred Valley
Though it is possible to explore the Sacred Valley on a day trip, unless you absolutely have to due to a lack of time, I would recommend you spend longer. Otherwise it is easy to rush seeing all the sights here.
It is actually best to spend at least two days exploring the Sacred Valley (you can break your journey in Ollantaytambo, which is the prettiest small town), and then you can continue on to Machu Picchu. It enables you to get a better insight into this fascinating mountainous area of Peru.
Check out my post The Best Day Trips From Cusco.
For complete information about Machu Picchu, read my posts How To Get To Machu Picchu and How To Get Tickets To Machu Picchu.
Other useful info
There are a few other things you should know when planning your trip to the Sacred Valley.
Note that the tap water throughout the Sacred Valley (well, in fact throughout Peru) is not safe to drink. You should bring along a refillable water bottle with an inbuilt filter (or a detachable filter) to avoid plastic waste. I recommend this one.
You should know that it can rain quite a bit up in the Andes, and weather can be unpredictable. Bring along a poncho or waterproof jacket.
On that note, you should dress appropriately. This means being prepared for chilly weather, so have things like layers and extra jackets handy (ideally in a comfortable day pack).
Don't forget the sunscreen – sunny days here can take their toll, and there's often not much shade.
Be aware of altitude sickness! The high elevation can cause symptoms such as headache, nausea and shortness of breath. Most people experience only minor symptoms. Try to spend a few days acclimatizing in Cusco before heading out.
Planning ahead is a good idea. Check weather, book tours ahead of time (these can get fully booked in high season), and research bus/colectivo routes.
Further Readings
These other posts will come in handy when planning a trip to Peru:
Pin It For Later!