Spaghetti cacio e pepe is one of the tastiest, comforting and easiest dishes of Roman cuisine. Yet, for as simple as it is, getting this dish right can be hard, and at times even the best restaurants in Italy may end up serving you a cacio e pepe that is less than satisfactory.
I have had all sorts of bad spaghetti cacio e pepe – homemade, or at cheap trattorie. At times they were too dry; other times too salty. Sometimes they were made with egg noodles – which completely changed the flavor; others they were prepared with added butter or oil – which again changes the flavor.
One important thing to know is that there only is one real recipe to make spaghetti cacio e pepe; and it only calls for 3 ingredients: spaghetti, cacio (another way to say cheese in Italian) and pepe (black pepper). Anything else is a poor adaptation you really can do without.
Are you curious to discover how the real cacio e pepe is made, and want to try it at home? Just read on!
How To Make Spaghetti Cacio E Pepe
Use whatever shape of pasta
This is the only change you are allowed to the recipe. Here we either use spaghetti or tonnarelli – but the latter may be hard to come across overseas. Preferably use another kind of long pasta such as linguine or bucatini. Just make sure not to use egg-noodles as they have a much stronger flavor and the final flavor would change too much.
Only use pecorino cheese
I have seen recipes suggesting to use parmigiano cheese, but that is simply poor advice. The only cheese you can use to prepare cacio e pepe is pecorino romano.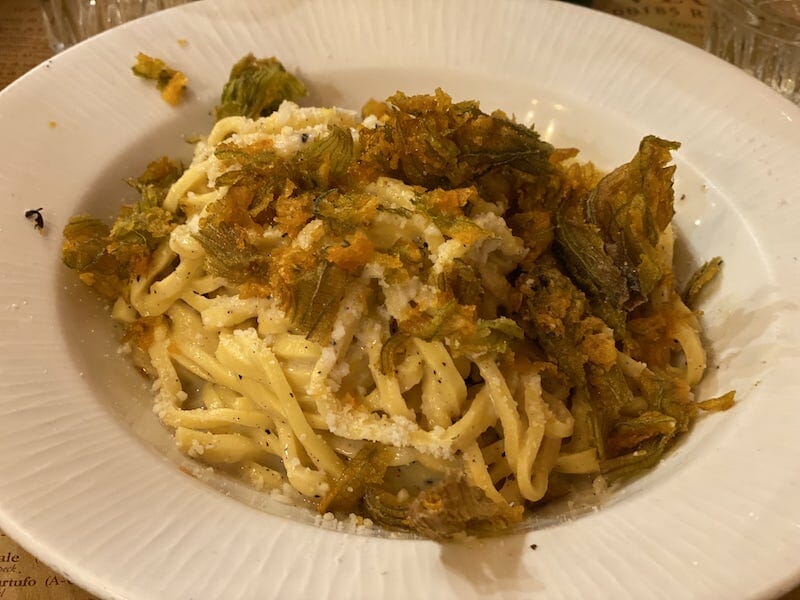 There's no need for oil or butter
The recipe only calls for spaghetti, black pepper and pecorino cheese. If you work the ingredients in the right way, the final texture will be perfectly creamy as is.
In fact, any recipe you see that adds any ingredient other than the 3 mentioned here is not original, and probably made by someone who's never been to Rome.
Don't add cream
The creamy texture of the sauce is a result of the masterful whisking of pecorino cheese with cooking water.
Don't add garlic
I know you guys love your garlic, but despite common misconception not all Italian recipes call for it. This is one of those where garlic would really be an unwelcome ingredient. In other words, do not add it.
Do not add chicken
Sorry guys, but chicken never goes on pasta in Italy. Some very modern restaurants add raw shrimp and in this case, I have to admit the flavor is very interesting!
It's ok to add some vegetables
Here in Rome we sometimes add thinly sliced, fried artichokes or crispy fried zucchini flowers.
Don't serve it as a side dish
We don't have a habit of serving pasta as a side dish in Italy. It's what we'd normally call a first course – "primo piatto" in Italian.
What's the best wine pairing?
Both red and white wine can be excellent pairing to a good spaghetti cacio e pepe. If you are a fan of red, I recommend a light red such as a Rosso di Montalcino. If you prefer whites, opt for a Chardonnay.
Yield: 5
How To Make Spaghetti Cacio E Pepe
Discover how to make spaghetti cacio e pepe with this incredible easy recipe.
Additional Time
2 minutes
Ingredients
1 pounds (450 grams) of high quality spaghetti
2 cups (180 grams) of grated pecorino romano cheese
Black pepper
Instructions
STEP 1
In a large pot, bring water to the boil, add salt and throw in the pasta.
STEP 2
While the pasta cooks, toast the black pepper in a pan, and add a few spoons of cooking water taken from the pasta pot.
STEP 3
Grate the pecorino cheese, leaving some aside for decoration.
Add a few spoons of cooking water, which will be rich with the starch released from the pasta, and whisk it.
STEP 4
Lift the spaghetti from the pot with tongs about one minute earlier than the suggested cooking time and throw it in the pan where you have toasted the pepper and added some of the water.
STEP 5
Add the cheese and water mixture and, if necessary, a few more spoons of pasta cooking water.
Cook for another minute until the pasta is cooked al dente and the sauce creamy.
Decorate with some grated pecorino cheese and black pepper and serve.
Nutrition Information:
Yield:
5
Serving Size:
1
Amount Per Serving:
Calories:

275
Total Fat:

10g
Saturated Fat:

6.3g
Trans Fat:

0g
Unsaturated Fat:

3.3g
Cholesterol:

37mg
Sodium:

520mg
Carbohydrates:

29g
Fiber:

1.2g
Sugar:

1.2g
Protein:

16g
Further Readings
Check out my other recipes of Roman cuisine:
Pin It For Later!