Kuduruketha. A gorgeous, hidden resort near Wellawaya, in Sri Lanka: not many people who visit Sri Lanka make the effort to go all the way there. Yet they should. To be fair, Diana and I had not intended to go either. But then a twist of events took us there, and it turned out to be one of our favorite places in the country.
The irony of being travel bloggers is that, the more time we spend traveling, the less time we have to plan our travels – be it making accommodation reservations; reading about the places we mean to visit; learning a bit about the culture of the country before actually finding ourselves there.
When not having a plan is the best plan
Sri Lanka is a bit like that. Before going there, Diana and I draft a rough itinerary and make a list of the places we would like to see. Yet, we allow ourselves enough room to change plans, just in case something interesting comes up, or in case the weather conditions make it impossible to follow the plans.
The name Wellawaya comes up once we decide to skip Yala National Park. We have read that most sectors of the park are closed during the time we intend to visit, so it makes no sense to invest money on a safari if we don't get to explore the park properly (by which we don't mean we want the guarantee we'll be seeing animals). Besides, we have just visited Gal Oya National Park and have had a wonderful experience that would been hard to match.
We have already spent more than a week in the Hill Country, and we are tired of the chaos of Kandy and of the dampness of Nuwara Eliya. We want to make our way south, but need to break the trip. We feel the need to be surrounded by nature, so we look for a good alternative to Yala National Park.
Flipping through the pages of our guidebooks, we see that Wellawaya is a small place at the very end of the Hill Country, and Kaduruketha nothing more than a few scattered houses in what is described as an idillyc tropical setting.
We are hardly the kind of travelers that make an effort to get off the beaten path, but this is an easy detour. We decide to go.
A less visited side of Sri Lanka
A 45 minutes bus ride from Ella (once a remote village in the Hill Country, nowadays one of Sri Lanka tourist hot spots), Wellawaya is the closest real village to Kuduruketha. As we get off the bus at the intersection, we start walking the 2 km towards out hotel, Jetwing Kaduruketha, and quickly understand we could have not picked a better place to visit.
The setting is gorgeous: a windy road cuts across the greenest of landscapes. We cross paths with a few local women and children, who as many in the country walk around carrying an open umbrella, to protect themselves from both the rain and the fierce sun. They greet us with sincere smiles, yet unaccustomed to tourists. Dogs sleep in the middle of the street, their sleep hardly interrupted by a tuc tuc or by the odd motorbike.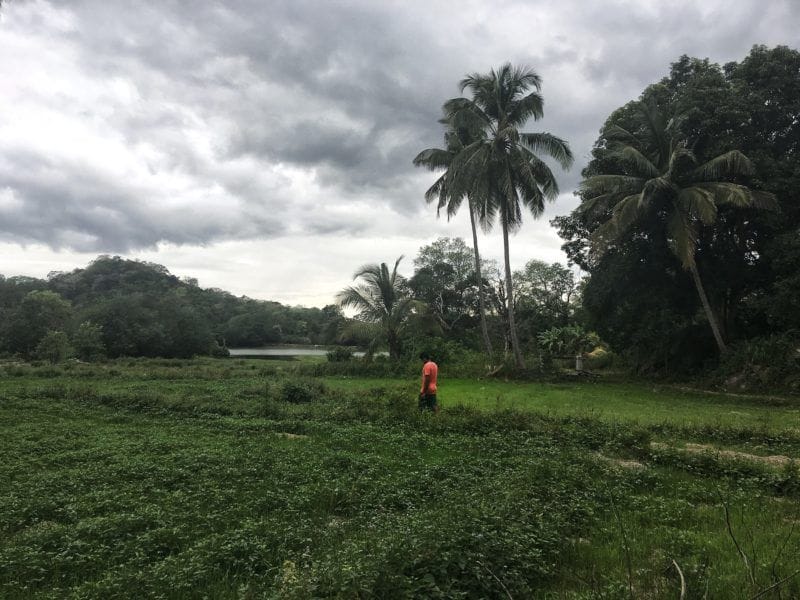 We would be happy just taking long walks or easy bike rides, and relaxing by the pool or on the deck of our cottage with a book, but it turns out that there is much more to do in Kuduruketha than we had expected.
The area is packed with wildlife. Along with monkeys, there are various species of frogs, owls, flying squirrels and peacocks. It is peacock mating season when we visit, and they sure make it clear that they own the territory, flagging their gorgeous tails and singing their need for romance at night.
I actually have to fight a squirrel that keeps getting into our room to steal packets of sugar from our desk, much to the amusement of Diana who thinks I am yelling at her as she tries to walk back inside after her yoga session.
But there's more!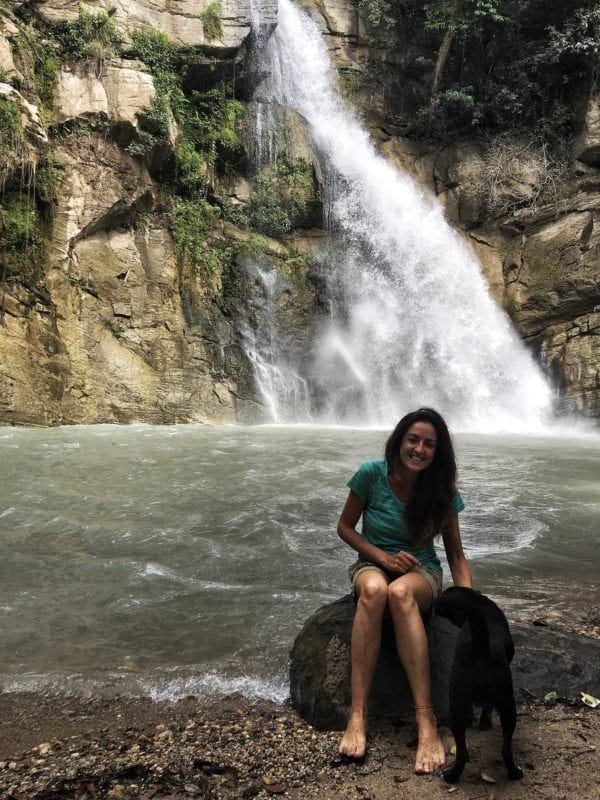 The area around Kaduruketha is packed with waterfalls and swimming holes. We opt to visit Elle Wala. It is a short tuc tuc ride north, though the thick forest. As the tuc tuc stops, two sweet dogs, who we later learn to be the "guardians" of the waterfall, show us the path through the jungle and take us all the way to Elle Wala.
We can hear the noise before we can actually spot it. The stream falls into what looks like a natural amphitheater. There's a few giant rocks and lots of trees around, and a great swimming hole with freezing cold yet shallow water. It is a perfect setting: we can't help wondering why such a beautiful place doesn't get more visitors, but at the same time we are glad to have it all to ourselves.
Just as we have all to ourselves Buduruvagala, a Buddhist temple at around 7 km south of Wellawaya.
I am reluctant to visit, after having been crushed by the crowds during the poja at the Temple of the Tooth Relic in Kandy and having wasted the equivalent of $10 USD to see virtually nothing. Besides, we have already spent a significant amount of money at various sacred places only to realize that the sites aren't really that interesting to us, neither we feel they are worth the price.
But Diana insists, saying that Buduruvagala costs less than $2 USD anyways. So I decide I may as well give it a chance. And I am glad I do, if only to confirm my impression that the best attractions in Sri Lanka are the less visited ones, which have managed to keep a genuine atmosphere.
The temple consists of Buddha figures carved in the rock, dating back to the 10th century. The setting is idillic: completely surrounded by the forest, the only sound that of the gentle breeze the swept the trees.
For more Buddhist temples check out my post "A Guide To The Most Unique Buddhist Temples In Sri Lanka."
Jetwing Kuduruketha: we all deserve to be pampered
The best place to access the tropical paradise of Kuduruketha is Jetwing. The property consists of 25 beautiful, cozy and comfortable bungalows set in a gorgeous park, all with splendid views of the countryside.
There's a beautiful infinity pool that overlooks the rice fields, and a restaurant and bar that serve carefully prepared dishes and fabulous cocktails.
In line with its effort to respect and protect the environment, there's no air condinioning in the bungalows (and frankly, there's no need for it as the temperatures are actually quite pleasant at night). There's no TV in the rooms – this is a place to relax and disconnect from the world. And in order to help guests to do so, Jetwing Kuduruketha offers ayurvedic treatments, as well as yoga classes.
If I ever go back to Sri Lanka (and I intend to do so!) I will visit Kuduruketha again, and I will know where to stay.
For a complete guide about Sri Lanka, check my post 13 Fantastic Places To Visit In Sri Lanka.
Legal disclaimer: I was a guest of Jetwing Kuduruketha during my visit to Sri Lanka. All the views and opinions expressed are my own and based on my personal experience. The views expressed are honest and factual without any bias.
Pin It For Later