While most travelers typically spend just enough time in Nazca to fly over the world famous, UNESCO protected Nazca Lines (after Machu Picchu one of the most visited places in Peru), and then quickly move on to other destinations, there actually are many more things to do in Nazca, Peru. In fact, it may be a real pity to overlook the many attractions that this small town in the middle of the desert has to offer.
Nazca (which is sometimes also called Nasca) is located about 450 km (280 miles) south of Lima. The city itself is hardly attractive to be honest – think lots of dust, construction works and the typical chaos that characterizes even smaller towns in South America.
Yet, amidst all of that, well hidden in the desert surroundings of the city, there are some truly interesting sites. To visit them, you will probably need to hire a driver as most of them aren't within easy reach by public transport – but that's easy enough to do: there are plenty of taxis ready to take around tourists, and all you have to do is agree on a fee for the day.
If you are curious to discover all the things to do in Nazca, Peru, continue reading. After having spent a few days there, I am ready to share information on what to do in Nazca, and a few useful tips to help you plan your visit.
The Best Things To Do In Nazca, Peru
Fly over the Nazca Lines
The main reason that many people visit the Nazca region is to set eyes on the iconic Nazca Lines themselves. This incredible UNESCO World Heritage Site has left academics still questioning the origins and meanings behind these gargantuan glyphs.
Thought to date back to between 500 BC and 500 AD, these symbolic designs have been carved into the landscape to create a collection of geoglyphs. Covering more than 450 square kilometers, they were created by the Nazca people and can be found in the middle of the desert plateau.
These symbolic lines form the shapes of animals, plants, and humans, and more are being discovered every year. In 2020, for example, a cat-shaped glyph was found.
Thankfully, the arid and windless desert climate has preserved many of the lines. Visitors to the area are able to experience the awe of the well-preserved Nazca Lines from up high on a light aircraft.
A flight over the Nazca Lines is definitely one of the best things to do in Nazca, and while not cheap, it's money well spent. Flights usually last around 30 to 40 minutes and take in some of the best-known geoglyphs.
One theory for the creation of the Nazca Lines is that the people who made them wanted their deities to be able to see them from the sky, and so a flight means you'll be seeing them the way they were intended to be seen (according to some, anyway)!
You can book your flight over the Nazca lines here.
Make sure to read my post How To See The Nazca Lines.
Climb up Nazca Lines Observation Tower for some great views
For those who don't have the budget, or who are a little squeamish about flying, don't worry: there are other ways to see the lines. One such way is the Nazca Lines Observation Tower.
Located around 30 kilometers (18.6 miles) northwest of Nazca, you can reach the 13-meter (42 foot) tower via a simple bus ride. The bus costs only 3 Peruvian Soles (PEN) (about $0.75 USD), as does the entrance fee to the tower, which makes this little day trip a veritable bargain.
The view from the tower allows you to catch sight of two well-known glyphs – the Tree and the Hands – and from a good distance, too.
It is also possible to take a tour, which includes the Observation Tower and a trip to other sights in the area including a look-out point and a museum. This costs around PEN 143 (about $35 USD).You can book a land tour of the Nazca Lines here.
See the Cantalloc Aqueducts
Among the unmissable things to do in Nazca there's visiting the Cantalloc Aqueducts. These are located a little over three kilometers (little over 1.8 miles) from Nazca town. Dating back to around 1,500 years ago, the aqueducts were built by a pre-Inca civilization of the Nazca region and make up part of a network of 40 such aqueducts in the area.
Called puquios, these aqueducts consist of spiral shaped openings (allowing for cleaning and maintenance), lined with stones, that join to tunnels. These subterranean aqueducts were able to transport water over long distances in arid climates.
Built around the area, the aqueducts were used all year round and were crucial in providing water to fields and allowing for the cultivation of important crops, such as cotton, potatoes, and beans.
More than 30 of these ancient aqueducts remain functional to this day, and some local farmers still use them to irrigate their crops. For those of you who are taking a flight over the Nazca Lines, keep an eye out for the puquios, as you'll be able to see them from the air, too.
For a guided tour that goes to Cantalloc Aqueducts and also to Chauchilla Cemetery, click here.
Check out the Cahuachi Pyramids
The astounding Cahuachi Pyramids were in use from 1 AD to around 500 AD. This complex of buildings was a major ceremonial center for the Nazca culture that flourished at that time; it covers an area of around 360 acres and contains 40 pyramid-like structures.
The site has been studied extensively throughout the years with findings that support the idea that this wasn't the capital of the Nazca region, but rather a place of worship.
As well as the structures of walls and stepped pyramids that remain today, this site is also home to burial mounds. These have sadly become a target for looters which is a big problem in the area.
The best way to visit the Cahuachi Pyramids is to join a guided tour. A knowledgeable guide will be able to explain the meaning and history of the site (plus there are no English signs available). For information on tours of Cahuachi Pyramids, click here.
Learn about the "lady of the lines" at Museo Maria Reiche
No visit to Nazca would be complete without a visit to the former home of Doctor Maria Reiche (1903-1998), the German-born Peruvian academic who pioneered the study of the Nazca Lines. Once her home, today this building has been converted into a small museum dedicated to her life and work.
Here you'll be able to learn about her origins and the work that led to the Nazca Lines being designated a world heritage site. Also on display are her equipment, with maps, diagrams, photography, and even ancient relics discovered from around the area, too.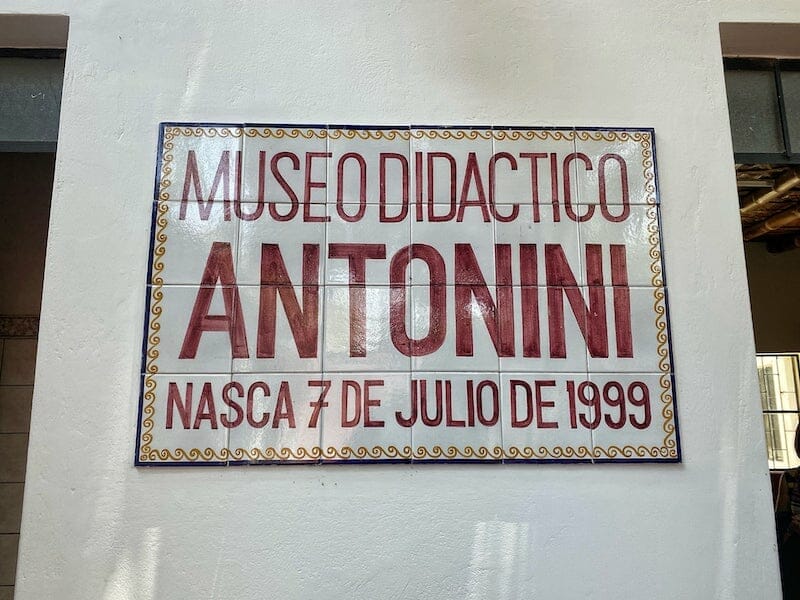 Get clued up at Museo Antonini
If you care to get a deeper insight into the lives of the ancient Nazca people, visiting the Museo Antonini is what to do in Nazca. Here you can find displays of mummies, pottery, textiles, and more whilst also learning about the special geography of the region and how the civilization adapted and flourished.
There are around 300 artefacts and objects on show at this museum; there's even a gallery dedicated to human skulls that have been excavated – thought to be the remains of human sacrifice.
Take a hike up the Cerro Blanco Sand Dune
If you feel like a challenge, then you're in luck: it's here in Nazca that you will find Cerro Blanco Sand Dune, one of the tallest sand dunes in the world. It rises up from the desert to the southeast of the city and is around 3,860 feet high (1,176 meters).
From atop the Cerro Blanco Sand Dune, it is actually possible to see the entire Nazca Valley. It was believed by the Nazca civilization to be a source of water – a belief still held by some locals who sometimes leave offerings at the top of the dune.
However, in recent years, thrill seekers have also made their way to this giant pile of sand. One of the most fun things to do in Nazca is a sandboarding and dune buggies tour up and down Cerro Blanco slopes – it can be easily arranged if that's what you like!
For information on tours of Cerro Blanco, click here.
Discover the mummies of Chauchilla Cemetery
Located at the Necropolis of Chauchilla, this cemetery is a Nazca burial ground where you can see the mummified remains of the ancient Nazca people.
The process of mummification involved first being "dried out" on wooden poles before being clothed in cotton, painted with resin, and placed in mud-brick tombs.
Sadly, many of the graves around the area have been looted and sacked, with many of the bodies losing their heads and other parts.
One grave in particular has been well maintained, however, with the human remains here incredibly well preserved due to the dry climate of the Peruvian desert. You can still see hair and incredibly, skin on some of the mummies here, which have been there for over 1,200 years.
For a tour of Chauchilla Cemetery that also includes a flight over the Nazca Lines, click here.
Visit the family-run Cerámicas Emilia
While there is a lot of ancient pottery to discover in the Nazca area, at Ceramicas Emilia you can see ceramics alive and well today. This family-run shop and museum has been passing down pottery techniques for generations, utilizing designs that have been found on ceramics discovered around the region.
If shopping for souvenirs is one of the things to do in Nazca, Peru, this certainly is the perfect place to get some unique pieces. Not only that, but the staff here are very friendly and will be happy to welcome you in so you can learn more about their artwork. You can even take part in a workshop to make your very own ceramic masterpiece!
You should also read my post 16 Best Souvenirs From Peru.
Pay a visit to the old Paredones
Called "Los Paredones", meaning thick walls in Spanish, this compact site was built by the Incas (perhaps in the 1400s) on top of the Nazca ruins in the region of Tupac Yupanqui. It is believed to be a former administrative complex, situated in a strategic location in which to monitor people traveling between the mountains and the coast.
Though the site is quite small, the Paredones still makes for an interesting visit. Not only does it show how great the Incan Empire was at building (the walls are made from incredibly compressed mud on top of the terrace), but it also shows their skill for controlling the population with checkpoints such as this.
Gaze up at the night sky at Nazca Planetarium
All those wide-open deserts make the perfect set-up for seeing the night sky in all its glory. Over at the Nazca Planetarium, visitors can see the moon and stars above through a selection of telescopes.
Also dedicated to Maria Reiche – who proposed the (now debunked) theory that the Nazca Lines were astronomical in nature – the planetarium plays host to lectures, and displays projections on the screen.
Enjoy a good meal at Mamashana
Probably the best restaurant in Nazca, Mamashana serves earthy portions of local staples in a friendly, welcoming environment. There is a very good selection of vegetarian and even vegan dishes. Wash down your food with an icy cold beer or a delicious, freshly squeezed lemonade (my favorite is the one mixed with verbena).
Practical Information To Plan Your Trip To Nasca, Peru
Now that you know all the unmissable things to do in Nazca, let me tell you how to plan your visit.
How to get to Nazca from Lima
Being a popular tourist destination in Peru, Nazca is well connected with the rest of the country. Lima is, of course, no exception. It is connected to the town of Nazca via the Pan-American Highway, and a bus trip takes around six-seven hours.
Buses from Lima to Nazca leave hourly. You could opt for a public bus, or take a bus via a private tour company such as PeruHop.
Even though Nazca has an airport, this is mainly used for tours. There are no commercial flights between Lima and Nazca.
How to get to Nazca from Arequipa
Arequipa is another popular jumping off point to reach Nazca. However the route is much longer: it takes around 10 hours to connect these two destinations, along the Pacific Coast of Peru. Again, you have the option of either a public bus or a private company.
As with Lima, there are no flights between Arequipa and Nazca.
When to visit Nazca
The Nasca region is well known for its hot, dry conditions throughout the year. Though Peru has a wet and a dry season, the weather on the Nazca Plateau remains quite stable and pretty much the same all year round.
The average temperature is 25°C (77°F) all year round, and throughout the year, Nazca sees only four millimeters of rainfall. The region is actually one of the driest in South America.
Summer here runs from December through March. For the city of Nazca there's plenty of sunshine, and temperatures reaching highs of 32°C (90°F). Winter falls between May and September, and nights this time of year can dip to 13°C (55°F), while highs are around 27°C (80°F).
Because of this desert climate, and a complete lack of rain, Nazca is a year-round destination – especially for those who want to visit the famous Lines. However, the high season does run between December and March, coinciding with the summer vacations of the Southern Hemisphere.
Make sure to read my post The Best Time To Visit Peru.
Where to stay in Nazca
Because it takes so long to get to Nasca from both Lima and Arequipa, staying the night in Nazca is a must – even if you're here just to do a flyover of the Nazca Lines.
The town of Nazca itself was, for many years, just a sleepy desert town. It still is in many ways, with a steady trickle of tourists passing through. Due to this, there's a small collection of comfortable hotels and accommodation options.
The northern part of the city is a good option for those traveling on a budget, with a selection of guesthouses and hotels to choose from. Here you'll find most things you need in easy reach – it's a short walk to the bus terminal, as well as eateries and ATMs.
Here are a few of the best hotels in Nazca to suit different budgets:
This hostel is a great budget friendly option for those who want to stay somewhere with a bit of atmosphere. Rooms here are comfortable and clean, and the owner speaks great English and will help guests with everything they need during their stay.
There's a games room on site where you can meet and mingle with other guests, while drinks and snacks are served up in the onsite bar. The Antonini Museum is just 200 meters away.
The perfect place to stay in Nazca after exploring for the day or after a long bus trip, the hotel is located right across the road from the bus station. However, it's also very comfortable with rooms that are clean and modern with wooden floors and private bathrooms.
The hotel boasts its own indoor and outdoor swimming pool, plus a restaurant, making it a one-stop shop for all your needs in the city. And even though it's central, this place feels calm and secluded.
For something a little more luxurious, try Hotel Majoro – a renovated farmhouse situated on the outskirts of the city. Both stylish and welcoming, staying at this four-star hotel means being able to experience life at the hacienda surrounded by nature.
Rooms here boast traditional touches, but with modern facilities for a convenient stay. Amenities here include an outdoor swimming pool, onsite bar and restaurant, and massage services, too.
What to pack for Nazca
Make sure you're prepared for exploring Nazca by packing the following:
Refillable water bottle – Being the desert and all, you'll need to hydrate
Sunscreen, hat and sunglasses – Protecting yourself from the sun should be top priority
Walking shoes – Comfy, sturdy shoes that can stand walking around all day
Motion sickness tablets – That flight above the Nazca Lines can be tough!
Day pack – A comfy day pack to put all your stuff in
Further Readings
For help planning your trip to Peru, make sure to read these posts:
Pin It For Later!