There are many fantastic things to do in Sorrento. Easy to reach from Naples, this coastal town perched on the Peninsula Sorrentina offers plenty of beautiful sights – what with its narrow alleys, the many beautiful churches, the great vistas and nice beaches.
But there's more! Sorrento is very well connected to the ruins of Pompeii, and it is an excellent starting point to explore the Amalfi Coast. Boats are easy to catch to the nearby island too.
Curious to find out more? Continue reading. I will be sharing the best things to do in Sorrento, and plenty of tips that will help you make the most of this charming small town.
Make sure to read my post The Best Day Trips From Naples.
20 Great Things To Do In Sorrento, Italy
Take it easy at Villa Comunale
However you make it to Sorrento, the first thing you'll likely want to do is relax at Villa Comunale, which is situated near the center of the town, making it the perfect place to do just that! This beautiful park is full of fountains and gardens with various plants and colorful flowers, but it's mostly known for its incredible views of the Bay of Naples.
From this park, you'll enjoy a vista that includes boats coming and going in the harbor, Mount Vesuvius, Capo di Sorrento and, on clear days, Ischia Island and Procida Island.
While you explore this park, make sure to take the lift that will take you down to the port area. Come evening, Villa Comunale is one of the best places to be in Sorrento just as the sun goes down.
Visit the Archeological Museum
The Archeological Museum in Sorrento, which is housed in a Neoclassical villa surrounded by gardens, is a fascinating place full of historical artifacts, including sculptures and artworks from various time periods between prehistoric times and Roman times.
Most of the artifacts were found in various villages around the region including the nearby town of Massa Lubrense and include some terra cotta vases and a huge marble statue.
Spend some time by the sea
One of the best things to do in Sorrento is going to the beach, and spending time by the sea. It's an easy walk to the sea from almost anywhere in Sorrento.
The two harbors, Marina Grande and Marina Piccola are interesting places to spend some time. Many visitors like to head to either of these harbors first thing in the morning to watch the fishermen unload the day's catch.
In the afternoon and evening, these areas fill up with would-be diners seeking a place to enjoy a delicious seafood meal. No matter when you go, you'll have views of colorful boats in the picturesque Bay of Naples. At Marina Piccola, there's also a scenic boardwalk.
Go for a swim
Although there are no sandy beaches near Sorrento, there are plenty of places to swim safely in the warm, clear waters of the Bay of Naples. Beach clubs can be found at Marina Piccola and other areas along the shoreline and these clubs feature a variety of amenities including bathing platforms from which you can make your entry into those enticing waters.
On average, it costs around €12 to rent a beach chair for the day and many beach clubs also feature a restaurant so you can enjoy delicious food and refreshing cocktails while you kick back in the sun.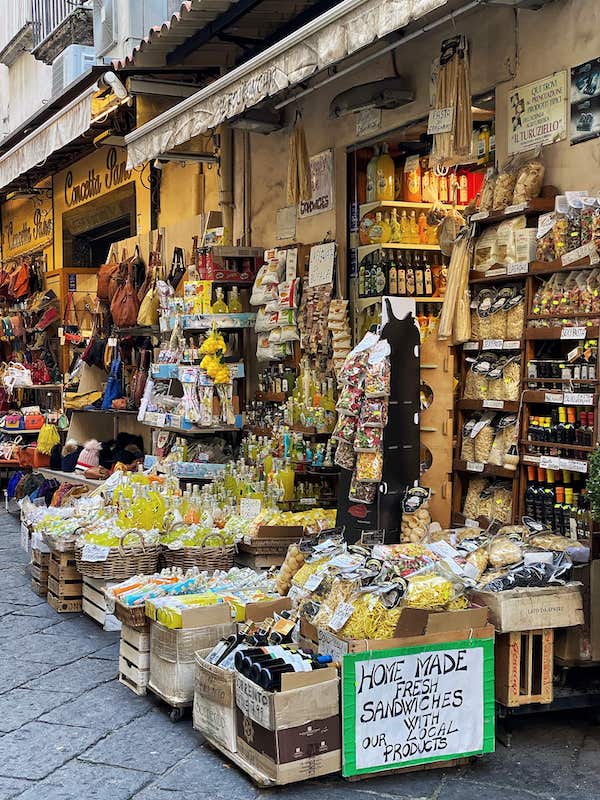 Take a stroll down Via San Cesareo
Locally known as the laneways (or Vicoletti in Italian), Via San Cesareo is where locals and tourists alike go to check out the unique little shops, enjoy a caffeinated beverage in one of the cute, cozy cafes or simply go for an evening stroll along this vibrant area of downtown Sorrento.
As you make your way along this street, you'll see fruit and vegetable stands, souvenir shops with locally-made trinkets and a quintessential Italian city scene made up of narrow, crowded alleyways.
The area is home to historical attractions, including Sedile Dominova and Chiesa dell'Addolorata and several churches that you can go inside. Be sure to stop in at one of the Limoncello makers where you can sample the famous liqueur that is made in Sorrento (more about that in a bit).
There are other interesting streets that lead off Via San Cesareo and if you happen to take a stroll in the evening, you might get to enjoy some live music or see some of the local people playing games on the sidewalk.
For a guided walking tour of Sorrento, click here.
Visit the Cloister of San Francesco
Parts of the Cloister of San Francesco is a monastery devoted to St. Francis that was constructed in the 8th century while other more modern areas, such as the cloister itself, date back to the 13th, 14th, and 16th centuries.
As you explore the site, you'll see elements from all these time periods including some of the original construction so that means you'll be able to admire architecture from various periods.
On site, you'll see beautiful gardens and a Baroque-style church with Renaissance chapels and statues of saints. The Cloister of San Francesco looks out over the Gulf of Naples so you'll also enjoy incredible views and, if you're lucky and are there during the summer months, you might catch one of the concerts, art shows, or events that take place there.
Visit Sorrento's Cathedral of San Filippo and San Giacomo
The Cathedral of San Filippo and San Giacomo, also known as Sorrento Cathedral, is a Roman Catholic cathedral with a history dating back to the 1400s. The remnants of an old bell tower from the 1100s are still visible along with an original door from 1474 despite there being numerous renovations to the site over the years.
The exterior of the property features beautiful architecture, including a three-story bell tower and clock. Inside the cathedral, you'll find a marble altar and bishop's throne from the 1500s and paintings from various eras, including works by Nicola Malinconico and Giacomo del Po'.
Check out the Basilica of Sant'Antonino
For more things to do in Sorrento, head to this lovely church! Once an oratory devoted to the patron saint Sant'Antonino, the Basilica of Sant'Antonino later became a church in the 11th century. When you explore the site today, you'll find Roman elements, including marble pillars and frescoes, as well as pieces of older buildings that were once on site.
Inside, you'll find more Roman artifacts and medieval art and the must-see crypt that houses the remains of the saint and silver medallions and artworks that were gifted by sailors who had been rescued at sea. The most intriguing item in the Basilica is the whale ribs that are said to be from a whale that had swallowed a child.
Be in the center of it all at Piazza Tasso
If you want to hang out in the main meeting place in the town where you can watch the going ons of everyday life in Sorrento, Piazza Tasso, which is the main square in the city, is the place to be. It's named after a well-known local poet from the 1500s and is a safe and lively place to go any time of day.
Mid-afternoon when the temperatures soar, it's a great place to enjoy a chilled drink. Come evening, head to one of the bars or cafes and take a seat outdoors and enjoy a delicious and refreshing cocktail as you relax and enjoy the sights and sounds around you.
Check out the Correale di Terranova Museum
It was once a collection of art compiled from various homes belonging to the Correale family in nearby Naples, but today, it's a beautiful museum housing works from that collection and more.
Some of the paintings date back to the 1600s and 1700s and there are also porcelain collections, Bohemian glassworks, antique furniture, ceramics and a collection of archaeological artifacts.
The outside grounds are surrounded by a citrus grove and there are gardens and a terrace that looks out over the Gulf of Naples.
Admire beautiful works at the Wooden Marquetry Shop-Museum
Housed in an 18th-century mansion, the Wooden Marquetry Shop-Museum showcases woodworks by some of the top masters of the craft in Sorrento in the 1800s. As you make your way through the museum, you'll see antique wooden furniture and other amazing works.
The house itself features frescoes and hand-painted wallpaper and in the on-site shop, you'll see that this art is not lost after all! This is where you can purchase some modern works.
View the City Walls
Since around 400 BC, Sorrento has enjoyed relative security provided by the City Walls which fortified the town through the ages. The walls were built, maintained, and redone throughout the years by various cultures, including the Greeks and Romans.
Parts of that fortified wall still exist around the city today. An amazingly well-preserved section of this ancient wall can be seen near the Marina Grande and another section can be seen at the Porta Parsano Bastion.
Spend some time outdoors at the Punta Campanella Natural Marine Reserve
One of the best things to do in Sorrento if you want to spend the day immersed in nature is heading to the Punta Campanella Natural Marine Reserve, situated just outside of town. Whether you explore it on foot or by kayak, as you make your way through the area, you'll see scenery consisting of rocky coastline, inlets, coves, caves and beaches.
Take note that many of these amazing places can only be accessed by boat, so renting a kayak is the best way to explore the reserve. If you know how to dive or snorkel, you'll be able to explore a whole new world beneath the waves where you'll see various marine creatures and reefs.
Try all the delicious local food
You'll find no shortage of delicious food in Sorrento! Seafood is the most sought-after food here, but there are many other dishes you should try while visiting the town.
Gnocchi alla Sorrentina, Ravioli alla Caprese, Spaghetti alla Nerano, Treccia Cheese, Cannelloni, and Scialatielli alle Vongole are just a few of the traditional dishes you'll find in many of the local restaurants.
If you really want to treat yourself to an incredible meal, Don Pedro specializes in traditional Mediterranean cuisine, particularly seafood-based dishes, that you'll enjoy while admiring stunning views of the sea.
For a food and wine tour in Sorrento, click here or here.
Want to learn how to prepare local specialties? Check out this class here or here.
Care to see the lovely lemon gardens and try local homemade marmalade? Click here.
You should also read my post The Best Food In Naples.
Try the best limoncello
Much like the Amalfi Coast, Sorrento is famous for the production of lemons. When life gives someone from Sorrento lemons, they make limoncello out of them!
This liquor made of lemon grinds, sugar and lots of alcohol is typically enjoyed after a meal (best after dinner in the summer months, as the alcohol in it will make you sweat otherwise!).
You will also find limoncello used in cakes and other desserts (my favorite is a limoncello tiramisu!). While the best limoncello is typically homemade, you will find lots of places in Sorrento where you can try limoncello and buy a bottle or two to bring home.
Take in the incredible views in the Vallone dei Mulini
The Vallone dei Mulini is a stunning and historic valley located close to town and very easily accessible behind Piazza Tasso. Two rivers run through this lush valley and as you explore the area, you'll come across the ruins of an old sawmill and a wide variety of plants.
Head out to the Amalfi Coast
The Amalfi Coast is one of the places you should absolutely visit if you are in this part of the country. The good news is that Sorrento is really close, and one of the best things to do in Sorrento is indeed going on a day trip to the Amalfi Coast.
Getting there is really easy. Unless you want to drive (but I don't recommend this, especially in the summer months, as the road is very windy, busy and parking is a nightmare), you mainly have three way of getting there.
BY BUS – The SITA bus departs at regular intervals from Sorrento Railway Station, stopping in Positano, Praiano and Amalfi.
BY BOAT – An even better way of getting to the Amalfi Coast from Sorrento is by boat! The hydrofoil from Sorrento to the Amalfi Coast operates from April to October and leaves four times a day, making stops in Positano and Amalfi (the last also stops in Maiori and Praiano).
BY GUIDED TOUR – Guided tours of the Amalfi Coast from Sorrento use all means of transport, so no matter your budget, interests and taste you will find something suitable.
For a guided tour of the Amalfi Coast by minibus, click here.
For a guided tour of the Amalfi Coast from Sorrento by boat, click here or here.
For an e-bike tour of the Amalfi Coast departing from Sorrento, click here.
Make sure to read my posts The Best Things To Do In The Amalfi Coast and How To Get To The Amalfi Coast From Naples.
Visit Pompeii or Herculaneum
The ruins of Pompeii and Herculaneum are incredibly easy to access from Sorrento, so if you are basing yourself in Sorrento you shouldn't miss the chance to explore both of these Roman cities that were destroyed by Mount Vesuvius eruption in 79 AD.
Both Pompeii and Herculaneum can be reached by the Circumvesuviana train that connects Naples to Sorrento. Make sure to get off at Pompei Scavi as that's the closest stop to the site of Pompeii. For Herculaneum you'll have to get off at Scavi Vesuvio. From there, it's a 10 minutes walk to the main entrance to the site.
For a guided tour of Pompeii and Mount Vesuvius departing from Sorrento, click here.
For a guided tour of Herculaneum from Sorrento, click here.
Head over to my posts How To Get Tickets To Pompeii and How To Get From Naples To Pompeii.
Go to Capri for the day
Capri actually deserves more than a day – well, provided to you have the budget to stay there: it's very expensive! The good news is that it is only a 30 minutes boat ride to get there from Sorrento, so you may as well go.
Several companies offer boat rides from Sorrento – there are more than twenty daily departures, so no matter what time you want to head out you will find a ride. Another option would be to book a guided boat tour to Capri from Sorrento.
Tours will typically go to the Blue Grotto, sail around the island and then give you some free time to explore on your own.
For a boat tour to Capri, including the Blue Grotto, departing from Sorrento, click here, here or here.
If you'd rather go to Ischia and Procida, click here.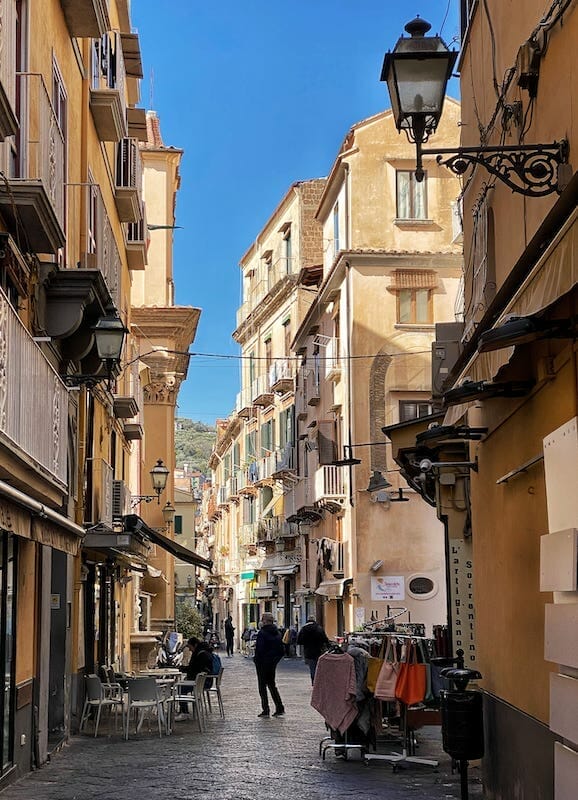 Shop till you drop!
Shopaholics reading this post, don't worry! One of the best things to do in Sorrento is, indeed, shopping. You will find many lovely souvenir shops to buy anything, from limoncello to local jams, leather bags, fridge magnets and more. If you are in the mood for some actual shopping, you will find plenty of lovely boutique stores to buy entirely new outfits.
Further Readings
If you are traveling to the Naples area, these other posts may be useful:
Pin It For Later!