There are many more things to do in Uruguay than meets the eye, travelers are in for a treat.
Compared to the rest of the Spanish speaking countries in South America, Uruguay is tiny and often wrongly ignored by travelers. The common misconception is that there aren't many places to visit in Uruguay. However, all those who travel to Uruguay will fall in love with the country, and end up wondering why they did not consider visiting sooner and staying longer as there are so many things to do in Uruguay.
I certainly did. I arrived in Uruguay at the very end of a long backpacking trip that took me from Mexico and Guatemala all the way down to Chile and Argentina. I was tired and just needed a place to relax and rest my sore backpacker's bones. My back hurt from carrying around a backpack full of memories and (well, yes!) bottles I picked along the way. For as tired as I was, I enjoyed my time there, relaxing at some amazing Uruguay beaches, and finding some incredible things to do in Uruguay.
Read more about Argentina on my post "Great things to do in Argentina."
I could not wait to board the flight that would have taken me back to Sardinia. I did not expect much from this small country, although some Uruguayan friends told me that Uruguay beaches were some of the best in South America.
Uruguay is locked between Argentina and Brazil, yet unbelievably different. Uruguay tourist attractions are varied, although the country is yet untouched by mass tourism. Most visitors are Argentinian and Brazilian vacationers who travel to Uruguay to enjoy its beaches between December and February. By the beginning of March, most of the traffic is gone, the beaches are quiet, and you will be able to enjoy peace and quiet.
There are many places to visit in Uruguay, and I could have easily spent weeks exploring the coast and its interior. But I had very limited time. So, the following destinations and activities gave me a good feel of the country and allowed me to leave with some great memories. So, here is my list of the best Uruguay tourist attractions and must dos.
7 Incredible Things To Do In Uruguay
Dance, eat asado and support your favorite team in the lively Montevideo
The capital city of Uruguay, Montevideo, is also the biggest city in the country, with roughly 1.3 million inhabitants. It is a place of contrasts, where the modern offices of downtown sit next to the old buildings of the historic centre (such as in Plaza Indipendencia).
There are many things to do in Montevideo, but while there, I definitely did not skip a visit to the Mercado del Puerto, where I could gorge on a great "asado" (barbecue). Since I happened to be in town on a Saturday afternoon, I took a walk along the Rambla – Montevideo's waterfront: this is where I got to spot the locals sipping "mate", a bitter tea made of dried and chopped up yerba leaves.
Tango lovers may be glad to find out that among Montevideo attractions, there are a number of good milongas: the city holds the title of "birthplace of tango" as much as Buenos Aires, and both cities have been granted the UNESCO title of intangible cultural heritage for holding the roots of tango.
Also, I found out that Uruguay has the longest Carnaval of South America, lasting a full 40 days. One of the best things to do in Montevideo is experiencing the Desfile de las Llamadas – an all night long parade accompanied by the drumming of candombe, an instrument brought to Uruguay by African slaves in the 18th century. Carnaval is so big in the country that there even is a Museo del Carnaval. There even are packaged tours that offer dinner, tango and candombe all in one day.
Make sure to read my post "25 Cool Things To Do In Montevideo."
These are some of the best tours and activities in Montevideo:
And these are some of the best places to stay in Montevideo:
One amazing, fully south-american thing I managed to do in Montevideo is go support my team at a "futból" match at Estadio Centenario. Football is the national sport here, and it is taken very seriously, so I was prepared to support my team of choice. This was a full local experience, and perhaps one of the best things to do in Uruguay.
Drink up some Tannat
Yup, the word has got out that Uruguay has some great wines! Wine has been produced in the country for over 250 years – an inheritance of the Italian, Spanish and French settlers who brought vines from their homeland.
But only recently Uruguayan wines have become more well-known. About one hour north of Montevideo, mostly between Canelones and San José, the wine region is home to some great "bodegas", wineries that offer some of the best wines of South America. Nothing better to accompany my asado, right?
Here are some of the best wine tours in Uruguay:
Visit the picturesque Colonia del Sacramento
If there is a place to visit in Uruguay, this is Colonia del Sacramento – perhaps Uruguay top tourist attraction. Many visit Colonia on day trips from Buenos Aires, but I actually preferred a couple of nights to fully enjoy this lazy small city.
Check out my post "10 Fantastic Day Trips From Buenos Aires."
It is possible to get there via a 3 hours bus ride from the Tres Cruces terminal in Montevideo. However, I was coming from Argentina, so I opted for a ferry. Colonia Express and Buque bus both have a regular ferry from Buenos Aires to Colonia that takes about one hour to cross the Rio de la Plata.
The Barrio Histórico of Colonia del Sacramento has been declared a World Heritage Site by UNESCO. A simple walking tour of Colonia, a pretty town founded by Portugues colonisers in 1680 allowed me to breathe in its history and charme, and if my breath was taken away by the heat, I could rest under the shade of the sycamore trees.
These are some of the best tours of Colonia del Sacramento:
I strolled along the cobbled streets of the centre, such as Calle de los Suspiros, where the bouganvillea bushes pop out from colorful and beautifully kept colonial houses. For a nice view over the mighty Rio de la Plata I walked up the lighthouse located near the Plaza Mayor.
Vintage car lovers will be able to spot many '50s cars parked at the side of the street. At sunset, there is nothing better than sipping a cold Pilsen beer while admiring the sunset over the Rio de la Plata. Finally, I concluded my day with a tasty dinner ("rabas", or fried calamari, are delicious here) in one of the cozy restaurants around the Plaza Mayor.
It's easy to find a good place to stay in Colonia del Sacramento, although it may get crowded at weekends and in the summer when lots of people arrive on day trips from Argentina. I stayed at Posada Las Barrancas, a bit outside the centre. It is a lovely brand new hostel, with clean dorms, good beds, a fully equipped kitchen and good wifi.
These are some of the best hotels in Colonia del Sacramento:
For more information about Colonia, check out my post "15 Great Things To Do In Colonia Del Sacramento Uruguay."
Relax, surf and hike in Punta del Diablo
In terms of Uruguay beaches, nothing can beat Punta del Diablo, in the region of Rocha, and visiting this beach is one of the things to do in Uruguay that I loved the most. A 5 hours bus ride from Montevideo, this village is a world apart.
This used to be (and to a great extent still is) a fishing village, where no more than 1000 people live in the winter months. But in recent years it has become increasingly popular among Uruguay tourist attractions. Holiday cottages and hostels have sprouted, but thankfully the coast has remained untouched. Punta del Diablo keeps being one of the best beaches in Uruguay, with its sand dunes and the fishermen still going by their usual business.
The top thing to do in Punta del Diablo is being lazy under the sun. It simply is the perfect place to relax, go for a walk at sunset, enjoy the sea breeze, breathe in the clean air. The beach is large, sandy and clean. There are plenty of friendly dogs running about, and they often decided to befriend me. In my case, they even liked to pose for pictures too. If I felt more active I went to rent surf boards or horses. There are some good waves to be surfed.
I like hiking, so I went to the beautiful Parque Nacional Santa Teresa, which is about 35 km south of the Brazilian border, is guarded by the Uruguayan army and can be easily reached from Punta del Diablo. Once I got off the bus, I headed to the waterfront and then go North. In about half hour, I reached Playa Grande, a long sandy beach that leads to the southern limits of Parque Nacional Canta Teresa.
There is a natural reserve that hosts various species of animals, a camping ground, and the Fort of Santa Teresa, built by the Portuguese and the Spaniards between 1762 and 1793.
Punta del Diablo is quiet at night. I headed to the waterfront for a walk and some live music. That's also where most restaurants are. My favorite is Resto Pub 70, in Avenida de los Pescadores, right in front of the police station: owned by an Italian family, they prepared home made pasta with a variety of sauces. The choices are limited, but the pasta delicious and the recipes authentic (they passed the Italian-picky-eater test, so you can be sure). Which reminds me that eating is one of the yummiest things to do in Uruguay.
I like star gazing, and I soon realised I was in for a treat: there hardly is any light at night, which makes Punta del Diablo perfect to stare at the sky in search of my good star.
There are many cabañas, charming hotels and budget hostels in Punta del Diablo. December to February are busy months and one may have to book well in advance. March is definitely quieter. I opted for Compay Hostel, a cool surfers spot. The wooden building has a good kitchen, lovely outer areas full of cozy couches and hammocks, spotless common bathrooms and good wifi. The owners also run a twin hostel in La Pedrera, Uruguay, another great beach popular with artists, surfers and families and one in Montevideo.
These are the best accommodation options in Punta del Diablo:
Act VIP like in Punta del Este
Completely different from Punta del Diablo, Punta del Este is THE place to visit in Uruguay to feel like a real socialite. Punta del Este has some of the best beaches in Uruguay, and it is where people go not only to lay in the sun, but also to peek at the glamorous people wandering about.
It is perhaps the most expensive destination in the country, and is in fact considered to be the "Hamptons of South America", Punta del Este is a favorite destinations of celebrities, packed with stylish hotels and restaurants, exclusive clubs, and a yatch harbor. Visiting Punta del Este is for sure one of the things to do in Uruguay.
These are the best tours of Punta del Este:
And these are the best places to stay in Punta del Este: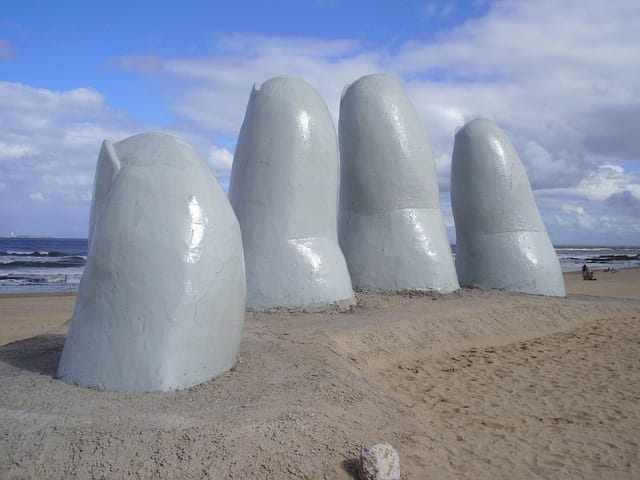 Get lost in Cabo Polonio
A world apart from Punta del Este, Cabo Polonio may well be the wildest spot in the country, and never disappoints visitors. Sure enough, visiting is one of the top things to do in Uruguay. A protected region since 2009, it is hard to reach: I had to catch a bus that then left me on Ruta 10, from where I had to hop on a 4×4 that will took me across the sand dunes. The other option would have been to hike the 7 km there, but I forgot to carry plenty of water with me so I did not. An alternative is that of joining a guided tour.
Read more about why I recommend taking a guided tour at times on this post. 
A colony of sea lions populate Cabo Polonio, but they are not the only residents. From August to October it is also possible to spot austral whales. There are a few shacks and wooden houses scattered alone the shoreline. However, most don't have electricity or running water. This makes Cabo Polonio the perfect place to escape modern life and return to nature, and a must when it comes to the things to do in Uruguay!
Cabo Polonio can be visited on a day trip from the nearby Barra de Valizas (a bit over 4 hours by bus from Montevideo), from where one can enjoy a 12 km walk along the beach, on a wild path that follows the ocean line.
Learn the skills of a gaucho
Uruguayans love the thought of a cowboy riding off into the sunset: it speaks of a time when life was simpler, when gauchos could lead cattle on the vast open plains of the country, helping create one of the greatest industries that would help it become one of the most prosperous states of South America. Riding horses, anywhere in the country, is surely one of the coolest things to do in Uruguay.
Among Uruguay tourist attractions, there is the possibility of spending some time in a "estancia", a ranch where guests can stay in old farmhouses, ride horses and learn new skills such as cattle herding. Estancias are mostly in the interior of Uruguay, giving visitors a chance to get away from the more well known coastal regions.
Now that I know the main Uruguay tourist attractions, I think I should hurry up, before everybody discovers them!
Have you been here? Do you have your own list of things to do in Uruguay? Let me know in the comments below!
If you need assistance in creating your personalized itinerary in Uruguay or care to know about more things to do in Uruguay, you can contact me in private through the contact form.
Pin It For Later