More and more people today want to visit Chernobyl and the new HBO series is bound to make it an even more popular tourist destination.
I visited Chernobyl 2 years ago, when it was not even trendy yet, and truly enjoyed it. I went on a 1-day tour that departed from Kiev and that took me to all the most interesting sites, such as the DUGA, the Kopachi Kindergarten and Pripyat, which used to be the biggest town in the area, and the most lively and affluent.
In this post, I will explain everything you should know to visit Chernobyl and will share a few tips to make the most of your time there. Before I do that, however, let me share some background information on Chernobyl and tell you why you should visit.
What Happened In Chernobyl?
Chernobyl Power Plant is located in Ukraine at about 130 km north of Kiev, close to the border with Belarus. In 1986, when the biggest nuclear incident in history occurred (400 times more the radiation of the bomb of Hiroshima, to give you an idea of the deep impact the explosion had), this was part of the USSR (it currently is Ukraine). Back then, there were four nuclear reactors in the power station, two of which where still under construction.
The power station is located at 18 km north of Chernobyl, which (I admit to not knowing this) is a really ancient town, funded over 1000 years ago and famous for being a center of Hasidic Judaism in the 19th century.
In April 1986, before the incident occurred, Chernobyl counted around 20000 inhabitants. It was not the largest town of the area. That was Pripyat, which was funded in the 1970s to accommodate people who worked in the power station, and which at the time of the disaster counted 50000 people. This was an avant-guard model Soviet town with lots of parks, as well as the closest city to the power plant, at about 5 km away.
On the early hours of April 26, 1986 one of the reactors of the Chernobyl Nuclear Power Plant experienced an unexpected surge of power, that caused a series of explosions and a fire in the core of the reactor, with the result that a large cloud of highly radioactive particles spread in the atmosphere and was blown from Ukraine across Europe.
36 hours after the nuclear disaster, the Soviets enacted the 10-kilometers exclusion zone which meant that the all people and their animals living in the area were evacuated. It is said that the delay in the evacuation was due to the favorable wind direction, which meant that it was actually safer to wait rather than evacuate. However, this may well be what was said in order to justify the delay in the evacuation.
Subsequently, the exclusion zone was extended to a radius of 30 kilometers, which meant that a further 68000 people were evacuated from the area, including from Chernobyl itself.
The Chernobyl Exclusion Zone is actually much bigger than you would expect: 2600 square kilometers, an area that is actually larger than Luxembourg.
Hardly anybody lives in Chernobyl today. A few years after the nuclear accident, 3000 people returned to the exclusion zone. Nowadays, only 400 of those 3000 that returned are still alive, and other than these people, the only ones around are those who are still employed in the clean-up and who work at Chernobyl Power Plant, which is currently under decommissioning and scheduled to end in 2065.
Against all odds wildlife is still present and actually thriving in Chernobyl Exclusion Zone: wild horses, bears, dears, foxes, lynxes and wolves live in the Red Forest, which you will drive by during your Chernobyl visit. There are even many stray dogs and a few cats – apparently (well) fed by the people who work in the exclusion zone.
Why You Should Visit
Each one of us may have a different reason to visit Chernobyl. I visited the exclusion zone because this is one of the first clear memories of a big (sad) event I have since my childhood, and I wanted to see with my eyes what the place I heard so much about when I was a child really looked like.
You should visit l to grasp the real damage to this earth man can do, and to also know how nature, in the end, will claim everything back. You should go if you are attracted to eerie places that have been completely abandoned (dark tourism is quite a thing, nowadays). You should see it if Soviet Era architecture fascinates you. And it honestly is a great addition to a trip to Ukraine.
5 Things To Know To Visit Chernobyl Exclusion Zone
Is it safe to visit?
The first question you should ask yourself before you go is whether it is safe to visit. The short answer is yes: 34 years after the disaster it is safe to go to the exclusion zone. You won't be exposed to much radiation during the visit, but keep in mind that, according to research, it will take at least 20000 years for the area to be finally radiation free.
Upon visiting Chernobyl, your tour guide will explain that the level of radiation people are exposed to during a day tour of Chernobyl Exclusion Zone is the same as that of a long haul flight – in other words minimal and without any real impact. Of course, it's important to pay attention to what the guides say – ie not touching anything (first and foremost the soil, which may be radioactive, but even not throwing snow balls), not eating anything, no sitting on the ground, wearing closed shoes, etc.
As visitors leave the exclusion zone, they have to go through an old soviet radiation control checkpoint where they are requested to place their hands while the device checks the radiation levels.
The best time to visit
Most people would recommend visiting Chernobyl in the spring or summer months, when temperatures are good and the area is in full bloom. I actually suggest going in the winter for an even more eerie experience.
I visited Chernobyl Exclusion Zone on 11 February 2017 – the temperatures in Ukraine were freezing compared to Sardinia, where I live. There were 30 centimeters of snow and more on the ground. That gave the whole place a surreal aura.
The main reason why I suggest to go in the winter is that the radiation is carried by particles like dust and soil. Snow acts as a blanket, and makes sure that these particles don't fly around. On a spring or summer day, a little bit of wind may cause the radiation levels to triple.
Can you visit independently?
The short answer is no. You definitely need a guide to visit Chernobyl, and this is for obvious safety reasons. A guide will tell you the paths where you can walk and will keep you out of trouble.
Guided tours of Chernobyl
Guided tours of Chernobyl are now a thing. They cost around €90 and can be bought online. Most of them depart from Kiev. They typically last a day but some even go on for two days. Tours usually take you to see Reactor 4, the amusement park, Chernobyl town, the Duga radar, and the nuclear power plant. Last year even the control room was opened to tourists, as a result of decree signed by the Ukrainian government upon wishes of President Zelensky to design the area as a tourist attraction.
There is a tour company that even includes a visit with the self-settlers.
This is a selection of the best guided tours of Chernobyl:
By all means, make sure to read the reviews before you pick your tour company. 
As I have already said, you can only visit Chernobyl on a tour group, because it is necessary to follow some strict rules, for safety reasons: eating, drinking and touching anything in the area is strictly forbidden (for obvious reasons); it's necessary to follow specific paths and some buildings are completely off limits – and only certified guides will be able to point which ones.
Read more about guided tours on my post "Ten reasons to take a guided tour at least once in life."
In order to enter the area, you will have to go through several checkpoints. When leaving, you are checked again for radiation and should your clothes or shoes appeared contaminated, you'd have to leave them behind. Throughout the visit, guides carried a geiger, which measures the levels of radioactivity. It is interesting to see how these varied dramatically even in the space of one or two meters.
Visiting the best sights
Chernobyl
Tours of Chernobyl usually start in Chernobyl town itself. Chernobyl today is completely empty: empty apartment buildings with shut windows; empty shuttered shops; what appears to be a school or a library, and on the other side a statue representing a winged angel.
There's a yard where decontaminating vehicles have been abandoned – their bright colors at odds with the blinding whiteness of the snow; and a monument built in memory of the firefighters who helped put out the fire of the nuclear plant and died of acute radiation-related sickness a few days after Chernobyl disaster.
The DUGA Radar
One of the most incredible sights in Chernobyl Exclusion Zone is that of the DUGA. This is an enormous over-the-horizon radar (of which apparently nobody knew: only in 2013, when the area was opened to the public, people learned about it) that the Soviets used to detect potential missiles coming from the US airspace, as part of an early-warning and reaction system of defense. It's 500 meters long, 90 meters high, and you will see upon visiting that is hardly possible to catch it on camera. It's rumored that it was in order to provide power to such a massive radar that the Chernobyl Power Plant was built.
The DUGA has been nicknamed "the Russian Woodpecker" because of the constant tapping noise it made.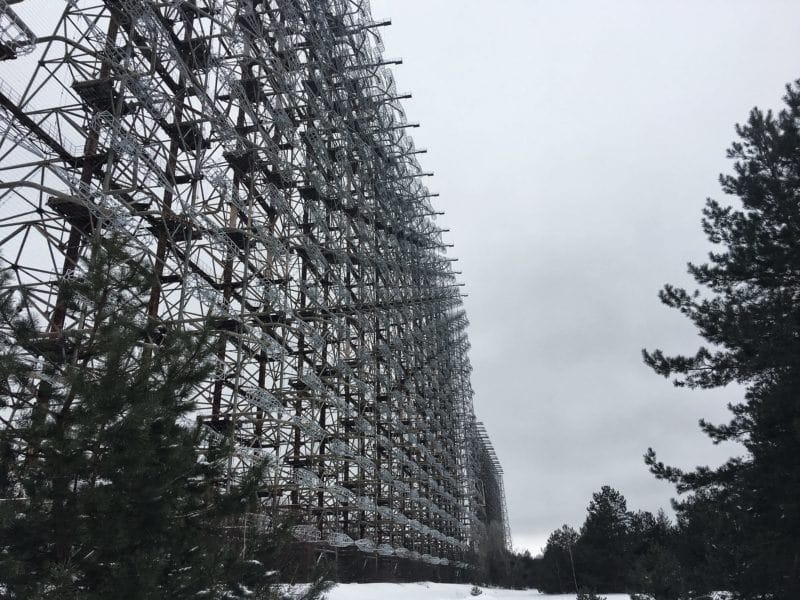 Kopachi Kindergarten
The Kopachi Kindergarten is another interesting sight. It is one of the few accessible buildings. The village – which was 7 km away from Reactor 4, was so badly affected by the radiation that it was completely buried. The kindergarten is one of the very few buildings that are a testimony of its existence.
I am not sure whether what you end up seeing is real or if it has just been staged for visitors. Either way, it feels like you are walking through a horror themed park. It looks like this place has been abandoned in a rush: there are old dolls, books and other toys scattered everywhere; the small bed frames of the dormitories left to rust; broken windows and glass everywhere.
Reactor 4
The tour of Chernobyl Exclusion Zone continues to this reactor, which can be seen from a distance. A huge concrete structure similar to an arch was built around the reactor to prevent radiation from escaping. Apparently, the radioactive material inside is so toxic that it can't be removed and that's why a sarcophagus structure was built around it immediately after the explosion. The entire area is currently under decommissioning – there's still people who work there. It is not possible to take pictures of the area (besides the arch).
A new sarcophagus has been built and placed on the site in October 2017, thanks to EU funding. This is meant to limit the radiation for another 100 years.
Pripyat
Pripyat generally is the last stop during tours of Chernobyl exclusion zone. The now-abandoned town is the perfect symbol of a life that could have been, but never was. It is such a reminder of the damage man can cause – to nature, to other human beings, and to life in general – for the sake of power and control.
This ghost town used to be a happy city, as the old pictures showed: its young inhabitants (the average age was just 26) walking along the boulevards; shops; schools; beautiful homes; stadiums; a park; playgrounds and swimming pools. To celebrate the happiness, an amusement park was built: bumper cars, a ferris wheel, a shooting range. It was meant to be inaugurated on 1 May 1986.
Life in Pripyat stopped on that sad day of April 1986, when the city was completely evacuated. Nowadays, the ferris wheel is a sad reminder of a happiness that was never fully achieved. Nature is claiming back the city – though as it was covered in snow when I visited, this wasn't nearly as visible as it would be during the spring and summer months.
Pripyat is now completely dead. The silence is deafening. There is nobody around, except for other visitors on guided tours and the odd dog who follows you around. On the main square, the Hotel Polissa – once the best hotel in the city – stands next to the Palace of Culture, where there used to be a boxing ring, a gymnasium, a cinema and a swimming pool.
On the other side of the square, standing alone in one corner, there's a phone booth: who was the last person to call from there? Who was he or she calling? What were they saying to each other?
Needless to say, my question – and many others I didn't really ask out loud – is left unanswered.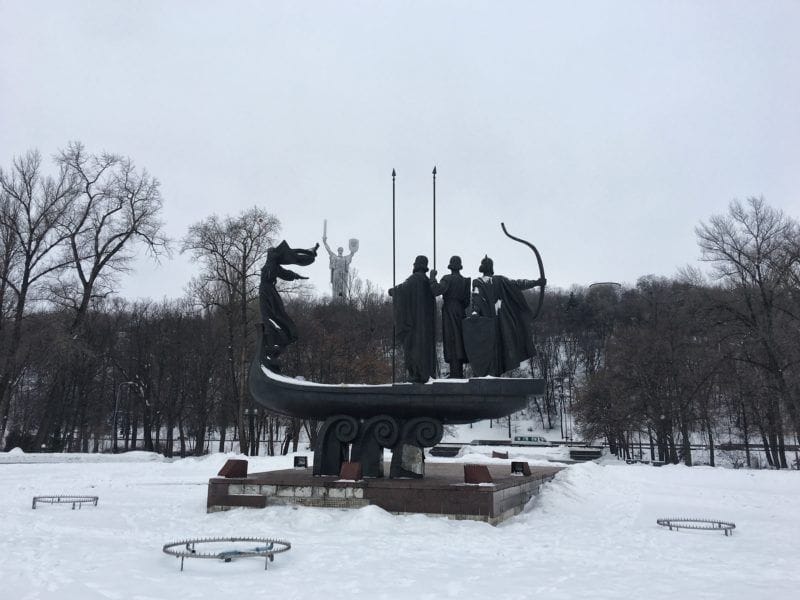 Other Useful Information To Plan Your Trip
What to wear when visiting Chernobyl
Whether you visit Chernobyl in the winter or in the spring months, the key is to make sure to wear comfortable clothes and shoes. You are also advised to wear long-sleeved shirts and long pants even in the summer, to minimize the risk of contamination. Here's a list of essentials:
Comfortable walking shoes. If you are visiting in the winter, you really need a good pair of waterproof hiking boots to walk on snow.
A rain jacket in case of bad weather.
If you are going in the winter, you need the thickest parka you can find – something that keeps you warm for the many hours you will spend walking around.
Again, if you are going in the winter you will need thermal underwear – pants and shirt; multiple layers of fleece and thick wool socks.
If you have them, you may want to wear ski pants – they are guaranteed to keep you warm and dry in the cold winter of Ukraine.
Gloves, scarf and a hat are a must. You may even want to take some hand warmers. Use a pair for your hands and one for your feet.
A good camera – mirrorless if you want something compact, or a good smartphone if you want.
Using Kiev as your starting point
The best starting point to visit Chernobyl is Kiev, the capital of Ukraine, which has a very good selection of hotels and restaurants. I recommend spending a few days there to make the most of it, as there are a lot of things to see in Kiev: churches, touching monuments (such as those dedicated to the famine and the Ukrainian genocide), street art and much more. I particularly loved observing people fishing in the frozen Dnepr river.
If you are planning to spend a few days in Kiev, make sure to check out this 3 day Kiev itinerary.
Where to stay and eat in Kiev
With regards to hotels, the Ukrainian capital has a great selection. Here are just a few places:
The choice of restaurants in town is fantastic. I ate at Ostanya Barykada, which is a secret restaurant that can be entered through a gift shop in an underground shopping mall. You even need a password to get in. Unfortunately, I can't remember! What I do remember is that the place is incredibly quirky: the name (which translated means "the last barricade") is a reminder of the struggle for independence from the Soviet Union. When I visited, there was a live band playing some fine jazzy tunes. The food is simply delicious. I had the traditional chicken Kiev and a mouthwatering dessert of apple tart, meringue, and home-made ice-cream.
Another fantastic restaurant is Shoti, which however focuses on Georgian cuisine. I tried the Georgian style ravioli and they were so full of flavor!
How to get to Kiev
Direct flights are available from several European capitals, as well as from the United States. Several budget airlines also have flights from European cities – so if you are flexible about dates, you trip won't cost you a fortune.
Other useful information
I always recommend getting travel insurance for any of your trip – and this definitely applies to a trip to Chernobyl. Make sure to also get a good travel insurance before you visit Chernobyl. Get yours here.
Check out my post "Why You Need A Good Travel Insurance."
For more readings about Chernobyl, you can check one of these books:
Final Thoughts On Visiting Chernobyl
When I shared the pictures of my trip to Chernobyl to some family and friends, some of the comments I received were of the sort: "It doesn't exactly look like a merry place;" "it truly looks like the set of a post-apocalyptic movie;" and "that would not be a fun trip." They were right, in a way. A tour of Chernobyl isn't exactly a lighthearted kind of experience, and it leaves visitors with lots of questions and doubts. I wasn't sad though – I didn't feel the same kind of sadness or anger I felt when I visited the War Remnants Museum of Saigon, in Vietnam, or the Corner House in Riga, Latvia.
In any case, I don't think that we only ought to travel to have a good time. Traveling is also an incredible eye opener: it is a way to learn more about cultures and histories that are different from ours. It gives us the possibility to know what humans are capable of, in their constant struggle for supremacy.
Chernobyl is just that: a strong reminder that disasters can happen that may affect the entire world, and that we should strive to make this world a better place for all.
Yes, I am glad I had a chance to visit Chernobyl, and I think it is really worth going.
Pin It For Later!