Located in the gorgeous gardens of Villa Borghese, in the heart of Rome, Borghese Gallery is, without the shadow of a doubt, the best museum in Rome. Not only it has an impressive art collection, with more paintings and sculptures that you could ever dream to admire, but it's also a truly beautiful building, with grand rooms complete of antique furnishings, chandeliers, tapestries. Adding to this, the Borghese Gallery often hosts special art exhibits too – last time I visited, there was one dedicated to Damien Hirst.
If you are planning a trip to Rome, you should add Borghese Gallery – and Villa Borghese Gardens – to your itinerary. Curious to find out more about it? Continue reading: I will tell you everything you need to know about Borghese Gallery, the most important pieces on display, and lots of useful information to plan your visit.
Make sure to read my posts The Best Museums In Rome and A Guide To Villa Borghese Gardens.
Looking for more unique museums in Rome? Head over to my post How To Visit Doria Pamphilj Gallery.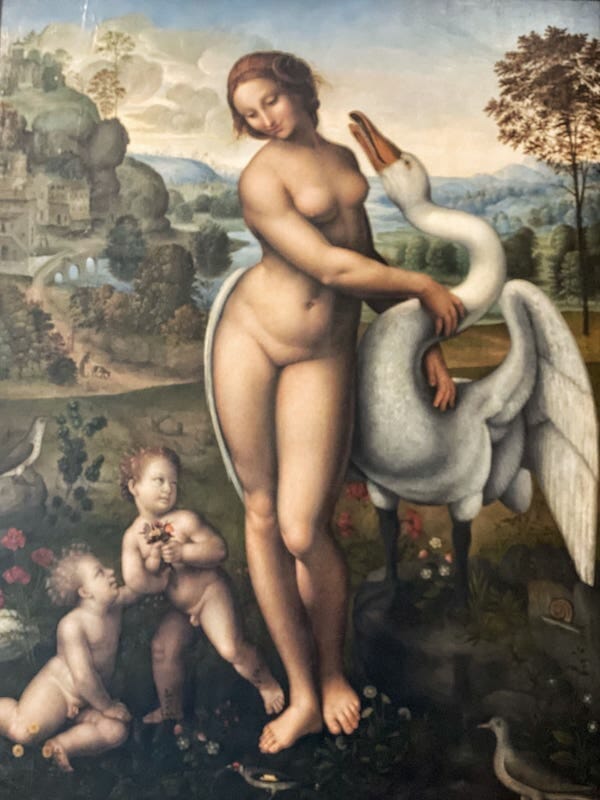 The History Of Borghese Gallery, Rome
Galleria Borghese is an art gallery today, but it hasn't always been that way. In fact, the venerable gallery is set in a centuries-old palace and its grounds.
Originally, it was the Casino Borghese (a small country villa). Built in the 17th-century, this was the private residence of Scipione Borghese – a Roman cardinal and secretary to the Pope.
When it was first built, the house was situated outside of the walls of the city of Rome. It covered an area of almost three square miles, and was located near the Porta del Popolo.
Casino Borghese was designed by the Flemish architect Giovanni Vasanzio, in the style of an ancient Roman villa. It was partly built using stones obtained from ancient Roman monuments, including the Arch of Claudius, which once stood on Via Flaminia.
The casino was an ornate residence, and was once described by John Evelyn in 1644 as "an Elysium of delight," noting that it boasted "Fountains of sundry inventions, Groves and small Rivulets of Water" as well as a menagerie of animals, including ostriches, peacocks and swans.
Scipione Borghese himself was an avid collector of art. Once his villa had been built, he set about filling the walls and spaces with pieces from his own private art collection. Over the years, his collection grew.
Notably, it contained a number of sculptures by Baroque architect and artist, Gian Lorenzo Bernini, which sat in pride of place at the property. Not only that, but Bernini was also commissioned to create pieces specifically for the house. This was to such an extent that, today, the Galleria Borghese is home to the largest collection of works by Bernini in the world.
With all these masterpieces on display around his house, Scipione naturally played host to parties to show off his collection. Villa Borghese became a hotbed of aristocratic social events, where he would impress Rome's elites and artists alike with his treasure of paintings and sculpture.
The property remained under the ownership of the Borghese family for many centuries, undergoing some renovations and redesigns in the 17th and 18th centuries. For example, in 1775, the garden was recast into the style of a (then very fashionable) English-style garden by the architect Antonio Asperucci.
The late 18th century also brought with it a momentous occasion: this is when part of the property transitioned to become a public museum.
Eventually, the villa – along with the entire estate – was sold to the Italian government in 1902. It was then officially opened to the public as the Galleria Borghese. Much of the collection on display is part of the original Scipione collection, with a few pieces added and sold over the years. It's an impressive array of masterpieces, spanning millennia of creativity in the Italian peninsula.
The gallery itself comprises 20 rooms set across two floors. The main floor focuses on classical antiques of the 1st to the 3rd centuries AD, and is home to not only sculpture but also ancient Roman mosaics, too. The interior design alone makes the Galleria Borghese worth a visit, with eye-catching frescoed ceilings, gilded details and ornate grotesque decorations.
Seeing the ancient artwork here is a good way to start your journey. Here you can see important pieces from landmark artists who paved the way in the ancient world, bringing classical styles into the modern world.
You should also read my post The Most Beautiful Palaces In Rome.
What To See When Visiting Borghese Gallery
As you can tell, there's a lot to see at the Galleria Borghese. It pays to know a few important works of art and sculptures to make a beeline for. Here are just a few of the most famed pieces in the collection. There are many more worth checking out!
Bernini's The Rape of Proserpina
This is a must-see if you're visiting the gallery. It was designed by Bernini specifically for the room in which it is still situated. What's most impressive is the fact that Bernini carved this in 1621-22, making him just 23 years old at the time of its completion.
The sculpture itself is a dramatic depiction of the abduction of Proserpina, an ancient Roman goddess who was taken to the Underworld by its ruler, the god Pluto. Although at first sight, the sculpture is striking, a further examination reveals Bernini's skill at reproducing the human form.
The muscles on Pluto's forearms, and the elegance of Proserpina's hands, as well as the dynamic movement of the piece – not to mention how Bernini somehow seems to make hard marble look soft – is nothing short of incredible.
Bernini's Apollo and Daphne
Another highlight of the collection is Bernini's sculpture that depicts the climax of the story of Apollo and Daphne in Roman poet Ovid's work Metamorphoses (written in 8 AD). Created between 1622 and 1625, the sculpture remains an incredible display of Bernini's skill. Daphne's metamorphosis from her human form into that of a tree, with her hands turning into branches and her hair becoming leaves, is still impressive to this day.
If you do go and see this sculpture, note that Bernini planned for it to be seen from just slightly to the right perspective. This gives the viewer the chance to see the faces of both Apollo and Daphne simultaneously, helping them to understand the story's narrative.
Make sure to also read my post Where To See The Works Of Bernini In Rome.
Caravaggio's Madonna and Child with St Anne
Painted between 1605 and 1666 for an altar at St Peter's Basilica, this work by Caravaggio is one of the more mature religious works of his oeuvre. The artwork was purchased by Scipione Borghese after its removal from the Vatican; it is believed to have been removed because of its Orthodox, rather than Catholic, portrayal of the Virgin Mary. The piece has hung in the Galleria Borghese ever since.
It shows a human side to the figure of St Anne, who appears as an elderly peasant and the personification of divine grace. It's believed to probably have been quite a shocking painting at the time of its creation, mainly because of its depictions of Christ, Mary and St Anne as human individuals rather than unflawed, godly beings.
Caravaggio's David with the Head of Goliath
This painting by Caravaggio – full name Michelangelo Merisi da Caravaggio – dates from around 1610, making it an early one in the master's career. It's a dark and captivating piece, showing the drama of Goliath's huge head held aloft by David as it drips with blood.
David's expression is complex: a gritty mix of sadness and compassion. Viewers that look closely at David's sword can see an abbreviation of a Latin phrase, which translates to: "Humility kills pride."
Check out my post Where To See Caravaggio's Paintings In Rome.
Raphael's The Deposition
Raphael, or Raffaello Sanzio da Urbino, was a pivotal figure in the High Renaissance, and – along with Leonardo Da Vinci and Michelangelo – is considered to be one of the period's three great masters. And luckily at the Galleria Borghese, you'll get to see some of his works up close and personal, one of them is notably The Deposition.
Originally a central panel of a larger altarpiece, the artwork was commissioned by Atalanta Baglioni of Perugia to honor her deceased son, Grifonetto Baglioni. The painting, which was completed in 1507, is a somber yet colorful depiction of Christ being taken down off the cross in a loving and caring way. The sorrow of his disciples and close relatives is easy to see on their faces, thanks to the skill of Raphael.
Head over to my post Where To See The Works Of Raphael In Rome.
Titian's Sacred and Profane Love
This oil painting by Tiziano Vecelli (aka Titian) is thought to have been created in 1514 in the early stages of the artist's career. It is also considered one of the most valuable paintings in the collection.
It is believed to depict a bride, who sits next to Cupid, both of whom are watched over by the goddess Venus. Art critics have attempted to find the meaning behind the painting over the centuries, but no one has ever come to a conclusion.
What is for certain, however, is that this is one of Titian's most iconic and impressive paintings. So much so that many attempts have been made to purchase the piece from the gallery, including an offer of over 2.6 million euros from the Rothschild family. Thankfully, however, it remains on display in the gallery to this day.
Practical Info About Visiting Borghese Gallery
Galleria Borghese opening hours
Opening hours of Galleria Borghese are 9:00 am – 7:00 pm (last entry 5:45 pm), Tuesday to Sunday. Currently there's a limited entry of 180 admitted per two-hour slots.
These two-hour slots are:
9:00 am – 11:00 am
10:00 am – 12:00 pm
11:00 am – 1:00 pm
12:00 pm – 2:00 pm
1:00 pm – 3:00 pm
2:00 pm – 4:00 pm
3:00 pm – 5:00 pm
4:00 pm – 6:00 pm
5:00 pm – 7:00 pm
5:45 pm – 7:00 pm
As of the end of April, on Fridays and Saturdays Borghese Gallery is open until 10:00 pm (last entry 8:45 pm).
The museum is closed on Mondays, Christmas Day and the 1st January.
Best time to visit
Borghese Gallery is best visited early in the morning, as tour groups tend to appear mid-morning to lunchtime. If you are planning to spend the weekend in Rome, consider visiting on a Friday or Saturday, when it's open until 10:00 pm, and go during the very last time slot.
Galleria Borghese tickets
Tickets for the Galleria Borghese cannot be bought at the gallery itself – there is no ticket office on site, so it is not possible to turn up on the day, walk into the gallery and purchase a ticket. Instead, you'll have to book online or call the gallery and book in advance. You will have to pick a time slot for your visit, too.
Although this sounds a little bit laborious, don't worry: this can actually be quite an advantageous situation for gallery visitors. One of the reasons is that you won't have to wait in line to get a ticket, and the crowds generally will be thinner, too.
If the Galleria Borghese is definitely something you want to include in your Rome itinerary, then I recommend that you book as far in advance as you can for the day and time you want to visit. It's a popular attraction, after all, and can get booked up very quickly.
Here is a breakdown of the ticket prices
Adults: €15
EU citizens 18-25: €2
Children under 18 / EU citizens who are disabled (plus one companion): Free
Guided tours (in Italian) booked via the official site cost €23
Note that the prices already feature the additional €2 that will be charged as a booking fee (except for EU citizens who are disabled). There is also an additional fee of up to €1.50 in case you want an insurance for cancellation.
Borghese Gallery is free to visit on the first Sunday of the month.
You can get your Borghese Gallery tickets on the official site here.
Alternatively, consider getting your tickets on a third party booking site. For a slightly cheaper price, you will have more flexibility and an easy-to-reach customer service. You can get your Galleria Borghese tickets on Tiqets here.
Should you get a guided tour?
We regretted not getting a guided tour last time we visited. Sure, if you don't want to you don't have to. However, if you're really interested in art and you want to learn more about sculptures and paintings on display at Galleria Borghese, it's definitely better.
It's a fantastic opportunity to get extra insight into these incredible masterpieces, and offers a much more in-depth look at the history and meaning of the art on display.
For a guided tour of Villa Borghese, click here or here.
For a private tour of Borghese Gallery, click here.
Security checks
In order to enter Borghese Gallery, you will have to go through airport style security checks.
Bags are not allowed into the Galleria Borghese at all. Anything larger than a small handbag (specifically, 40 x 40 centimeters), such as a wheeled suitcase or backpack, will be required to be stored in an individual locker or the cloakroom at the entrance. Umbrellas are also not allowed into the gallery and will need to be stored.
Is photography allowed?
Photography is allowed in the museum galleries but only for personal use (not commercial). Flash photography is not allowed.
Toilets
The toilets at the Galleria Borghese are located in the basement cafe, which you'll find close to the entrance.
Disabled Access
There is disabled access to the gallery. Though the main entrance features steps, there is wheelchair access to the back of the building.
How to get there
The address of the Galleria Borghese is Piazzale Scipione Borghese, 5. You reach it by walking through the parkland of Villa Borghese. The closest entrance to this is at Via Pinciana. The nearest bus stop is Pinciana/Museo Borghese (served by bus routes 52, 53, 63, 83, 92 and 223, among others).
Alternatively, you can take metro Line A to Piazza di Spagna and follow the well signposted walk to the gallery. You can also walk to Piazza del Popolo and through the Pincian Hill to get there – it's a lovely walk!
Check out my posts How To Use Public Transport In Rome and How To Use Rome Metro.
Pin It For Later!