Visiting St Peter's Basilica is simply a must when in Rome.
St Peter's Basilica is basically the center of the Catholic Church worldwide, and one of the holiest religious sites in Rome. Situated in the Vatican City, it has UNESCO World Heritage Site status, a wealth of art and sculpture, and layers of history to uncover – from its ancient Roman origins all the way to its Renaissance rebuilding. There couldn't be a more important place for world history to visit in the Italian capital.
If you are thinking about visiting St Peter's Basilica during your trip to Rome, you are in the right place. In this post, I will share everything you need to know about this magnificent church, including some practical information that will help you plan your visit and make the most of it.
Make sure to read my post The Most Interesting Facts About Vatican City and The Best Things To Do In Vatican City.
The History Of St. Peter's Basilica
The history of St Peter's Basilica stretches back all the way to the ancient days of Imperial Rome. It is believed by the Catholic Church that St Peter was buried on the site that the basilica was eventually built on.
The story goes that, after the crucifixion of Jesus, the apostle Simon (known as Peter) took a position of leadership and helped found the Christian church, and spread the new religion across the ancient world.
According to Catholic belief, after decades of preaching, he eventually traveled to Rome where he was executed – along with another apostle, Paul – during the reign of Roman Emperor Nero in 64 AD. Though he was to be crucified, legend has it that he requested to be crucified upside down as he did not believe he was worthy to die in the same manner as Jesus.
The location of the crucifixion was near to the ancient Egyptian obelisk in the Circus of Nero. The same obelisk now stands at the center of St Peter!s Square, as one of the ancient witnesses of Peter's death almost two thousand years ago.
Peter's remains were buried outside the Circus, close to his place of death. Some years later, a shrine was built on the site. Then, almost three hundred years later in the 4th century AD, what is now known as Old St Peter's Basilica was built.
This was situated on the same spot that the "new" St Peter's Basilica is now located. It stood from the 4th to the 16th century, gradually becoming a more and more important place of pilgrimage in Rome. Begun by Emperor Constantine I, it took around 40 years to complete the Basilica. It was later partly destroyed by Arab raiders in 846, as it stood outside the protection of the Aurelian walls.
The Basilica was home to many burials of important figures, including most of the Popes of the 15th century.
The Basilica had been neglected during the Avignon Papacy of 1309 to 1376 and had fallen into disrepair. Plans to rebuild the church began at the end of the 15th century. Under Pope Nicholas V, plans for an entirely new Basilica were drawn up, but this never came into fruition due to political issues.
However, Nicolas V had ordered the demolition of the Colosseum. Before his death, up to 2,500 cartloads of material had been transported from the Colosseum for use in the new Basilica building, though only some work had begun.
Pope Julius II made plans for a much more grandiose construction project, even going as far to plan his own tomb – designed by Michelangelo – to be placed within the new Basilica. The Old Basilica was demolished in 1505, and a competition was held for the design of the new Basilica.
However, it would take another 120 years – as well as the efforts of numerous architects and artists under many successive Popes – for the present day building to find its final form.
There were various visions for how it should look. The winning design, however, was that of Donato Bramante. His design was inspired both by the Greek cross, and the dome of the ancient Pantheon. The first foundation stone for Bramante's Basilica was laid in 1506.
Bramante was replaced after Pope Julius II died in 1513. The following year, Raphael was confirmed as the architect. He made changes to the design, elongating the walls and aisles into a more rectangular floor plan. Then after Raphael died, several architects took on the project, until in 1547 – under the reign of Pope Paul III – Michelangelo, then in his 70s, led the project.
The great artist didn't want to take it on, writing: "I undertake this only for the love of God and in honor of the Apostle."
Given full reign of the build, it was Michelangelo's design that took hold. It wasn't until the mid-1600s that St Peter's Basilica was finally completed as it looks today.
Now that you have a better idea of the history of this fantastic church, let's check out the main sights inside the church and see what you need to know before visiting St Peter's Basilica.
What To See When Visiting St Peter's Basilica
St Peter's Baldachin
Known in Italian as the Baldacchino, this pavilion structure is one of the holiest spots in St Peter's Basilica. Thought to be one of the largest single pieces of bronze in the world, this structure is an impressive 28.7 meters (94.3 feet) tall. Situated above the altar, and beneath the dome, it creates a holy space – allegedly above the spot below ground where St Peter was laid to rest.
It was designed by Baroque master Bernini between 1623 and 1634. He took influence from the canopy that is held over the Pope's head during processions. The twisting columns of the baldacchino were inspired by the columns at the Temple of Jerusalem, and are decorated with laurel leaves – symbolizing triumph – and bees, which appear on the family crest of Pope Urban VIII, who commissioned the piece.
Make sure to read my post Where To See The Works Of Bernini In Rome.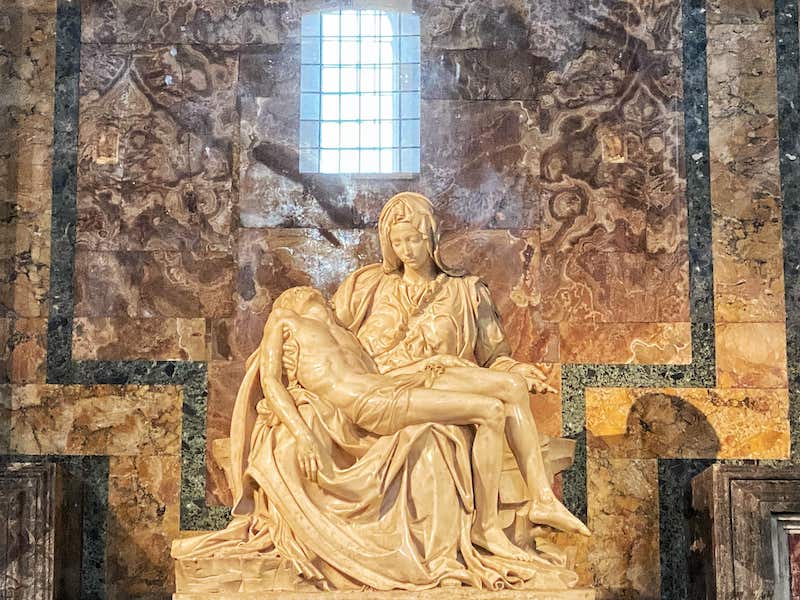 Michelangelo's Pietà
Located in the first chapel is the beautiful Pietà by Michelangelo. Created by the artist between 1498 and 1499, the piece was carved out of white marble and depicts the Virgin Mary holding Jesus in her arms. It is considered an important piece of Renaissance art due to its balance of naturalism and classical beauty. Michelangelo was a relatively unknown artist at the time of its creation. Interestingly, it's the only piece that he ever signed.
Check out my post Where To See The Works Of Michelangelo In Rome.
Loggia Delle Benedizioni
Known also as the Loggia of the Blessings or simply St Peter's Central Balcony, this is where blessings are given by the Pope. It's also from here that new Popes are announced.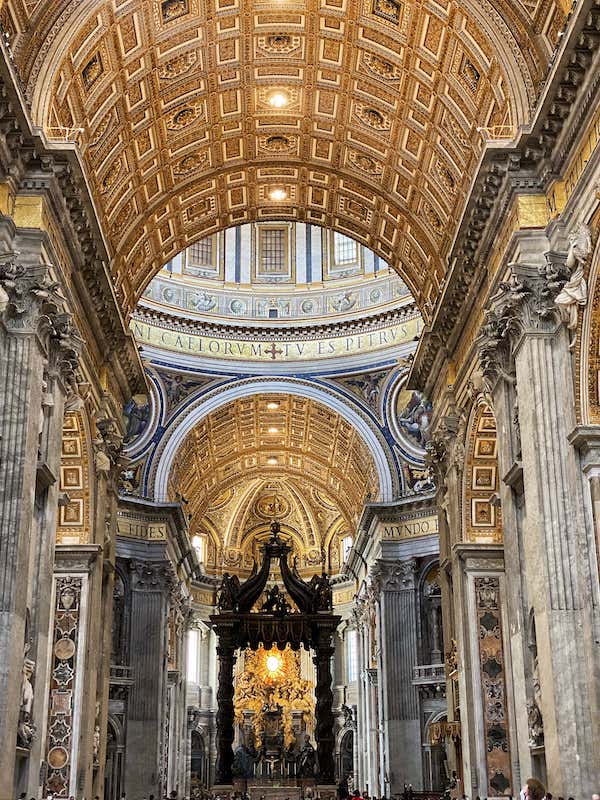 The Chair of St Peter
This bombastic Baroque monument is an amazingly elaborate altar in itself, but it is also home to a relic (supposedly). It's here that you'll find a throne, a wooden chair that is said to have been used by St Peter himself for sermons preached to the early Christians of Rome.
Around the chair is a giant gilt bronze casing designed by Bernini and constructed between 1647 and 1663. The actual "throne" – as it is sometimes called – itself was given as a gift to Pope John VIII in 875 by Charles the Bald, emperor of the Carolingian Empire. However, after modern analysis, it was concluded that the wooden chair is no older than the 6th century.
Tomb of Innocent XI
Another piece by Bernini, the tomb of the 17th-century Pope Innocent XI is a beautiful monument. Interestingly, the body of Innocent XI can actually be seen in situ through a grate, fully clothed in Papal regalia. The tomb itself is situated below Raphael's painting of the Transfiguration.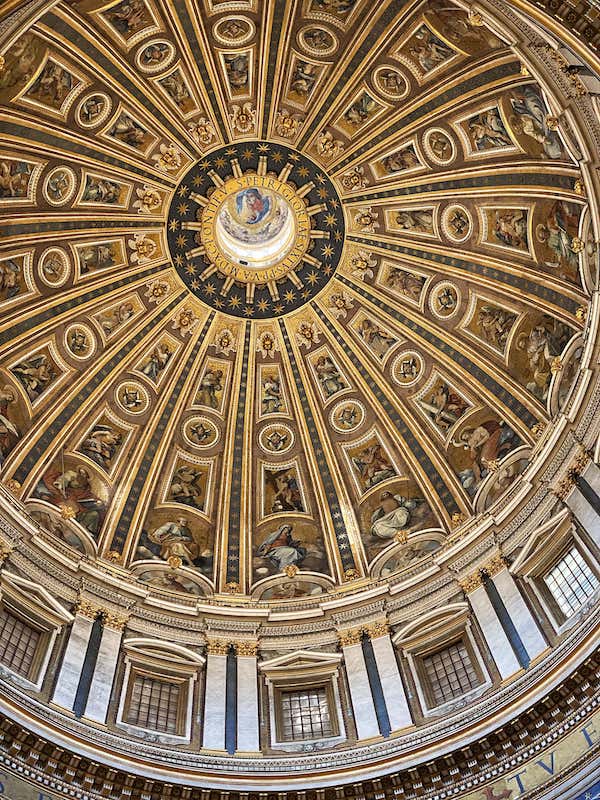 St Peter's Basilica Dome
It's hard to miss this soaring structure. Still after over 430 years, it remains the tallest dome in the world at 136.75 meters (448.1 feet) tall. It was the idea of Bramante, who took inspiration from the dome at the Pantheon, and was completed in 1590.
Visitors can actually climb up inside the dome, thanks to a series of winding staircases, consisting of 551 steps, to get an amazing view of Rome from this incredible structure. Be warned: it is enclosed space and not good therefore if you are claustrophobic at all.
St. Peter's Basilica Dome is open daily from 7:30 am to 5:00 pm. You can get tickets directly at the door.
Tickets cost either €8 if you opt to climb all the way up (551 steps) or €10 if you take the elevator and then clim the rest of the way (320 steps). To book your tour of St. Peter's Basilica complete of Dome climb, click here.
Tomb of St Peter and Vatican Necropolis
Not only can you go to the highest point of St Peter's Basilica, but you can also travel deep underneath it. Descending a staircase, you'll find a necropolis featuring over 100 tombs, including 91 for Popes.
It's also here that you can find the Tomb of St Peter. Additional tombs were discovered beneath the Basilica when Pope Pius XI ordered excavations in the 19th century, as he wanted to be buried next to St Peter.
This part of the Basilica can only be visited on guided tours that must be booked beforehand by sending a request to the Ufficio Scavi. You can do that via this page (also check out this page for info on what's requested to do the booking): it's in Italian, but you should not have troubles understanding what's requested. Tours last around 90 minutes and costs €13. Kids under the age of 15 aren't allowed.
Papal Audience and the Angelus
Visiting St Peter's Basilica is not allowed on Wednesday morning. However, that does't mean you can't go! In fact, you can actually attend mass at St Peter's Basilica. Every Wednesday (if the Pope is in Rome at the time), visitors have the chance to receive a Papal blessing.
The audience takes place in St Peter's Square, and consists of teachings and a reading in Italian, and several other languages. The Papal Audience culminates in a group prayer with those in attendance.
The Papal Audience usually starts at around 10:00 – 10:30 am and can last between one hour and one and a half, but you should note that many people arrive up to three hours earlier in order to secure the best spot. The gates open at 7:30 am.
Tickets are free but should be acquired in advance – you will need to fill in the application you can find here. Everyone is welcome, and even if you don't have a ticket, you still may be able to access the blessing.
Third party bookings sites also allow you to get tickets for the Papal Audience – for more information, click here. They cost $30, which is obviously way more than the free option you get on the official site, but you will get a guide that will walk you through the event and take you to the best seats.
If you are not in Rome on a Wednesday you may still have a chance to listen to the Pope. Each Sunday when he is in town, at 12:00 pm sharp, the Pope addresses and blesses the audience from one of the windows of his apartment.
The event is known as the Angelus and lasts for about 20 minutes. You will be able to access the square for free, but arrive a bit early as there will be security check to enter the square. The Pope's address in this occasion is in Italian only.
Check out my post A Guide To Visiting St Peter's Square.
Practical Info About Visiting St Peter's Basilica
St. Peter's Basilica opening hours
St Peter's Basilica is open daily from 7:00 am to 6:30 pm between October and March. From April to September, it's open from 7:00 am to 7:00 pm. It is closed on Wednesday mornings, during Papal audiences.
Best time to visit
Visiting St Peter's Basilica (and Rome altogether) in the off season is definitely better if you aren't a fan of crowds. The biggest crowds at the Vatican are to be found between June and September, which coincides with the summer holidays for many European countries.
November to February is when crowds are at their thinnest.
As for days of the week, Tuesdays and Thursdays are quietest. Wednesdays are busy as this is when the Pope holds his audience, while Saturdays are also busy with Italians enjoying a weekend visit.
Finally, as for timings, you should consider visiting St Peter's Basilica either very early in the morning, as soon as it opens, or around lunch time between 1:00 and 3:00 pm which is when most large groups will go for lunch.
St Peter's Basilica tickets
Visiting the Basilica is surprisingly free. However, if you want to ascend to the dome, then you'll have to pay a fee. The dome is open from 7:30 am to 6:00 pm and it costs between €8 and €10 depending on whether you opt for the elevator or the stairs.
Note that you also need a ticket to enter the St Peter's Treasures area and the Necropolis (St Peter's Tomb). The Necropolis costs €13.
Should you get a guided tour?
Considering there is no admission fee for visiting St. Peter's Basilica, paying a little extra (from just €4) for a guided tour may definitely be worth it. A tour allows for a deeper insight into the history of the Basilica and the meaning behind many of its monuments.
You can book your guided tour of St. Peter's Basilica here.
To book your tour of St. Peter's Basilica complete of Dome climb, click here.
To book your guided tour of St. Peter's Basilica, including a tour of the Vatican Museums and Sistine Chapel, click here. For a selection of guided tours of the Vatican, click here.
For a full day tour of Rome including a visit of the Vatican, click here or here.
Security checks
You will have to go through security checks in order to enter St Peter's Basilica. Forbidden items include knives (penknives too), umbrellas and oversize luggage and backpacks.
These security checks do create queues at the checkpoints themselves, but guided tours for some reason seem to go through security lines much faster.
Dress code
Since this is a religious area, a modest dress code is necessary when visiting St Peter's Basilica. All religious sites (churches) in Rome have a dress code, but St Peter's Basilica is particularly strict. Modest dress means no shorts, dresses needing to be below knee level, and no bare shoulders. No low-cut tops or crop tops are allowed. And men: if you're wearing a hat, you'll have to take it off (women may continue wearing theirs).
This can be particularly difficult to follow in the sweltering Roman summers. However, a good tip is to bring along a shawl or light scarf to cover up your shoulders, otherwise you will be turned away.
Head over to my post The Vatican Dress Code.
Is photography allowed?
You can take photos in St Peter's Basilica. It's absolutely fine, but there are few things to note: flash is forbidden, and absolutely no tripods, selfie sticks or drones!
Toilets
There are no toilets inside St Peter's Basilica itself, but there are plenty in the Vatican. The nearest ones are to the right of the security checkpoint before you enter.
Disabled access
Wheelchair access to some of the sites within the Basilica is limited, unfortunately. There are wheelchair ramps and elevators (to the first terrace of the dome, for example). Guide dogs are allowed.
How to get there
The closest metro station is Ottaviano-San Pietro (line A), just a short stroll from the entrance to the Basilica. Tram 19 stops at Piazza Risorgimento nearby; bus lines 40, 64 and 22 also stop close by.
You should also read my post Can You See The Vatican And Colosseum In One Day?
Pin It For Later!