My name is Claudia, I am from Cagliari, the beautiful capital of Sardinia (Italy) and I love traveling. It started when I was a child. Back then my parents would take me camping here in Sardinia, and later on we went on road trips around Italy and Europe. I loved being on the road, seeing new places, meeting new people, experiencing new cultures and challenging myself. To date, my favorite thing about traveling is meeting other people – locals, as well as other travelers, because I feel there is so much to learn from others. A solo traveler at heart, I also enjoy trips with my sister and my best friends. A former human rights lawyer, I may not agree with you, but I will always fight for your right to express your views.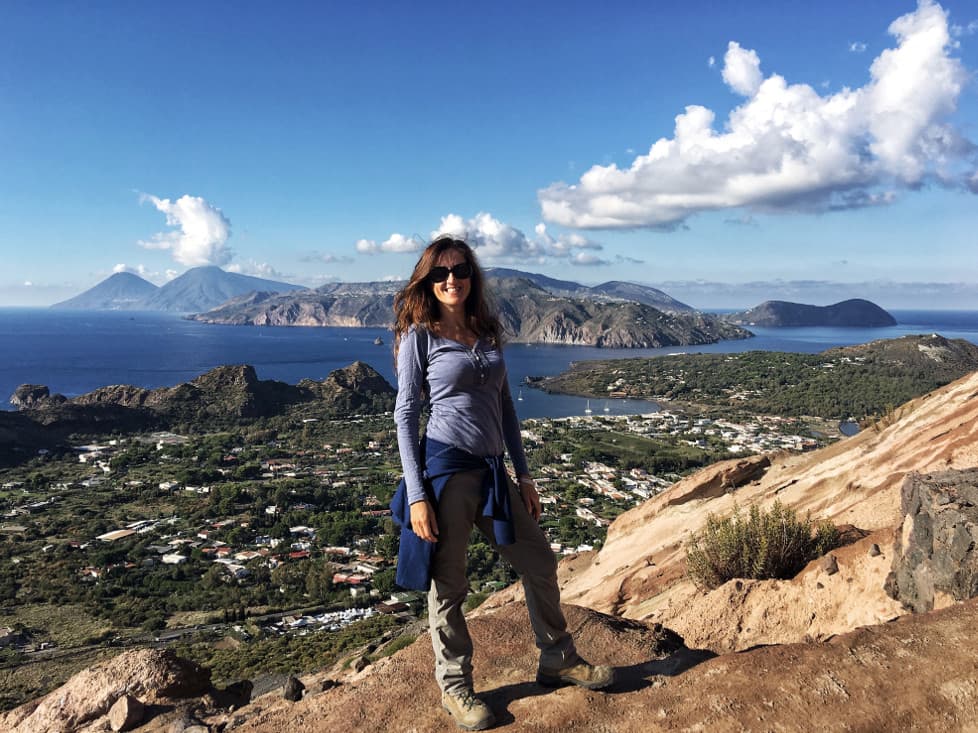 TRAVEL WRITING AND TRAVEL COACHING
---
In November 2013 I decided it was time to live my dream rather than keep dreaming. I packed my backpack and off I was to explore Latin America. I was inspired to start my blog after a trip to Cuba, because I wanted to keep my friends and family informed about my adventures and show them the places I was visiting. Then I got a hang of it, and I kept on writing to let people dream through my travels and inspire them to live their dream, by providing guidance on places to visit and how to get there, where to sleep and eat, what great adventures they can have. I like it so much that I have made up my mind to give up my career as an academic and human rights lawyer and pursue travel coaching and travel writing as a full time project.
10 Curious Facts About Me
I love swimming. To me that is the best sport ever. And no, swimming in the ocean is just for fun. Real training is done in a swimming pool.
I love hiking, biking, and any other activity in the nature.
I love animals and when I am on the road I miss my cats more than anybody else.
I like paper books, not e-readers, but I may eventually surrender to one.
I enjoy drinking beer and watching TV by myself – in fact, I am a big fan of me-time.
I do not consider weekends away as proper traveling.
Tel Aviv is my favorite city in the world.
I prefer shopping for food than shopping for clothes.
I like writing lists of things I have to do.
I can't stand revisitations of Italian food: if you break spaghetti, I will report you to the Italian food police.
What is this blog about?
I will never be done exploring this amazing world and on this blog I wish to encourage you to do the same, whatever you age, status or budget. Watch out though! I am a very straightforward person and I will always give you my very own perspective on the places I see and the experiences I live – no sugarcoating allowed!
I believe traveling is a wonderful way to learn about new cultures; it means crossing bridges, developing great friendships, sharing experiences, learning to survive and to help others. My wish and my mission is to inspire you and you to live great adventures, avoid a few tourist scams here and there, and make the most of your trips.
Now that you know a little bit more about me, join me on My Adventures Across The World!
Here's how you can follow me
Subscribe to my blog to receive my new posts in your email by filling in the form below.
Follow @Claudioula on Twitter.
Like and follow me on my Facebook page.
Follow me on Instagram.
Get in touch with me via the contact form.
Comment on the posts you read: share whatever is on your mind!
Please be advised that I don't accept guest posts.
Why Follow?
My blog is my life, my passion and my profession. With my posts and my stories, I want to show you that no matter what your age, budget and status is, you can travel the world and live the life you hope for. It is never too late to follow your dreams!
I hope you will enjoy reading my site.