When you think of Colombia, do you think of long stretches of crystal clear beaches and beautiful blue water? Because you should!
Colombia is home to some of the most beautiful beaches in the Caribbean. And these beaches are surrounded by low-cost villages, towns, and cities. The quality of the beaches, the large quantity to choose from, and the cost of living in Colombia make it the perfect beach vacation destination.
The only problem is finding the best beaches in Colombia. There are so many beaches along the coast it can be challenging to decide which ones to visit. Especially when you consider not all beaches are created equal here.
In this post, I will talk about the best beaches in Colombia and where they are to help you find your perfect beach destination inside this culturally-thriving country. With help from this guide on the best beaches in Colombia, you can thoroughly soak up the sun on your trip!
Make sure to also read my post 29 Best Places To Visit In Colombia.
The Best Beaches In Colombia
There are many different regions in Colombia that house beautiful beaches, islands, and national parks. I will break up the best beaches in Colombia by region.
Best Colombian Beaches Near Santa Marta
Santa Marta is a great home base for those who want to partner the relaxing beach experience with adventure. Santa Marta is only a 3-4 hour bus ride from Cartagena near Taganga, Tayrona National Park, Palomino, and Minca.
Head over to my post 15 Best Things To Do In Santa Marta Colombia.
Playa Grande
Playa Grande is a gem of a beach located in Taganga. Taganga is a tiny fishing village about 20 minutes away from Santa Marta.
The only way to get to Playa Grande from Taganga is by boat or short hike, making it a fun and exciting beach. And the waters of Playa Grande are crystal clear, warm, and simply stunning. Playa Grande is in a little bay area, which means the water is calm and tranquil.
It's a relatively small beach, only about half a kilometer long. But it has several restaurants, kayak rentals, and some decent snorkeling. Beach chairs are cheap to rent and plentiful.
Don't forget to read my post A Useful Guide To Taganga, Colombia.
Playa De Palomino
Palomino is a small town about 82 km (50 miles) east of Santa Marta. You can easily get there by bus or taxi. Most people go to Palomino for the quiet beach and lively nightlife. Palomino is a tourist destination, so while it doesn't get too crowded by locals, it can be overrun by backpackers flocking to the pristine beach and famous international restaurants.
Playa De Palomino (Palomino Beach) has long stretches of soft, clear sand. But you should be careful, as the currents and water can get very strong. You should watch for warnings on the beach and only swim when calm.
Playa De Rodadero
Playa De Rodadero (Rodadero Beach) is a small suburb of Santa Marta. It is a tourist, expat, and backpacker hub because it has a much livelier nightlife and more swimmable beaches than the historic center of Santa Marta.
Playa De Rodadero is not my favorite beach in Colombia, but it is easy to enjoy. It is only a few miles from Simon Bolivar International Airport and has everything you might need for a beach vacation.
Playa De Rodadero also hosts tons of annual events. While there, we saw boat races, beach volleyball competitions, and other games throughout the week.
Playa De Rodadero is perfect for an easy-to-access beach with an authentic Colombian feel and great nightlife.
Best Colombian Beaches In Tayrona National Park
Tayrona National Park is only 15 km (10 miles) from Santa Marta, depending on which part of the national park you plan to visit. Even though it is close to Santa Marta, it is worth having its section as it is home to many of the best beaches in Colombia.
Check out my post A Guide To Visiting Tayrona National Park, Colombia.
Playa Cabo San Juan
Playa Cabo San Juan is located inside Tayrona National Park. You can only get there by boat or with a full-day hike. But once you reach this beautiful haven, it is well worth it. The beach is surrounded by miles and miles of jungle, with unique landmarks jutting out of the water right in the bay.
The waters are relatively calm compared to other well-known beaches in Tayrona. And the beach has several campsites behind it, so you can easily enjoy an entire weekend here.
The weather is warm, the sun is strong, and the beach is hopping almost all year long. It's a great escape from the Sierra Nevada region and one of my favorite beaches in Colombia.
La Piscina
La Piscina is in Tayrona National Park, next to Playa Cabo San Juan. You can get here by boat to Cabo San Juan and a short walk or a hike through Tayrona National Park.
La Piscina translates to "the pool" in Spanish. It is named La Piscina because it is located in a bay, making the waters calm and very swimmable (which can be hard to find in Tayrona National Park as the currents can be aggressive).
La Piscina was one of my favorite beaches to swim, as it is less crowded than Cabo San Juan. It has much more space to spread out, relax, and enjoy the beauty of Tayrona National Park.
Playa Cristal
Playa Cristal is another clear-water beach in Tayrona National Park. You can get there by a 1-hour hike through the national park or by water taxi from Taganga or Santa Marta.
Playa Cristal is famous for its snorkeling, so a snorkel tour to Playa Cristal and other nearby beaches is a great option.
The beach has a lively reef, crystal-clear waters, and warm weather year-round. This is the perfect day trip from Santa Marta or Taganga.
For a guided tour from Santa Marta that includes a stop in Playa Cristal, click here.
Playa Cinto
We asked our taxi driver into Santa Marta about his favorite beach in Tayrona National Park, and he told us Playa Cinto. It's a very popular, well-known beach, and for more than just one reason. You can either take a 45-minute boat ride from Taganga or an hour taxi ride directly to the beach.
Playa Cinto is located in a protected bay, meaning there are practically no waves or algae. This makes it the perfect beach to swim, relax, and escape the business of Santa Marta. It can get a little crowded on holidays and weekends, but it's a fairly secluded beach, making it feel very tranquil.
Best Colombian Beaches Near Cartagena
Cartagena is a rather sizeable coastal city and home to some of the best beaches in Colombia. Whether you want to stay near the center of the city or go out a ways to explore the surrounding coast, there's a beach for you.
You should also read my posts The Best Day Trips From Cartagena and 22 Incredible Things To Do In Cartagena.
Playa Blanca
Playa Blanca is the perfect day trip from Cartagena. It is located on Isla Baru, about a 45-minute shuttle or speedboat ride from Cartagena. Several years ago, a bridge was built connecting Playa Blanca to Cartagena. This has made the beach much more popular, as it is much easier to access now.
Due to the beach's popularity and the bridge's construction, Playa Blanca gets pretty crowded. The best way to avoid crowds is to take a shuttle and arrive as early as possible. And if you do so, you'll be treated to magnificent turquoise blue waters and soft white sand stretches of beach.
You can also take a full-day tour from Cartagena.
This tour here arranges your trip to Playa Blanca, all transportation, and lunch.
You can also choose a more extensive tour, like this one, with high ratings. It includes a Rosario Islands tour, where Isla Baru and Playa Blanca are located.
La Boquilla
La Boquilla is a small fishing village in the northeastern part of Cartagena. La Boquilla is actually one of four Blue Badge Certified beaches in Colombia. The Blue Badge is given to clean and pristine beaches that represent high-quality water, sustainable security, and education available to visitors.
La Boquilla is much quieter than the main beaches in Cartagena, making it the perfect escape from the city's noise and population.
It is only about a 25-minute drive from Cartagena. You can easily get here by taxi, car, and even on a guided tour.
La Boquilla is an excellent village for cultural activities, in addition to beach activities. You'll find kite surfing and paddle boarding school, massage workers, and more on the beach. You can find drum lessons, local restaurants, and places to book fishing trips in the village.
La Boquilla is a great way to experience simple life in a local fishing village while getting out of the city for a bit.
Manzanillo del Mar
Manzanillo del Mar is another small village, only a few kilometers past La Boquilla. It is home to three popular, isolated beaches; Playa del Oro, Punta Icaco, and Playa Dorada.
The beaches near Manzanillo del Mar are a more authentic experience, meaning you won't find so many beach amenities, and they aren't luxurious. You should come prepared to experience a true Colombian beach without being overrun by tourist-driven activities.
The water is warm, the beaches aren't so crowded, and the area is incredibly unique to Colombia.
Playa De Castillo Grande
Playa De Castillo Grande is located in the heart of Cartagena, in the higher-end neighborhood of Castillogrande. Castillogrande and the accompanying Playa De Castillo Grande are considered upscale areas of Cartagena, which gives it a more laid-back and peaceful vibe than other areas in Cartagena.
People like to go to Playa De Castillo Grande for the clear, warm water and the vast stretch of beach with plenty of room for lounging or playing.
Playa De Boca Grande
Playa De Boca Grande is the closest beach to the historic Old Center of Cartagena. Compared to Castillogrande, this beach is much more chaotic and crowded, but it's fun in its own right.
This is one of the most crowded beaches in, or near, Cartagena. You can expect tons of umbrellas, bars, and other services along the beach. While it isn't as relaxing as some of the other beaches on the list, it's easy to get to and a fun place to party and meet other people.
Best Colombian Beaches Near San Andres
San Andres is located about 775 km (482 miles) off the coast of Colombia. The only way to get there is by flying, and the prices are significantly higher than in mainland Colombia, but it is worth it for any beach lover.
San Andres is also nearby the island of Providencia and Santa Catalina, two beautiful island chains that house some of the best beaches in Colombia.
Johnny Cay
Isla Johnny Cay is about 15 km (9 miles) off the coast of San Andres island. You can get there by short speed boat ride. The best way to get to Johnny Cay is with a tour. You can find the tour operators at Playa De Spratt Bight, the main beach on San Andres.
The beaches in Johnny Cay are nothing less than stunning. The water is clear, the marine life is thriving, and the sand is so white that you'll need sunglasses.
This is a must-do day trip if you find yourself in San Andres.
For a speedboat tour to Johnny Cay, click here.
Playa De Spratt Bight
Playa De Spratt Bight is the main beach on San Andres and the most popular beach on the island by far. It is easy to get to, being in the center of San Andres, and it has pristine waters and soft, silky sand.
You can easily spend a day relaxing and cooling down in the waters of Playa De Spratt Bight.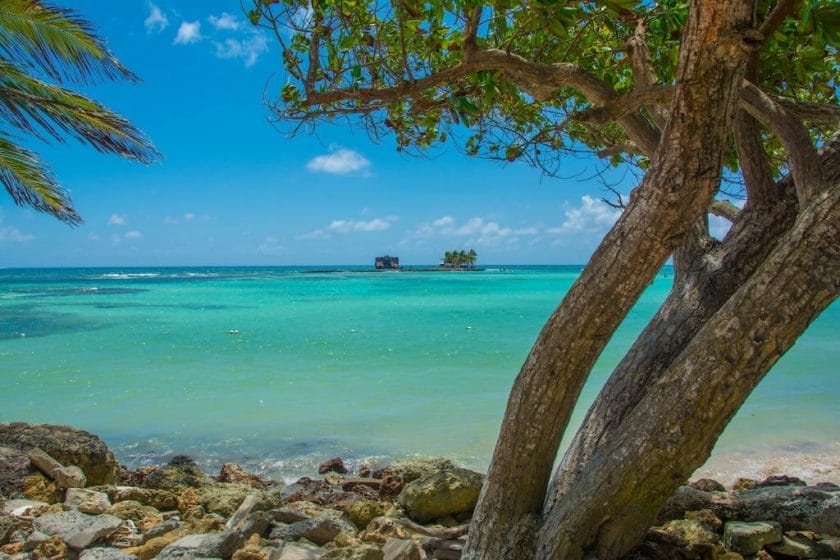 Rocky Cay
Rocky Cay is a tiny coral island located only a couple hundred yards off the coast of San Andres. The island is made of coral, making it a unique place to visit and snorkel.
To get to Rocky Cay, you can take a taxi or bus to Rocky Cay beach. You will see the tiny coral island about 100-150 yards off the shore from there. You can walk or wade out to the island depending on the tide and season. However, frequently the water is too high. If you are a very strong swimmer, you could swim 100-150 yards or hitch a ride on a boat.
Rocky Cay is a great place to snorkel, swim, and enjoy the unique experience of lounging on a lump of old coral in the middle of the ocean.
For a boat tour to Rocky Cay departing from San Andres, click here.
Playa De San Luis
Playa De San Luis is another popular beach right on San Andres. This beach is a haven for snorkeling lovers, with beautiful coral formations off the shore. You can snorkel around, enjoy the flat waters, and rest under the shade of palm trees.
Best Colombian Beaches Off-The-Beaten Path
Santa Marta, Cartagena, and San Andres are all known to be near some of Colombia's best beaches. However, you're limiting yourself if you stick to those three destinations. Some of the marvelous Colombian beaches are more "off-the-beaten-path." If you're a beach lover, it might be worth it to trek out to some of these beaches for the complete experience.
Playa Tiburon
Playa Tiburon is a short journey from Sapzurro or Capurgana, near the Panama border. In fact, Sapzurro is nicknamed "the last village before Panama," making it the perfect stop if you're planning to cross over into Panama.
Playa Tiburon is a very secluded beach about 20 minutes from Sapzurro. But it is home to some incredible snorkeling, clear waters, and good local food. It's a great adventure if you can travel to Sapzurro and Playa Tiburon.
Head over to my post A Guide To Sailing San Blas Islands, Panama.
Guachalito
Paraiso (Paradise) Guachalito is a 30-minute boat ride from Nuqui, Colombia. This beach is located on the Pacific coast, giving you access to an entirely different ocean than the mainstream beaches on the Caribbean coast.
The water is still relatively calm, beautiful, and fun. The beach is surrounded by a lush jungle rainforest, which is also home to some pretty beautiful waterfalls.
Punta Gallinas
Punta Gallinas is the northernmost point on the mainland of South America. Punta Gallinas is located in the Guajira desert on the eastern Caribbean coast. You'll need at least two or three days to explore this area. You can find a tour in Santa Marta or Riohacha.
But the journey is well worth it. The landscape of the Guajira desert is like nothing you've ever seen in Colombia, and the people in the region are incredibly warm and welcoming with the rare visitors.
The beach is nice enough, but the journey and the landscape make this beach an unforgettable destination.
Pilon de Azucar
Pilon de Azucar translates to "The Sugar Pylon." Alongside the beach is a large hill you can climb (The Sugar Pylon) with incredible views of the Caribbean sea.
Pilon de Azucar is three hours north of Riohacha on Cape La Vela. This is also in the Guajira desert, with some unique land formations along the beach. The water is lovely, but the landscape is something else.
You'll notice massive formations jutting out from the desert into the Caribbean sea, giving the entire region an almost "alien-like" vibe. This is another beach to visit for an exciting experience.
Further Readings
For more travel tips for Colombia, you may want to read these posts:
Pin It For Later!