There are many incredible places to visit in Colorado.
In my 2 years at the University of Denver I got to see most of Colorado, and concluded this is one of the most underrated destinations in the United States. Home of the Rocky Mountains and of the high desert of the Colorado Plateau; packed with forests, waterfalls and alpine lake; with a fantastic range of scenic drives that make it perfect for a road trip and with a range of unique archeological sites and quaint small towns, Colorado has loads to offer to its visitors.
Travel there in the spring and summer months, and you will find a plethora of adrenaline filled activities – hiking. mountain biking, rafting and more – to keep busy. Go in the winter, and you'll soon realize that skiing doesn't get much better than that.
Curious to find out more? Continue reading to discover the best places to visit in Colorado, and the top activities in each of them.
The Most Beautiful Places To Visit In Colorado
Denver
Known as Mile High City, Colorado's capital and its largest city is one of the best places to visit in Colorado, and the most obvious starting point for a road trip around the state. Located east of the Rocky Mountains, Denver has an incredible range of attractions, which include a phenomenal Art Museum; the Denver Performing Arts Complex – which is one of the largest art centers in the United States; and the impressive Denver Museum of Nature and Science.
Other must-see attractions in Denver are the Capitol Building; the Mint; the Botanic Gardens and the 16th Street Mall, which is a lovely place for a walk. Make sure not to miss a trip to the historical homes – Molly Brown House Museum is definitely worth visiting, as well as the Center for Colorado Women's History.
Denver is home to a great range of pubs and breweries where you can enjoy an evening drink, and the food scene is thriving too.
This customized guided tour may be a good idea to better explore the city. Alternatively, opt for one of the free tours on offer.
Make sure to read my post The Best Free Things To Do In Denver.
Red Rocks Amphitheater
*Submitted by Michelle Moyer, Moyer Memoirs Adventures in Empty-Nest Travel

Definitely worth a spot on your Colorado itinerary, Red Rocks Amphitheater is an amazing free site open all year from dawn until dusk to hike and enjoy the miles and miles of trails around the park.
The amphitheater is a site to see in itself. It often hosts grand music concerts, yoga classes and classic or popular film shows.
Even if you cannot attend a live event or class there, you should definitely check it out. The amphitheater is framed on each side by huge sandstone red rock formations which make this outdoor stage the most unique in the world. You are sure to be in awe as you stand at the top of the amphitheater and view the stage with Denver and its mountainscape as the backdrop.
After you are done viewing the magnificent amphitheater, you can descend down the 380 steps or return to your car and drive to the main level.
There are two main hiking trails that you can access at the lower level of the amphitheater park. These trails wind around the red rock formations and circle the park, providing hours of outdoor hiking. You will find a lot of wildlife, nature, and geologic formations along your hike as Red Rocks Park will definitely not disappoint you.
PRACTICAL INFORMATION: Red Rocks Park and Amphitheater is just a short 15-mile drive from Denver in Morrison, Colorado.
Rocky Mountain National Park
Easily one of the best places to visit in Colorado, Rocky Mountain National Park is fun to explore in any season.
If you are into hiking, you will be pleased to know that the park boasts more than 350 miles of trails, going through alpine peaks, by clear lakes, and along green meadows. This is also where you will find Longs Peak, one of Colorado's "fourteeners," or mountains that are taller than 14,000 feet.
If you visit in the winter, you will find loads to do. If you want to go snowshoeing head to Bear Lake, which is packed with good trails. Glacier Gorge and Hidden Valle – which is a former ski hub – are the only places where you can go sledging.
The park is a fantastic place to admire wildlife. Winter is the best time to spot species such as elk, mule deer, coyotes and other large mammals – these are animals that prefer colder climates and move to lower elevations in the winter months, making it easier to spot them.
Among the highlights of the park there are the scenic Trail Ridge Road or Bridal Veil Falls. Other popular drives such as Upper Beaver Meadows Road and Old Fall River Road are not accessible the winter months.
PRACTICAL INFORMATION: Rocky Mountain National Park is located about 1.5 hours drive from Denver. The best way to explore it is by car, but if you don't have one you can join a guided tour such as this full-day trip to Rocky Mountain National Park. The best place to stay close to Rocky Mountain National Park is Estes Park, where you will find a good selection of accommodation, restaurants, breweries and stores.
Make sure to read my post The Best Things To Do In Rocky Mountain National Park.
Estes Park
*Submitted by Michelle, That Texas Couple
Estes Park is truly a quintessential Colorado mountain town about 1.5 hours northwest of Denver. Known for its majestic scenery, outdoor adventures, and wildlife, Estes Park is definitely one of the best places to visit in Colorado.
Not only is this small town located at the entrance to Rocky Mountain National Park, but it is also a tourist attraction all in itself. There are so many things to do in Estes Park, CO that you could easily stay busy for weeks.
Outdoor enthusiasts will be in heaven. In addition to Rocky Mountain National Park, you can also enjoy Lake Estes where you can fish, canoe, and boat, or head over to one of the many stables to enjoy horseback riding in the mountains.
The main street of Estes Park is perfect to spend the day exploring. There are numerous boutique shops and great restaurants.
While here, don't miss the historic Stanley Hotel as well. The Stanley is the hotel that inspired Stephen King to write The Shining, and was later featured in the mini-series about the book.
Take note that the local wildlife, especially elk are known the visit the town often as well. They can be spotted in the park, on the River walk, and sometimes even walking down the middle of the main street!
PRACTICAL INFORMATION: The best way to get to Estes Park is by car. The town is about 1.5 hours drive from Denver.
Dinosaur National Monument
*Submitted by Chris Christensen, Amateur Traveler
One of the best places to visit in Colorado if you want to get off the beaten path and into a raft is the Gates of Ladore in Dinosaur National Monument in the northwest corner of Colorado. This is a 3 day rafting trip and once you get in the raft you won't see a building or road for 3 days.
The Green River (a tributary of the Colorado River) cuts through Dinosaur National Monument exposing rock that is a billion years old. There is whitewater on this trip but there are also Native American pictographs, fossils and spectacular scenery. You can take a self paddle raft or an oar raft where your guide will do all of the paddling for you.
Don't expect a cell signal, a charging station, running water or flush toilets. You will be in the wilderness. This is a great break from everyday life and a great chance to see some of the most beautiful parts of Colorado that most people will never get a chance to see.
PRACTICAL INFORMATION: Dinosaur National Monument is in northwest Colorado, about 5 hours drive from Denver. The Quarry Visitors Center is the best access to the park as from there you can easily get to Quarry Exhibit Hall, built over the Carnegie Dinosaur Quarry. This is the perfect place for a road trip. You will find several campgrounds in the area. For hotels, you'll have to go to Vernal.
Boulder
*Submitted by Meg Atteberry, Fox in the Forest
Nestled in the foothills of the Front Range, Boulder is a small student city with a ton to offer if you're a nature enthusiast. Even though the city is fun to explore and offers museums (Leanin' Tree Museum of Western Art is a must) and walkable streets, the best Boulder has to offer is in its epic natural surroundings where you'll find yourself in a world of beautiful foothills and stunning rock formations.
Boulder is home to more than 200 miles of trails, and the best thing to do during a visit is to put on your hiking shoes and choose from some of the best hikes Boulder has to offer.
Regardless of your hiking experience, you'll find many trail options to suit your needs here (great options to get started include the Hessie Trailhead, Chautauqua Open Space, and even Eldorado State Park).
You may want to consider this hike with a local guide.
PRACTICAL INFORMATION: Boulder is located just a short 40-minute drive from Denver, which makes for the perfect place to start a Colorado road trip or for an epic day trip if you're in the mood to escape the bustle and hustle of the city. If you don't have a car, there is a bus route available from Denver as well.
Frisco
*Submitted by Karen Warren, Outdoor Adventure Sampler
Frisco is a charming town in the heart of the Rocky Mountains in Summit Count, and one of the nicest places to visit in Colorado. It's often called the Main Street of the Rockies because the picturesque town is surrounded by snow-capped peaks. Frisco was originally a mining town. Remnants of the past and historic buildings fill Main Street. There are also unique shops and fabulous bars and restaurants in town.
Frisco is a center for outdoor activity. Nearby Lake Dillon has great fishing and boating. Rent a sailboat, kayak, or standup paddleboard at the Frisco Marina for fun on the lake.
Biking is also popular in Frisco. A 55-mile bike path runs from Frisco through neighboring Summit County towns. A dedicated mountain biking community maintains miles of trails for all abilities. Don't miss the classic bike ride from Vail Pass down to Frisco. An outfitter shuttles you and your rental bike to the top of Vail Pass for an exhilarating downhill ride on a bike path through the mountains.
Winter visitors will enjoy the easily available Nordic and alpine skiing. You will find six world-class ski resorts within a 30-minute drive. A cross country ski and snowshoe center is located right outside town. Snow tubing at the Adventure Center is a popular pastime.
PRACTICAL INFORMATION: Frisco is at less than 1.5 hours drive from Denver. There are daily Greyhound buses that depart from Denver Union Station.
Breckenridge
*Submitted by Ellie Ewert, Ellie's Travel Tips
Sitting almost 10,000 feet above sea level, Breckenridge is one of the best places to visit in Colorado. This beautiful city welcomes over 300 inches of snow every year—the ultimate skier's paradise!
Breckenridge has the ability to make every tourist feel like a local, no matter how long they spend exploring the town. There are plenty of activities to try out, which include skiing, fat biking, rock climbing, paddling boarding, and whitewater rafting.
The top spot to start if you are visiting in the winter is Breckenridge Ski Resort. This resort is not only a relaxing accommodation option but also one of the best spots to go skiing in Colorado. Featuring 5 peaks, there are plenty of opportunities for any level skier.
Hiking is a popular summer activity in the area, offering gorgeous views, high alpine lakes, and colorful wildflowers. Alternatively, head over to the Arkansas River to experience some of the country's best whitewater rafting trips.
PRACTICAL INFORMATION: There are several ways to get into Breckenridge from any area of Colorado. If you are flying into Denver, head west along highway 70, which will bring you within miles of this quaint town. You can also visit on day trips from Denver such as this one.
South Park City Museum
*Submitted by Shara Johnson, SKJ Travel
The Colorado Territory was founded in 1861, two years after the first prospector shouted "Eureka!" in 1859 and ignited a gold rush. The population exploded with men and women seeking their fortunes. Small towns, cabins and stage coach lines soon dotted and crisscrossed the mountains. Many of the gold and silver mines were dug above tree line where miners toiled in extremely harsh conditions, particularly in winter.
It's hard to imagine the gritty lives of these hardy people. But a visit to the South Park City Museum in Fairplay will give your imagination a huge boost. Forty four original, restored buildings – not reconstructions – are filled with items donated by local families.
This outdoor museum is a delightful and highly educational stop and one of the most interesting places to visit in Colorado.
Ever wondered what an assay office looked like inside? What equipment processed the ore to separate out valuable minerals? What was a typical miner's cabin or a homesteader's house? What kind of room would you sleep in at a stage stop? What were popular tonics and remedies at drug stores in the 1800s? What was it like living inside a covered wagon? Or working in a blacksmith's shop? Well, all of these burning questions and many more can be answered here.
PRACTICAL INFORMATION: The open air museum is located 35 minutes drive from Breckenridge, just off Highway 9 in Fairplay. Admission is $20, which is very modest considering how many buildings they maintain.
Mount Evans Scenic Byway
One of the nicest things to do in Colorado is to drive along Mount Evans Scenic Byway, the highest paved road in the entire country, reaching over 14,130 feet. Driving along you can reach the peak of Mountain Evans, one of Colorado's fourteeners, with an elevation of 14,271 feet.
Once you get to the summit, the views are absolutely impressive and there are plenty of chances to spot bighorn sheep and other wildlife.
PRACTICAL INFORMATION: Mount Evans is about 60 miles and 2 hours drive from Denver and the best way to get there is by car. The highway is closed in the winter months.
Vail
Vail is one of the most famous ski resorts in the country, and one of the best places to visit in Colorado regardless of the season.
With slopes for every level of expertise, the town is a fun place in the winter months and you'll find a great selection of places to stay, restaurants, shops, designer stores and what not. In the summer, it's all about hiking.
Being such as famous place, Vail isn't exactly cheap – but the nearby Glenwood Springs, Breckenridge and even Avon are much more budget friendly.
PRACTICAL INFORMATION: Vail is at less than 2 hours drive from Denver. Greyhound buses depart daily from Union Station.
Beaver Creek
*Submitted by Derek and Mike, Robe Trotting
The romantic mountain village of Beaver Creek is one of the best destinations in Colorado for skiing, hiking, and enjoying the nature of the area.
This upscale and intimate resort town is nestled amongst the aspens in Colorado's Vail Valley. Part of its beauty is the stunning natural landscape, but some comes from the fact that Beaver Creek is a completely planned village. It exists purely for the pleasure of travelers and skiers who frequent the town.
Unlike many Colorado ski towns, Beaver Creek was never a frontier mining town – it was carved out of the ski fantasies of tourism developers. The former governor jokingly called it the "Tiffany's of ski resorts" and it holds true for those who are lucky enough to visit.
The ski resorts are the main attraction and the best thing to do in Beaver Creek to hit the slopes. For others, the spas, lodges, and restaurants like Grouse Mountain Grill offer perfect indoor activities. The mountain trails are perfect for hiking in the spring and summer season while fall foliage attracts leaf peepers in late September and early October.
PRACTICAL INFORMATION: Beaver Creek is about 3 hours drive from Denver. There are buses leaving from Union Station too. Once there, you will find luxury resorts with top-notch amenities and entertainment like the Beaver Creek Park Hyatt Resort. Budget-friendly options also exist like the Pines Lodge or a Beaver Creek Airbnb stay.
Glenwood Springs
Glenwood Springs is about 3 hours drive from Denver, and one of the most pleasant places to visit in Colorado. Sitting on the Rocky Mountains, this small town is the perfect place to visit if you want a getaway that combines nature with the comforts of the best tourist destinations.
Looking for a place to relax? Head to the open air hot springs. These historical hot springs are the perfect place to spend a few hours immersed in the water while it's cold outside, or even snowing. Other nice spots are Yampah Spa and Vapor Cave.
Among the best things to to in the area, there are hiking; visiting the precious Hanging Lake – known for its emerald waters; visiting the Glenwood Caverns underground caves; kayaking and rafting (for an incredible rafting experience, click here); as well as climbing and mountain biking. If you visit in the winter, you can enjoy all sorts of winter sports.
If you want to spot wildlife, head to White River National Forest.
PRACTICAL INFORMATION: The best way to get to Glenwood Springs is by car, from Denver. Regular buses depart from Denver Union Station.
Aspen
*Submitted by Jurga Rubinovaite, Full Suitcase
Aspen is one of the most famous mountain resorts in Colorado. Whether you're visiting in summer or in winter, this is definitely one of the best places to see in the Centennial State.
The town is loved by the rich and the famous, with high-end luxury resorts, boutique shopping, fine dining, and celebrity vacation homes. At the same time, it's also a very relaxed place with something to offer for all kinds of travelers.
Best known for its winter activities, Aspen is a real skiers paradise. There are four different ski resorts in the Aspen-Snowmass area with slopes for all difficulty levels. In addition, you'll find a big variety of other winter activities such as cross-country skiing, tubing, snowshoeing, ice skating, and more.
In summer, Aspen is a great destination for hiking, biking, and other outdoor fun for the entire family. The scenery is stunning and there are many ways to enjoy the mountains even if you don't hike. You can visit America's most photographed mountains Maroon Bells or take the Silver Queen Gondola for amazing views from Aspen Mountain. And definitely be sure to drive over Independence Pass, which is one of the most scenic roads in Colorado.
Aspen is also a beautiful fall destination. In September, aspen trees color yellow painting the scenery in the most beautiful colors.
In addition to all the outdoor activities, Aspen also has rich cultural life with a beautiful Art Museum, an opera house, and a big variety of festivals and celebrations. Whether you come here for nature, shopping, culture, or a mix of it all – you'll find plenty of things to see and do in Aspen.
PRACTICAL INFORMATION: Depending on which time of year you are visiting Aspen, you may or may not need a car. If you are there in the summer, a car is the best way to get around and reach all the hiking trails. In winter, an efficient public transport system will take you to the main ski areas. Driving there from Denver takes up to 4 hours.
Maroon Bells and Crater Lake
*Submitted by Jurga Rubinovaite, Full Suitcase
Maroon Bells just near Aspen in Colorado is one of the most beautiful mountain destinations in the United States. It's also a photographers' favorite, with a stunning mountain backdrop and reflections on the lake turning the landscape into a real-life painting.
Just a short hike from here, you'll find another picturesque mountain lake, Crater Lake. While not as widely known as the Maroon Bells, it also offers some of the most beautiful mountain scenery in Colorado. The area also has a big variety of wildlife and it's not uncommon to spot moose, especially if you are here during the quieter times of the day.
Maroon Bells is easy to reach and the most beautiful view can be found just near the car parking. So everybody can enjoy this stunning scenery without much physical effort. You can also opt for an easy hike along the northern side of the lake.
Crater Lake requires a bit more effort. It's a moderate hike of about 1.9 miles one way and you should count about 2 hours to hike there and back.
Since Maroon Bells and Crater Lake are located at a higher altitude, Maroon Creek Road is closed in winter. The best time to plan a visit here is between late May and early October. In summer, the road gets closed to private vehicles during the day and you have to take a shuttle for the last few miles.
PRACTICAL INFORMATION: Maroon Bells and Crater Lake are located in the Elk Mountains, at over 200 miles and 4 hours driving from Denver, and as such not really suitable for a day trip. For more information and tips, please check this complete guide to visiting Maroon Bells.
Black Canyon of the Gunnison National Park
*Submitted by Lotte, Gezond Weekmenu
The Black Canyon of the Gunnison NP is a very worthwhile place to visit. Vertical stone walls seem to go on forever and at some viewing areas you can't even see all the way to the bottom of the canyon because it's so steep and narrow. In fact, at the narrowest point, the Black Canyon of the Gunnison is just 12 meters wide!
You can visit both the North as well as the South rim. Take into account there is no bridge connecting the two rims. As such, it takes approximately two hours to drive from one side to the other.
When visiting the South Rim (the most developed one), pick up a map at the Visitor Center and follow the Rim Road Drive along several viewing points (there are 12 in total). Or follow one of the hiking trails leave from the visitor center and High Point. If you plan to stay overnight, you can book a spot at the Black Canyon Of The Gunnison Np South Rim Campground online.
PRACTICAL INFORMATION: The Black Canyon of the Gunnison National Park is located in southwest Colorado. The best way to get to this splendid NP is with your own vehicle. Don't underestimate the time it takes to drive here from Denver, it's a 250-mile drive that will take at least 5 hours (not taking stops into account).
Steamboat Springs
*Submitted by Talek Nantes, Travels With Talek
Colloquially and affectionately referred to as "The Boat," Steamboat Springs is one of the best places to visit in Colorado, as it offers a myriad attractions and activities anytime of year.
Steamboat Springs is an internationally recognized ski resort with dramatic and stunning slopes. In fact, more winter Olympic athletes come from Steamboat Springs than any other city in the U.S.
Some of the best-known ski slopes include Howelsen Hill, Mount Warner, and Outlaw Mountain. There is something for all ski lovers in Steamboat, no matter your level, from ski school to cross-country to Alpine skiing.
The month of February salutes the skiing culture with the Steamboat Winter Festival and Parade, the only parade where the performers march on skis!
But there is more to Steamboat than skiing. Summer offers lush, green mountain hikes, sparkling water sports and the famous Steamboat Balloon Festival in June.
Lincoln Avenue, the town's main street, is also the center of activity. The street is lined with cute shops. The eateries offer Restaurant Week in late September. There is something going on every night at the various venues and you can buy the freshest produce at the regular Farmers Markets.
PRACTICAL INFORMATION: Steamboat Springs is about 3 hours drive from Denver. Greyhound Buses depart from Denver Union Station.
Pikes Peak
*Submitted by Jessica Sefcik, Unearth the Voyage
Pikes Peak is one of the best places to visit in Colorado for many reasons.
Pikes Peak is one of the only 14,000 foot mountains that you can actually drive to the top of, so it's definitely worth it to take a day to do so, and the drive is magnificent. There is a really nice visitor center at the top that sells donuts that are specially made due to the high altitude.
Besides driving to the top of Pikes Peak, you can also take a cog train to the top which is a really unique experience if you've never been on a cog train before.
One important tip if you do decide to drive to the top of Pikes Peak is to make sure that you know how to down shift in your car. It is important to not use your brakes the entire time you are driving down from the top of Pikes Peak because they could overheat. If you make sure that you know how to do that, overall Pikes Peak is a wonderful place to spend a day.
PRACTICAL INFORMATION: Pikes Peak is very easily accessible from the larger cities in Colorado: it's only an hour drive from Colorado Springs and a 2-hour drive from Denver.
Royal Gorge
Corritta, It's a Family Thing

One of the most unique places to visit in Colorado is the Royal Gorge Bridge in Canon City. This bridge is the highest suspension bridge in the United States, with impeccable views of the Arkansas River. The bridge is a staggering 950 feet above the gorge, making it one of the most terrifying and beautiful places to visit.
The Royal Gorge Bridge isn't the only attraction in the area. There are other adventurous things to do while there. The gondola ride will take you over 2,000 feet to the other side, with 360-degree views of the canyon. The word beautiful is an understatement for this view. It is magical.

After getting across to the other side of the bridge there is an action-packed adrenaline SkyCoaster. This is one of the world's scariest SkyCoasters, so if you are an adventure-seeker, this ride is for you. For people looking for something more chill, there is a zipline that runs parallel with the gondola, so you'll get an uninterrupted view of the Gorge from 1,200 ft. in the air.

As if the bridge, SkyCoaster, and zipline aren't enough, there is a train ride through the Gorge alongside the Arkansas River. This will be a ride of a lifetime with a train from the 1940's panoramic views, food, and drinks. You'll be able to take in the fresh air with open cars, take pictures, and even see the bridge from below.
PRACTICAL INFORMATION: Canon City is 2 hours from Denver, so it's perfect for a mini road trip.
Garden of the Gods
*Submitted by Jyoti, Story at Every Corner
This is one of the most visited parks in the country and one of the best places to visit in Colorado because it has so much to offer. On top of that its free every day of the week.
Garden of the Gods really is the most appropriate name for this Colorado park, because it's so beautiful! It would make the perfect playground for the divine beings. It has huge red rocks just scattered about and towering mountains sticking up into the sky, and it one of the best places for rock climbing near Colorado Springs.
Besides rock climbing, Garden of the Gods is great for a walk around the park, jeep rides and Segway rides. You will also find biking lanes and plenty of opportunities for mountain biking and horseback riding.
The Garden of the Gods Park Visitor & Nature Center is typically the best starting point for a visit, as there is a nice exhibit and short video that explains a bit more about the park. That's also where you can sign up for guided nature walks.
For more information about jeep tours of the park, click here. For segway tours on the Juniper Loop, click here.
PRACTICAL INFORMATION: To get to Garden of the Gods, you'll ideally be staying in Colorado Springs or one of the nearby cities. To get to the park, you'll first want to stop at the beautiful visitor center for information and great panoramic views of the park. Plan to get there early in the morning as the local parking lot fills up quickly.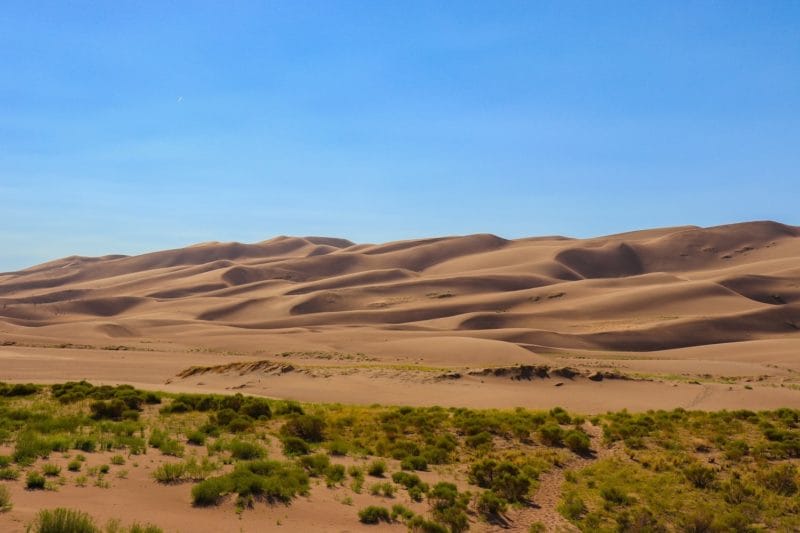 Great Sand Dunes National Park
*Submitted by Jarrod Heil, Ramble Around the World
Great Sand Dunes National Park, located in a somewhat remote part of southwestern Colorado, is a haven for adventurers and is unlike any other place in the country. Rolling sand dunes span 30 square miles of terrain at the base of the towering Sangre de Cristo Mountains to create one of the most unique juxtapositions in the state — and the country.
The best time to visit Great Sand Dunes National Park is during the late spring, summer and early fall due to good weather and the dry dunes. When the dunes are dry, there are a few local shops that rent out sandboards, so you can go roaring down the dunes like you're snowboarding the Colorado slopes. If that's your cup of tea, you'll need to avoid going during the rainy season because the boards don't slide on wet sand.
Other than sandboarding, the main activities are hiking the limitless dunes and going off-roading down the 19.9-mile Medano Pass Primitive Road. There aren't any designated hiking trails on the dunes, so you can hike wherever you want at your own pace.
PRACTICAL INFORMATION: This NP is about 4 hours drive from Denver, but visiting on day trips is not a good idea. Mosca is the closest town, at little over 20 minutes drive – you can base yourself there to explore the park.
Ouray
Daria Bachmann, The Discovery Nut
Nicknamed "The Switzerland of America," Ouray is a small but mighty town in the heart of Colorado's San Juan mountains.
Contrary to many other better known places to visit in Colorado, Ouray lacks the development and crowds of many other mountain towns largely because it doesn't have a ski resort. However, it does have many other amazing things such as hot springs where you can soak; countless backroads that are perfect for ATV rides; incredible hiking trails and top notch camping right in the middle of town.
Ouray offers tons of history with its Victorian-style houses, local restaurants and breweries, so take some time to explore local culture.
If you are a thrill-seeker, take a ride along the famous One Million Dollar Highway that connects Ouray with Silverton. Considered one of most scary rides in the United States, this highway has plenty of sharp turns and steep drop-offs, so be careful! If you are brave enough, you will be rewarded with incredible views of the mountains ahead of you.
PRACTICAL INFORMATION: Ouray is a remote town in Southwest Colorado, and getting there is not easy. If you decide to drive, the easiest way to do it is from Durango, however, if you are driving from Denver, get ready to spend a lot of time on the road: the journey will take you between 6-7 hours. Alternatively, you can also fly into Montrose or Grand Junction along Interstate-70 and rent a care there.
Telluride
*Submitted by Becky, SightDOING
On the western side of Colorado, Telluride sits in a box canyon surrounded by epic mountains. Here, the breathtaking views are just the start: you'll also find mining history, outdoor adventures, and restaurants to suit every mood and budget.
Like many other places to visit in Colorado, the best activities depend on the season you visit.
There is prime skiing in winter, without the crowds on other mountains, as well as everything you'd expect from a winter wonderland, including resorts with hot tubs, cocktail bars, and other winter sports.
In the summer, activities switch over to hiking, biking, and jeeping. One of the most popular trails is Bear Creek Falls, which combines forest, mountain, and waterfall views into just a few easy hours. You can enjoy shopping, dining, and the Telluride Historical Museum year-round.
Downtown Telluride is walkable and there's even a free gondola to head to Mountain Village. The ride up is worth a trip even if you don't have plans to explore: the view from 9,545 feet overlooks Telluride and you can see for miles on a clear day.
PRACTICAL AIRPORT: The closest airport to Telluride is in Montrose, about an hour and a half away, although taking the six-hour drive from Denver to Telluride can be a good way to save on airfare and enjoy gorgeous scenery along the way.
Durango
*Submitted by Mama Pinot, Wine Travel Kids
Durango is in the southwestern part of the Rocky Mountains state of Colorado. It is most famous for the historic narrow-gauge railroad that connects Durango with Silverton, its craft beer (it has 6 award-winning craft breweries), and is an outstanding mountain biking destination.
You won't be short of things to do in Durango. Make sure not to miss the Narrow Gauge Railway to Silverton for breathtaking views of the mountains. Another must see is the Durango & Silverton Railroad Museum, which is filled with interesting artifacts about the history of the railroad and locomotives.
Visit the Rocky Mountain Chocolate Factory for some of the best chocolate ever! Finally, tour one or all of the six local, award-winning craft breweries. And if you are in search of adventure, hike, bike, or go white water rafting down the Animas River.
PRACTICAL INFORMATION: Durango has an airport that you can fly into. If you have time and enjoy driving, you should really consider a road trip around Colorado, as you'll see some of the most spectacular views driving into Durango and can get to experience the magical Million-Dollar Highway. The historic downtown district has lots of great lodging to choose from. Try the famous Strater Hotel or stay at the DoubleTree downtown for the great views of the Animas River.
Mesa Verde National Park
*Submitted by James Ian, Parks Collecting
Mesa Verde is home to many of the most spectacular cliff dwellings and one of the most unique places to visit in Colorado. The ancestral Puebloans built their homes in alcoves in the cliffs and seeing and visiting them is to step back in history.
There are several cliff dwellings at Mesa Verde that you can tour. The most famous is Cliff Palace, which is also the largest of the dwellings. It is not actually a palace, but was a small village and ceremonial site housing about 100 people at its height in the early thirteenth century.
Visiting most of the dwellings involves walking down steep stairs, along narrow paths with steep drop offs, and usually climbing down and up ladders. Some of the smaller sites, which can only be reached on small special tours, require you to climb down the foot and hand holds that the ancestral Puebloans carved into the cliff face hundreds of years ago.
These days, there is a rope to help you, but it gives you a real insight into how precarious it was for them to climb down from the top of the mesa/ plateau, often carrying crops they had harvested there, into their homes in the cliffs.
Whether you see the dwellings on one of the main tours, do a special small tour or see them from the many overlooks around the park, seeing these incredible places is a fascinating experience.
PRACTICAL INFORMATION: The closest town to Mesa Verde is Cortez, which is about 50 minutes drive from Durango. From there, it's another 45 minutes to Mesa Verde. Ranger-led tours of the Cliff Palace are available via the visitor center.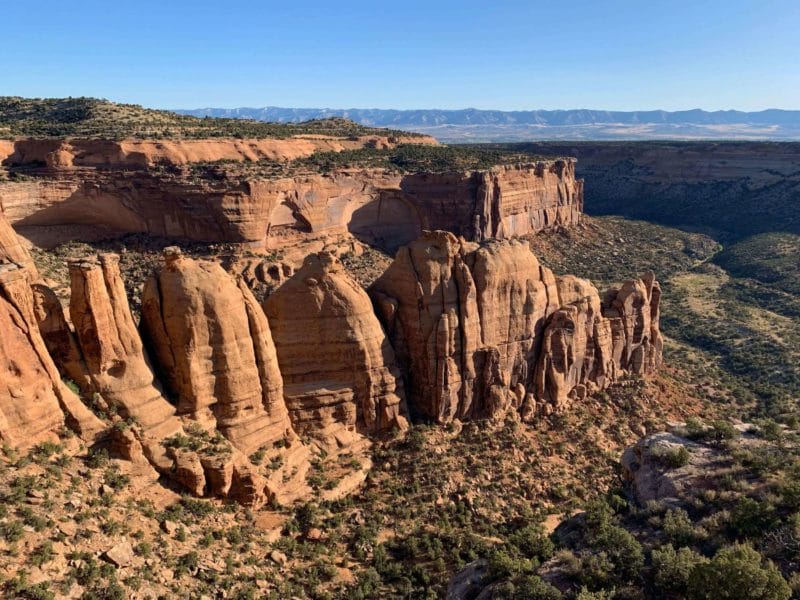 Colorado National Monument
One of the most breathtaking places to visit in Colorado, Colorado National Monument is one of the state's best destinations for hiking – you will find plenty of day hikes that take you through the landscape made of rock spires, canyons, cliffs and the short bushes. There are also plenty of good biking trails.
You can drive through Colorado National Monument if you follow to Rim Rock Drive – there are various lookout places.
PRACTICAL INFORMATION: The closest access point to Colorado National monument is Gran Junction, which is about 4 hours drive from Denver. You will find plenty of accommodation options there.
Further readings
For more places to visit and things to do in the United States, check out these other posts: