Before you start hammering out places to visit in Thailand and planning your Thailand itinerary, you might assume this is a simple task. Thailand is relatively small (at least if you come from a relatively large country like the United States) and doesn't seem especially complex, at least not on Instagram.
As you plan your trip to Thailand, however, you will quickly realize that neither of these things are true. In fact, without a strategy and solid base of knowledge, it can be downright stressful to create a Thailand itinerary.
Below, I'll outline the best things to do in Thailand and where you can go to partake in them. But before that, I'll explain a travel hack that'll instantly help you understand the Kingdom in a simple, yet profound way.
How to (Broadly) Think of Thailand Destinations
When planning travel, as with anything in life, I like to start with the big and work my way to smaller matters. When it comes to places to visit in Thailand, you can broadly break these into three categories: Bangkok, plus the cities and provinces within day – or weekend-trip distance of the capital; "The North," which for most tourists is limited to the large cities of Chiang Mai and Chiang Rai; and "The Islands."
This third category further bifurcates, into the islands and beaches on the Andaman Sea (which is by far the most popular beach destination in Thailand) and the Gulf of Thailand, which is less ubiquitous but is home to some standout places to visit.
Some travelers might also visit the underrated Isaan region in Thailand's northeast, although this is definitely not for the faint of heart.
The Best Places To Visit In Thailand
Bangkok and Environs
One thing many people struggle with, as they put their Thailand trips together, is how many days to spend in Bangkok.
In general, I'd say 2-3 is a good minimum. This allows for one day in the old cities of Rattanakosin, home to famous sites like the Grand Palace, Wat Phra Kaew – aka the Temple of the Emerald Budda – and Wat Pho, where you can marvel at the 46 meters statue of a reclining Buddha.
You will also have enough time to visit and Thonburi; another full day in the modern city center amid luxurious malls like Siam Paragon and CentralWorld and even Lumpini Park, and a third to take a day trip from Bangkok, whether that's to ancient Ayutthaya or the "Floating Market" at Damnoen Saduak.
Consider going on a guided tour in Bangkok to make the most of it, and joining one to get out of the city to Ayutthaya.
For a guided tour that goes to the Grand Palace, Wat Pho and Wat Arun, click here.
For a tour of Bangkok markets, click here.
For a one day tour of Bangkok that takes you to all the best attractions, click here.
You should also consider joining a guided food tour such as this one.
For a day trip to Damnoen Saduak floating market, click here.
Make sure to read my post The Best Things To Do In Bangkok.
Ayutthaya
Ayutthaya, a UNESCO World Heritage Site, is located about 80 km (about 50 miles) from Bangkok. It used to be the country's capital in the 14th century. There you will find the gorgeous Wat Phra Mahathat, where you will be able to see a statue of a Buddha's head which has been completely swallowed by tree roots.
The largest temple in Ayutthaya Historical Park Wat Phra Si Sanphet, home to the silver-looking Chedis. At Wat Yai Chai Mongkol you will see yet another statue of a reclining Buddha.
You can visit Ayutthaya on day trips from Bangkok such as this Ayutthaya & Ayothaya Floating Market Day Trip.
Kanchanaburi
Kanchanaburi's most famous place is the bridge that connects Thailand to Burma (Myanmar) which was built as part of the Death Railway over the River Kwai by the allies – who used the force labor of prisoners of war for the purpose.
More then 16,000 of them died during the construction of the railway, which was heavily bombed by the Royal Air Force. The railway was promptly repaired each time, but never actually finished.
Another attraction in town, also connected to WWII, is the Kanchanaburi War Cemetery, where many POW were buried. You should also visit the Thailand-Burma Railway Center for more information on the construction of the railway, as well as the WWII Museum and Art Gallery and the JEATH War Museum.
One of the best day trips is to the beautiful Erawan Falls – about 90 minutes drive from Kanchanaburi. You can book your guided tour here.
Pattaya
To many locals, Pattaya is one of the best places to visit in Thailand. At less than 2 hours drive from the capital, this is where many go for a nice weekend away from the chaos of Bangkok, and to soak up the sun in one of the beautiful beaches such as Hat Sai Kaew (Diamond Beach) and Koh Samet beach.
Attractions in Pattaya include Wat Phra Yai Temple, known as Big Buddha Hill, where you can spot a magnificent 18-meter-tall golden Buddha. The city is home to many interesting museums too.
For a wonderful day at sea, consider visiting Koh Larn (Coral island). Tours usually are on glass-bottom boats so that you can see the coral reef. Adventure seekers will enjoy sports such as parasailing in nearby Koh Larn Island.
Another day trip from Pattaya is Chanthaburi Sapphire Mine. And if you have kids, take them to Siam Pattaya, a miniature park where they can spot internationally famous monuments including the River Kwai Bridge mentioned above.
Khao Yai National Park
To get close to nature, Khao Yai National Park is definitely one of the best places to visit in Thailand. The country's oldest park has a surface of 2,000 square kilometers and a large population of wild elephants, gibbons, jackals and more.
One of the most iconic spots there is Haew Suwat Waterfall, which can be reached on a hike. You will recognize it as one of the places made famous by The Beach, the 2000 movie starring Leonardo Di Caprio.
The park can actually be visited on day trips from Bangkok. For more information, click here.
The North
Chiang Mai
Next up on our list of best places to visit in Thailand is the country's lush north.
This region centers around Chiang Mai, former capital of the now-defunct Lanna Kingdom, which is delightful both for its walled, temple-filled old city (Wat Phra Singh, and Wat Phra That Doi Suthep), as well as for the waterfalls such as Huay Kaew and Bua Thong, and ethical elephant camps around its periphery.
You should also make sure to visit Doi Suthep, from where you can get stunning views of Chiang Mai. It's definitely one of the unmissable things to do in Thailand.
For a guided tour of Doi Suthep Mountain National Park, click here.
For a food tour of Chiang Mai, click here.
Chiang Mai is also an excellent destination if you enjoy hiking, as you will find mountains and thick vegetation – Doi Inthanon National Park, part of the Himalayan mountain range, is the perfect place for that.
You can book a tour of Doi Inthanon National Park here.
Read my post The Best Things To Do In Chiang Mai (Plus 3 To Avoid).
Chiang Rai and the Golden Triangle
Many travelers continue from Chiang Mai to the scenic Golden Triangle, where Thailand meets Myanmar and Laos. There, the charming Chiang Rai is a must see. Make sure to visit the temples of Wat Rong Khun (or White Temple) and Wat Rong Khun (which actually is no longer a temple), Wat Tham Pla, where you will be able to admire wild macaques, and Wat Phra Kaew, which once house the Emerald Buddha now housed in Bangkok.
Chiang Rai is another great hiking destination – make sure to hit Lam Nam Kok National Park for trails to the stunning Khun Kon waterfalls.
If you are tight on time, you will be glad to know that you can actually visit Chiang Rai on day trips from Chiang Mai. You can book yours here.
Sukhothai
Other northern destinations include sleepy Lampang and the small Sukhothai, one of Thailand's ancient capitals.
Sukhothai Thani is best known for its Sukhothai Historical Park, a UNESCO site where you can visit the ruins of the 13th century Sukhothai Kingdom. The park is nicely surrounded by old city walls and inside there are 26 temples, a royal palace, stupas and more.
Make sure not to miss Wat Mahathat temple, home to nine stupas and two 9-meter tall Buddha images. Other interesting temples are Wat Si Sawai, the oldest in the park; and Wat Sa Si, which is at the center of a scenic lake. You will also want to visit the former royal palace of Noen Prasat.
For a guided tour of Sukhothai Historical Park, click here.
Pai
Pai is a small town in the province of Mae Hong Son, close to the border with Myanmar. It's now becoming a more popular tourist destination for people who enjoy hiking, as there are plenty of hiking trails in this part of the country. The best hike is easily the one to Pai Canyon; but you will also want to visit the Tha Pai Hot Springs.
Make sure to climb to Wat Phra That Mae Yen for stunning valley views. And if looking for a day trip, go to Tham Lod to explore the cave system.
The Andaman Sea
When it comes to the best islands to visit in Thailand (and mainland beaches that have a similar ambiance), most are in the Andaman Sea, the idyllic portion of the Indian Ocean that laps at Thailand's west coast. Within this sub-region, you can basically divide destinations into Phuket, Krabi and everywhere else.
Phuket and Krabi
In Phuket, you should make sure to hit beaches such as Kata Noi Beach and Nai Harn Beach – great for its crystal clear waters, and to go to Nakkerd Hill where you will find Big Buddha towers overlooking the island. The main temple is Wat Chalong.
Krabi is home to some of the best beaches in Thailand, such as Railay Beach.
Both islands are a great base to explore nearby places, too.
For a day trip to James Bond Island from Phuket, click here.
To visit the Similan Islands from Phuket, click here.
For a day trip to Phi Phi Islands from Krabi, click here. If you want to hit four islands, click here.
Other islands
Islands worth visiting besides famous Koh Phi Phi, home of the Thung Teao Forest Natural Park and which is accessible from both Phuket and Krabi include Koh Lanta, Koh Lipe and the Trang archipelago, which is among the Kingdom's least-developed island groups.
Gulf of Thailand
If you are a beach lover, one of the best things to do in Thailand is to head to the Gulf of Thailand, which extends southwest and eastward from Bangkok.
In the Gulf's southerly reaches, roughly across the peninsula from Phuket and Krabi, you'll find Koh Samui and the adjacent islands of Koh Tao and Koh Pha Ngan, where infamous "Full Moon" parties take place.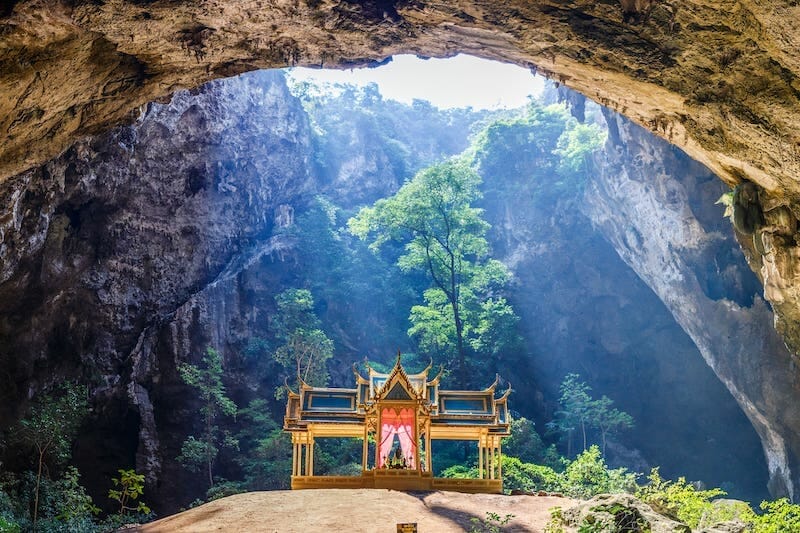 Khao Sam Roi Yot National Park
The "mountain of 300 peaks" (that's what the name means), this national park is where you'll find the largest freshwater marsh – Thung Sam Roi Yot Freshwater Marsh – in the country, as well as gorgeous beaches, caves and lots of trails that cut through the jungle.
Plan to spend at least a couple of days to take in the incredible sights, enjoy lots of birdwatching and hike.
The most famous sight in the park is easily Phraya Nakhon, a large cave with a royal pavilion built inside which can be accessed from Laem Sala Beach. Getting there is a big of a walk – a steady 30 minutes uphill – but it's totally worth it.
Another popular attraction is the Sai Cave, home of thousands of bats – however getting there is a real challenge.
If you want to get deep in the mangrove, head to Khao Daeng Canal – you can rent boats in the nearby village.
If you are looking for accommodation, you will find bungalows in the beautiful Sam Phraya Beach.
Hua Hin
One of the most popular beach resorts in Thailand, Hua Hin beaches aren't actually among the best in the country. But the level of services and activities on offer make it worth checking out.
The main beach is the Hua Hin beach, but other nearby beaches are Cham Am and Khao Takiab. The latter is also where you will find Khao Takiab temple, home to hundreds of wild macaques.
If you are in search of more cultural activities, head to nearby Cha Am to visit the Maruekhathaiyawan Palace. It used to be the summer retreat of King Vajiravudh (Rama VI) and it's beautifully built of teak wood.
Another good day trip is to the Pranburi Mangrove Forest and Kaeng Drachan National Park. They are excellent places to spot lots of wildlife, including elephants.
Koh Samui
From Koh Samui, you can visit Ang Thong Marine Park, where you will find pristine beaches and crystal clear waters. You can go there on guided tours that usually also include stops at the Emerald Lagoon.
For a day trip to Ang Thong Marine Park from Koh Samui, click here.
Another great day trip from Koh Samui is the nearby Koh Tao, a great place for snorkeling, diving and other water sports.
You can book a day trip to Koh Tao here.
Other attractions in Koh Samui are Namuang waterfall, Hin Lat Waterfall and Tarnim & Magic Garden. This 7 hour 4WD jungle safari tour including lunch – awarded best adrenaline rush tour in 2019 – goes to the Namuang waterfalls.
Make sure to read my post The Best Things To Do In Koh Samui.
Koh Chang and Koh Wai
Farther north and east is the Trat archipelago, centered around large Koh Chang, but also home to forlorn Koh Wai, which is home to two beautiful beaches and which can be easily visited on day trips departing from Bang Bao in Koh Chang, and upmarket Koh Kood.
Check out my posts How To Lose Yourself In Koh Wai, Thailand and A Short Guide To Koh Chang, Thailand.
Isaan
I'll start by making a sweeping statement: Isaan, a rough-and-tumble region in Thailand's rural northeast, isn't for everyone. With this being said, if you're craving the experience of Thailand off the beaten path, it might be worth adding to your trip.
Cultural travels will enjoy Ubon Ratchathani, whether during the annual Candle Festival in July, or during the dry season to visit Sam Phan Bok, aka the "Grand Canyon of Thailand." The so-called Red Lotus Sea near Udon Thani, meanwhile, fills up with thousands of blooms every January and February.
Other Useful Information To Plan Your Trip To Thailand
How Long Should You Spend in Thailand?
Every Thailand itinerary is different and in an ideal world, you would touch down and go where the wind takes you. Our world isn't ideal, of course, so you'll probably arrive with a specific amount of time in mind.
For many travelers, I find that two weeks in Thailand—which breaks down to 2-3 days in Bangkok, plus 5-6 days each in the North and the Islands—ends up working out well.
As you've seen, of course, the quantity and quality of places to visit in Thailand is more than conducive to longer trips. With a month in Thailand, you can take one of two approaches.
The first would be to spend longer (and, thus, explore deeper) in each region. The second would be to rent an apartment (on Airbnb or otherwise) in one city and "live" there as a local, taking day trips and weekend trips outside it when you wish.
Other Thailand practical matters
Just as Thais are not what you would call "Type A" people, Thailand is not a destination where you need to consider every detail before touchdown. Some items are important, however, such as determining the best time to visit Thailand.
I'd suggest any of the "dry" months between November and March, or the "shoulder" months of October and April, when rain is possible, but lighter crowds and lower prices are practically guaranteed.
Another important issue is transport within the country. In general, you'll take domestic flights in Thailand when traveling between regions—Bangkok to Chiang Mai and Chiang Mai to Phuket or Krabi and then Bangkok, for example.
Traveling within regions depends on where you are. Bangkok has above-ground and underground rail; the North has song-thaew pick-up trucks; and the Islands have boats.
Final Considerations
Now that you've got a clearer idea of places to visit in Thailand (and things to do once you get there) putting together your Thailand trip will be no problem at all.
From the raucous capital of Bangkok and the plethora of day-trip destinations that orbit it, to the lush jungles of the north and the paradise islands of the south, Thailand is simple to know, even if understanding it can be complex. If you touch down with the right amount of information — and, most importantly, an open mind — it's difficult to imagine your trip being anything short of life-changing.
This post was contributed by Robert Schrader. After residing in Thailand on several separate occasions, Robert had enough of the lacking English-language information about travel in the Kingdom, and took matters into his own hands. The result, Thailand Starts Here is your one-stop shop for Thailand travel information—and inspiration—whether it's your first trip or your fiftieth.
Pin It For Later!