Getting from Mexico City to Puebla is incredibly easy – whatever your budget or preferred your means of transport is.
Puebla is a fun place to visit, packed with colorful colonial buildings, beautiful churches, lots of great restaurants where to try Mexican cuisine (it's here that you'll find the best mole!). Since it's quite close to Mexico City, it's definitely worth including it in your Mexico itinerary.
Whether you decide to pass through on your way to other destinations, or spend a few days there taking in all that it has to offer, knowing how to get there is certainly useful – so continue reading!
Make sure to also read my post The Best Things To Do In Puebla.
How To Get From Mexico City To Puebla
By Bus
The number one option to get from Mexico City to Puebla is to take the ADO or AU bus. The bus is comfortable, reasonably priced and reliable.
To catch the bus from Mexico City, head to the TAPO (Terminal de Autobuses de Pasajeros de Oriente) terminal – the closest metro station is San Lazaro (lines 1 and B). Here you can see bus timetables, talk to staff and purchase tickets directly from the windows.
You can also check the timetable online on the website of ADO – this lists prices and schedules of both ADO and AU buses. The website is actually in Spanish, but it's quite self explanatory.
The buses leave frequently – as often as every 15 minutes – starting from 5:00 am all the way to 1:00 am. There are several bus companies that drive the route, so you may have a choice of not only AU and ADO buses but other companies too. The ADO bus is basically the "first class" option, featuring reclining seats and bathrooms, while AU and other companies are more of a second-class service.
The ride takes approximately 2.5 hours and costs around MXN200 to MXN250 (between $10 and $12.50 depending on the company). Buses will arrive at either CAPU (Central de Autobuses) Terminal, which is around 6 km (3.7 miles) from the city center; or 4 Poniente Terminal, which is downtown. From there, you can take a taxi or Uber to where you are staying in the city center.
How to get from Mexico City Airport to Puebla by bus
If you're not staying in Mexico City and your aim is to get to Puebla as soon as you touch down at the airport, the good news is that you can catch a bus directly from Benito Juarez International Airport. This means you'll bypass the busy city entirely making for a much smoother connection between the two cities.
The other good news is that this particular route is served by ADO. The bus runs around every one to two hours. It costs MXN336 ($16.90 USD) and arrives after less than 2 hours at CAPU or at Terminal Paseo Destino, just outside of Puebla.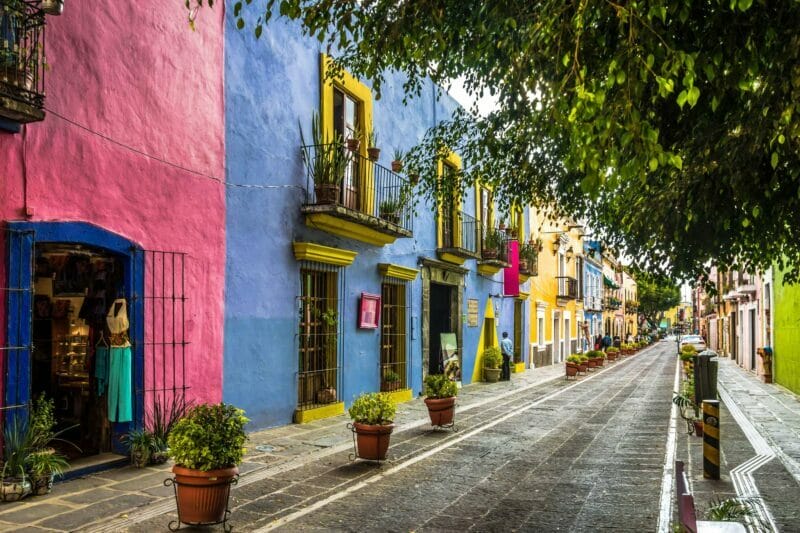 By Car
Renting a car in Mexico means the ease of traveling around at your own pace with the freedom and flexibility to travel how you want, when you want. With your own set of wheels, you don't have to rely on public transport, or their timetables, and you don't have to deal with haggling with taxis either.
Renting a car in Mexico City is pretty easy, and it sets you up for a great adventure ahead on a road trip to Puebla (and beyond). There is a huge selection of car rental companies, both at Mexico City Airport and within the city itself.
To check out the prices of car rental in Mexico, click here.
If you do choose to rent a car, you should definitely make sure to shop around and to use a reliable, reputable company (make sure to read reviews before you decide on what company to use). The price will vary throughout the year and will also depend on the company, but on average, car rental in Mexico starts at around $15-30 USD per day.
Once you have your rental car, the easiest route from Mexico City to Puebla is Highway 150D. This four-lane toll road connects all the way from the Mexican capital to Veracruz. For Puebla, the tolls will cost around MXN120 ($6 USD). It will take just over two hours to drive from Mexico City to Puebla.
Make sure to read my post A Guide To Renting A Car In Mexico.
By private transfer
For those of you who are not confident driving in Mexico, but don't want to deal with buses and taxis, there is another option. Private transfers provide a totally stress-free and straightforward route to reaching your destination.
Particularly popular with those who aren't on a shoestring budget (that's because, at around $150 USD, it's not cheap), private transfers offer a little bit of luxury. Further adding to convenience, you can book your private transfer online in advance and arrange for your driver to meet you at the arrivals gate at Mexico City's airport.
You can book your transfer from Mexico City Airport to Puebla here.
Alternatively, if you're sticking around in Mexico City for a few days before traveling to Puebla, you can book a private transfer to pick you up at your hotel or accommodation.
There are a few different options to choose from when it comes to transfer companies. As with hiring a rental car, it is always best to compare prices and check reviews before making your final choice.
There's also a range of different models and sizes of car that you can opt for, going all the way from a compact car to a minivan. The latter is a great choice for those who are traveling in a group, because you can split the price between up to nine passengers, thus making it more budget-friendly.
The drive takes two hours, and you'll be whisked along with air conditioning, professional drivers and comfortable seats. The cost of all this luxury starts at around $160 USD.
You can book your private transfer here.
Day trips from Mexico City to Puebla
Puebla is an incredible destination in its own right. Home to the chocolate-based mole poblano sauce and an amazing colonial Old Town, here in the capital of the state of Puebla, culture and history combine in a fascinating under-the-radar city setting.
However, if you don't have enough time on your Mexico itinerary to spend at least a few nights exploring this provincial capital, you always have the option of visiting on a day trip from Mexico City.
There are a number of different tour companies that offer up day trips to Puebla from Mexico City. These provide an easy way to see the main sights of the city without having to take the bus or drive yourself and risk getting lost or stressed out trying to cram everything into one day.
The tours from Mexico City to Puebla offer a comprehensive service. Not only will transport be covered, but more often than not you'll also have a guide to show you around the sights, lunch may be included, as well as transport back to Mexico City.
You can expect to pay from around MXN1280 (around $62 USD) for a tour to Puebla. It may not be the cheapest option, but it may be the most time-effective way to see Puebla for those who want to experience this beautiful city.
For more information on day trips to Puebla from Mexico City, click here.
Getting From Mexico City To Puebla – FAQ
How long does it take to drive from Mexico City to Puebla?
Between 2 and 2.5 hours, depending on traffic. It's only 130 kilometers (less than 81 miles) from Mexico City to Puebla. Due to how close it is to the Mexican Capital, as shown above there are a number of different ways to get from here to Puebla making it an ideal trip for many budgets and travel styles.
Where is Mexico City bus station?
There are actually multiple bus stations in the Mexican capital which makes it useful for wherever you happen to be staying in the city.
Firstly, there's TAPO or Terminal de Autobuses de Oriente. It's situated in the eastern part of Mexico City between the airport and the city center. Luckily, the bus station is connected to the city center by both the metro (Lines 1 and B) and the metrobus (Line 4); making it easy to get to if you're staying in the city. Make sure you get off San Lazaro Station – single journey tickets on either metro or metrobus cost just MXN6 ($0.30 USD).
There's also the Central Mexico Norte Station. This is the northern bus terminal in the city; it can be reached by metro or metrobus – the station is Mexico Norte Station, but it can be quite complicated to reach as you have to change lines twice. If you have luggage, you are better off getting a taxi or Uber to get to Norte instead.
Buses also depart from Benito Juarez International Airport from both Terminal 1 and Terminal 2. If you somehow arrive at a terminal that's different to the one that you've booked the bus from, don't panic – there are free shuttle services that connect both terminals. You can purchase your ticket from one of the numerous ADO counters in the airport, or you could purchase one online before you arrive.
As the buses departing from the airport are much less frequent than those from the city, you may want to consider taking metrobus Line 4 to TAPO station. If you've just missed a bus at the airport and you have to wait two hours, this would be a much more time effective way to go.
Where is Puebla bus station?
Once you've arrived in Puebla you'll find yourself at one of Puebla bus stations – watch out, as there actually are three and make sure to pick the one that is closest to your accommodation!
The main terminal is called Centro de Autobuses Puebla (CAPU), this is actually 6 kilometers (3.7 miles) to the northwest from the center of the city.
The second bus terminal is 4 Poniente, in Downtown Puebla, but it's still fairly far from the center of Puebla.
There's also the additional Terminal Paseo Destino.
How do I get from Puebla bus station to the city center?
To get from CAPU to the center of Puebla, it is a simple matter of a 15-minute car journey.
The easiest and quickest route once you get off the bus is to take a taxi from outside the bus terminal itself. Make sure you take an authorized taxi. The ride to the city center should cost around MXN80 ($4 USD).
If you have a local SIM card or internet service, you could also order an Uber.
If you want to take public transport, you can actually take yet another bus from CAPU to the Puebla city center. The bus stop is located just across the street from the terminal – look for a sign that says "Centro de Convenciones". The ticket to the city center from here is purchased directly from the driver as you board and costs MXN6 ($0.30 USD).
The only difficulty with taking the bus is that it will drop you off at the Convention Center, a five-minute walk from the Main Square – that's because traffic in the historic city center is restricted.
Does Puebla have an airport?
Yes, it does! In fact, Puebla has an international airport. Its code is PBC. However, this is lesser used by travelers than Benito Juarez International Airport (in Mexico City), as more flights naturally connect to the capital than to Puebla.
There are no direct flights to Puebla from Mexico City. In fact, getting there from Mexico City by plane can be quite an ordeal involving a layover in other cities such as Monterrey and Tijuana. For that reason, flying is simply not a good idea!
From Mexico City's airport, it's easy to connect to Puebla by bus.
What is the cheapest way to get to Puebla from Mexico City?
The cheapest way to travel between the two cities is by taking the bus. The buses are reliable and easy to use and run throughout the day and night.
The cost of traveling between the two cities will depend on the type of bus you get. The ADO service, which is more like a first-class service, is a bit more expensive starting at MXN230 ($11.60 USD) depending on the time of departure, while the AU and other second services can cost around MXN200 ($10 USD).
Occasionally, both ADO and AU have special offers and great discounts that allow you to save up to 50% on your travels!
However, if you're in a group, it may be more cost effective and convenient to get a private transfer. Splitting the cost of a minivan between you and eight pals, for example, could result in a fare of around $230 for an entire minivan – more expensive than the bus, but for the convenience, definitely worth considering.
Pin It For Later!