Paris is beautiful city. Home to world-famous sites such as the Eiffel Tower, the Louvre Museum and the Musée d'Orsay, if you spend enough time in the city you'll be rewarded with some of the best Paris hidden gems. I am talking about places that are often in plain sight, but at times they are actually well hidden!
If you care to see Paris off the beaten path, away from the tourist crowds, you are in the right place. I am about to spill the secret on the most interesting hidden gems in Paris. Continue reading to discover Paris secret places!
The Most Beautiful Paris Hidden Gems
The Montmartre Vineyards
Vineyards in the middle of Paris? No, it's true – this is Clos Montmatre. It can be found in Montmartre. Dating back to 1933, these secret vineyards in Paris' 18th arrondissement are tucked away in the side streets behind the Sacre Coeur. One of the last remaining vines in the centre of Paris, Clos Montmatre produces between 1,000 to 1,500 bottles per year – all of them aged in the city hall of the 18th arrondissement.
Man stuck in the wall in Montmartre
The official name is Le Passe-Muraille which roughly translates to the "passer through walls". It's not an actual man. It's a statue dedicated to the writer, Marcel Ayme – specifically, his short story "Le Passe-Muraille". In the story, published in 1941, a local Montmartre man named Dutilleul discovered that he could pass through walls. Today it's a lesser-known spot where people like to come and take photos with the magical man – stuck mid-strike in the wall, forever.
Place Dalida
Also situated in Montmartre is Place Dalida. This square is named in honor of the famous French singer, actress and performer, Dalida. It was renamed in 1986 on the 10th anniversary of her death, and even features a bust of the icon herself. Today many fans of the singer come to the leafy, low-key plaza to pay tribute to her legacy – it's even been featured in a handful of films, most recently in Emily in Paris.
Musée de Montmartre
Founded in 1960, this Montmartre building is actually the oldest structure in the district, dating back to the 17th century. The house was once a hub for the area's art scene during Paris' Belle Epoque era (late 19th to early 20th century) – many artists actually lived here.
This includes Renoir, who actually painted "The Swing" and other notable pieces at this house. Now a museum, the house hosts a collection of paintings, as well as photos and posters that tell the history of Montmartre. It's one of the lesser known museums in Paris, and easily one of Paris hidden gems.
The Museum of the Romantic Life
Set at the foot of Montmartre, in the 9th arrondissement, the Museum of the Romantic Life (Musée de la Vie Romantique, in French) is a charming spot. It's situated within a grand 1830s townhouse, complete with a cobbled courtyard, a greenhouse and studios. The museum was once the home of Ary Scheffer, a Dutch artist, who used to invite various creatives of the day along to his salons, including George Sand, Chopin, Liszt and Charles Dickens.
Jardin des Abbesses in Montmartre
This place is like a secret garden, a quiet spot away from the rush of the city, but it's fairly well hidden – definitely one of the most hidden gems in Paris! You'll find it by following the Passage des Abbesses up a steep staircase towards the Rue des Trois-Frères eventually leading to this oasis-like green space. Originally part of a Benedictine abbey, the simple medicinal garden was built in the 12th century by Louis VI for his wife, Adelaide de Savoie. Today, it's a beautiful spot to unwind in for a while.
Make sure to read my post The Best Things To Do In Montmartre.
La Conciergerie: Royal Palace and Prison
Located in the west of the Ile de la Cite, La Conciergerie was one of the most prominent prisons during the French Revolution. This once elegant royal palace was commandeered by Revolutionary forces and used as a place of execution for hundreds of prisoners. This medieval building sits grandly on the banks of the River Seine, and is open to the public to learn its fascinating history.
Auberge Nicolas Flamel: Paris' Oldest House
This place isn't actually the house of Nicolas Flamel, the famous alchemist linked to the legendary discovery of the Philosopher's Stone. It's actually a home he commissioned to house homeless people in Paris. Completed in 1407, it is (probably) the oldest house in Paris left standing today. It looks like something from a fairytale. Though sadly not open as a museum, the private home features a restaurant (Auberge Nicolas Flamel) that can be visited.
Collège des Bernardins
Otherwise known as the College of Saint Bernard, this former Cistersian Monastery was the residence of academic monks who were students at the historic University of Paris. Built in 1248, this impressive institution served its role all the way until the French Revolution. Today it's a quiet but magnificent attraction away from crowded tourist hotspots. Opening times vary.
Basilica Saint-Denis
Situated in the northern Paris suburb of Saint-Denis, the 12th-century Basilica Saint-Denis is a cathedral and place of pilgrimage. It was originally founded on the site of an ancient Gallo-Roman cemetery. Almost every French king from the 10th century all the way through the 19th century has been buried here. It's unbelievably rich in history and definitely deserves a daytrip.
Maria de Medici Fountain in Luxembourg Gardens
For some Baroque beauty, look no further than the Medici Fountain. This beautiful piece of architecture was commissioned by Maria de Medici in 1630. Consisting of ornate sculpture and a long reflection pool, the fountain was moved and modified in the 19th century. The neoclassical statue "Polyphemus Surprising Acis and Galatea" by Auguste Ottin was added to the fountain in 1866.
Saint-Etienne-du-Mont Church
Stunning. That's how I would describe the Saint-Etienne-du-Mont Church. Though it originated with an even older 13th-century building, construction on this majestic church began in 1494 and took almost 130 years to reach its present-day form. It's beautiful inside and out, with twisting spiral staircases, ornately vaulted ceilings, a historic organ, and an exterior that seems almost otherworldly.
Abbey Bookshop
Paris wouldn't be the location you'd expect for an Anglophone bookshop, but Abbey Bookstore is just that. Set up in 1989 by Canadian Brian Spence, the bookstore is located in the thriving Latin Quarter. Over the past 30 years, the collection of new and used books at Abbey has grown – today they're stacked on shelves and piled on floors with titles covering everything from scholarly literature to popular novels.
Passage Mouffetard
Located in the 5th arrondissement, Mouffetard itself is actually one of Paris' most energetic (and oldest) neighborhoods. However, it's in the Passage Mouffetard that you'll discover some of Paris' best hidden history. In fact, this street is actually one of the oldest in Paris – it has an ancient origin and was once a Roman road.
It's well used and much loved to this day with market stalls, vibrant cafes, historic buildings, and crowds of locals navigating it all. It's here you'll also find the Church of St Medardus, among other sights.
Fountain Des Innocents Near Les Halles
This Renaissance style fountain was completed in 1550 and was built to honor French King Henry II. This masterpiece is one of the oldest public fountains in the city, and it was designed by architect Pierre Lescot. Once named the Fountain of Nymphs, it was actually inspired by the ancient Nyphaeum in Rome, and it has historically been a meeting place – something that owes to its situation at the crossing of a few major roads.
Palais Royal
Built by Cardinal Richelieu in 1633, this once royal palace (the clue is in the name) is situated in the 1st arrondissement in the heart of town, not far from the Louvre and other famous places to visit in Paris. This incredibly grand, sprawling building is where French families would reside before Versailles was built.
Now open to the public, visitors can stroll around the manicured gardens and gaze in awe at the imposing architecture. There are also shops and quiet cafes nearby, if you feel like browsing or a bite to eat.
Sewers of Paris
Not all of the interesting sights in Paris are simply magnificent palaces or historic churches. Not at all. Go underground and you'll discover an alternative history of the French capital. Paris' sewers actually date back to the year 1370, making these medieval municipal works the oldest covered sewer system in Europe. The Paris Sewer Museum – set in the actual sewers themselves – has been open to visitors since 1879 and is the place to go to learn all about their development and history.
Catacombs
Also underground but far more spooky are Paris' famed Catacombs. Here, among these subterranean tunnels are the remains of more than 16 million people (that is not a typo). Visitors to the Catacombs can enter into this underground realm of ossuaries and labyrinthine tunnels and observe piles of neatly stacked bones. It's a strange place, and maybe not one for those who are squeamish. Coming back into the daylight after all the death and darkness makes Paris seem even more enchanting!
To book your visit of the Catacombs, click here.
Carrières des Capucins
The explorations beneath the streets of Paris continue at the Carrieres des Capucins. These former limestone quarries, situated in the area around the Cochin Hospital, are medieval works that extend for meters under the city. Eighteen meters (that's 59 feet), to be exact. To see what life might have been like for a mason many centuries ago, you can head underground and visit the museum here to learn more. Tours are infrequent, so make sure you plan in advance.
The Pletzl
The Pletzl – or "Little Place" in Yiddish – is Paris' historic Jewish Quarter, and was originally established in the 13th century. Situated in the 4th arrondissement, the Pletzl became a hub for the Ashkenazi Jewish community at the end of the 19th and beginning of the 20th century with an influx of immigrants from Eastern Europe.
However, today, an Orthodox Jewish community calls Pletlzl home. With its numerous kosher butchers, falafel vendors, delicatessens and synagogues, it's a charming area to wander.
Pere Lachaise Cemetery
Three-and-a-half million visitors make their way to this unusual tourist destination every year – so I debated whether I should include it in a post about Paris hidden gems. But alas, this iconic graveyard is the largest necropolis in Paris – it covers 44 hectares and was the first "garden cemetery", designed to be a quiet place to stroll through and pay respects.
Much like an open-air museum, the cemetery is home to graves of notable figures from Marcel Proust and Chopin to Oscar Wilde and Edith Piaf – even Jim Morrison is buried here.
To make the most of it, consider joining a guided tour. Book it here.
Montmartre Cemetery
Another of Paris' famed graveyards, Montmartre Cemetery was officially established in 1825 at the site of a former quarry. However, its origins go beyond that – the quarry was used as a mass grave during the French Revolution. Along with Pere Lachaise, Montmartre Cemetery is also the final resting place of many historic persons – Pierre Cardin, Degas, Ary Scheffer, Emile Zola, Theophile Gautier, and Dalida, to name but a few!
Flame of Liberty
As you might be able to tell from the name of this off the beaten path Paris attraction, the Flame of Liberty is connected with the Statue of Liberty in New York City. It's actually a full-scale replica of the statue's flame that burns atop its torch in eternity.
The flame was given to the city by the International Herald Tribune – an historic Anglophone newspaper in Paris – as a symbol of Franco-American friendship. It's now become a de facto memorial to Princess Diana who was tragically killed in 1997 in the tunnel that runs below.
Grand Rex
This iconic Parisian movie theater opened its doors back in 1932. Back then, this Art Deco marvel was cutting edge – designed to imitate Radio City New York – and was actually the first place in the country to use mechanical escalators.
The first film screening (it was The Three Musketeers) here was a huge event: among the 3,300 audience members was Louis Jean Lumiere himself. The decor inside has stayed true to its 1930s roots with murals, Mediterranean influences and chic fixtures and fittings.
Expiatory Chapel
Set in the 8th arrondissement, the Expiatory Chapel (or Chapelle expiatoire) is the place where deposed King Louis XVI and Queen Marie Antonionette were buried. The chapel atop their burial site was built in 1816, designed in the neoclassical style, and features symbolic statuary and carvings throughout.
The importance of this place, being where the monarchy of France was not just questioned but completely overthrown – permanently – cannot be overstated. It's an absolute must-see for history lovers and one of the best Paris hidden gems.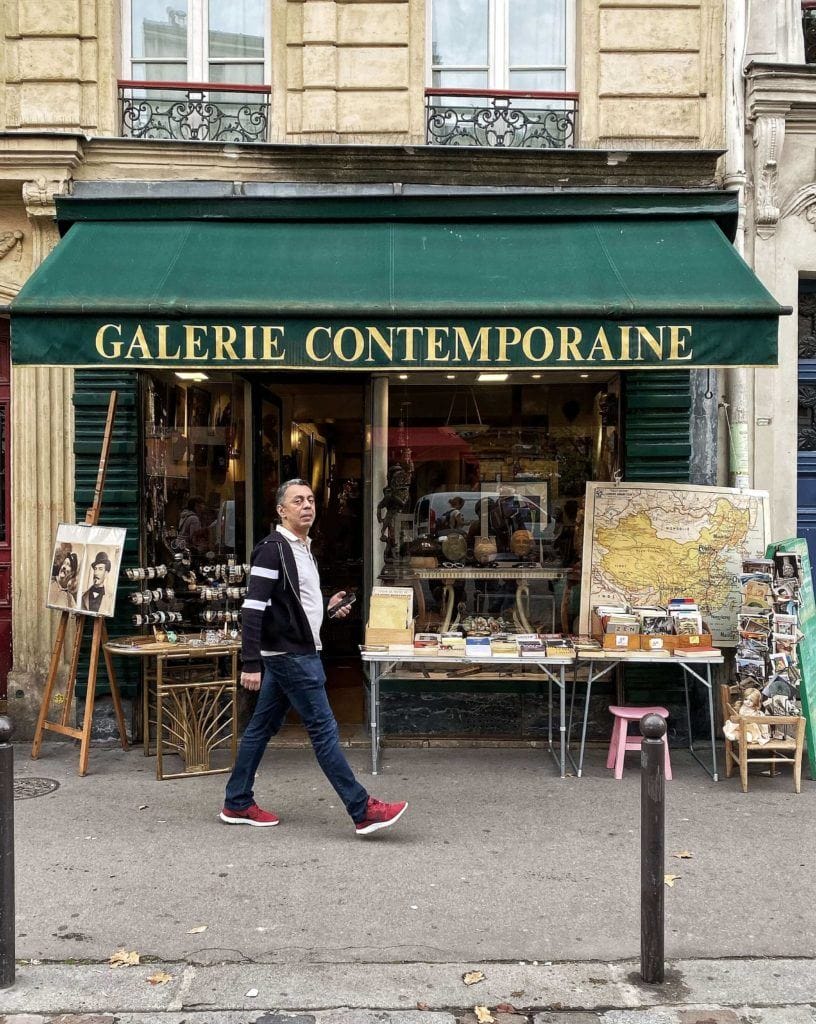 Guided Tours Of Paris Hidden Gems
If you want to see Paris off the beaten path but would rather be guided, you will be happy to know there are several excellent tours that will show you the best hidden gems in Paris.
I took a 2-hour guided walking tour of Montmartre that went to pretty much all the spots mentioned in this post. The guided proved to be incredibly knowledgeable and at only €16 this tour is incredible value for money. You can book it here.
Another tour I highly recommend is this 4-hour electric bike tour of Paris secret places. You will wander around town comfortably, accompanied by a guide that will explain you everything about Paris nooks and crannies. You can book it here.
Pin It For Later!