As a traveler, one of the things I always wonder when I visit a new place is whether I can safely drink tap water there, or whether even just a drop may get me in trouble. If you are visiting Rome for the first time, you are probably wondering whether tap water in Rome is safe to drink.
The short answer is yes! It's safe, it's actually very good, and you will find lots of water fountains around town where you can have a sip and refill your bottle. Curious to find out more about water in Rome, drinking fountains etiquette, water in cafés and restaurants and how to order it? Continue reading: here's everything you need to know.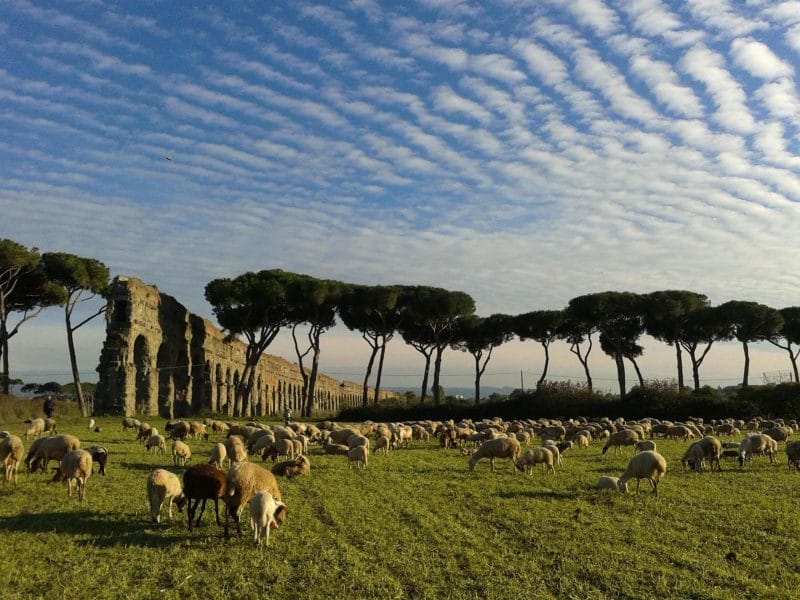 Can You Drink Tap Water In Rome?
Yes. And in fact, Rome has been supplying clean drinking water to its citizens for thousands of years. The remains of the historic aqueducts that once brought the water to the city can still be seen on Rome's outskirts, each one feeding everything from baths to public fountains.
It's no surprise then that Rome in the modern day still has a constant supply of fresh water. Even today Rome still gets some of its drinking water from the Acqua Vergine (literally "fresh water"). This aqueduct with ancient roots also feeds numerous fountains, including the Trevi Fountain.
Water is important to the city of Rome, and there are various ways that you can enjoy fresh drinking water throughout the city. Water in the Eternal City is clean to drink and is supplied by ACEA – Italy's national water company, supplying around nine million people with clean drinking water.
You can actually check out water reports on the ACEA website to see if the water supply where you are is suitable for drinking. Simply go on their site, type in the address of where you're staying, and you'll be given a report on the area's water safety.
Reports include detailed levels of arsenic, calcium, sodium, magnesium, and other chemicals – certainly one way to offer up some peace of mind if you're worried about the drinking water in Rome!
In summary though, drinking water in Rome meets both local and international standards for drinking water safety.
Drinking Fountains In Rome
There are many fountains in Rome. Rome's drinking fountains are a part of the city's culture and history, and you'll be able to see them throughout its historic streets. But it's important to note that you can't just go drinking water from the Trevi Fountain or any of the other famous fountains in Rome – that probably won't be good for you!
Stick to the nasoni, which literally translates to "large nose". You'll be able to spot these watering holes because of their characteristic spout that looks like a nose. First introduced in the 1870s, Rome boasts an incredible 2,800 nasoni, which means you're not likely to go thirsty when exploring the Italian capital.
The water that comes out of the nasoni is exactly the same water that is supplied in residential households. This means you can be safe in the knowledge that it's safe to drink this water and actually very normal. You'll often see people using them when they're out and about. After all, Rome gets very hot in the summer and it's important to keep hydrated!
You'll be able to find a nasone near you very easily as the modern day has caught up with these 19th-century innovations. Today there are actually multiple apps that have mapped these free drinking fountains – Waidy is one; I Nasoni di Roma is another.
Simply download one of these handy apps and you'll be able to find your nearest nasone to fill up your water bottle as you explore the ancient sights of Rome.
Don't worry, nasoni aren't just to be found in local areas. They're in big tourist areas, too, with one of the main locations right in front of the metro stop in front of the Colosseum.
Nasoni Etiquette
If you want to refill your water bottle, simply hold it out in front of the spout that's constantly flowing with water. You can even wash your hands under the spout to cool off from the heat.
When you want to drink from the fountain directly, however, there's a trick to it – block the main spout with your hand and the water will be diverted through a hole further up the pipe, converting it to a drinking fountain.
One definite no-no is putting your mouth directly on the pipe. Not only is this unhygienic, but it is also illegal!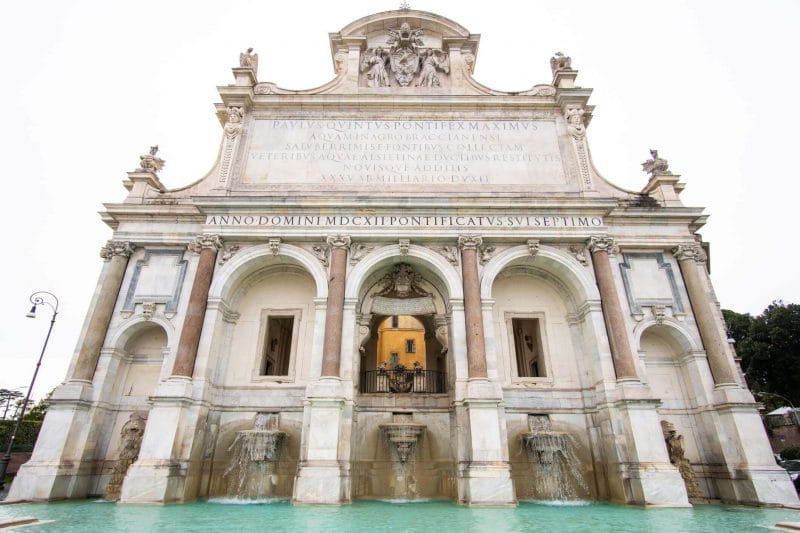 Tap Water In Rome Bars And Cafés
Chances are at some point in your Rome vacation, you will find yourself in a bar or cafe. In fact, I'd say it's a certainty. Tap water is freely available at both bars and cafes.
Often you'll get a glass of water if you sit down at a cafe (to accompany your coffee) – if you don't, it's ok to ask for it. The water by default will usually be tap water, or maybe from a water filter. Either way, it's still safe to drink.
The difference is if you go into a cafe and ask for water without ordering another drink, the staff will presume that you'd like bottled water and therefore ask what type you'd prefer.
The same goes for bars, but in this instance, you'll usually have to ask for it. If you want any other kind of water, you'll have to specify – otherwise, it'll be tap water (and free).
Tap Water In Rome Restaurants
Tap water in restaurants is a different story. It's actually not common to be served tap water while at a restaurant in Rome, but what is common is once you've been seated at your table, a waiter will ask what kind of water you would like. Meaning, liscia (still) or frizzante / con gas (sparkling). Whatever you choose, you'll get a large bottle that will be delivered to your table. Usually this will cost around 2 Euros.
The bottle itself will be either plastic (in which case you can take it with you if you don't finish it) or glass, which you'll leave it behind at the end of your meal – it's just a staple of eating out in Rome.
Some restaurants nowadays do have their own water filtration system, and therefore offer tap water (not free, however). They can even make it still or sparkling depending on your preference.
Having water on your table is a standard wherever you go, from high-end dining spots to local eateries – it's just the norm. If you really want to have tap water, you can ask, and they may even provide it with ice if you request it.
Just make sure you leave a tip at the end of your meal as the staff will be going out of their way to provide tap water given that it's not a normal thing to ask for.
Water Distributors
Water distributors, or as they are known in Italian, "case dell'acqua" can be found everywhere. These are a more modern – and for some, more hygienic – addition to the historic nasoni supplying public drinking water on the streets of Rome.
Installed and managed by Acqua Si for ACEA, who supply the city's drinking water, these public fountains are free to use and a step towards reducing plastic waste. You can opt for either natural water or sparkling water, all taken from the local water supply – isn't that just great?
These water distributors are pretty cool in terms of design, too – some resemble vintage phone boxes, while others are more like colorful works of modern sculpture.
Acqua Si are open 24 hours a day, 365 days a year, and are available in all sorts of areas, from Ostiense and the Colosseum, to marketplaces. Take a look at the Acquasi site to find one that's nearest to where you are in Rome!
Buying Bottled Water In Rome
Despite the fact that Rome has perfectly good drinking water, and with all those nasoni and water distributors dotted around the city, people still buy bottled drinking water. In fact, Italians love it; they're actually up there as one of the highest consumers of bottled water in the world. According to some sources, Italians drink 220 liters (58 gallons) per capita every year!
Why? Who knows. Italy has some of the best water in Europe. But at some time in the 1980s or '90s, Italians started drinking bottled water when out in restaurants, and in their homes. It has nothing to do with the taste or quality of the water (probably more to do with marketing) and has become something of a cultural habit ever since.
Because of this, there are many brands of bottled water in Italy. Around 600, to be more precise!
Compared to other countries, it's quite reasonably priced. But because of all this water, there's a big issue with single-use plastics – a problem not only faced by Italy but also the rest of the world.
It's always best to use a refillable water bottle to reduce this problem. But if you really do need some water and you don't have your own bottle with you, you'll be able to buy water from many places around Rome. Supermarkets sell large 1.5 liter bottles for around 50 cents, but in a minimart or at a kiosk, you'll be likely paying around 2 Euros for the same size.
When you want a smaller bottle, you'll find these everywhere, in practically every local shop and kiosks (around 1 Euro) and in supermarkets (30 cents or so). You can even pop into a cafe or restaurants and ask to buy a bottle of water from their fridge.
Make sure to check out the label before you buy it. This can tell you whether it's still (acqua naturale) or sparkling (acqua frizzante).
Pin It For Later!