You won't have troubles finding gifts from Rome. The Italian capital really is a shopping paradise, and whatever you may want to bring home for yourself or for your family and friends as a souvenir, you are bound to find it there.
While you can certainly spend your time wandering around town looking for the perfect gift to bring home, having a bit of guidance on what to buy in Rome – and where – will definitely help you. That's why I thought I'd put together a selection of twelve best gifts from Rome.
Continue reading to discover the nicest souvenirs from Rome.
Make sure to also read my post Where To Go Shopping In Rome.
The Best Gifts From Rome
An antique or two
With its long and rich history, Rome is a wonderland for anyone interested in the past – specially for those who like timeworn pieces from the good old days. Luckily for you, the city has no end of options when it comes to buying antiques.
Rome itself actually has a history of collecting antiques. Its city streets and museums burst with artifacts and objects from ancient Egypt and Greece – a testament to the Romans' love of collecting objets d'arts of yesteryear.
But when it comes to buying antiques in Rome, it pays to be clued up. The most well-known area for purchasing antiques in Rome is the area around Via del Babuino and Via Margutta, close to Piazza di Spagna. There are some long-established antique dealers and boutiques here – many of which have prices to match their long history. So if you want to be guaranteed something authentic, be prepared to pay the price.
Elsewhere, the Largo della Fontanella di Borghese hosts the Borghese Outdoor Market, where you can pick up smaller antique objects – prints and books, mainly.
For furnishings and artwork, specialist shops are located near Piazza Navona and Via dei Coronari – the latter of which, a pretty street in itself, is ideal if you want to combine a bit of sightseeing in the area.
There's also Via Giulia and Via Monserrato, which feature a network of streets running off them, all dotted with quieter antique stores where you can find hidden gems (maybe literally).
For those looking for something more affordable or unusual, the city's numerous flea markets can serve as a good hunting ground for antiques, but be prepared to do some digging – a little Italian is also helpful for bartering and finding authentic pieces.
Pick up Rome-themed objects
Everyone knows someone who likes a classic souvenir, whether it be a fridge magnet, keyring, calendar or even just a postcard. These make some of the nicest and easiest to carry gifts from Rome. There are a ton of souvenir shops selling this sort of tourist fare all over Rome, especially around the bigger tourist sites.
If you really are in the market for this kind of souvenirs from Rome, you won't have to go or look far. But there are some recommended places to pick up interesting Rome-themed souvenirs around the city.
One of these is Vertecchi. Just a stone's throw from the Spanish Steps, this shop is a treasure trove of souvenirs, stationery, and collectibles. It's a nice place to go to find things such as Rome-themed journals, pens, and cards as well as small gifts and seasonal items.
Termini Forum would be another good place to pick up these sorts of souvenirs – all conveniently located beneath the bustling central train station itself.
Colosseum kitsch
One of the most iconic landmarks in Rome is the Colosseum. It's a must-visit if you're on a trip to the city. Because it attracts tens of thousands of visitors a year, this ancient gathering place is also awash with kiosks and shops selling affordable souvenirs to the masses.
In fact, the sheer amount of kitsch Colosseum-themed souvenirs on sale around the area is truly impressive. From hawkers selling T-shirts to mini gladiator figurines, and even more leftfield stuff like a Colosseum snow globe, there's a lot to choose from. Perfect for a memorable souvenir for your own home or some easy gifts from Rome for friends or relatives.
Engraved marble tablets
This one is a little more specialized – a custom-carved marble tablet. So if you want a unique souvenir from Rome, look no further than this famous shop.
Partly so wonderful because of its very friendly owner, as soon as you step into this tiny store on Via Margutta, you'll be transported to another era entirely. Marble tablets completely cover the walls of this compact workshop – known as La Bottega del Marmoraro and run by Enrico Fiorentini. It's such a nice place that it even made the pages of the New York Times.
Here you can grab your very own marble sign. You can actually get anything you want carved into the stone tablet (of any size, too) – it can be done while you wait. On busier days, you may have to come back a few hours later.
Enrico doesn't speak a whole lot of English, so you may have to write your custom phrase down if you want it done correctly. Or you could choose one of the many Italian proverbs and sayings hanging as examples on the walls. The work is high quality, and it costs as little as €15.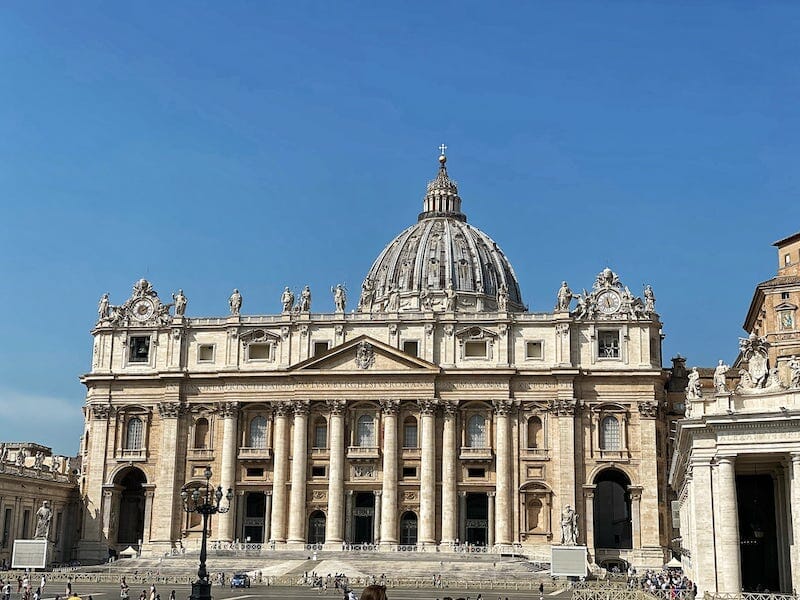 Religious art and other Catholic-themed gifts from Rome
Rome is home to the capital of Catholicism – Vatican City. So it's no wonder that there are many religious items on sale. In fact, you can find almost anything with religious iconography adorning it.
For example, Pope calendars and other cheaper items for tourists are one end of the spectrum. However, at the other end, you can find some truly magnificent religious items – whether that's artwork, rosary beads, or statues.
Wherever you go in Rome, chances are you'll be able to pick up some of that aforementioned Pope-themed memorabilia. However, if you are really on the lookout for anything religious, head to the Vatican City. The area around here is packed with shops offering all manner of items – often cheap souvenirs costing just a couple of Euros.
Comandini, near the Vatican, has been selling religious items and clothing for priests since 1962. Here you can find beautiful religious souvenirs and high-quality goods to take home and remember your trip to the HQ of Christianity itself. Prices are affordable, quality is high, and the staff are friendly.
Savelli is another shop in the area. This gift shop was founded in 1898 and is crammed with a sizeable selection of religious paraphernalia – the prices are high, but if you want something a little more refined, head here.
How about socks?
These aren't just any socks. On the subject of religious gifts, why not take home your loved one a pair of socks fit for the clergy?
Gammarelli is the official tailor of the Pope. Opened in 1798, the shop has been in business for six generations, and sells – alongside a whole host of ecclesiastical clothing – the famous red socks worn by none other than the Pope.
What a perfect souvenir to take home for somebody. If socks are a bit boring for you (even if they are red), then you can choose from a number of other accessories sold by Gammarelli, including belts, gloves, and scarves.
A Pinocchio doll (or Pinocchio-themed something)
Pinocchio is Italian. He was created by Italian writer Carlo Collodi in 1883. Specifically, the wooden puppet who wanted to become a real boy is actually from Florence, but you can see him everywhere in Rome too. He's pretty much a cultural icon across the country.
Those visiting the Italian capital can pick up their very own Pinocchio doll. One of the best places to find a traditional wooden Pinocchio is Bartolucci. This well-loved toy store originated as a family-owned wood business in 1936, and since branched out to puppets and traditional dolls and is still family-run to this day.
This haven of handicrafts is a perfect spot for browsing for interesting gifts, including Pinocchio. You can find him in all different shapes, sizes, and designs (and prices). There are also a range of other wooden figurines and souvenirs, including pencils and magnets that work for smaller souvenirs.
Pieces sold here are authenticated by a Bartolucci logo stamped, so you'll always know if you've got the real deal if you purchase something elsewhere.
Italian toys from Little Big Town Toy Store
For more toys and other souvenirs from Rome for the little ones, head to the Little Big Town Toy Store. This enormous Aladdin's cave of toys is located in the center of the city along Via del Corso.
Here you can find a huge selection of (not only) Italian-made toys and games across three floors – if you're traveling in Rome with children, you should make sure to stop by this well-loved wonderland. I challenge you to leave empty-handed – you'll be bound to find something for yourself, your children or someone at home in this amazing toy store.
Or some quality Italian stationery from Stilo e Stile
Some people just love stationery (incidentally, I am one of them). They can't get enough of it. If that sounds like you and you want to buy some authentic Italian stationery while you're in Rome, then I would recommend you head to Stilo e Stile.
This is a treasure trove of beautiful pens and pencils sold by welcoming staff who'll help you select your perfect writing tool. Whether you want something for mechanical drawing, or you want a beautiful fountain pen by Montegrappa, or even if you don't know what you want, you can find something for the stationery lover in your life here.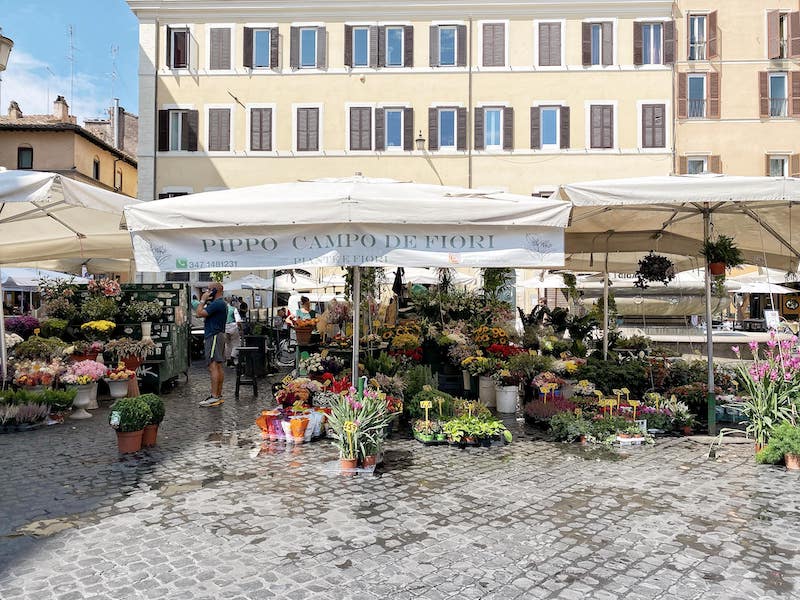 Ceramics and glass
Rome is a place of grand artworks and artisanal products, so it's no surprise that Rome is also somewhere that you can pick up some charming ceramics and elegant glassware. The city has many places where you can find these Italian-made items, but it's good to do some research before you head off on your hunt.
One option is Leone Limentani. Situated in Campo de' Fiori, this shop has been selling housewares since 1820. Here you can find a whole host of ceramics, glassware, and silverware, piled high.
Over at Piazza Navona, you'll find L'Artigianato. Ideal for finding specialized gifts, this beautiful store boasts a wide selection for homes and kitchens – think crockery and cutlery, as well statues and other unique (and high quality) decorative items. This is definitely a place to come for those who don't want to shop for standard souvenirs in tourist sites – some might say it's one of the best souvenir shops in Rome.
Definitely food (and drink)
Olive oil, pasta, preserves, wine – you name it, you can find it and buy it in Rome. Foodies on holiday will most likely want to take a slice of the gastronomy back home with them to savor for as long as it lasts in their cupboard.
Cheese lovers should head to Beppe e i Suoi Formaggi (literally "Beppe and his Cheeses") or the very friendly Antica Caciara; for something more expensive, try Volpetti, which also features shelves upon shelves of jars and tins, too. Just make sure you pick up Pecorino Romano – Rome's famous sheep's milk cheese.
If it's wine you're after, you could make a trip north to Enoteca Romana. Alternatively, stay central and browse the huge selection at Constantini (over 4,000 labels in their huge cellar) or the historic Trimani which claims to boast a list of over 6,000 wines and liquors. For something Roman, ask for something from the Lazio region.
If you haven't got enough room in your suitcase, some shops will ship wine back home for you. One of these is Roscioli, which you should make a visit to anyway because its deli counter and bakery is worth the trip. For something a little stronger, limoncello and grappa are also readily available.
Sweet-toothed travelers should make sure to keep an eye out for handmade chocolate. One of the city's oldest chocolatiers is Moriondo and Garglio. First opening in 1850 in Turin, the Rome iteration sells high-end chocolates made from 19th-century recipes.
For cake, you should stop by Pasticceria Valzani. Situated in Trastevere, this shop started life in 1920 and sells famous chocolate cakes and an array of small Italian sweet bakes.
Some leather goods
For a long-lasting souvenir, leather is always an ideal option. Rome is well known for its handcrafted leather items, so you can expect to find numerous places to shop for leather goods.
Mancini, a family-run store that opened its doors in 1918, has been selling its handmade products ever since. Here you can find everything from large items like luggage, all the way to smaller souvenirs such as belts, wallets, and purses.
Sirni is another. Situated near the Pantheon, this 70-year-old store boasts unique one-of-a-kind items, and also takes orders if you want something particular – it's all made in the back of the store.
A cat calendar
With so many cats in Rome, it goes without saying that one of the most classic gifts from Rome will be a cat calendar. There are all sorts of calendar and other cat-themed objects on sale in all souvenir shops in Rome, so you won't have trouble finding one.
But if you want to get a lovely gift or two and at the same time help the cat sanctuaries in town, you may actually want to head to a sanctuary itself and get a souvenir there and then. All profits go into the food, healthcare and other living expenses of the local cats.
The most famous cat sanctuary in Rome is in Largo di Torre Argentina, between Piazza Navona and Piazza Venezia. You will likely walk by on your way to the Altar of the Fatherland or to the Colosseum. Please be advised that the sanctuary closes at 5:00 pm daily.
Another sanctuary is located in the non-Catholic Cemetery, which is a minute's walk from Piramide metro station and a lovely place to visit in and of itself.
Pin It For Later!