Shopping in Rome is out of this world and I only know too well – I have recently shopped my way around Trastevere and bagged a few lovely items. Whether you are looking to bring a few souvenirs home and if you are a fan of bargain finds, flea markets or high end boutiques, you will find what you need (and more) in the Italian capital; and what's even better is that your shopping spree can be accompanied by stops at lovely cafés; gelato eating; street food tasting and the like.
Typically, shopping in Rome is done along the beautiful, scenic and colorful streets of the city. You will find some shopping malls here and there, but they are typically outside of the historic center – which is where you will be hanging out if you are in town only for a few days. There also are outlet malls, but they are usually a good drive from the city.
If you hope to go shopping in Rome, this post is for you. I have selected the best places to go shopping, suggesting the best items to look for in every area.
Make sure to also read my post The Best Gifts From Rome.
The Best Places To Go Shopping In Rome
Via del Governo Vecchio
Second-hand hoppers take note: Via del Governo Vecchio is one of the best places for shopping in Rome if you are in search of vintage clothes. This pretty street, close to Piazza Navona, is lined with historic buildings, many of which house small boutiques and vintage shops.
Whether it's jewelry you're looking for, resold accessories, jackets or cocktail dresses, you should make your way to this Centro Storico shopping locale. One of the best stores for digging for vintage wonders is Omero e Cecilia (sometimes called Dafano Omero). Start here and weave your way along the street.
Trastevere
One of the most charming neighborhoods in Rome, Trastevere is a left-of-center spot for shopping in Rome. Once a lesser known part of the Eternal City, it now is well known to tourists who especially enjoy the nightlife scene. And when it comes to discovering the retail scene in this 'hood, make your way to the maze of streets between Viale Trastevere and Via Garibaldi. Old stores here stock all sorts of treasures: think shoes, clothing, leather items, gifts and a lot of interesting bric-a-brac.
My favorite shop is by far Lungaretta 121, a lovely small boutique in Vicolo di Sant'Agata, 123 – it's perfect to shop for an eclectic, modern look.
Along to the many of the boutiques that stand in this area there are trendy wine bars and art galleries, with plenty of gems to be found. Notably, there's 38 Leopardo – a cool, quirky store selling clothing and accessories; there's also Sartoria for used and new clothing, with plenty of costume jewelry and bohemian vibes to boot.
Don't miss out on the beautiful Pandora della Malva – the window displays of Venetian glass jewelry and stunning scarves will lure you in.
Porta Portese
Staying in Trastevere, Porta Portese is a sprawling flea market that you may not initially associate with good shopping – yet it's one of the most famous markets in Rome. It's crowded, and there's a lot of junk on sale. But for dedicated shoppers on the hunt for something special (and especially if you don't mind crowds), there's the chance to find some real gems here among the hundreds of stalls.
There's also a lot of cheap new clothing to be found here, as well as some kitsch souvenirs to take back home with you. There's all sorts: vinyl records, faux designer goods, toys, antiques, leather items. You name it, they've got it.
There are food vendors here, too, so you can grab something as you explore; given the size, you're probably going to end up needing something.
Via del Corso
This Roman street is definitely one for those who like exploring. Right in the city center, Via del Corso runs all the way from Piazza Venezia to Piazza del Popolo. It's a landmark road that has everything you could expect in terms of shopping, from tourist-oriented souvenir shops to high street staples and designer labels the further north you go.
Even if you're not interested in the stores here, the road itself is beautiful to walk along. Note, however, that it does get extremely busy on weekends and in high season. If you want to take your time, it's best to head here mid-week.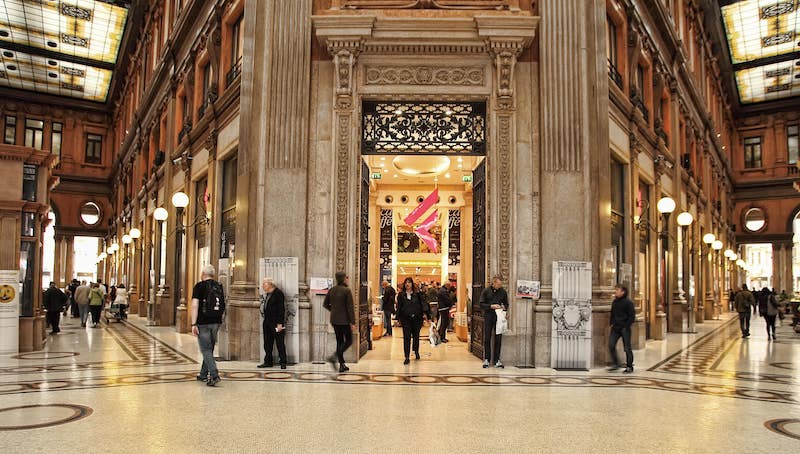 Galleria Alberto Sordi
For something a little more low-key than Via del Corso, but perhaps more stunning, there's Galleria Alberto Sordi. Designed in 1922 by architect Dario Carbone and named after the actor Alberto Sordi, this compact shopping center is worth a visit even if you won't be taking out your wallet.
The marble floors, vaulted glass ceilings and high-end boutiques make for an elegant excursion in an Art Nouveau setting. Certainly a place to escape the crowds.
Via Cola di Rienzo
Via Cola di Rienzo is the place to go for big name international brands, but there's more to it than Calvin Klein and Nike. It's actually a pretty diverse place to shop with an array of stores to suit different tastes and budgets, and a quieter alternative to Via del Corso.
Located near Vatican City, slicing through the Prati district, the street is where you'll find high street shops like Benetton and Zara (good if you need an item of clothing you've forgotten) mingling with high-end brands and local labels.
So after you're done being wowed by the wonders of the Sistine Chapel and Vatican Museums, you can find a bite to eat along Via Cola di Rienzo and ready yourself for some retail therapy. One store you should stop by is Coin Excelsior, one of Rome's few department stores.
Spread across three stories, you'll find cosmetics, clothing and accessories, homeware, and a gourmet supermarket; it's chic, but with an array of different price points.
Via Sannio
One of Rome's best street markets, Via Sannio started life back in 1966 when a group of retailers came together to relocate their stalls to this now-well known street. Located in the lesser visited S. Giovanni district, the market is a warren of clothes, shoes and accessory stalls where you can find some pretty interesting items that can be hard to find elsewhere.
You can even find surplus military gear, if that's what you're into. A good spot to come if you're looking for unique gifts from Italy.
Termini Forum
If you've forgotten to do any of your souvenir shopping, and you're heading on a train out of Rome, fear not: the department stores and shops underneath Termini train station sell a selection of goods. Termini Forum is a great place to come if you're short on time but have a long list of gifts to buy for folks back home.
You'll find pretty much everything here, so it's also a great place to buy items you might have forgotten, too. You know, toiletries, underwear, basic shoes, a dress. It's also a convenient place to browse (or lay low) for a while when it's raining. There's also a food court on the upper level if you're hungry.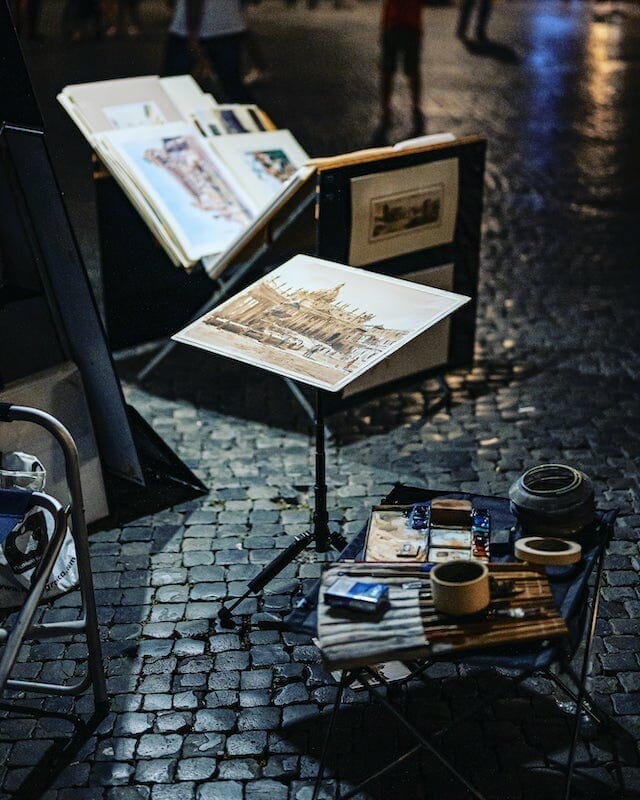 Via dei Coronari
Speaking of antiques, Via dei Coronari is the place to go for antique shopping in Rome. Situated in the historic center of the city, with its 15th and 16th-century buildings it's a very picturesque place to stroll in itself. It's easy to reach from Piazza Navona – a short stroll – and arriving feels like stepping back in time.
Numerous antique dealers line the street, making it famous for all things old. Flea markets usually only operate only at the weekend, so if you don't have time to browse at the weekend, Via dei Coronari is the place to come. It's a peaceful spot with a few gelaterie and coffee shops to enjoy refreshments as you browse.
One popular store here is Galleria dei Coronari, which specializes in antique sculptures and bronze figures. Blu Old Sheffield is less specialized, but still a treasure trove of all sorts of antique objects. Further along the street, Arte Antica Rufini, which sells works of art and sculptures, is a family-owned business that's been going strong for decades.
Spanish Steps
The Spanish Steps may be better known as a tourist destination in itself, but the streets that run off from this centuries-old hotspot are well known for their shopping potential. If you want to secure yourself an authentic designer item from Rome, then the stores here are where you should spend your time. Directly on the square you will find Valentino Boutique, among others.
The area where the Spanish Steps are located is known as the "Tridente," thanks to the three main streets that branch off from the Piazza di Spagna. One of these is Via dei Condotti, which in terms of shopping is comparable to Bond Street. Here you'll find Prada, Gucci and a historic Bulgari store, and newer players and smaller boutiques. It's very busy, very expensive, but very atmospheric – especially around Christmas.
There's also Via Borgognona, full of yet more high-end brands: Emilio Pucci and Roberto Cavalli, for example. It's a little bit quieter than Condotti, and cobbled for some real charm. Via Frattina is uber-elegant, with a combination of shops; here, luxury labels mingle with coffee shops and more affordable shoe shops and other Italian brands.
There are yet more streets around the area. So once you've discovered the main thoroughfares, you can truly lose yourself in one-off boutiques and stores.
La Rinascente
Also near the Spanish Steps is La Rinascente. This department store franchise dates back to 1865 and is well known throughout Italy, with multiple stores across the country and in Rome itself. However, it's the "new" flagship store on Via del Tritone that you should check out.
Opening its doors in 2017 in the center of the city, it's a beautiful place to spend time shopping. There's an array of different items on sale, from houseware to cosmetics and clothing.
But here it's not just about the shopping. If you make your way down to the basement you can see the remains of an ancient Roman aqueduct (Vergine, that was discovered while the foundations for the new building were being dug). On the sixth floor, you'll find an array of eateries, while the rooftop terrace features views across the city and a bar.
Borghetto Flaminio
For those of you who are really into your vintage shopping and designer labels, you should make room in your Rome itinerary for Borghetto Flaminio market. Taking place every Sunday from 10:00 am to 7:00 pm, this market is a local institution (even if it does have an entrance fee of €1.60).
Here's where you'll find Romans selling used and second-hand designer goods, so you can expect to see an array of handbags, pre-loved furs, jewelry and clothing, and drape yourself in designer finery at a snip of the price. You can even pick up a few antiques here if you're in the market for that, too.
Fontanella Borghese Market
Also known as Mercato delle Stampe, this small but interesting flea market has been running since 1947. Here you'll find vendors selling specialist goods, namely in the realm of artistic prints, old maps, and books – perfect for literature lovers. It's very small, only around 20 stalls, but dedicated book fiends could spend hours here.
Via dei Giubbonari
If you're near Campo de' Fiori during your Rome trip, then you should definitely take some time to explore Via dei Giubbonari. One of the most famous streets in the center of the city, it's a top spot for shopping, and a good place to acquaint yourself with Rome's retail scene.
Running from Via Arenula all the way to Campo de' Fiori, Via dei Giubbonari is a cocktail of different stores in a charming Roman street setting. Here you'll find a selection of international brands, as well as interesting local boutiques and food stores.
One of these is Roscioli, a deli with hundreds of cheeses and meats on display, and shelves laden down with oils, pesto, sauces and interesting canned foods. You can even sip wine in the seating area out back, or stop for a coffee and a bite to eat at Roscioli Cafe (next door).
When you're satiated, sneakerheads should set their sights for I Love Tokyo, which has been selling sneakers and cool threads since 1972.
Monti
Hip and happening Monti is where you should go if you want to hang out with the cool kids. Packed full of second-hand shops, the district is well loved by locals for its mix of vintage stores and up-and-coming designer boutiques.
Here you'll find winding streets such as Via Urbana and Via del Boschetto, packed full of charm. You're bound to find something fascinating to purchase here, with the amount of one-of-a-kind pieces like vintage sunglasses or other unique accessories (think heirloom jewelry).
Mercato Monti
Also in Monti is the much-loved Mercato Monti. This place showcases all that is weird and wonderful about the trendy neighborhood. Each weekend (Saturday and Sunday), the hipsters descend on the streets around the back of Hotel Palatino to browse for all sorts of fashionable finds – whether that's vintage wear, sunglasses, jewelry, handicrafts, books, and even some food trucks to keep you fed and watered.
Even if you're not in the mood to browse for hours, it's still a nice spot to visit to soak up some local atmosphere. It's not just vintage, after all: artisans and other creatives also sell their wares here, showing off the inventive flair of modern day Rome.
Pin It For Later!