Are you looking for the perfect Istanbul itinerary? You are in the right place! I just got back from my third trip to the Turkish city and in this post I will share all the tips that will help you explore it efficiently.
Istanbul is an incredible destination that has to be visited at least once. If you have 4 days in Istanbul to spare, it's enough to get a good taste of this historic city.
3 days in Istanbul are probably enough to explore (strictly) the city's top sights and neighborhoods, but that would be a rush. Having 4 days in Istanbul instead allows you time not only to see the top attractions, but some lesser known spots too.
It even allows you time to wander around freely in local neighborhoods and check out some Istanbul hidden gems.
In fact, you could probably spend even more time in Istanbul – the first time I visited I spent a whole week there. The issue with this city is that it's actually terribly crowded, and traffic is intense, and that gets to you after a while.
In order to help you make the most of your time in Istanbul, I've put together this comprehensive 4 days in Istanbul itinerary. Each day has been carefully laid out in specific areas of the city to really maximize your vacation.
From information about the most famous places to visit in Istanbul to practical information, like how to get around and advice on the best restaurants in Istanbul, this guide should inspire you to have the best short break in Istanbul possible.
If you are planning a longer trip to Turkey but are not sure where to visit, check out my post The Best Places To Visit In Turkey for lots of ideas!
The Best 4 Days Istanbul Itinerary
Istanbul Itinerary Day 1
Follow the map here.
Your first day in Istanbul is going to be a busy one. Make sure to get plenty of rest the night before (you'll need it) and then set out early the next morning. Aim to get out no later than 8:30 am.
Today's Istanbul itinerary will take you to some of the most famous places to visit in Istanbul — beginning with Hagia Sofia and the Blue Mosque, your explorations will see you finishing up at the Grand Bazaar.
For today's Istanbul itinerary, I recommend dressing a bit more conservatively and to carry a scarf or shawl that you can use to cover your head when you enter mosques.
Hagia Sofia and the Blue Mosque are actual mosques that are used for prayers, so getting inside can be quite tricky, as there will be very long lines. They are also very crowded. You may want to consider a guided tour, as the guide will be able to keep all the timings and dodge the crowds. My sister and I used this tour that also goes to the Stone of Million and the Hippodrome.
Stone of Million
Just around the corner from the Cistern Basilica is the Million Stone (or Stone of Million). This ancient relic dates back to the 4th century, when it was originally part of a triumphal gate, which also served as a "zero mile" marker for the Roman empire.
It was from here that all distances within the later years of the empire were measured.
Built under the orders of Septimius Severus, it was once topped by an ornate domed structure decorated with statues and paintings. It withstood the Fourth Crusade (1202-1204) and the Ottoman Conquest in 1453.
But as the 16th century dawned, the Million structure itself disappeared — what you see today is all that remains.
Hagia Sofia
No Istanbul itinerary would ever be complete without a visit to the Hagia Sofia!
Officially called the Ayasofya-i Kebir Cami-i Şerifi, the Hagia Sofia is the icon of Istanbul. A fascinating combination of architectural types, from Byzantine to Ottoman, it tells the tale of the city's fortunes.
Commissioned in 537 by the Roman Emperor Justinian, the Christian marvel was converted into an Islamic mosque almost a thousand years later in 1453 by Sultan Mehmet II (also known as Mehmet the Conqueror).
In the 1930s it was deconsecrated and turned into a museum, but more recently, in 2020, it was again reestablished as a mosque. The dome here was the largest of its kind in the world for a millennium.
The former church is filled to the brim with magnificent mosaics, each of them delivering a specific message – a good guide will help you unveil their mysteries.
As Hagia Sofia is now a functioning mosque, visiting is complicated as visitors are not allowed during prayer times. The best time to go is either 10:00 am, once the morning prayer finishes, or 2:00 pm, once the afternoon one finishes.
Just make sure to get there well ahead of time as the lines tend to be discouragingly long. Alternatively, the guided tour I have mentioned above is a good option to explore this site and the Blue Mosque too.
Blue Mosque
Another must see during any Istanbul itinerary, the Blue Mosque is just a six-minute walk from the Hagia Sofia, and equally famous. The recently restored mosque is an enormous building that was the work of Sultan Ahmet I, who reigned in the early years of the 17th century.
With its rounded exterior walls and layers of domes, topped with six minarets, the Blue Mosque isn't actually blue on the outside, but just on the inside.
Brilliant blue tiles decorate swathes of the interiors, which gives the mosque its unofficial name. For many centuries the Blue Mosque also held the title of having the most minarets of any other mosque; it also has the largest courtyard of any Ottoman mosque.
Once again, when visiting the Blue Mosque you should be aware of prayer times. The mosque is also closed to non-worshippers on Friday mornings.
Hippodrome
Once the center of Byzantine popular culture, now a public park, the Hippodrome was loved as much by the ancient city's inhabitants as by its emperors. People would gather around this huge arena to watch chariot races.
The arena also doubled as a political platform, place of protest and even, sometimes, massacres (as was the case in 532). At the height of its popularity, the Hippodrome was scattered with statues and obelisks, with two galleries to watch the events unfold.
Remaining an integral center for city life under both Byzantine and Ottoman rule for around 1,400 years, today it's also a good spot for views of the Blue Mosque. Nowadays, the Hippodrome continues to be a place for political gatherings.
Basilica Cistern
Another must when you have 4 days in Istanbul, and an easy addition to today's Istanbul itinerary, you'll find the Basilica Cistern just over a five-minute walk from the Hippodrome.
Built in 532 by Justinian, who also commissioned the Hagia Sofia, it's a marvel of engineering that remains the largest example of an ancient cistern in the city. Inside you'll find 336 columns, constructed using stone sourced from various ruined temples and other buildings.
Although it's a functional space, its graceful design remains breathtaking to this day, with its decorative Corinthian columns laid out in grand symmetry. In its heyday, the cistern could hold up to 80 million liters of water, which came via aqueducts from the Black Sea.
Incredibly the cistern remained forgotten for centuries until uncovered again in 1545. It's super atmospheric to wander around – there are contemporary art installations and colorful lights that change on a regular basis – and one of the best places to visit in Istanbul on a hot day.
The line to get inside the Basilica Cistern are very long, not to mention messy. Your experience will be way better if you get tickets in advance or join a guided tour. We were thankful we did that! For tickets to the Basilica Cistern and a guided tour, click here.
Grand Bazaar
By now you're probably feeling rather hungry after all of that history, so it's probably a good idea to grab yourself a bite to eat: it's not a good idea to enter the sprawling Grand Bazaar on an empty stomach. After lunch, make your way to he market.
The Grand Bazaar is easily one of the best places to visit in Istanbul and an absolute must on any Istanbul itinerary.
This covered market is just over a 10-minute walk from the Basilica Cistern and is a loud, frenetic place to be, with colorful shops, vendors calling out, and a warren of winding lanes to explore.
The Grand Bazaar has been a cornerstone of the Old City for hundreds of years, and began life as a warehouse in 1461 when it was built by Mehmet the Conqueror.
Over the centuries, the bazaar grew, taking over the surrounding neighborhoods and shops, eventually becoming the maze-like complex you see today. Take your time to explore, making sure to stop for a cup of tea (and a spot of bartering).
The market is open Monday to Saturday, until 7:00 pm. Make sure to take care of your belongings as it is a very crowded place. You will also notice that although it is a covered market, lots of locals smoke!
Istanbul Itinerary Day 2
Follow the map here.
After a whirlwind day ticking off all of the most famous places to visit in Istanbul, your day 2 Istanbul itinerary will see you exploring more of what the city has to offer.
After seeing the iconic Taksim Square, get ready to eat, be wowed by the charm of local neighborhoods — namely the hipster hangout of Karakoy — climb the Galata Tower for stunning views of the city, and finish up at a shiny rooftop bar for drinks and more city views.
For a stress free day, I recommend joining this Galata Walking tour with Tower Entry and Spice Bazaar. It pretty much follows the itinerary below, with the bonus of having a knowledgeable local guide that will take you to Istanbul hidden gems and places you'd likely miss otherwise. The tour lasts almost 6 hours. It's what my sister and I took and we can definitely vouch for it!
Taksim Square
Continuing your adventures in the European portion of Istanbul, Taksim Square is the starting point for your second day in the city.
Far from being an ancient wonder of the city, this busy meeting point is more of a modern construction, taking its name from a stone taksim (a type of water vessel) dating from the 18th century that can be found on the square's west side.
At its center is the Republic Monument, which features Ataturk and other revolutionary leaders, carved by Italian sculptor Pietro Canonica in 1928. Explore the myriad side streets that span out from the square to find eateries, coffee shops, boutiques and shopping galore.
There even are a couple of mosques you may want to check. We went inside Taksim Mosque and found it quite impressive – we also really appreciated the fact there were none of the crowds of Hagia Sofia and the Blue Mosque: we were the only visitors!
You will be better off avoiding Taksim Square during political demonstrations.
Istiklal Caddesi
Known as "the Grand Avenue of Pera", this sweeping boulevard is a showcase of modern day Turkey. Running for 1.4 kilometers (0.8 miles), the road is lined with 19th-century buildings that today house all manner of shopping and eating opportunities, and a few important historic sites and churches.
Take a while to dip in and out of the modern boutiques and spend some time lapping up the atmosphere.
If you didn't get to grab a coffee near Taksim Square, Istiklal Caddesi is a great place to pick up breakfast, with a number of bistros and busy cafes serving up some hearty Turkish meals (and strong coffee).
Walk along Istiklal Caddesi or take one of the vintage trams to get the full Istanbul experience: they are the only vehicles that can go along a street that is otherwise entirely pedestrian.
Beyoglu
The area that surrounds Taksim Square and Istiklal Kaddesi, among other central points, is called Beygolu. This slice of European Istanbul is a combination of everything fun and interesting about the city.
Here you will find bohemian enclaves, chic hotels, live music venues and fashion-forward boutiques, among other countless places to eat and drink.
Attractions in the large neighborhood include the Pera Museum, which displays an array of 17th to 20th-century Ottoman arts and crafts, and the Istanbul Modern, an art museum displaying contemporary pieces from Turkish artists.
One thing you should not miss when exploring Beyoglu are the many covered passages that make up an integral part of the urban architecture of this part of town. These Istanbul hidden gems are a bit like the arcades you would find in Paris, and there are 11.
Most of them are now home to nice restaurants, eateries and cafés, as well as art galleries and vintage shops.
We were able to check out a bunch as we wandered around Beyoglu (though remember, we actually did a guided tour) and our favorites were the Passage Oriental / Pasaj Markiz, the Avrupa Pasajı, which was originally known as Aynalı Pasaj (Mirrored Arcade), the Cité de Pera / Çiçek Pasajı, the Cité Roumelie / Rumeli Pasajı and the El Hamra Pasajı.
There are also some nice Orthodox churches to check out here – we visited St. Anthony of Padua and we also saw the Hagia Triada Church while there was a service.
For something a bit more down-to-earth there's the Fish Market, a great place for food lovers who'll be able to stop by a plethora of stalls for a bite to eat.
There's lots to see and do in this neighborhood, so make sure you carve out enough time for it.
Galata Tower and Karakoy
Galata Tower is a landmark just south of the Beyoglu district, around 30 minutes on foot. Built in 1348, it overlooked the city as the tallest structure for numerous centuries.
Known in the past as "Megalos Pyrgos", which means Great Tower, the Galata Tower was first built by the Byzantine Emperor Justinianos in 507-508 AD on the north side of the Golden Horn in Istanbul, in the citadel of Galata.
This tower does no longer exist, and what you see today is actually the tower built by the Genoese in 1348-49, after capturing Galata.
When the Genoese saw that most of the walls and the first tower had been damaged by the Byzantines, they built the tower which was then "Christea Turris" (Tower of Christ). The name was a reference to a cross on its cone.
Heading up the tower is one of the best things to do in Istanbul. From up there you get panoramic views over the rooftops of this corner of the city and the Bosphorus Strait. There is a interesting exhibit before you reach the panoramic terrace.
You can actually take the elevator to go up the Galata Tower, but only to a certain point after which you'll have to use the stairs. You can only use the stairs to go down.
The lines for tickets at the Galata Tower can be quite long, and the site is actually quite crowded, so you may want to book your visit in advance. You may want to visit later in the day for a less crowded experience: the first time I visited I went up for sunset and I was one of two visitors!
For tickets to the Galata Tower that also include an audioguide, click here.
Once you walk out of the Galata Tower, head south from here, just a few minutes walk, and you'll find yourself in the waterfront neighborhood of Karakoy. Often cited as the coolest part of the city, Karakoy is also one of the oldest neighborhoods of Istanbul.
In recent years it has been gentrified and the traditional warehouses of its working class roots now find themselves hosting cafes, clubs and boutique shops. But there are plenty of generations-old bakeries and other businesses to discover during your wanderings of Karakoy too.
It's an excellent place to stop for lunch or early dinner (if you haven't eaten already).
Sunset Drinks at Bank Hotel Terrace Bar
What better way to wind up the day than with a sunset drink at a rooftop bar in Karakoy? Situated at the chic Bank Hotel, the Bank Roof Bar serves up a delicious selection of expertly crafted cocktails in a stylish setting.
We actually went there for lunch, and loved the incredible views away from all the chaos and noise of the streets of Kayakoy.
The bar features a fashionable terrace with high-end service to match, plus views that look out across the Bosphorus.
If you're feeling peckish, there's also a good menu of snacks and small plates to enjoy while you sip your drink of choice. I can recommend the excellent, fresh salads and the battered fried calamari.
Compared to most bars and restaurants in Istanbul, this is not a cheap place – but the views, the good drinks and the service make it really worth it.
Istanbul Itinerary Day 3
Follow the map here.
Day three of your 4 days in Istanbul itinerary serves up a captivating collection of cultural sights.
For most of the day, you'll be exploring one of the most impressive palaces of the Ottoman world, before exploring another of the city's sprawling markets, and even seeing whirling dervishes in action.
Topkapi Palace
The colorful Topkapi Palace was the center of courtly life for the Ottoman Empire between the 15th and 19th centuries. Commissioned by Mehmet the Conqueror in 1453, the leader lived out the rest of his life in the complex until his death in 1481.
Over the centuries, various different sultans left their mark on the architecture of the palace.
Highlights at the palace include the First Court (complete with Byzantine church), the park-like Second Court with its courtyard gardens and pavilions, and the Palace Kitchens, which features its very own separate area for making sweet treats.
Today, the Palace is actually a museum with an incredible array of exhibits, which include jewels and precious stones, and even actual clothes that belonged to the sultan and his family;: visiting is definitely one of the best things to do in Istanbul.
Topkapi Palace is immense, and having a bit of guidance is definitely helpful – not to mention, the lines at the ticket counter are very long. I recommend joining a guided tour for a better experience.
We took this guided tour of Topkapi Palace. It only lasted 1.5 hours and the group was very large, but the guide did an excellent job at giving us background information about the palace, its function, the life there when it was in use. She even talked about the harem. Keep in mind that however the tour doesn't include admission to the Harem, which you can get separately.
Harem
Also making up part of the Topkapi Palace is the Harem. To us, it was actually the highlight of the visit, so I made sure to add it to your Istanbul itinerary.
Located in the western portion of the Second Court, and set beneath the Tower of Justice, the Harem was where the Imperial family would actually live (harem meaning "forbidden" or "private").
The sultans who lived at the palace would have up to 300 women in their harem, who would live inside this dedicated part of the palace. These women would be taught various skills, such as needlework, music and reading, and would play various roles within palace life itself (ladies-in-waiting, for example).
Only four of these women were actually able to be wives of the sultan. The only males allowed in the Harem were the sultan himself, the male sons of the wife of the sultan and other women staying in the Harem (and only until they reached puberty) and the eunuch servants.
Visiting the Harem today means exploring one of its six floors, allowing you to get a glimpse into this very private portion of palace life.
The Harem is actually part of Topkapi Palace, but there is a separate fee to access. We actually thought it was the most interesting part of the entire site. You can definitely explore independently, or join the tour of the palace mentioned above which gives some background info on the Harem, or else join this tour that also goes to the harem.
Egyptian Bazaar
Also known as Spice Bazaar, this bustling marketplace was originally built as part of the "New Mosque" in the 1660s. The history of the Egyptian Market is intrinsically linked to Silk Route trade; the bazaar was the final stop for traders who traveled up and down this storied network of commerce.
The spices still on sale today reflect this heritage. Here you can pick up an array of dried herbs, nuts, dried fruits and honey, or simply admire it all as you wander. There are also a selection of stalls selling antiques, tourist trinkets and fresh food.
Coffee lovers should make sure to head over to Kurukahveci Mehmet Efendi, the most famous coffee vendor in the city — it's been selling its wares for over a hundred years.
Suleymaniye Mosque
Atop the Third Hill of Istanbul's seven hills is the Suleymaniye Mosque, just a 15-minute stroll from the Grand Bazaar.
Constructed in the 1550s under the orders of Suleiman the Magnificent, who reigned from 1520 to 1556 (the longest-reigning Ottoman sultan), this mosque is positively palatial.
It was one of the grandest mosques in the whole of the Ottoman empire, and is laden with iconography and ornate detailing relating to the rule of Suleiman.
It's a peaceful place to end your day in Istanbul, especially after the chaos of the marketplace. The mosque is certainly beautiful, but the highlight for us was the beautiful view over the city, making it the ideal spot for sunset.
For a guided tour of Suleymaniye Mosque click here.
Whirling Dervishes Show
Whirling dervishes are part of the cultural heritage of Turkey. Originally a meditation practice carried out by members of the Sufi branch of Islam, the whirling dance is actually a ceremony performed as a type of meditation.
In Istanbul this is something of a tourist attraction nowadays, but it's still impressive to see – it's one of the best things to do in Istanbul. We enjoyed it very much, so I thought it'd be a nice addition to this 4 days Istanbul itinerary.
The ceremony starts quite slowly actually – low chanting, slow music. Eventually, the dervishes start whirling, and between the music, the chanting, the whirling and the light, it's quite a magic thing to see.
You can see the dances performed at a number of venues across the city. One of the most famous is at the Galata Mevlevi Museum, where shows take place on Sundays at 5:00 pm.
Elsewhere you can go to the Hodjapasha Dance Theater, which is housed inside a 15th-century bathhouse.
No matter which one you attend, it's a good idea to purchase your tickets a few days in advance to make sure you're not disappointed.
To book your Whirling Dervishes show in Istanbul, click here.
Istanbul Itinerary Day 4
Follow the map here.
Your final day in Istanbul offers up the chance to see some of the lesser known portions of the city in the Asian side.
You'll take time out in an imperial palace, wander the attractive neighborhood of Kuzguncuk, walk among greats at the Eyup Cemetery and take a cruise on the Bosphorus itself.
Keep in mind that once you get to Kabataş ferry terminal, Pierre Loti café will be quite a way so you will be better off taking a cab (find info on how to use cabs in Istanbul at the end of this post) or using public transport.
Beylerbeyi Palace
Located on the Asian side of the city, Beylerbeyi Palace is actually one of the nicest places to visit in Istanbul.
The residence was commissioned in the late 19th century by Sultan Abdul Aziz, who ruled from 1861 to 1876. The architect responsible for the rich design of the palace was Sarkis Balyan, whose brother Nikogos was also an architect (most notably of Dolmabahce Palace, also in Istanbul).
As you explore the various luxuriously decorated rooms, you'll learn about the long list of foreign dignitaries who stayed in the palace, and glimpse Ming vases, crystal chandeliers and beautiful carpets.
Don't miss the marble pool, which is located in the lower hall, which was used in the summer months to cool off.
Once you get to Beylerbeyi Palace, make sure to get an audio-guide along with your tickets. The visit with the audio-guide lasts about one hour and it is very thorough. Taking pictures inside the palace is forbidden. Also remember the palace is closed on Mondays!
For a guided tour of Istanbul's Asian side that also goes to Beylerbeyi Palace, click here.
Kuzguncuk
The charming neighborhood of Kuzguncuk is a perfect addition to your Istanbul itinerary. This is the place to spend an hour or two merely wandering.
Within the historic district you can still see a slice of traditional life playing out, with its many wooden houses, ornate mansions and leafy streets.
Sights in the neighborhood include the Surp Kirkor Lusrovic Church, which was built in 1835, the Beth Ya'akov Synagogue, dating back to 1878, and the New Mosque (1852).
The many beautiful late 18th-century mansions located in the neighborhood include the Pink Mansion and the Abdulmecid Efendi Mansion.
Bosphorus Cruise
A cruise on the famous Bosphorus Strait is a great addition to your 4 days Istanbul itinerary.
Often seen as the gateway between Europe and Asia, taking a boat out onto this famous stretch of water is a great way to see the city from a different vantage point — and one that people would have seen throughout history on their approach to Istanbul from all manner of faraway lands.
You have a lot of choices when it comes to cruises on the Bosphorus.
If you want to soak up some local life, a public ferry may be the best option. These are on the more budget end of the scale, but they won't take you along dedicated sightseeing routes. It's literally a form of transport locals and tourists alike use to get across the Bosphorus.
Otherwise, there's the chance to do sunset cruises with dinner and drink included, or you could opt for a romantic private cruise with you and your partner.
In case you decide to do the cruise, leave this for the end of the day – a sunset cruise is probably the best option. In fact, you can probably take the public ferry to cross back to the European side, finish exploring (as per the itinerary below) and then walk back to the tourist port for your cruise.
For the best sunset cruise of the Bosphorus, click here.
Pierre Loti Cafè
Named after the French novelist, naval officer and lover of all things Ottoman, Pierre Loti (1850-1923), this cafe is an iconic place to enjoy a cup of tea or coffee — all on a backdrop of views over the Golden Horn.
The story goes that Pierre Loti would stand at the top of this hill and look out over the Golden Horn during his search for inspiration when he was writing his landmark novel, Aziyade (1879).
The café named after Pierre Loti opened its doors in 1910 and remains very much in the style of an old-fashioned Turkish coffeehouse. The menu is relatively simple and consists of toasted sandwiches, pancakes, tea and coffee.
You don't have to sit at the cafe to see the same view that Loti admired over a century ago; there's also an observation deck nearby, complete with a telescope.
Eyup Cemetery
Just a few minutes walk away from the storied cafe is the intriguing Eyup Cemetery. Taking its name from a 7th-century military leader, known as Sultan Eyup, the cemetery has been used for burials over many centuries.
As such, it is a patchwork of overlapping terraces and layers of gravestones.
There are many notable figures buried at the cemetery, including the likes of imams, sultans, scientists, poets, civil servants, political activists and playwrights. It's a peaceful place to spend some time meandering its pathways.
If you follow the trail down, you will end up in the Eyup neighborhood. You can also take the cablecar down if you prefer.
Practical Guide
Using an Istanbul Pass
If you are staying 4 days in Istanbul, and in order to make the most of your time in the city, it's a good idea to get an Istanbul Pass. This tourist pass offers up access to over 85 attractions scattered around the city, such as the Galata Tower, the Basilica Cistern and Topkapi Palace.
Additionally, some of the attractions will come with audio-guided tours included. You can purchase the pass online and simply log into the app to access it, using the QR codes at entrance gates to attractions.
It's available for either 1, 2, 3, 4, 5, 7 or 10 day. When getting the pass, remember that some attractions require reservations in advance even if you do have an Istanbul Pass, so make sure you check in advance before you visit.
To get your Istanbul Pass, click here.
Where to Stay in Istanbul
If you only have 4 days in Istanbul, the best way to choose your accommodation is to pick a central location. While the city is huge, there are a few different centers you could choose from, the main ones being Sultanahmet, Taksim and over on the Asian side of the Bosphorus.
The real thing to consider, however, is how much time you will spend traveling between the various tourist sights from your hotel. I have visited Istanbul multiple times, and while in the past I stayed in Beyoglu, close to İstiklal Caddesi and Taksim, this time around we opted to stay in Sultanhamet.
Fer Hotel – Located in Sultanhamet, this is where we stayed on our most recent trip and I really recommend it. It is a very modern hotel with large, comfortable rooms that have all sorts of amenities. Location is excellent, minutes way from attractions such as the Basilica Cistern, Hagia Sofia and the Blue Mosque. A very good breakfast is served every morning.
Pell Palace Hotel and Spa – Situated in Sultanahmet, it boasts a wide range of amenities including a spa, fitness center, room service and breakfast served up each morning. Rooms are clean and comfortable, some of which come with balconies to soak up views of the city.
Azzap Hotel Galata – For travelers looking for a luxurious place to stay in the Galata area, then Azzap Hotel Galata delivers. From the moment you enter the polished lobby, you'll be greeted with high-end service. Amenities at this 5-star property include a restaurant, bar and room service.
Wyndham Grand Istanbul Kalamis Marina Hotel – Over on the Asian side, this branch of the Wyndham hotel chain has it all. It's a very comfortable and chic place to unwind during your trip. Rooms are plush and the amenities are numerous, including a rooftop pool, 8 restaurants and a cocktail bar.
For more options, make sure to also read my post Where To Stay In Istanbul.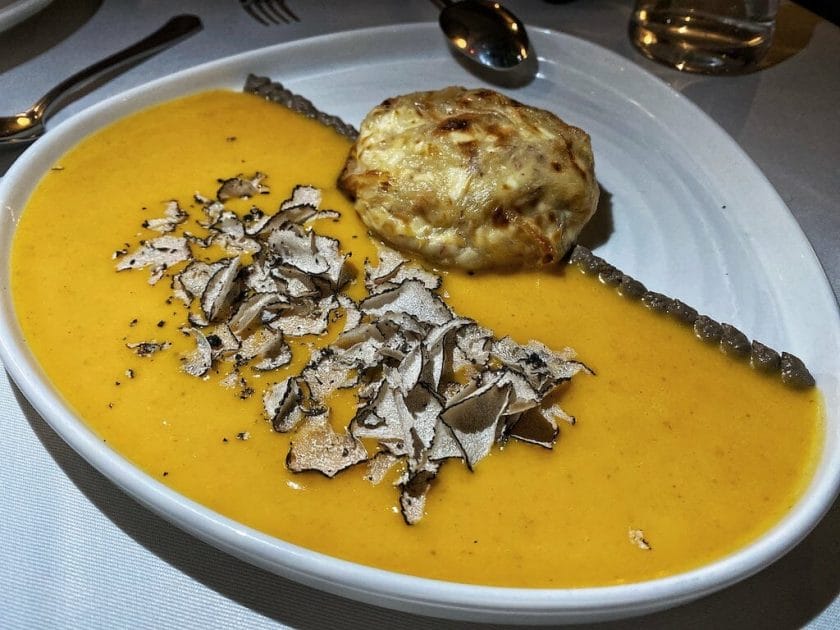 Best Restaurants in Istanbul
Being in a new city can be really overwhelming and figuring out where to eat can take a lot of time. It definitely pays to know a handful of good places to eat in Istanbul before you travel, so here are my recommendations:
Lokanta 1741 – By far our favorite restaurant in town. Located within a 300-year-old hammam (traditional Turkish bathhouse), Lokanta 1741 features deliciously retro furnishings and a mouthwatering menu to match. Stop for lunch during the day or come for dinner to sample their modern take on Anatolian cuisine. You will love their take on traditional baklava. It's expensive, but worth it.
Mikla – This Michelin-recognized restaurant is an upscale venue for fine dining in Istanbul. It's located on the terrace of Pera Palace Hotel. Not only is the food high quality, but the views over the Bosphorus while you're dining are amazing. Book here if you want a special dinner experience, as it isn't cheap. Service is mostly good, with some hiccups.
Ocak – Located within a hotel in Istanbul's Old City, Ocak serves up an elevated take on traditional Turkish fare. The restaurant's menu is a collection of delicious dishes that have customers leaving rave reviews – and that would include ourselves!
Deraliye – Deraliye is an interesting spot to eat. That's because its menu features an array of dishes once found only in the Ottoman imperial court. Come to indulge in its delicacies and be wowed by the sparklingly rich interiors. Head there in time for sunset as the views over Hagia Sofia are stunning!
Matbah – Set on the rooftop of a polished hotel (a former hospital), Matbah is a fine dining experience you won't forget in a hurry. Make sure to try the kirde kebap — it may just be the best you've ever tasted.
One tip would be to star these restaurants on your map so you can easily find them. Most of them have a website with a reservations page. Book in advance, since they are quite popular and get booked up easily. You can also ask your hotel to make reservations for you.
How to get to Istanbul from the airport
Istanbul actually has two international airports. The main international airport of Istanbul is referred to as Istanbul Airport (IST), but there's also Sabiha Gokcen International Airport (SAW), which is mostly served by budget airlines.
From Istanbul International Airport
Getting to the city center (i.e. Sultanahmet) from the Istanbul Airport is fairly straightforward, but as it's quite a way it may take you a long time (and a minimum of one hour, depending on how you decide to travel).
By public transport
Line M11 of the Istanbul metro system allows for a direct connection between the airport and the center of the city. It's super new and quick, and just opened in 2023.
However, keep in mind that you will only get as far as Kağıthane, from where you will have to connect via metro or bus to your final destination. It may not be too convenient if you have lots of luggage.
Bus services also connect Istanbul Airport and the city center. There are two types, Havaist and IETT (public) buses. They both leave from the second floor of the airport.
Havaist services connect to more popular tourist destinations of the city; they leave every 20-25 minutes. It's possible to buy your ticket in advance.
By car
Istanbul International Airport is around 50 kilometers (31 miles) to the city center, and the ride usually takes 50 minutes, but traffic can be bad.
You can take taxis only from official taxi ranks at Istanbul Airport. The cheapest options are the yellow taxis, but just keep an eye out for scams and overcharging.
If you really want to get driven, but don't want to take a taxi, you can prearrange private transport in advance (or your hotel may offer airport transfers anyway). We used Welcome Pickups and were happy with the service – the driver was very punctual and he drove well, and the car was nice, comfortable and clean.
You can book your private transfer from Istanbul International Airport on Welcome Pickups here.
From Sabiha Gokcen International Airport (SAW)
Sabiha Gokcen International Airport (SAW) is the other international airport that serves Istanbul. Turkey's second-largest airport, this one is situated on the Asian side of the city and is also conveniently connected to the center of the city by metro.
Take line M4 and you'll be in the middle of Istanbul in around 50 minutes. There's also a shuttle bus service that runs every 30 minutes, stopping by Kadikoy on the Asian side (40 minutes) and Taksim on the European side (70 minutes).
Taxis are also available from Sabiha Gokcen International Airport, but the same rules apply: only get official taxis or opt for an airport transfer.
You can book your private transfer from Sabiha Gokcen International Airport on Welcome Pickups here.
If you are traveling by bus or car, be prepared for a long trip. The airport is only 26 km (little over 16 miles) from the Sultanahmet area, but traffic is insane. It took us the best of 3 hours to make it to our hotel from the airport.
How to move around Istanbul
When we stayed in Istanbul recently we mostly walked everywhere. For longer distances, we used the tram, the metro and taxis. For the purpose of this Istanbul itinerary, you will mostly be walking.
Istanbul has a number of public transport options connecting its sprawling 2,000-square-mile area. Unless you're getting the metro or tram, the downside of getting around Istanbul is the traffic, which can make getting from A to B by taxi, bus or Uber quite tricky at times – in fact, a real nightmare oftentimes.
The tram is the quintessential public transport option in Istanbul. There are four modern tram lines, and two vintage options that go around the more historical districts of the city. Istanbul even has two funicular lines as well, and a cable car that goes up to the Pierre Loti Cafe.
The metro is a fairly new addition to the city. It spans over 128 kilometers (80 miles), but most importantly for visitors, line M2 passes through various shopping districts, with stops near big sights like Taksim Square.
Ferries are a big part of travel in Istanbul. Hopping on these low cost public transport options can also double up as a sightseeing option. They leave regularly to cross the Bosphorus from both the European and Asian sides from various locations.
For those who are following this 4 day Istanbul itinerary, it might be a good idea to pick up an Istanbulkart. This transport card not only gives you a 30% discount on fares but also means you won't have to physically buy a ticket every time you wish to get on the bus, tram or metro in Istanbul.
The card itself is fairly cheap, and you can add credit at any of the ticket vending machines by the public transport stops.
You can get your Istanbul Transportation Card here.
You can use the Istanbulkart to access the various public toilets around the city too!
Taxis in Istanbul can cause a bit of a headache. They don't have the best reputation and they tend to overcharge tourists, so if you stop one in the street make sure to ask that they use the meter or try to negotiate the rate before getting on.
If you want to get a taxi, either get it from an actual taxi stand or get the staff at your accommodation to order one for you. You can also download the app BiTaksi which works a bit like Uber and allows you to book taxis – you will need data to use that though.
Istanbul does have Uber, so you can use the app when you're there. But only yellow or (the more expensive) turquoise taxis can be hailed using the Uber app in Istanbul.
Other Useful Istanbul Travel Tips
Grab yourself a data SIM
One of the biggest things we regretted when we visited Turkey was not to get a local SIM card. My friend had told me it'd be a nightmare to get one, but truthfully we saw SIM cards on sale at hotel receptions and shops around town.
We thought we'd manage without, and we did – but we'd have saved ourself a headache or two if we had a data plan.
So, take it from me: make sure your phone will work while you're in Istanbul. This means you'll be able to get around so much easier — it's easy to take for granted things like searching for places to eat and booking an Uber. In fact, it's helpful to even use Google Translate, since not everyone speaks English.
You can also get a pocket Wi-Fi device for rent. You can book it online and it connects up to 10 devices. For more information, click here.
Use your maps
Istanbul is huge, and getting lost won't be any fun. Following this Istanbul itinerary will be much easier if can get around using maps on your smartphone.
If you decide not to get a local SIM card and / or don't have data to use apps such as Google Maps, one trick I recommend is to search for a destination on the app while you have Wi-Fi. That will automatically download the map, which you can use to navigate the area offline. Just make sure you don't close it!
Having destinations starred on your maps will also help you to navigate to them (especially things like restaurants or cafes that you want to try).
Get a guidebook
If you don't really want to be stuck looking at your phone the whole time, then a guidebook will come in really handy.
My sister brought one and since we did not have internet we used it consistently to look up information about places we were visiting: good guides will have a whole wealth of information regarding the history of places like Hagia Sofia and the Hippodrome.
It also came in handy as it has selection of budget and mid-range places to eat and drink (as well as accommodation). We particularly found the mini-maps useful too.
We used the Lonely Planet for our trip, but other favorites include DK Eyewitness, Rough Guides and the more informative Bradt.
Mind the scams
Sadly scams do occur in Istanbul; this is one of the downsides of being in a big city. These range from taxis overcharging tourists to being lured into bars with extortionate prices.
Another place to really keep your eyes peeled is at markets or in tourist shops selling carpets or leather goods.
Even seasoned travelers can easily get bamboozled by these places, which often feature chatty, friendly salesmen who bring you tea and try to sell you goods at expensive prices – at least, for what they actually are.
The best way to avoid these kinds of scams is to keep your wits about you and try to ignore over-friendly strangers with perfect English. If something doesn't feel right, just keep on moving.
Another thing I recommend is actually minding your belongings. Istanbul in general is very crowded, and some attractions such as Hagia Sofia, the Blue Mosque or the markets are actually over-crowded.
In these places, you really must be aware of your surroundings to avoid pickpockets. Wear your purse strapped across your shoulders and make sure it is safely closed; wear your backpack in front of you, don't place your phone or wallet in the back pocket of your pants.
Get good travel insurance
Securing travel insurance before you go on any trip is something you should consider. It may not be the most exciting part of your next adventure, but it can cover all sorts of things, including hotel stays for missed or canceled flights.
Get your travel insurance here.
Check out my post Why You Need A Good Travel Insurance.
Further Readings
If you are planning a trip to Turkey, these other posts will be useful:
Pin It For Later!