Are you looking for where to stay in Istanbul? You are in the right place. I have visiting the Turkish city multiple times, each time staying at a different Istanbul hotel, and checked out all the best areas to stay in Istanbul, and in this post I will help you pick the best place to stay in Istanbul for you.
Istanbul is a frenetic meeting place of East and West. It's long been a spot where cultures and civilizations have crossed paths; met and exchanged everything from ideas to cuisine over the centuries.
Because of this history as a point of trade, the city streets are rich with influences from all over the ancient world. Romans, the Byzantines, and later the Ottoman Empire have left their mark, but so have the many nationalities of traders who carved out enclaves for themselves.
Working out where to stay in Istanbul can be difficult at first. There's a variety of different districts, each with their own identity and history.
To start with, the best thing to do is take into consideration the type of trip you're taking. It might be the first time you visit Istanbul, or you may only have a weekend; perhaps it's a family trip, or you're splashing out on a couple's vacation. Each district will suit different types of vacations.
Here's a helpful guide to some of the best places to stay in Istanbul, and other accommodation options, as well as bitesize overviews of the best areas to stay in Istanbul to help you get started planning your trip.
To better plan your trip to Istanbul, you should also read my post A 4 Days In Istanbul Itinerary.
Overall Best Places To Stay In Istanbul
I have visited and stayed in the below Istanbul hotels and these are my overall pick for the best places to stay in Istanbul.
Fer Hotel, Sultanahmet
I stayed at Fer Hotel during my most recent trip to Istanbul and I must say it is one of my favorite places to stay in Istanbul. Location-wise, you will be in Sultanahmet, the heart of the historic center of Istanbul and minutes away from important attractions such as the Blue Mosque, Hagia Sophia and the Basilica Cistern.
Rooms at Fer Hotel are spacious and comfortable, with all the amenities you need for a comfortable stay. A buffet breakfast is available for guests every morning. The staff at this hotel is very helpful and friendly, too.
Bank Hotel, Beyoğlu
My sister and I briefly stayed at this hotel and fell in love with it, so of course it had to make the list of best places to stay in Istanbul.
You will find the Bank Hotel in the Beyoğlu districts, mere steps from the Galata Tower and the Galata Bridge – exploring the city from this location is as easy at it gets. You will be able to enjoy a spacious, comfortable and stylish room.
Additional amenities at this hotel include a wonderful reception area on the lower level; a terrace bar on the top level serving excellent drinks and light meals, and one of the best restaurants in town. It's honestly hard to beat.
Pera Palace Hotel, Beyoğlu
If you have the budget to splurge, this historic hotel is definitely where to stay in Istanbul. First opened in 1892, the building is a perfect example of Art Nouveau and Oriental design.
Here you will be able to enjoy a beautiful, spacious room decorated with antique furnishings and very large windows. The marble bathrooms are perfect to relax, as well as the balconies that offer stunning views of the city.
The hotel features a number of restaurants, which include Mikla, a fabulous Michelin starred restaurant where you can have a unique culinary experience.
Where To Stay In Istanbul: Best Areas To Stay In Istanbul + Best Hotels
Sultanahmet: Where to stay in Istanbul for first timers
This old corner of Istanbul is packed full of a number of top sights. It's one of the best areas to stay in Istanbul if you're on your first trip to the city. You'll have tourist attractions in easy walking distance anywhere you stay here, including the Blue Mosque, Topkapi Palace and Hagia Sophia, as well as the Grand Bazaar.
Being a popular area for tourists, there's also a good selection of accommodation options to choose from to suit different budget types. You'll also find several good eateries on the doorstep, so you'll never have to go too far to find a bite to eat.
Here are the best places to stay in Istanbul's Sultanahmet district.
AJWA Sultanahmet – a member of Preferred Hotels & Resorts
This polished hotel opened its doors only recently (2017) in an ideal location for sightseeing. From here it's just a 10-minute walk to the Blue Mosque, for one thing.
The hotel itself is decorated in a traditional Ottoman-style theme: think rich carpets, opulent sofas, and gleaming bathrooms. Amenities at this sumptuous property include a gym, an eighth-floor restaurant (complete with views of the sea), and two swimming pools.
Kate Hotel İstanbul
This modern four-star hotel is one of the best places to stay in Istanbul for those looking for a little luxury mixed with affordability. Guest rooms are decorated in a neutral color palette and feature seating areas, crisp white linen, and clean contemporary bathrooms.
Location-wise, this hotel is in striking distance to top sights such as the Basilica Cistern and the Topkapi Palace. Breakfast is included in the price of the stay, plus, there's a spa and wellness center if you fancy indulging.
Hotel Empress Zoe
Located mere steps away from Hagia Sophia, this affordable hotel may be in a great location for sightseeing, but it's also tucked out of the way on a quiet street.
The hotel is decorated in a homely, welcoming style with tiled floors, polished guest bathrooms, and some rooms that feature four-poster beds and sea views.
Staying here feels authentic and a welcome alternative to those who don't feel like staying in a big chain hotel. There's even a rooftop terrace.
Taksim: Where to stay in Istanbul for a short getaway
Taksim is named after the central Taksim Square. Here, you'll find the famous Republic Monument and countless cafes and eateries surrounding the large open space. This is a busy tourist hub that attracts crowds looking for food, drinks, and shopping opportunities.
This is the best area to stay in Istanbul if you've only got a few days to stay in the city, and don't want to waste time traveling around on public transport. It's also great for those who like to explore, thanks to the number of small lanes leading off from the central square itself.
Here is where to stay in Istanbul's Taksim district.
Pera Palace Hotel
This storied hotel first opened its doors way back in 1892. Built by a French-Ottoman architect, this high-end property features neoclassical, Art Nouveau and Oriental design styles throughout its luxurious spaces.
The rooms here boast antique furnishings, with floor to ceiling windows, wooden floors, and marble bathrooms; many have their own balconies with vows out over the water.
It also features an onsite patisserie, spa and a couple of restaurants which include Michelin starred Mikla and Agatha Restaurant, named after the famous crime writer herself who enjoyed staying at this hotel. In fact, there even is an Agatha Christie's room!
The Trinity Hotel Taksim
Rooms at this contemporary hotel are decorated in a mix of traditional and modern styles, resulting in a sleek yet classic place to stay in Istanbul. There's a relaxing gray color palette used throughout, which you'll see in its bar, terrace, and the guest rooms.
Staying here gives you the option to hire bicycles to pedal around the city, but with Taksim Square and main thoroughfares right on the doorstep, it's the ideal base for wandering around the city.
Endless Comfort Hotel Taksim
Simple yet comfortable and clean, this is one of the best budget-friendly hotels in Istanbul. This accommodation option provides a selection of room choices for guests to opt for; ranging from economy doubles to whole apartments (all with breakfast included in the price).
In terms of location, staying here puts you a stone's throw from Taksim Square. You'll also be very close to Taksim metro station which makes getting around the city a breeze.
Galata: Where to stay in Istanbul for a trendy setting
Located in the north of the old city, this cool district was once the home of Genoese traders who lived and worked in Istanbul centuries ago. Today, however, it's well known for being the location of Galata Tower, and its streets are lined with 19th-century architecture and former warehouse turned eateries.
Gentrification has well and truly taken place here since the turn of the millennium, and it has become a cool, hipster hub as a result. Here, a trendy crowd spend time hanging out in bohemian settings. This is the place to stay for those looking for a fashionable corner of the city to carve out as your own.
Here are the best places to stay in Istanbul's Galata district.
World House Boutique Hotel
Travelers looking for a property with the utmost in comfort and style should opt for this hotel. Each of the rooms here, from the standard double all the way to the king's suite, have been lovingly curated with a minimalist, Instagram-worthy aesthetic.
Start your day with coffee and pastries at the cafe downstairs, watch the world go by from the terrace, and wind up your evening with a meal at the on-site restaurant.
Bankerhan Hotel Galata
This city center hotel is decorated with contemporary interiors but has also retained some historical details to add a touch of character. Modern art adorns the walls throughout the property, while guest rooms are suitably stylish.
Some rooms have amazing views of the Bosphorus from private balconies. The hotel features its own restaurant and bar, but there's also room service for when you just want to chill out in your own space.
Azzap Hotel Galata
Situated close to a number of top sights in the city, including the Spice Bazaar, Galata Tower, and the Suleymaniye Mosque, this hotel provides a relaxing place to stay in Istanbul.
Guest rooms here are clean and contemporary and come with everything you need to enjoy your trip, including crisp white linens, polished wood floors, and large windows. Amenities at the property include a terrace, a bar and a restaurant.
Beyoglu: Where to stay in Istanbul for nightlife
Situated in the European corner of Istanbul, Beyoglu is a cosmopolitan hub that's crammed full of top-class eateries and places to grab a drink or two. Life here is a mix of local and tourist-oriented, with its pedestrianized main street connecting to entertainment enclaves and quieter areas alike.
Beyoglu is where to stay in Istanbul if you're interested in exploring the city's nightlife. For example, the live music scene here is particularly interesting for music fans. You'll also find a whole host of public transport links to help you explore further afield.
Here are the best places to stay in Istanbul's Beyoglu district.
Ecole St. Pierre Hotel
Taking up space inside a vast historic building, this is one of the most beautiful historic hotels in Istanbul. It makes the most of its historic credentials, pairing the period features and ornate architecture with chic mid-century modern furnishings.
Throughout you can expect shuttered windows, exposed brick walls, and wood beamed ceilings. Rooms are designed with soft, pastel colors and metallic tones, while shared spaces include a terrace, a restaurant, and a bar. This is a super stylish place to stay in Istanbul.
Meroddi Barnathan Hotel
With its prime location close to Galata Tower, Istiklal Street and Suleymaniye Mosque, Meroddi Barnathan Hotel is a great place to stay in Beyoglu for sightseeing.
There's a range of different room types to opt between, which range all the way from simple doubles to king size suites with sea views. Each of the guest rooms have been meticulously decorated with Ottoman design flourishes.
Onsite facilities include an elegant restaurant and bar with views of the Bosphorus.
Frame Hotel & Suites
These simple yet affordable and clean apartments provide an ideal base for independent travelers in Istanbul.
All of the units on offer come with the convenience of a kitchenette, which also includes a washing machine (very handy), and a workspace for any emails you need to send.
Location-wise, you'll find these apartments down a quiet street close to Istiklal Avenue and Galata Tower. There are also metro, funicular and tram links close by.
Karakoy: Where to stay in Istanbul for foodies
One of the oldest neighborhoods in the city, Karakoy is a harborside district found below the traditional boundaries of Galata. The area is well known for its gastronomic credentials and features a number of seafood markets renowned for their fresh fare.
There's also a selection of traditional bakeries here and homespun eateries to discover. As you might be able to tell, this is where to stay in Istanbul for foodies who want to dive right into a non-touristic exploration of local cuisine.
Hotels here range from ultra-luxurious to affordable and charmingly traditional.
Here are the best places to stay in Istanbul's Karakoy district.
The Peninsula Istanbul
For some real out-and-out luxury in Karakoy, look no further than The Peninsula Istanbul. This five-star hotel has no end of comfort and amenities to keep you happy during your stay.
Everything has been carefully considered, from the numerous on-site restaurants and bars to the spa and wellness center. There's even an indoor swimming pool and hammam to use.
The location right on the waterfront allows you to swim right next to the Bosphorus itself.
Ferman Port Hotel
This stylish, polished hotel has been designed with aesthetics that will definitely suit your Instagram page. From the tessellating tiles of the lobby to the glamor of the onsite restaurant, it will wow you from the moment you step through the doors.
The style continues inside the guest rooms, which feature high ceilings, chandeliers, and large beds. As well as a restaurant, there's also a gym and a rooftop bar to make use of when staying here.
The Haze Karakoy
Located just 400 yards from Galata Tower, and close to Istanbul Modern Art Museum, this property combines a mix of classic architecture with modern design.
Throughout, the Haze Karakoy has been skillfully designed with both comfort and budget in mind. Some of the rooms feature balconies that boast amazing views out over the water, while there's also an on-site rooftop restaurant for more incredible views.
Kuzguncuk: Where to stay in Istanbul for longer stays
Colorful Kuzguncuk is located in a valley on the Asian side of the Bosphorus. Somewhat cut off from the rest of the city by green spaces, the attractive neighborhood is all about its boulevards lined with trees and old timber-built Ottoman mansions.
This is a great place to stay in Istanbul if you have a longer time to spend here — partly because getting to the European side by public transport takes that bit longer. It's also a good option for families, given the plenty of green space to run around and explore.
Here are the best places to stay in Istanbul's Kuzguncuk district.
A11 HOTEL BOSPHORUS
One of the most modern hotels in Istanbul, this gleaming, glass-facade property has a selection of sophisticated rooms for a place to unwind after exploring the city. Many of the rooms have large windows with seats, so you can spend time gazing out over the Bosphorus.
In terms of amenities, you'll find a bar, a restaurant, and a garden terrace to relax on. The bonus is the location, which puts you an easy walk from public transport.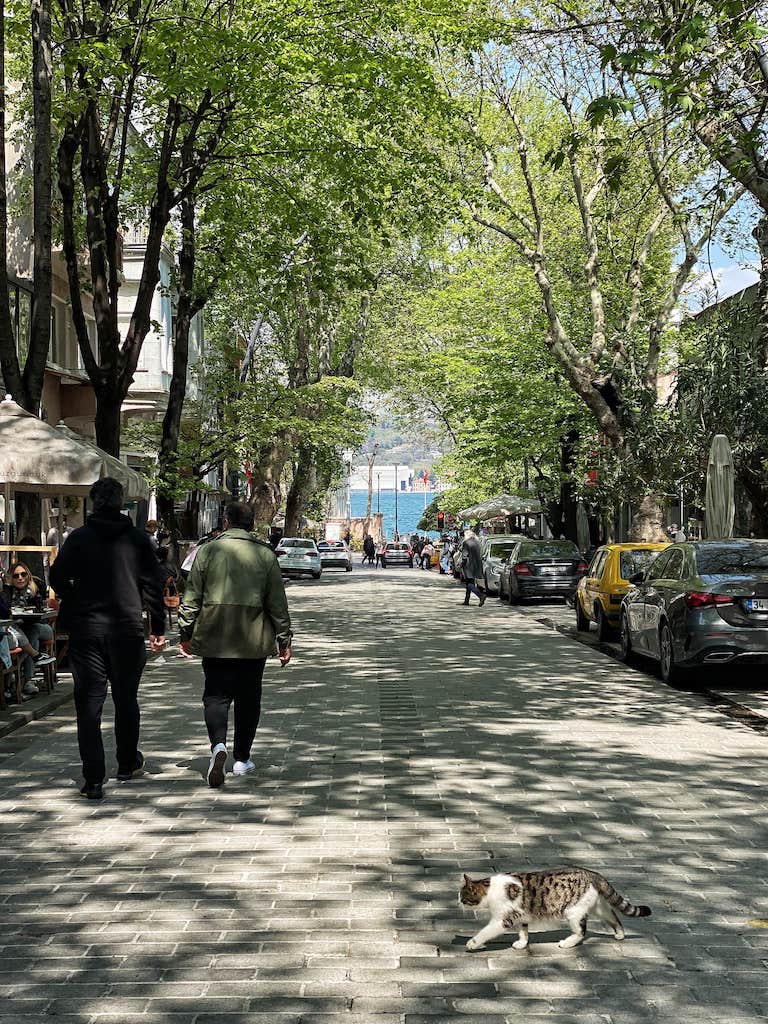 May Otel Uskudar
May Otel Uskudar is a modern hotel run by a team of friendly, welcoming staff who'll make sure your stay runs as smoothly as possible. Location wise, it's conveniently situated very close to both the dock (for boat trips) and a metro station.
Rooms here are decorated in a clean, white color palette accentuated with pops of turquoise; some have seating areas, but all of them come with their own private bathrooms. There's also an onsite restaurant with views that look out over the Bosphorus.
Ottoman Suites by Sera House
With bunk beds available among its accommodation options, this is one of the best hotels in Istanbul for those on a shoestring budget (but there are family rooms too).
It's also situated in a building that dates back over 120 years, boasting traditional Ottoman architecture and period features throughout.
Rooms are decorated with cozy, classical furnishings, and boast wooden floors, high ceilings, and antique design touches. There's a shared lounge and breakfast served up each day.
Further Readings
For more help planning your trip to Turkey, make sure to read the following posts:
Pin It For Later!