Most people overlook Camagüey, during their trip to Cuba. They remain enchanted with Trinidad, spend days in Havana, but entirely skip this large city, the capital of the Province of Camagüey.
This is the kind of place you either love or hate. I must admit I failed to see its charm when I visited, for it surely lacks the quaint atmosphere that other places in the country have. Yet, it is precisely that which should draw you in. Camagüey hardly qualifies as the most visited place in Cuba, which means it's not touristy as the rest.
That on the other hand means that touts in the streets are still few: you won't be pressed to buy a tour, to ride a horse, etc – though to be fair I had a few offers for a taxi ride in the space of 100 meters.
Camagüey has quite a few things to see and do that will keep you busy for a couple of days. Curious to find out more? Continue reading!
10 Things To See And Do In Camagüey, Cuba
Get lost in the labyrinth
The historic center of Camagüey is a UNESCO World Heritage Site since 2008. The city was built in a medina style to keep away and confuse pirates, and try as you might to navigate a map, you will get hopelessly lost there.
The good news is that it is actually really pretty and you will love looking at the derelict buildings, the street art scattered in the small plazas and narrow streets, the small squares with trees to get a break from the heat. It will give a new meaning to the expression "wander around aimlessly."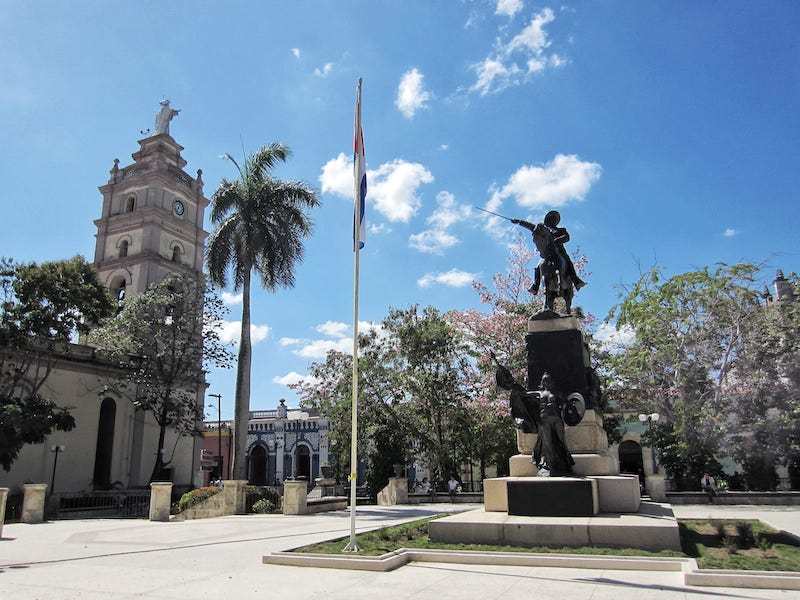 Visit the churches and squares
Camagüey is the perfect place for people's watching. The many squares are perfect to sit and enjoy the world go by. You will see that it is a favorite local thing to do! This is the kind of place where children still play in the streets and in the squares, so as soon as school is over for the day, still wearing their school uniforms, they will engage in a game of baseball (Cuba's national sport). It's fun to watch.
Parque Ignatio Agramonte is probably the most impressive square in Camagüey.
It won't take you long to realize Camagüey is packed with churches. Make sure not to miss the Sacred Heart of Jesus Cathedral, and the churches of Nuestra Señora de la Merced (built in 1748 and with an attached convent) and of Nuestra Señora de la Soledad, which is at one of the main intersections of Camagüey.
Enjoy all the food
Many will tell you that food in Cuba isn't that great, but I dissent. I ate nothing but delicious food during my trip, and it was the same in Camagüey. There are plenty of paladares (local private restaurants) where $5 USD will get you a full meal with lobster or other seafood – make sure to ask the owner of your casa particular for the best ones. And walking along the streets you will find plenty of snacks, from the sweet delicious churros to fried-anything to healthy fruit.
Then have a drink
Speaking of food, as an Italian I generally associate it with wine. This is why I can't avoid mentioning La Cava, a super cool restaurant that actually has a wine cellar with a great wine selection for more than reasonable prices.
But if wine is not your thing, worry not. There are plenty of good places to have a good cocktail in Camagüey. Unsure what to order? Check out this list of great cuban cocktails.
Attend a ballet show
Most of the time Cuba is associated with salsa and Caribbean style dancing. What you may not know, however, is that it has a strong tradition in ballet. For a different night out, you may want to attend a ballet show at Teatro Principal. It only costs a few dollars, and it is a colorful show not only for the performers but also for the attendees who all show up in their best attire.
Go to Cinema Street
La Calle de los Cines is one of the coolest places to visit in Camagüey. A stretch of Calle Agramonte, one of the main streets in town, between Iglesia de la Soledad and Plaza de los Trabajadores, has been renovated as a homage to cinema. There are 5 cinemas on this street, opened between the 1940s and the 1950s and which were pretty much abandoned before they were completely renovated for the 2014 500-years anniversary of the city foundation.
Cinemas show just about any sort of movie. Just don't expect the comfortable seats and state of the art projectors, but for $2 USD why nott?
Hang out at Casino Campestre
Camagüey is a really big city so you will find several parks scattered around town. Casino Campestre is one of them. It is located across the Rio Hatibonico and was first opened in the 1860s. It is a nice place to hang out, a favorite of local families who take their children there. There is a baseball stadium incorporated in it, and apparently also a small zoo – though I do not recommend visiting that.
Visit Museo Provincial Ignatio Agromonte
The coolest museum in Camagüey is Museo Provincial Ignatio Agromonte, which is named after Cuba independence hero and author of the first Constitution of 1869. The museum has a nice exhibit of antique furniture and a nice art collection of Cuban art from the 19th and 20th century.
Shop at Casa de Arte Jover
There are several art galleries in Camagüey, so this is the perfect place to shop to bring home some unique pieces. One of the best is Casa de Arte Jover, in Plaza Agramonte. Even if you don't end up buying anything, this is a fun place to visit. The owners – Joel Jover and his wife – are lovely.
Another nice studio is that of Martha Jimenez Perez (pictured above).
Go to the beach
Camagüey is actually landlocked so going to the beach isn't exactly the first thing you should think of doing. But if you need a day away from the heat of the city, you may as well give it a try. The main issue is that you can't count on public transportation, so you will have to arrange a car with your casa particular.
The nearest beaches are Playa Santa Lucia and Playa los Pinos in Cayo Sabinal.
Playa Santa Lucia is at 112 km (around 90 minutes drive) from Camagüey, and thought to be one of the best beaches in Cuba. It is a beautiful stretch of white sand and clear waters with easily accessible reefs and hardly any tourist infrastructure.
Cayo Sabinal is 25 km west of Playa Santa Lucia and can be reached through a pedraplen. The beach is similar to that of Playa Santa Lucia – white sand and clear turquoise waters. It takes more or less the same amount of time to get there from Camagüey
Practical Information To Plan Your Trip To Camagüey
Getting a visa for Cuba
Remember you need a tourist card to enter Cuba. Ask Easy Tourist Card to arrange your visa for Cuba.
Where to stay in Camagüey Cuba
There are a few good places to stay in Camagüey. I wholeheartedly recommend Casa de Caridad, allegedly the best casa particular in Camagüey. It is located in Oscar Primelles 310A between Bartolomé Masò and Padre Olallo (0053 32 29 15 54).
It is a huge colonial house with high ceilings, antique (but perfectly functioning) bathrooms, a well kept large garden at the back, and a very motherly owner. She is not on any search engine so you just need to call to make a reservation.
How to get to Camagüey
Camagüey is well connected to other places in Cuba by public bus. From Havana, you need to take buses headed to Santiago that make a stop in Camagüey. The ride will take you around 10 hours.
There are direct buses from Santiago too, which leave at 7:30 pm daily and get in town at 2:00 am. It's the same bus that continues onto Trinidad, which is at about 5 hours by bus.
Other useful information
Wifi isn't much of a thing in Cuba so a good guidebook may come in handy occasionally. You can get this one.
You will also need a good travel insurance for your trip.
Further Readings
My other posts about Cuba will help you plan your trip:
Pin It For Later!