Baracoa is one of the most interesting places to visit in Cuba. Located in the Guantanamo Province, on the south-western tip of the island, not many travelers make it all the way there, because it is actually quite hard to reach. Most will bus their way down from Havana and once they are out of time, they will rush back to the capital to catch their flight back home.
It's a pity, though – Baracoa is really one of those hidden gems you will enjoy discovering, if you make it all the way there.
I recommend spending at least 3 full days in Baracoa, Cuba. Albeit small, it has a lot to offer! Continue reading to discover all there is to see and do in Baracoa, and for tips to plan your trip there.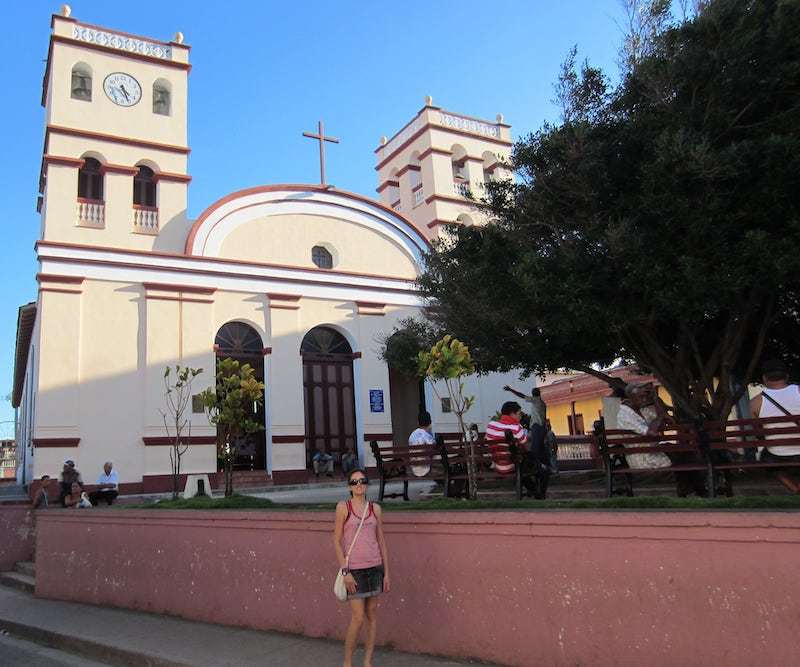 10 Cool Things To Do In Baracoa, Cuba
Explore the city
Believe it or not, Baracoa was the first capital of Cuba. The city was founded in 1511 by Diego Velázquez de Cuéllar in an area that was isolated from the rest of the country – an isolation which continued well into the 20th century.
The city isn't as beautiful as others in Cuba – especially if you compare it to Havana or Trinidad. Most of its colonial charm has long gone, and Baracoa has a beaten up look thanks to the incessant wind, the regular rain, and the hurricanes. Yet, it is a pleasant city to explore, probably because it is incredibly laid back and unpretentious.
It will take you no more than a couple of hours to explore it. Make sure to visit the Cathedral, to admire the many murals celebrating Guevara, the revolution and other prominent figures of that time, and to go to the Malecon, the city's waterfront.
Eat the delicious food
Food in Cuba is good but it will hardly awaken your taste buds. Except in Baracoa, where you can expect to have one glorious meal after the other. Cuisine in this part of the country is simply different from that of other places – full of flavor, significantly more eclectic, and by no means obvious. You will dream about the food in Baracoa for the rest of your trip – that surely happened to me when all I could find for dinner was (fresh but) boring grilled fish with white rice.
Among the dishes you absolutely have to try in Baracoa there is shrimps, octopus or even lobster in coconut sauce. It just is heavenly.
Learn about chocolate
The area around Baracoa is packed with cacao plantations. Chances are you will cross them many times unknowingly, and stare at the strange large nuts hanging from the trees without knowing what they are. I saw many such plants on my way to El Yunque.
One interesting thing you can do in Baracoa is learning about the chocolate making process – from the harvesting of cacao to the toasting of the seeds and the production of milk and dark chocolate. It tastes nothing like the one you are used to – it's rougher in texture, almost as if sugar had not fully melted in it. But I assure you it is good.
Then have a chocolate drink
Once you are done learning about how chocolate is made, stop to taste a chocolate drink at the Casa de Cacao in Calle Maceo 121 – basically the main street in Baracoa. The cakes are frankly nothing special, but the drinks are good. You can have hot or cold chocolate, with or without rum, and with or without a chocolate ball inside. There is no lactose free option, unfortunately, so this is definitely not a suitable place for vegans.
It is worth pointing out that although some call it the Chocolate Museum, this is not a museum at all. It basically is just a café where you can have all sorts of chocolate flavored things – cake, pastries, chocolate pralines and drinks.
Hike El Yunque
If there is one thing you can't miss when in Baracoa, that's hiking El Yunque. It's one of the most popular hikes in Cuba.
This cone shaped, flat at the top mountain can be seen all the way from town and its peak reaches 500 meters above sea level. Hardly an altitude – yet this is a challenging hike.
You are in the heart of the Caribbean, a region that is incredibly humid and where the air is heavy to breathe. It rains pretty much every day, and so the trail is muddy and slippery. To get to the beginning of the trail, you have to cross the river (either on a traditional boat called cayuca, or on foot, which means you have to strip off your clothes and carry your backpack on your head) and walk through a cocoa plantation.
From the beginning of the actual trail, it takes about 2 hours to get to the top, from where you can enjoy beautiful views. The overall hike, including the walk from the visitors' center where you have to stop to hire a guide (this is mandatory) takes 6 hours and includes a stop at some beautiful waterfalls too.
Wear hiking boots, a hat and take a swimsuit and a quick dry towel with you. Make sure to carry enough food and water as well.
Explore Yumuri Canyon
Yumuri Canyon is located around 30 km from Baracoa. It makes for a great, easy day trip during which you get to drive along the coast and pass the Tunel de los Alemanes (German Tunnel). The canyon is 180 meters deep. A good tour typically includes a boat ride and the chance to swim in the clear waters. You can even bike there.
If this is something you want to do, make sure to leave nice and early. The bike ride is fairly easy, but it is around 60 km and the terrible heat will make it hard.
Go to Parque Nacional Alejandro Humboldt
Baracoa is known as the city of 29 rivers. Such a lush place means that there is incredible biodiversity, which can be best admired at Parque Nacional Alejandro Humboldt, a UNESCO World Heritage Site. There, you will be able to see various species including hummingbirds, falcons, lizards, the smallest bird, various frogs, scorpions and bats. Through a path in the jungle you can reach a viewpoint from where you will be able to enjoy great views.
Go to Playa Maguana
Not far from Baracoa, there are come of the best beaches in Cuba where you can spend a few hours relaxing. My favorite is Playa Maguana. Locals love it; and it is getting more and more popular among tourists. You won't find much in terms of services – there is nowhere to rent equipment, and just a few nearby local restaurants. The beach itself is stunning: fine, golden sand; incredibly clear waters and a coral reef you can reach on an easy swim.
About 5 km west of Playa Maguana you will find the even more secluded Playa Nava.
Playa Maguana and Playa Nava can be visited on the same day. There is no public transportation to get there, so you can enquire with your casa particular for the cheapest option to get there.
Have a drink at Hotel El Castillo
Hotel El Castillo is easily reached from the main street in Baracoa. From there, you can enjoy nice views of the city and the coast below and then head to the pool at the back from a fabulous cocktail. There are several to pick from and they are all good, so for once try to be more adventurous and don't order your typical mojito or pina colada!
Enjoy a night out at Casa de la Trova
Cuba is often associated with salsa. The best place to enjoy some salsa tunes (and practice your moves) in Baracoa is Casa de la Trova, not far from the Cathedral. There are daily salsa performances at set times, but if you go later in the night you can actually be part of the show and dance too.
Practical Information To Plan Your Trip To Baracoa Cuba
Getting a visa for Cuba
All visitors need a Cuba Tourist Card for their trip. Ask Easy Tourist Card to arrange your visa for Cuba.
Where to stay in Baracoa Cuba
Baracoa has a few good casas particulares.
I stayed at Casa Colonial Gustavo y Yalina, in Flor Combret 125, phone number 0053 21 64 25 36. It is a nice colonial house with spacious rooms facing an internal yard.
How to get to Baracoa Cuba
Baracoa is connected to the rest of the country via La Farola (The Lighthouse Road), which was built in 1964. You can get there by Viazul bus from Santiago de Cuba (there are 5 daily buses) but you will have to make sure to book a few days in advance either via the website or in person by going to the bus station. It is a lovely ride over the hills, that lasts around 5 hours depending on the amount of stops.
When to visit Baracoa Cuba
Baracoa is located in the most tropical region of Cuba. This means one thing: rain, rain and more rain. Don't get me wrong though. You will get plenty of sun if you visit between December and April, but expect a good daily shower. In general, the weather is hot and humid.
Other useful information
Make sure to get a good guide book for your trip to Cuba. Keep in mind that you won't be able to rely on wifi there so you want something handy to get information when needed. You can get one here.
All travelers need a good travel insurance to travel to Cuba.
Further Readings
Make sure to read my other posts about Cuba to help you plan your trip:
Pin It For later!