There are many incredible hikes near Denver. Known as the "mile high city," this is a fantastic year-round vacation destination. There are so many amazing activities and adventures that draw visitors in to this small, mid-western city.
People living in Colorado enjoy (pretty much) year-round sports thanks to having a professional team in all major leagues. And they have an abundance of annual festivals in Denver that bring in large, excited crowds each year.
They also reap the benefits of a booming culinary scene, with amazing restaurants at every turn and bars slinging creative cocktails and craft beer. Bonus points if enjoyed from a Denver rooftop bar while watching the sunset behind the Rocky Mountains in their backyard.
But with its 300+ days of annual sunshine, relatively mild weather, and the gorgeous mountains to the west – it's clear why Colorado is really known for being a top outdoor destination. And if you're visiting Denver for the first time, be sure to plan one of these amazing hikes into your Denver itinerary!
In this post, I highlight the best hikes to try out, sharing some practical and technical information to help you with the planning bits.
16 Incredible Hikes Near Denver
Red Rocks Park and Amphitheater
Distance from Denver: 17 miles
Hike length: varies
Cost: free
If you're a music fan, chances are you've heard of Denver's famed Red Rocks Amphitheater. It's arguably one of (if not the) best outdoor music venue in the United States. But what you may not know is that the surrounding area is a destination in its own right for outdoor recreational activities, and home to some of the fantastic trails.
The area just can't get any more beautiful with the bright red rocks jutting out among the hills and trees. There are multiple different trails to choose from, and none are too difficult. But this is a VERY popular area, so be prepared to search for parking and get less of that "alone in nature" kind of feel.
Deer Creek Canyon Park
Distance from Denver: 27 miles
Hike length: varies
Cost: free
Deer Creek Canyon Park is super accessible being located just south west of Denver. Here, the hiking trails are tucked away in the entrance of the canyon, surrounded by foothills. Red rock formations are abundant, similar (but not as grand) to those at Red Rocks Park. And views of downtown Denver provide the perfect backdrop for your hike (just be sure to turn around and check it out).
Beautiful surroundings aside, the park has a variety of hiking trails to choose from, all in the easy to moderate range. These trails are a little less hyped up, so you can enjoy your outdoor time with less people buzzing about.
Chautauqua Trail
Distance from Denver: 30 miles
Hike length: 1.2 miles (round trip)
Cost: free
Located just to the west of Denver lies Boulder, CO, a small, college city with laidback hippie vibes. Boulder is located right on the cusp of the mountains and the foothills. Which means the hiking here is fantastic. One of the most picturesque hikes in Boulder is the Chautauqua Trail.
This is a heavily trafficked trail, but it's an easy hike and the area around Chautauqua Park is known for sprawling, beautiful wildflowers. This trail serves as a "lead in" for many other popular hikes, depending on how much time (or gas in you) you have. No matter what you choose, you're sure to get amazing views of the gorgeous Flat Irons.
Hell's Hole Trail
Distance from Denver: 43 miles
Hike length: 7.9 miles (round trip)
Cost: free
Don't let the name scare you away from this less popular, but no-less-awesome hike outside of Idaho Springs, Colorado. This trail takes you to Hell's Hole, which is a scenic basin in the Mount Evans Wilderness. This hike is especially lovely in fall, as part of the hike takes you through a large aspen grove.
And if there's one thing Coloradoans love to do in the fall, it's spending time in the mountains to watch the aspen leaves change colors. Be aware that permits are required, but are free to register on site. About five minutes into the hike (from the trailhead) is the permitting station. Make sure and stop to register, as it is required to enter Mount Evans Wilderness.
St Mary's Glacier
Distance from Denver: 44 miles
Hike length: 1.5 miles (round trip)
Cost: $5.00 parking fee per vehicle, per day
The name is a bit misleading, as this super popular hike doesn't involve a glacier at all. But instead, St Mary's Glacier ends at a semi-permanent snowfield (often confused for a glacier). Which means yes, even in the warmest months, a hike up St Mary's will produce views of a snow capped summit.
The hike is short, but man is it quad-burning. However, at the end of the trail is a gorgeous alpine lake, and the snowy mountains. The water temperature of the lake is always freezing cold, but you still may encounter people swimming or cliff jumping into its frigid waters. Are you brave enough to jump in?
Devil's Head Lookout Trail
Distance from Denver: 48 miles
Hike length: 2.5 miles (round trip)
Cost: free
This moderate hike near Larkspur, Colorado is one that you won't soon forget. The majority of the hike takes you through aspen and pine forest lands. And what this popular hike may lack in trail privacy, it more than makes up for in historical significance. Culminating at a large granite outcropping, this is also home to the only fire lookout in Colorado that is staffed by the National Forest Service.
Because of this, the lookout is listed on the National Register of Historic Places. Visitors are more than welcome to climb the 143 stairs to the top of the lookout, and make sure you leave enough gas in the tank to make the climb!
The views of Pike National Forest from the fire tower observation decks can't be missed.
Rocky Mountain National Park
Distance from Denver: 68 miles
Hike length: varies
Cost: $25 per vehicle (for a 1-day entrance pass)
Making a trip to Rocky Mountain National Park is often top of the list for visitors to Colorado. In fact, the park draws in over four million visitors per year. With over 400+ square miles in the park nestled among the mountains, there's tons of various activities to be enjoyed. Especially the hiking!
In fact, there's over 300 miles of hiking trails within RMNP. Which means plenty of options and varying difficulties to choose from. If you're not sure where to start, the RMNP website has a great section of suggested hikes to help you along.
In case you want to join a guided hike, you can consider this option here.
For more information, check out my post The Best Things To Do In Rocky Mountain National Park.
Garden of the Gods Loop Trail
Distance from Denver: 68 miles
Hike length: 3.7 miles (round trip)
Cost: free
Garden of the Gods is an amazing registered national natural landmark just outside of Colorado Springs, CO to the south of Denver. There are many activities for visitors within Garden of the Gods – including guided walks, bike rentals, and rock climbing, among others.
But one of the biggest draws for visitors is the hiking. And the best trail to take for the best views of the formations that constitute the Garden of the Gods is the Loop Trail. Taking this loop through the park connects the Palmer Trail, Buckskin Charlie Trail, and Susan Breitag Trail. It's a pretty easy walk with not much elevation gain, but the views are unparalleled.
Pikes Peak via Barr Trail
Distance from Denver: 128 miles
Hike length: 26 miles (round trip)
Cost: $10 parking fee per vehicle, per day
In Colorado, people take hiking very seriously, which makes sense given the state's geography. Colorado has 58 peaks range that exceed 4200 meters of elevation, which is 14000 feet. These are known more casually as "14ers" or "fourteeners." And if you're a person who takes hiking seriously, one of the big boys can't be left out from this list. But be forewarned, this one is not for the faint of heart (or out of shape).
Pikes Peak may not be the closest 14er to Denver, but it's certainly one of the most picturesque. The most popular way to summit Pikes Peak is along the Barr Trail. This is a long, grueling hike that can take anywhere from six to ten hours to complete. But if hiking is your thing, there's no better trophy than the "I conquered a Colorado 14er" picture from the top.
Hanging Lake Trail
Distance from Denver: 156 miles
Hike length: 2.4 miles (round trip)
Cost: $12 (peak) / $10 (off-peak) per person, parking included
Hanging Lake Trail is one of THE best hikes Colorado has to offer. Following the trail you hike along Dead Horse Creek, pass small waterfalls, and enjoy the rocky scenery of Glenwood Canyon. It's a relatively short hike (however it is steep the whole way) which culminates at Hanging Lake, perched high in the mountains.
But don't make the mistake of stopping at the lake. While beautiful, there is more to be seen. Follow signs leading you above Hanging Lake where you will find Sprouting Rock, a magnificent snow runoff waterfall pouring through a hole in the cliff side.
This hike is so beloved that it now has a permitting system in place to help ease the impacts on nature. Information regarding permitting, and FAQs, can be found here. Despite jumping through some administrative hoops, this is a hike you really shouldn't miss.
Storms Pass & Estes Cone Trails
Distance from Denver: 75 miles
Hike length: 7.5 miles (round trip)
Cost: $20 donation fee
Starting right outside Rocky Mountain National Park, in Lily Lake, this trail goes all the way to the eastern edge Estes Cone inside the park. The views of the cone – which is not a volcano, by the way, and those of Longs Peak, Mount Meeker, and the Twin Sisters during the hike are stunning.
The hike goes via the Continental Divide. Once you pass the Storm Pass, you can continue following the sings to Estes Cone. The last bit of the hike can be challenging as you'll have to scramble over boulders – so this is one of the most challenging hikes near Denver.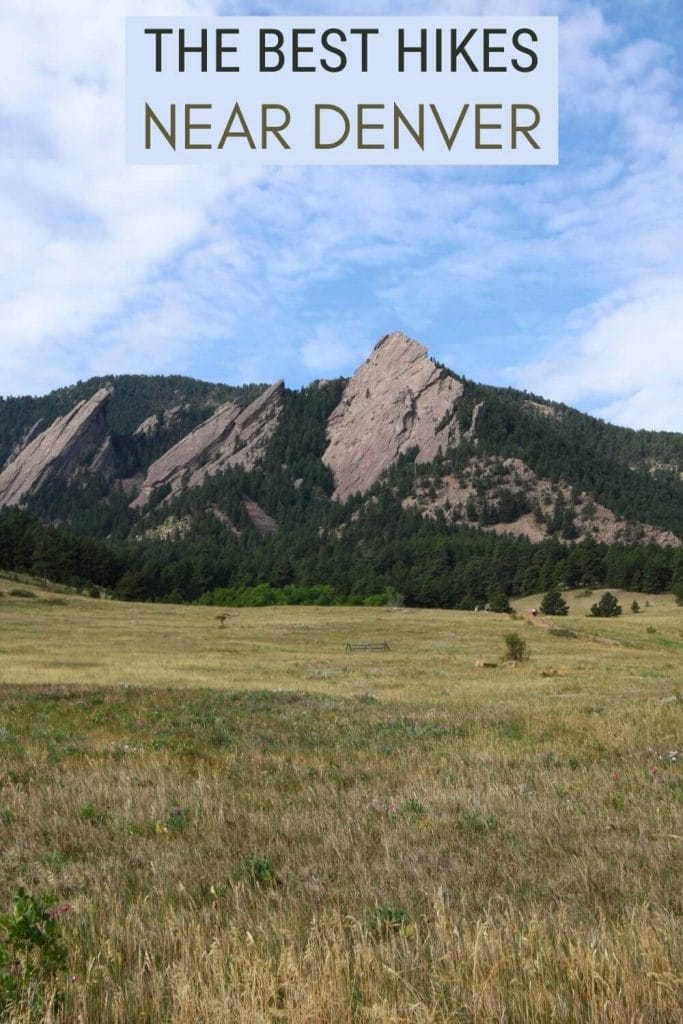 Lair o' the Bear Park
Distance from Denver: 23 miles
Hike length: 1.6 miles (round trip)
Cost: free
Driving through Bear Creek Canyon you can get to this park packed with easily tackled hiking and mountain biking trails.The Bear Creek Trail, which goes along the creek, is an easy one perfect for families, with plenty of nice places to stop for rest and lots of birds living in the area.
Staunton State Park
Distance from Denver: 39 miles
Hike length: 10.8 miles (round trip)
Cost: free
Staunton State Park is packed with hiking and mountain biking trails, and climbing routes. This is also where you will find Elk Falls, the highest waterfall near Denver. You have two options to see it. One is a hard hike of 10.8 miles that goes to the Elk Falls Overlook, and will let you see it from above. The other is a less challenging 12 miles hike to the base.
For a trail that is suitable to the whole family, opt for the Davis Ponds Loop trail.
Brainard Lake Recreation Area
Distance from Denver: 60 miles
Hike length: 7.9 (round trip)
Cost: $12 (peak) / $10 (off-peak) per person, parking included
If you are looking for one of the best hikes near Denver, head to the Indian Peaks Wilderness Area, close to Boulder and search for the Brainard Lake Recreation Area. You will find several trails, some actually very challenging.
The Mount Audubon Trail will take you all the way to 13233 feet above sea level, with a whipping elevation gain of 2,789 feet. The views of the Front Range once you make it to the top make it an incredibly rewarding hike.
Chimney Gulch Trail
Distance from Denver: 18 miles
Hike length: 5 miles (round trip)
Cost: free
Albeit short, this hike at Windy Saddle Park is actually quite challenging – involving crossing a stream as you walk to the summit of the Lookout Mountain. Once you get to the top, you can see all the way to Golden and Denver.
The good news is that the trail is literally just off the highway. The bad news is that this is one of the most popular hikes near Denver and since the trail is also suitable for bikes, you'll find lots of people on the trail.
Castle Rock Trail
Distance from Denver: 31 miles
Hike length: 1.4 miles
Cost: free
Castle Rock is a small town not far from Denver, named after a massive rock that looks like a castle sitting close to it. You can actually go all the way to that rock on a moderate trail that will offer views of the city, the Front Range and Long's Peak as well as Pike's Peak.
Further Readings
Are you planning a trip to the United States? Make sure to read the following posts:
The Best Things To Do In Boulder
This post was written by Kara, of Destination: Live Life, a travel blog. After fleeing small-town life in Wyoming, she has called Denver, CO home for the last 12+ years. She appreciates traveling like a local, and when she isn't living that travel life, she can be found petting every dog that will let her, and laughing (loudly) at any opportunity.
Pin It For Later!