The capital of Tuscany, Florence is a fascinating city. It's here that Renaissance art and medieval architecture combine, with a long list of churches packed with masterpieces and elegant villas boasting green gardens. Here, you'll find world class food, romantic city strolls, high-end shopping — all revolving around a UNESCO-recognized city center that'll leave you awestruck.
How many days in Florence you decide to spend is up to you, of course, but it helps to have some background knowledge to inform your travel choices. Continue reading for all the essential info that will help you make up your mind.
Make sure to also read my post The Best Tips For Visiting Florence.
How To Decide How Many Days In Florence You Should Spend
How many days in Florence you decide to spend will depend on what type of trip you want to take. It will also depend on what kind — and the amount — of sights and attractions you want to fit into your Florence itinerary.
You might only have enough time to spend a day or two in the Italian city, while others may want to enjoy a longer trip of a week or more lapping up all the sights and sounds of Florence. Perhaps you want to spend an extended period in Florence, using it as a jumping off point to explore the rest of Tuscany and beyond.
Figuring out how many days in Florence you should spend will depend on what you want to fit into the trip and how fast paced you want your sightseeing to be. You can spend a long weekend in the city fitting in a lot of the main sights and eating all the good food, but you are also in danger of tiring yourself out at the same time.
Carving out a few more days will provide some breathing room for a more laid-back trip. Four days in Florence is ample for seeing most of the main sights and for spending time soaking up a little local life, too.
For those who are really looking to get well-acquainted with Florence then it's a good idea to spend a week or more packing in all of the storied historic sights and important cultural institutions. There's a lot to see, after all.
Before you start to plan your trip and build your personal dream Florence itinerary, make sure to ask you self some of these travel questions:
Where are you coming from?
This might not seem like it matters all that much, but how many days in Florence you actually spend also depends on where exactly you're traveling from. For starters, if you're nearby — for example, on a road trip through Italy or traveling around the country using trains — then you'll be able to travel into the city easily. Provided you leave at a reasonable time (in the morning), you can start sightseeing in Florence as soon as you arrive.
Even if you're flying in from elsewhere in Europe, from the UK for example, all you'll have to factor in is one hour of difference in local time. However, this is not necessarily going to be the case if you're traveling from further afield.
You only really need to think about spending extra days in Florence due to traveling if it's a long-distance flight you're catching. From North America, Oceania or East Asia, flights are long, and never direct into Florence anyways, and the time difference can really be quite grueling.
Though some people may be able to hit the ground running, you may need to factor in a day or two before you actually even start sightseeing in order to recover from the long flight.
During these couple of days getting over your jet lag, it's important to see as much natural light as possible so that you get accustomed to local time. Seeing things like sunrise and sunset can be particularly beneficial, while eating breakfast, lunch, and dinner when you're supposed to rather than eating all day or not at all can all help you to adapt.
Consider what time your flight lands
As with jet lag, you may also want to consider putting a day or two ahead of your "actual" time in Florence depending on when your flight lands. For example, it's great if you land at 6:00 am — you have the whole day ahead of you — but the likelihood is that you're going to be tired from catching a super-early flight or traveling all day / night.
That first day you're going to feel wiped out, so kicking off with a jam-packed itinerary probably isn't a good idea.
Then again, if you're arriving in the middle of the day, for example around 3:00 pm you shouldn't really count this as a "day" in Florence as you most likely won't be able to get much done. Take it as an opportunity to wander around the area near your hotel, find something good to eat, and plan your next move in the city.
What time can you check into your hotel?
The time you can check into your hotel or accommodation is a factor that can be easily overlooked when planning a trip. We've all been there — you arrive at a destination early in the day only to find that you aren't able to actually check in until late afternoon.
You don't want to be stuck in Florence with heavy luggage wasting a good day of sightseeing because you can't check in to where you are staying. Make sure to contact your hotel in advance if you are arriving early in the day and arrange to at least drop off your luggage. That way you don't have to wheel suitcases around the old, cobbled streets of the city.
If you opt to stay in an Airbnb or a holiday apartment, note that there may not be the option to leave your luggage at the accommodation — just one thing to consider when planning your Florence itinerary.
Thankfully, there are other options for leaving your luggage. There are two luggage storage points available at Florence Santa Maria Novella station: one inside the train station along platform 16, the other outside in Via dell'Albero 22. The price to leave your bags vary on how big they are and how long you want to leave them for, but this means you can be luggage-free until you can finally check into your accommodation. Simply pay, leave your luggage and collect at a time that fits in with your plans.
You can also find luggage storage on offer at Florence Airport. Costing €5 per bag per day, you can simply leave your bags and hop on a train into the city and head back to collect them later if you have another flight to catch.
What's your budget?
The amount you have to spend on your trip will affect how many days in Florence you can afford. A vacation in the Tuscan capital can be done on (sort of) a budget, it will just take a lot more careful planning and working out exactly where you want to spend your cash.
If you do have a tight trip budget, then it's worth considering how many days you can afford to spend in the city. Spending just two days there will help save on accommodation costs but it will also mean that you're more likely to fork out more than you need to to cram in all the top sights.
Booking a few nights in a central hotel might seem like the best thing to do in order to save on time during a short city break but these kinds of places will usually turn out to be much more expensive.
Spending a couple more nights in Florence in a more local district means you can book into an affordable hotel or Airbnb and be able to take things a bit more slowly and overall be more careful with where your holiday cash is being spent.
Booking in advance is the best way to secure the top value for money accommodation in Florence. Booking a trip too close to when you travel may mean you're only left with the more expensive accommodation choices and be priced out of the city all together.
It's not just about getting your accommodation secured. If you specifically want to see certain sights during your trip to Florence, then you should try to book the tickets in advance. This way you can plan your itinerary around the places you want to see and not spend time waiting in line to buy tickets (more about this in a bit). You may even be able to take full advantage of city attraction passes or other tourist discounts.
The time of year you travel will also impact how many days in Florence you can spend if money is a little tight. Planning your vacation for the low season will mean you can grab a better deal in terms of hotel rooms and even save time at restaurants and tourist attractions too, meaning that you can get more out of a short trip.
If you are are unfussy about the type of accommodation you stay in, you might want to consider booking into a hostel. Hostels in Florence are affordable, well run, and great places to meet other like-minded travelers. They're also usually located close to popular tourist sights too, which means you can save money and still be in the center of the city.
Is it your first time in Florence?
If it's the first time that you're visiting Florence, you're in for a treat. That's because you get to experience this hub of Renaissance masterpieces and beautiful architecture for the first time ever. Many of us who have visited Florence can only dream of the awe in which we first gazed at the Duomo, wandered around the Uffizi Gallery, or admired Michelangelo's David in the flesh.
That's without mentioning other famous landmarks like the Ponte Vecchio — the iconic medieval bridge thronged with shops.
Thankfully, if it's your first visit to Florence, you have all this to look forward to. But because it's your first time, you'll probably want to fit in as many of the top sights of the city as possible. I recommend for that reason spending at least three full days to see the main attractions.
Of course, within three days you won't be able to see everything there is to see in Florence, but it will definitely keep you excited for another visit in case the city calls you back in the future (which it very possibly will do).
Do you love soaking up the culture?
Big tourist sights aside, if you're someone who likes to really get under the skin of a destination on your travels, you'll need more time. This goes for people who want to get off the beaten track and see a few sights of the city that are a little less busy. In either case, I would recommend setting aside four to five days for your trip.
Four days will allow you to see all the main sights of the city, plus, it will allow you time enough to hop inside more than just a couple of museums. For example, perhaps you'll be able to step into the Stibbert Museum — a lesser visited museum in Florence based on the collection of historical weapons amassed by an English businessman. There's also the former 14th-century grain storehouse turned church, the Orsanmichele.
In fact, Florence has a whole host of museums, allowing you to see the work of Renaissance masters in sumptuous settings like the Pitti Palace, learn about the age of discovery at the Galileo Museum, or allow your mind to boggle at the selection of rare tomes hidden at the Laurentian Library.
There are enough museums here to keep history fans and culture vultures busy for a long time, but to really get a good slice of the history of Florence from its museums and cultural spaces, five days is ample time.
Check out my post The Best Museums In Florence and The Best Hidden Gems In Florence.
Are you a flashpacker or on a stop-over?
Florence airport is a smaller one in Italy, so it's unlikely that you'll have a layover there en-route to another destination. However, the city is so central that if you are traveling by train or even by car, you may decide to stop there for a day en route somewhere else.
While it's not entirely possible to see everything that Florence has in store in one day, you can spend 24 hours ticking off some of the big-hitter sights. You will need to do a little research about the city before you arrive (start by reading the rest of the posts on this site, for example!).
One day in Florence is enough time to get a tiny taster of what the city has to offer. You'll have enough time to visit the Uffizi Gallery, stop off at Florence's famous Cathedral and be wowed by Michelangelo's David. You might even have an hour or two spare for enjoying a local meal and a glass of wine!
Then, make a mental list of the places and things you want to do there when you have time to take a longer vacation.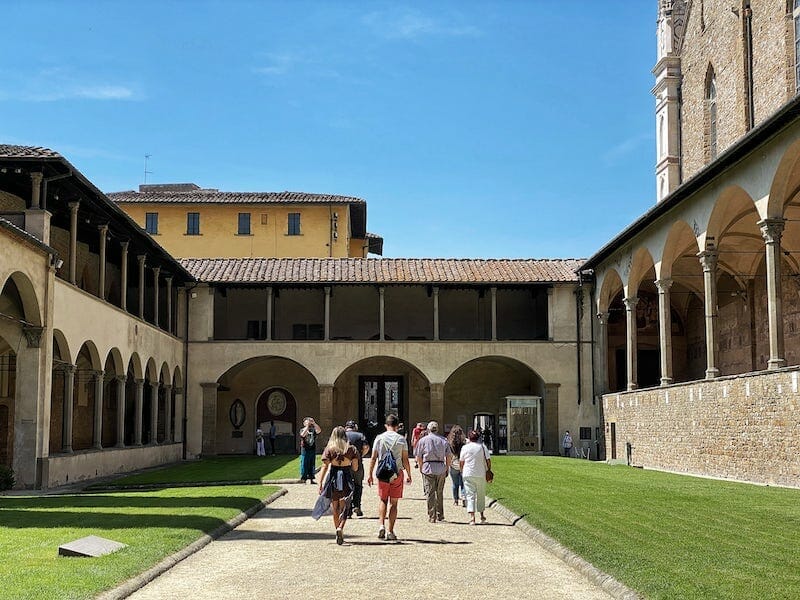 If you only have 24 hours, start your day as early as you can, leaving around 12 hours to cram in sightseeing. Plan your museum visits and even the places you want to eat lunch and dinner in advance so you're not aimlessly wandering trying to find somewhere to eat (more on that later!).
A good idea to make the most of your time in Florence is to book yourself on a full-day guided tour. This way you can be led by a professional guide around the main sights in the city and won't have to worry about getting lost. The guide will be able to offer up a wealth of interesting information and may even book tickets and lunch spots for you as part of the tour.
I recommend this Florence In A Day With David, Duomo, Uffizi & Walking Tour – it's great value for money considering how many sights you visit!
If you are staying overnight in Florence, consider the area you're staying wisely. I recommend picking a hotel close to the train station, as that is very central. Firenze Santa Maria Novella train station is just a 10-minute walk to Florence Cathedral, and the area itself is home to Santa Maria Novella station!
Looking for a great itinerary for just one day? Head over to my post How To Make The Most Of One Day In Florence.
You should also read my post How To Get From Bologna To Florence.
Do you prefer slow travel?
Got time to spare? Then, in theory, you'll have as much time as you want to spend in the Tuscan capital. If you're embarking on this sort of slow travel trip to Florence, then I'd recommend allowing anywhere upwards of seven to 10 days. With this generous amount of time on your side, you'll eventually get to know the center of Florence like the back of your hand.
That's because not only will you get to see the big-hitter destinations in the city — the Duomo, the Church of San Lorenzo, the Palazzo Vecchio and the Ponte Vecchio — but you'll have time to simply wander. On this sort of trip, you may not even particularly plan a trip to a top sight, but instead pass by it on a meandering walk through the city and maybe drop in to take a look.
You'll get to spend time wandering around green spaces like the sprawling Bardini Gardens, go for a stroll at the Sacred Doors Cemetery, and admire the elegant design at the Boboli Gardens.
Slow travel doesn't just mean wandering around, however. For some, this encompasses a trip that allows you to pretend you're a local for a week or two. Ten days or more in Florence and you'll begin to get into a routine. If you like jogging, then you may find yourself joining other locals for a run at Cascine Park, or along the banks of the Arno River.
Day trips from Florence also become possible with this amount of time. Pisa is pretty much on the doorstep (49 minutes by train), while the tower-studded skyline of San Gimignano can be reached just over an hour by car from the city. In short, staying in Florence for an extended period of time means rewards for those who like to take things slow.
You should also read my posts The Perfect 3 Days In Florence Itinerary and The Best Day Trips From Florence.
Useful Tips To Make The Most Of Your Time In Florence
Get a data Sim
Having access to the internet on your phone is something that is easy to overlook, but travelers who aren't able to access the internet on their phone in Florence may want to consider picking up a phone sim loaded with data. While you may not need to make a phone call during your trip, chances are you will want to use a map app on your phone to help you navigate the city.
Having data will make getting from A to B a lot smoother and will help when it comes to finding places to eat and opening times.
Know what to wear
This goes for pretty much any vacation you could take anywhere in the world, but ensuring that the clothes and accessories you pack match the destination is key for a smooth, stress-free trip. For starters, you should make sure you pack sturdy, comfortable shoes that stand up to hours of pavement-pounding city exploration — especially if you're spending more than five days in the city.
Depending on the season you're planning on traveling to Florence you'll need to pack accordingly: warm clothes for winter, cooling outfits for summer.
One thing I would recommend is ensuring you have non-revealing clothing for your trip to Florence (especially during the summer season). Many of the city's top sights and artwork are found in religious buildings, and you'll need to have your shoulders and lower legs covered; a shawl or big, light scarf to throw on — just in case — works very well in these instances.
For more guidance, head over to my post What To Wear In Italy.
Book ahead and get skip the line tickets
One of the best ways to really maximize the time you have in a city is to book tickets for museums and attractions in advance. Often, this means you won't need to wait in line to purchase a ticket; but it also simply means that you will have planned your itinerary better, so you know what you're doing on each day, rather than wasting mornings figuring out what you should do with yourself.
Here's another great time hack: if you're visiting Florence for the first time and you plan to visit the Uffizi Gallery and other big sights (for example, the line for Brunelleschi's Dome is often huge in high season), a skip the line ticket is a must. There's no bigger waste of time than waiting and literally doing nothing!
These posts will provide guidance on how to get skip-the-line tickets:
The Firenze Card is a handy ticket to purchase if you only have a short window of time in Florence. Valid for 72 hours, it provides access to the major museums in Florence.
Get clued up on where to eat
Of course, you're not going to be an expert on Florentine cuisine, but at the same time, it does help to do some research on the city's top eateries before you travel. Just like booking tickets for attractions in advance, it means you won't waste time scouring the internet and Google Maps for somewhere good to eat near you.
Researching restaurants and cafes in Florence also means you can plan your days efficiently. Knowing somewhere good for lunch that's close to sights you plan on visiting can mean the difference between a smooth day, and a very stressful one if you don't have a clue.
Make sure to also read my posts What To Eat In Florence and A Guide To Mercato Centrale Florence.
Carry some snacks
Speaking of food, sometimes you simply won't know the area you're in, or the cafe you've been banking on may be closed. In these cases, it may not take long before real hanger sets in – especially if you are anything like me: cranky when hungry. Because of this, I really recommend bringing along some snacks.
Whether that's a supply of cereal or protein bars or even a pack of cookies, it really pays to have something to keep your energy levels up while exploring the city. Stores around town have a great selection – so grab something to keep in your bag for emergencies before you set out to explore!
Know when to take a break
If you've only given yourself two or three full days in Florence, you should know that it's ok to not see absolutely everything the city has to offer. Creating an unrealistic itinerary, one that sees you walking miles upon miles, can easily tire you out, leading to a city break that is not enjoyable at all, and causing travel fatigue. It's good to take it easy and dive into a cafe for a coffee when you feel your energy levels dipping — people-watching can be just as valuable as visiting a museum!
Don't stress
With that in mind, it's really important that you don't allow stress to seep into your Florence vacation. Remember that it's really ok that you don't tick everything off of your itinerary. Besides, it's such a beautiful city that you may even be back one day!
Pin It For Later!