Getting from Cancun to Tulum is super easy, and whatever your budget is, you will have no troubles getting from Cancun Airport to Tulum.
Tulum is a popular tourist destination in Mexico; the perfect place to conclude a glorious trip around the country. Gorgeous beaches; one of the most fascinating Mayan ruins in Mexico; home to some of Mexico's best cenotes (in fact, some of the most impressive cenotes are near Tulum); lots of good restaurants and accommodation options make it quite the perfect holiday spot. You really should include Tulum in your Mexico itinerary!
If you are landing in Cancun and Tulum is the first leg of your Mexico trip, you will also be looking for information on how to get from from Cancun Airport to Tulum. You are in the right place! I have done the trip myself many times and will tell you exactly what you need to know, and detail the various available options.
Make sure to read my posts A Guide To Visiting Tulum Ruins, Where To Stay In Tulum and The Best Things To Do In Tulum.
How To Get From Cancun To Tulum
Tulum is about 131 kilometers (81 miles) from Cancun. The airport is actually a bit closer – 118 km (73 miles). The trip from the airport can take between 1.5 and 2 hours depending on traffic. You have several ways of traveling between the two.
Take the bus from Cancun to Tulum
For the absolute cheapest way to get from Cancun Airport and Tulum, opt for the ADO bus. This is the main bus network operator in Mexico, and it's well known for its high level of service. The ADO buses in the Yucatan Peninsula are no different, connecting all the main towns with well-maintained, air conditioned buses, and thus being well loved by travelers.
If you want to take the bus from Cancun Airport to Tulum, ADO is actually your only option – it's the only bus network that runs to or from the airport.
The bus takes around two hours and 5 minutes to connect the two cities which is, admittedly, a little longer than a taxi or private transfer may take. However, it is very cheap in comparison to other options, costing 365 Mexican Pesos (MXN) ($19 USD) per person (one way).
There are 7 departures leaving the airport to travel to Tulum, meaning you can find a bus that will take you there pretty much no matter what time you land. The bus timetables vary depending on which terminal you arrive at, so it is definitely worth doing some research on that before you touchdown.
Tickets for the ADO bus can be purchased at one of the dedicated ADO bus counters in the airport. You will see them among the other collection of counters as you come through arrivals, near other transfer options like car rentals and tour companies.
You can buy tickets on line on ADO website here – though the site is only available in Spanish.
The only downside of taking the bus from Cancun to Tulum is the lack of convenience. Other than having to figure out the timetable for yourself, once you're in Tulum you'll have to work out how to travel from the bus terminal to your accommodation. Depending on where that is located, that is less than fun!
The bus station in Tulum is located in Tulum Centro. This is where you'll also catch the bus to travel to Cancun Airport on your way back home. If you're staying in Tulum town, your accommodation may be nearby, but if you are staying in Tulum Playa you'll need to get a taxi.
Don't worry, though – there are usually plenty of taxis waiting around the bus station in Tulum, so you shouldn't have too much trouble. Just make sure to agree on a price before hopping on the taxi.
Take the bus to Tulum from Cancun via Playa del Carmen
If for any reason you can't find a direct bus from the airport to Tulum, you have the option of taking the bus to Playa del Carmen ADO bus terminal on Fifth Avenue and change there for another bus to Tulum. There are 30 daily buses connecting Playa del Carmen to Tulum so you really won't have an issue finding one!
For an even cheaper option, once in Playa del Carmen you can get on the second class Mayab bus to Tulum – though I should warn you, it's not as comfortable as the ADO bus and the trip will inevitably be even longer because the bus makes several stops along the way. Come to think of it, this bus doesn't actually have fixed stops so depending on where you are staying in Tulum, you can ask to be dropped off even before reaching the bus station!
For more information, check out my post How To Get From Cancun Airport To Playa Del Carmen.
Hop on the shared Cancun to Tulum Shuttle
Traveling via shuttle is a good way to get to Tulum from Cancun Airport. This is ideal for solo travelers, since taking a taxi or private car will cost more and you have no one to split the entire fare with.
To put that into more relative terms, taking the shuttle is cheaper than a taxi, but more expensive than the ADO bus.
The shared shuttle service is professionally run, and it will take you from Cancun Airport to Tulum and anywhere else in the Riviera Maya area. Each shuttle is organized so that passengers are all going in the same (or similar) direction. Most conveniently of all, this shared shuttle will drop you off right at the entrance to your accommodation. You won't have to lug your bags around in the heat trying to find out where you're staying.
The only downside to the shared shuttle is that it can take a little while. Indeed, the Cancun to Tulum shuttle has to make multiple stops along the way. If your destination is one of the last on the list, then your trip could end up taking a lot longer than you'd wish.
The shuttle vehicle itself is usually a large, modern and air conditioned VW van. The drivers will speak English, and the quality of service is pretty high. The shuttles usually leave once every hour from Cancun Airport, so you will never have to wait around for too long before you find a van to take you to your accommodation.
The departure point varies depending on the actual terminal you arrive at. The customer service team at the airport will be able to point you in the right direction or deal with any other of your queries.
The price of the shuttle from Cancun to Tulum starts at roughly $30 USD per person (one way). This is great if you're traveling solo, as I said, but if there's two of you, booking two seats on the shared shuttle isn't actually cost effective. You'd be better off hopping on the bus, or even booking a private car instead.
You can book your shuttle here.
Take a private shuttle from Cancun to Tulum
If you want something that is totally stress free, easy-breezy, and absolutely no worries, then booking a private transfer is the way to go. This way, you will get your own personal driver who will whisk you all the way from Cancun Airport to the doorstep of your accommodation in Tulum. This is a good option if you are traveling with a group of friends, or as a family, as the cost is for the vehicle itself rather than per person.
Another great reason to book a private transfer is that you don't have to wait on other people – there are no stops along the way for other passengers – and the driver will be there waiting for you at the airport. It's also more time effective and way more hassle free than renting a car. You won't have to stand in line at the rental car company, signing papers and everything else, and then have to get to grips with driving in Mexico.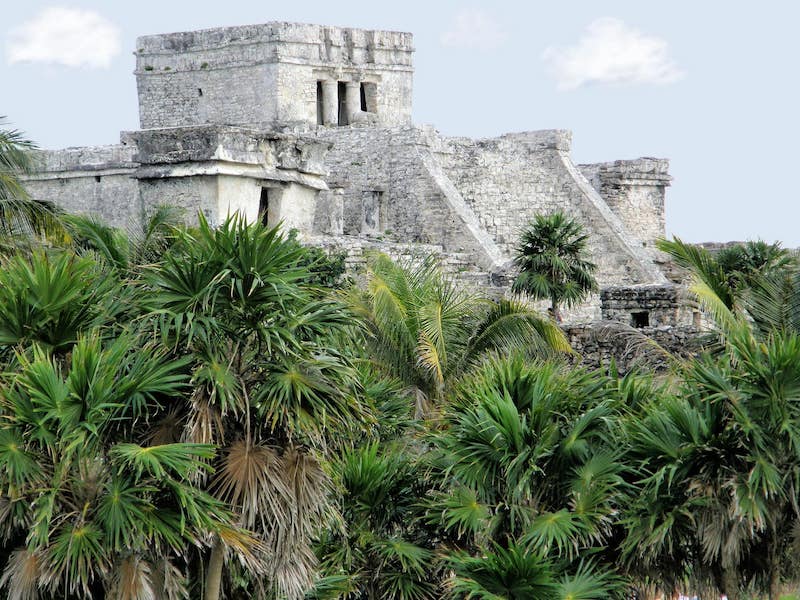 There are several options when it comes to private transfers. It all depends on your budget and what is most convenient for you.
Firstly, you could pre-book a transfer through your accommodation. This is probably the most simple and cheapest option, as it's often a complimentary service. A car will arrive from your accommodation to pick you up from the airport and take you back – it's as easy as that. However not all accommodation will offer free airport transfers, and some may not offer them at all.
You can also book a private transfer from Cancun Airport to Tulum online. This makes it one of the quickest ways to get from the airport to your hotel.
The standard private transfer is around $106 USD per person. If you are traveling in a group, splitting the cost makes it very affordable: the more people you have with you, the cheaper it is per person too. If you opt for a round trip it becomes even more cost effective.
For something a little more stylish, there are luxury airport transfers from Cancun to consider too. This means you can cruise like a celebrity to your accommodation in a high-end vehicle. It's more costly but then again, if you split the cost, it's not so bad. If you really want to push the boat out, you can even get a limousine airport transfer.
You can book your private transfer from the airport to Tulum via Welcome Pickups here.
Drive from Cancun to Tulum
The drive from Cancun to Tulum might seem a bit daunting if it's your first time in Mexico, but for the most savvy travelers this could be the dream, especially if you get to do it during the day – my sister and I did it during our first trip to Mexico and loved it (well, except in Chiapas, that is!). If you're a confident driver and you're planning on seeing more of the Yucatan Peninsula than just Tulum, having your own set of wheels could be a very good option.
Having your own car means convenience. You can explore at your own pace, get to your accommodation quickly, stick to whatever itinerary you plan, and travel the way you want to.
You can rent a car directly at the airport. It is best to book in advance before you arrive, so that you're not disappointed by not being able to get the car you want, or being bamboozled by insurance policies and added extras. However, note that here are some scams that happen with car rentals – booking in advance can stop this happening.
There are loads of car rental booths at the airport, so if you didn't book in advance, shop around to find the best deal. Just make sure you take pictures of any existing damage on the car before you leave the airport, so you won't be charged for damage you didn't cause when you return the car.
You can check out the prices of car rental in Mexico here.
There are a few downsides to renting a car and driving in Mexico in general. Depending on where you are going, it can be difficult to park your car – this is especially the case at some cenotes and far-flung beaches. If you are planning to drive from Cancun to Tulum, you should check in advance with your accommodation to see if they have parking available and if this costs extra on top of your room rate.
Renting a car also means you won't be able to drink alcohol. Unless you've got a designated driver, this fact essentially rules out any drinks with dinner or afternoon beers at the beach or partying too hard the night before you embark on a road trip. I guess this doesn't strictly apply to the trip from the airport to Tulum, anyways – unless you downed a few during your flight!
And then there are police checkpoints. These are often situated on the highway between Cancun and Tulum. These checkpoints are there to see if everything is in order – they may pull drivers over just to check their papers, if they've got a license, or if they've been drinking. It's not too much to worry about, and it is really all part of getting used to driving in Mexico.
Make sure to read my post A Guide To Renting A Car In Mexico.
Take a taxi from Cancun to Tulum
Of course, like at almost every airport in the world, there are always taxis at Cancun Airport waiting to pick up customers. I honestly only recommend getting a taxi from Cancun Airport as a last resort, last minute way to get to Tulum. In fact, they can be even more expensive than a private transfer.
The drive from the airport to Tulum takes between 1.5 and 2 hours, and is along a single, well-maintained highway. While it's quick and a relatively hassle-free process, a taxi from to Tulum from Cancun can be expensive, with prices starting ranging between 1800 and 2100 MXN ($94 and $110 USD).
As with a private transfer, the cost is for the car, not per person. Therefore, if you are traveling with a group of friends or you are splitting the cost with your partner, this can make it much cheaper. Cars are usually nice and well maintained, however I must warn you that most taxi drivers won't carry more than four passengers and some only take three – if there's more of you traveling together, definitely arrange a private transfer.
Before getting on a taxi, you'll actually need to get a ticket from one of the booths in Terminal 2 and 3. You should be able to pay by credit or debit card, but in case you must pay by cash and don't already have Mexican Pesos on you, you can either withdraw from one of the ATM at the airport (there are Santander ATMs in Terminal 2 and Banamex in Terminal 3 and 4) or use the money exchange (there should be a couple inside Terminal 2 and 3 and one near the gas station).
After you pay, you can join the line of other passengers waiting for a taxi just outside the terminal. If you are traveling from Terminal 3, you'll find taxis 24/7. At Terminal 2, taxis only run from 7:00 am to 11:30 pm.
All in all, a bit of advanced planning is recommended to save some money and have a less stressful experience once you get to Cancun.
Is there Uber in Cancun?
Uber has had an on and off relationship with Cancun. The ride sharing service has had a particularly tricky time with Cancun Airport and its fleet of taxi drivers, resulting in Uber being effectively banned from the airport.
Pin It For Later!