Visiting cenotes – sinkholes filled with freshwater – is easily one of the most fun, unique things to do in Yucatan, and if you are going to Merida you're in luck – there is an incredible selection of cenotes near Merida, so that you can combine a day of sightseeing the incredible ruins of Chichen Itza with a dip in the refreshing waters of a cenote.
If you read my post The Best Cenotes In Mexico you should already know that some of the best cenotes in the country are indeed close to Merida. But with so many to visit, it's not easy to pick which one to go to.
That's why I thought I'd help you by narrowing down the selection of the most impressive Merida cenotes. From closed cenotes to open ones, here are the best cenotes in Merida you should make a point to visit.
The Reserva Estatal Geohidrológica Anillo de Cenotes
When talking about Merida Cenotes, it's necessary to mention the impressive Reserva Estatal Geohidrológica Anillo de Cenotes, where you can indeed see some of the most amazing cenotes in the Yucatan Peninsula.
The reason there are so many here is mainly down to the Chicxulub Crater – the impact crater left by a huge asteroid that hit the earth more than 66 million years ago.
It's thought to be this asteroid that wiped out most life on Earth (around 75%), including almost all species of non-avian dinosaurs. The cenotes in this area are almost certainly the result of the impact crater, and are grouped in the Anillo de Cenotes (literally "Ring of Cenotes"), which is a nature reserve.
These include Cenote Kampepen and Cenote Mani-Chan, as well as the Cenotes de Cuzama, an hour south of the Yucatan Capital and of which I will talk in more detail below.
The Best Merida Cenotes You Must Visit
Cenote Chacsinicche
The Tres Cenotes de Cuzama are easily my favorite Merida Cenotes, so I thought I'd mention them before anything else. They are literally the first ones I visited and they left a long lasting impression, for it was an incredible experience!
One of the Tres Cenotes de Cuzama is the Cenote Chacsinicche. This semi-open cenote is a fascinating place to visit, not least because the way to reach it is along old rails in a cart pulled by a horse.
This isn't your run-of-the-mill cenote that you can just rock up to by yourself. Situated deep in the jungle of the reserve mentioned above, it's usually visited as part of a tour that takes you to various cenotes in Merida.
Cenote Chacsinicche is illuminated by a slit of light that enters through the hole in the roof of the cavern. There are strange rock formations that create an atmospheric setting for a swim.
I recommend this guided tour of the Tres Cenotes de Cuzama that departs from Merida. It's a full day tour that also includes lunch.
Cenote Bolonchoojol
Just outside the small village of Cuzuma, and 30 miles from Merida, Cenote Bolonchoojol is also one of the protected Cenotes de Cuzama. You'll also reach this cenote by being pulled along in a cart by a horse.
To reach this cave decorated with stalactites, it's a pretty hair-raising descent through a very narrow hole in the rock down a rickety 30-foot-tall (9 meters) wooden ladder. It's not one for the faint-hearted!
Nevertheless, it's an unforgettable subterranean swimming spot, where roots from trees appear through cracks in the rock, and sunlight glimmers on the turquoise water.
To visit this and the other Cuzama cenotes, I recommend this guided tour of the Tres Cenotes de Cuzama that departs from Merida.
Cenote Ucil
The third and final of the Cenotes de Cuzama – as well as the smallest – is Cenote Ucil – this is one of my favorite cenotes near Merida.
Taking its name from a species of cricket that thrives in the area, Cenote Ucil is also accessed via a small passageway. Tropical trees have taken root around the entrance, making it feel like you're truly entering a different world.
A semi-open type cenote, Ucil is a gleaming blue pool set inside a grotto-like cavern. It's said to be one of the deepest cenotes in the Yucatan Peninsula.
The cave doesn't have much natural light, so it is illuminated artificially, but that doesn't mean the rock formations here are any less spectacular. It's definitely one of my favorite cenotes near Merida.
You may want to consider this guided tour of the Tres Cenotes de Cuzama that departs from Merida.
Santa Barbara Cenotes
Hacienda Santa Barbara is a former agave plantation turned destination for cenote lovers. Located just an hour's drive outside of Merida, visiting this estate is actually a great introduction to the Merida cenotes in the area. That's because it's home not to just one, but three cenotes—all with well developed amenities.
Visiting here you can expect a restaurant, bathroom, lockers, changing rooms and safety precautions. To access the three cenotes you firstly need to either hire a bike when you're there, allowing you to pedal around freely; or you could opt to travel between them in a cart pulled along an old rail track by a horse.
If you're traveling by cart, it will take 10 minutes to reach the first cenote: Cenote Cascabel.
Cenote Cascabel is a circular swimming hole that's illuminated by natural light. It can be a little bit difficult to get into, as you have to duck under tree roots as you clamber down into it. The cenote itself is fairly shallow, and the water is crystal clear, so you can see the bottom.
Next up is the much larger Cenote Chaksikin. This one is perfect for swimming, with its platform for jumping off into the water for extra fun. Finally, the third cenote at Hacienda Santa Barbara is Cenote Xoch.
This fully open cenote is particularly large and deep, and comes with a platform for jumping. It's lit with beautiful streams of light, so make sure to bring your snorkel and take a look underwater.
I recommend this tour of the Santa Barbara Cenotes that includes transportation from Merida and lunch.
Cenote Noc Ac
Just outside of town is one of the smallest Merida cenotes. Appearing as a small hole in the ground, but revealing a larger cavern below with glittering blue water, Cenote Noc Ac is a local sort of place – don't come expecting lots of amenities, safety precautions, or crowds for that matter.
It's also quite deep, so if you've got a snorkel you may want to bring it along. To enter, you either jump in through the hole, or clamber down a ladder. It also happens to be one of the most affordable Merida cenotes!
Cenote Xlacah
Cenote Xlacah is totally beautiful. Located near the archaeological zone of Dzibilchaltun, this cenote is thought to have been the main water source for the ancient city that was once situated here.
Inside the pool, diving expeditions have discovered archaeological finds, such as wooden artefacts, carved bones and pottery fragments.
If you don't like caves, you're in luck. Cenote Xlacah is completely open-air; a natural limestone pool that's covered with lily pads and other tropical aquatic plants.
Swimming here, surrounded by plantlife and floating in the impossibly blue water, feels very natural, with birds singing and dipping in and out of the water.
This day trip departing from Merida also includes a stop at Cenote Xlacah.
Cenote Ka' Kutsal
Surprisingly, Cenote Ka' Kutsal is situated in the vicinity of a Costco parking lot. Yes: that's right, you can go and pick up your groceries, and then check out this marvel of a natural sinkhole.
If you were already getting excited about jumping in, then you'll have to hold that thought. It's not a spot for swimming, but more of a slice of nature in an urban area to be admired.
Getting a photo of the cenote, the cave-like entrance and the plants surrounding it, with Costco in the background, is definitely one for Instagram.
The pool itself is beautifully clear though – you can look down and see fish swimming in it quite easily!
San Ignacio Cenote
The San Ignacio Cenote is less of an intrepid cenote located in the middle of the jungle, and more of a centerpiece for a nearby resort. Here you'll find a hotel, a restaurant, and – of course – the cenote itself, all in the same location.
Situated around 20 minutes from Merida on the road to Campeche, San Ignacio Cenote is also known as Cenote Tunich Ha, "Water in the Stone". A clean, safe cenote, it's not very large, but the emerald water is crystal clear, and you can see right to the bottom.
Being part of a resort, there are plenty of amenities here, from bathrooms to lockers. There's even an actual swimming pool if you feel like a less natural dip. It's one of the best, easy to visit cenotes near Merida that is perfect for families.
Cenote Yaal Utzil
Meaning "Good Sun" in the Mayan language, Cenote Yaal Utzil is a semi-open swimming hole with sides that rise 25 feet (7.6 meters) from the water itself. It's located within the community of Abala, around a 15 minute drive from Merida.
This cenote has beautifully blue water that reaches a depth of up to 65 feet (around 20 meters), making it great for snorkeling and freediving alike.
Roots of trees grow over the edge and dip into the water; you can hear birds singing; the water is sapphire blue. Needless to say, this is a natural paradise that feels very peaceful.
It also offers great value for the money. For the entrance fee you also get a life jacket. All in all, it's a nice, local spot with a platform that's fun to use to jump in.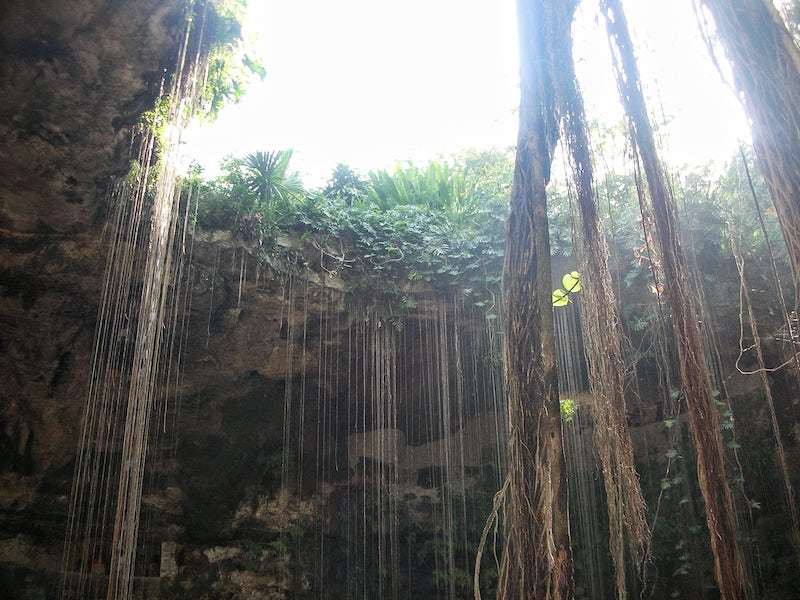 Cenote Ik Kil
Cenote Ik Kil is an eye-catching cenote that is a popular place to swim. Situated close to the incredible Mayan ruins of Chichen Itza, this cenote is an easy day trip from Merida.
Ik Kil is a deep, almost perfectly circular cenote that's totally open to the sky. Vines from the jungle surroundings tumble into the pool, giving it a tranquil, natural feeling. It's easily reached via a carved stairway that leads from the surface down to the glistening water edge.
Like many other cenotes near Merida, Ik Kil was sacred to the ancient Maya civilization. Evidence found here suggests that human sacrifices were made to the rain god Chaac.
The cenote is part of a developed complex, which includes a hotel and a restaurant. This means it's pretty easy to spend the whole day here, making the most of the amenities.
One caveat to note is that you have to wear a life jacket when you swim; you also must shower before you go in, ensuring that no chemicals enter the water.
You can also visit Cenote Ik Kil on guided day trips such that also go to Chichen Itza and Coba and depart from Cancun, such as this tour.
Cenote Pool Uinic
One of the most striking things about Cenote Pool Uinic is its cavernous setting. But it's also one of the lesser known cenotes near Merida. Opened in 2015, Cenote Pool Uinic is actually uniquely set in the grounds of a family home.
It's accessed by concrete stairs that lead down into the cavern, where roots of trees grow out. The stairs continue down to the crystalline waters of the pool itself, illuminated by some natural and some artificial light.
Situated in the town of Homun, Cenote Pool Uinic takes around an hour to reach via colectivo from Merida. You'll arrive at the family home, and they'll lead you along a gravel path to the entrance of the cenote.
Swimming in the refreshing waters is relaxing: being relatively unknown, it's a quiet and peaceful spot.
And, of course, the money goes to the local family! Don't expect loads of amenities, but you'll be glad you discovered this place.
El Corchito Cenotes
The El Corchito Cenotes are situated in the El Corchito Ecological Reserve. Here you will find three open-air cenotes, all very nicely developed and with facilities to match. Think wooden boardwalks, decks and platforms, but still surrounded by all the lush nature of the reserve itself.
The smallest of the cenotes is so shallow that an adult can stand up in it, making for a great introduction. Then there's El Corchito – much larger and a little deeper.
The largest of the three is Cenote Pajaro, which feels like a sizable natural swimming pool (you can rent a rubber ring and float around in this one). You can walk between them thanks to well maintained paths that weave through the reserve.
This day trip departing from Merida also includes a stop at El Corchito Cenotes.
Cenote Kankirixche
Cenote Kankirixche (meaning "Fruit of the Yellow Tree" in the Mayan language) is located in Abala, not far from Merida. This underground cavern is huge, measuring around 300 feet (91.4 feet) in diameter, and is semi-open, with tree roots and vines mingling with stalactites to create an atmospheric scene above the gleaming water.
Visiting here is a great way to cool off on a hot afternoon in Yucatan. Make sure to bring your goggles or snorkel and mask; the water is very clear, and the rays of light that you can see underwater are dazzling.
Cenote Kankirixche is also owned and run by the local community. There are rustic bathrooms, changing and showers, and they also include life jackets in the price. Make sure to take a shower before you enter the cenote to remove any chemicals from your skin.
Further Readings
Make sure to read my other posts about Mexico:
Pin It For Later!