If you are an archeology geek, Guatemala won't disappoint. Though most people think of Mexico when Mayan sites are mentioned, there actually are some amazing Mayan ruins in Guatemala. Some are world famous and you have surely heard about them. Others are lesser known internationally, perhaps a bit harder to reach, but definitely worth the effort of getting there.
For anyone who wants to learn more about the Maya Civilization and its incredible legacy, I thought to put together a list of the most impressive Mayan ruins in Guatemala, sharing their main highlights and points of interest as well as some practical information for visiting.
Enjoy!
The Most Beautiful Mayan Ruins In Guatemala
Tikal
The crowning glory of all Mayan ruins in Guatemala is Tikal. Nestled among rainforests in the north of the country, this archaeological site boasts impressive stone structures that have been dated back as early as the 4th century BC.
Tikal was in fact the most powerful kingdom in the ancient Maya world and came to prominence from around 200 to 900 AD. During its height, the city dominated the region through economics, military strength, and politics, and it was home to around 100,000 people.
There are numerous buildings that remain as part of the city today, from tombs of dynastic rulers to palaces and dwellings. Tikal is actually the centerpiece of Tikal National Park, which is in itself a UNESCO World Heritage Site for biodiversity alone.
Highlights of Tikal
Temple of the Grand Jaguar (aka Templo I) – it dates back to 723 AD and is a funerary temple situated at the heart of the city.
Temple of the Masks – or Templo II – it is named for its mask-like engravings. It was built in honor of the wife of Jasaw Chan K'awiil I, king of Tikal.
The Central Acropolis – it was where the Tikal royalty lived, a grand palatial complex with various structures and its own burial sites.
To make the most of Tikal, you may want to consider a guided tour such as this one. For sunrise tours, click here.
Make sure to read my post The Best Guide To Visiting Tikal.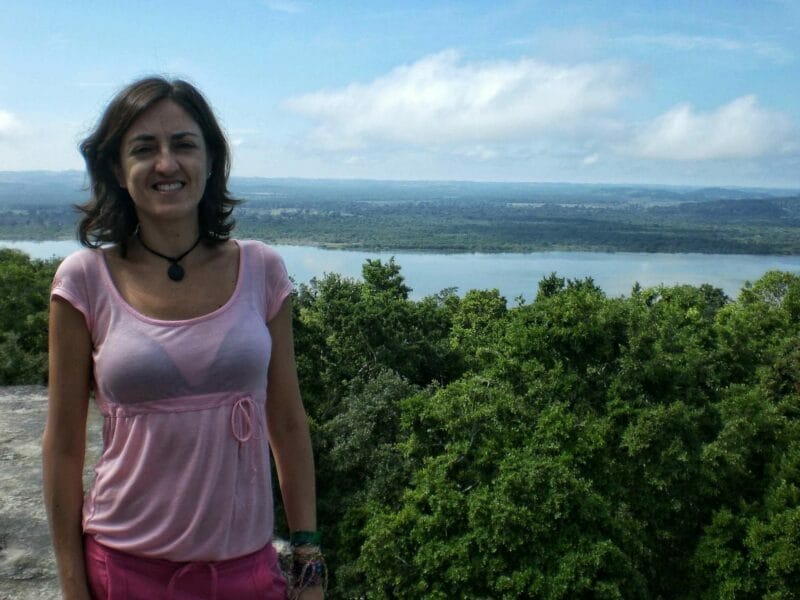 Yaxha
Just 30 kilometers southeast of Tikal is yet another important archaeological site – Yaxha. This was once the third-largest city of the pre-Colombian Maya civilization, and saw its heyday around 250 to 600 AD. But the site has a very long history, first being settled from 1000 to 350 BC.
In amongst nearby cities such as Topoxte, Nakum and Naranjo, Yaxha once dominated the region around the central lowlands of Guatemala – that was for over 1,500 years. Like Tikal, it's the center of Yaxha National Park. Spanning more than 350 square kilometers, this park reaches all the way to the border of Tikal National Park to the west.
Yaxha is situated high up on a hill, and sandwiched between Lake Yaxha and Lake Saknab, the setting is particularly beguiling – that's without even considering the ancient structures themselves of which there are over 500!
Highlights of Yaxha
Plaza A – a twin pyramid complex built in the 8th century AD, the only one of its kind outside of Tikal. It was a feat of engineering in its day, marking Yaxha as a key trading center.
The Greater Astronomical Complex in Plaza F – an astronomical observatory aligned to observe the solstices. If that wasn't enough, the views from here are amazing.
Also known as the Main Acropolis, the South Acropolis boasts a Mesoamerican ballcourt, making it easy to imagine the everyday lives of ancient Maya people.
For guided day trips to Yaxha, click here or here.
Iximche
Situated in the western portion of Guatemala's highlands lies Iximche. Once the capital of the late postclassic Kaqchikel Maya kingdom, Iximche was dominant from its height in 1470 until its abandonment not many years later in 1524 due to the arrival of Spanish invaders. It was the last of the Mayan capitals.
Although not as ancient nor as long-lived as other Maya cities, this old capital city remains one of the most fascinating Mayan ruins in Guatemala. The architecture here consists of a series of pyramid temples, ballcourts, and palaces. There are remains of hand-painted murals here, as well as evidence pointing to human sacrifice.
It's a lesser visited ancient ruin in Guatemala, but those who do choose to come here will find themselves among small crowds of indigenous Maya people who visit on their days off.
Highlights of Iximche
Great Palace 1 – an enormous residential complex. Here you can see the remains of housing platforms, courtyards, and patios.
Temple 2 – a tiered pyramid that amazingly faces the sunrise on the summer solstice. It's the best-preserved of all the temples excavated in Iximche.
Another pyramid temple, Temple 3 features an impressive stairway leading up to elevated plaza. Archaeologists found old incense here, left exactly as they were when the city was abandoned.
For guided tours of Iximche, click here.
Quiriguá
You'll find Quiriguá in the southeastern Guatemalan department of Izabal. This archaeological wonder, situated near the Motagua River, has been designated a UNESCO World Heritage Site – and it's easy to see why.
It's possible that Quiriguá bloomed thanks to its situation at the junction of multiple ancient trading routes. Construction of important buildings, such as the Acropolis, began in 550 AD, but it wasn't until the 8th century AD that many grand buildings exploded onto the cityscape, ceasing in around 850 AD.
Though it's smaller than other sites in Guatemala, spanning just three square kilometers, Quiriguá dates back to between 200 and 900 AD, and it was once a great city in itself. Today the remains of its ancient architecture and 17 monuments represent a more modest style than other sites. Instead, it's the sculpture here (specifically, the stelae) that's so important.
Highlights of Quiriguá
The Acropolis – the largest complex in the city, constructed in 550 and used until the city was abandoned (810). Here is where elite residents of the city once lived.
Stela E, in the northern part of the Great Plaza – an enormous 10.6-meter monument – the largest of all the stones ever quarried by the Maya and the largest free-standing monolith in the Americas.
Stela F, another large monument, is carved from sandstone. It's the second-largest monument and is covered in beautiful hieroglyphic inscriptions.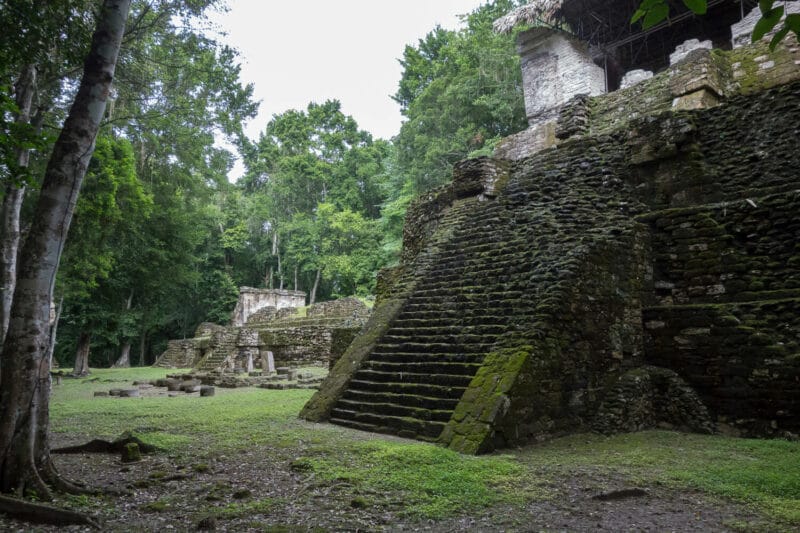 Topoxte
Topoxte was once the capital of the Kowoj Maya people. It is the largest of the postclassic Mesoamerican sites in Central America and has a long occupational history. People lived here for centuries from around 1000 BC onwards, but is thought to have been totally abandoned around 1450.
Interestingly, the name of the actual city isn't known – it was only named "Topoxte" in 1904 by Teobert Maler, an explorer who was documenting Maya civilization. Previous to that, there is no record of the name, and was called Islapag in the 19th century.
Whatever its true name, Topoxte is beautiful. Occupying five islands in the western portion of Lake Yaxha, it's not only historically impressive but also naturally stunning, with many of the ancient ruins half-swallowed by overgrowth. There are three main islands – Topoxte, Cante, and Paxte. These were densely populated, as evidenced by domestic buildings and archaeological remains found here.
Highlights of Topoxte
Paxte Island, the smallest, is home to an array of dwellings – in total, 68 have been identified so far. You can explore them alongside the wildlife that calls the island home.
Covering 6.5 hectares, Cante Island features steep slopes and 142 structures to its name. There are medium-sized buildings, as well as two sculpted stelae and a large plaza.
Crescent-shaped Topoxte Island is the largest and the ceremonial center of the city. It's home to over 100 structures, including stepped pyramids and various temples.
Zaculeu
The archaeological park of Zaculeu (or Saqulew) is located in the western highlands of Guatemala – the name means "White Earth" in the Mam, K'iche, and Q'anjob'al Maya languages.
This ancient city was once the capital of the postclassic Mam kingdom, between 250 and 600 AD. It was eventually conquered by the K'iche kingdom, and therefore is a mixture of both Mam and K'iche architectural styles.
The city was attacked by the Spanish in 1525 – this was followed by a long siege that lasted for many months and eventually ended in the locals' surrender to the Spanish as a result of starvation.
There are many buildings here – pyramids, ceremonial platforms, and even ballcourts. Much of Zaculeu was restored in the 1940s, but perhaps not in the most loving way, leading to less adventurous moss-covered steps, and more plaster-covered pyramids.
Nevertheless, in some ways that makes it easier to imagine wandering around the city when it was at its peak. There's also an on-site museum – a fantastic place to learn about everyday life of the people who once lived here, and to see some remains found in a tomb onsite.
Highlights of Zaculeu
Structure 1 – a 39-foot-tall pyramid; the tallest in the city, with eight steps and a shrine at its summit. It dates back to the early classic period (250–600 AD).
Structure 4 – a mixture of a temple and a palace, situated on the south side of Plaza 2. It's an unusual complex in the Q'iche style, with a pyramidal base. It also features a shrine at its top.
The Ballcourt (made up Structures 22 and 23) was where ritualistic Mesoamerican ball games would take place. It's easy to imagine the fierce action that would've taken place here.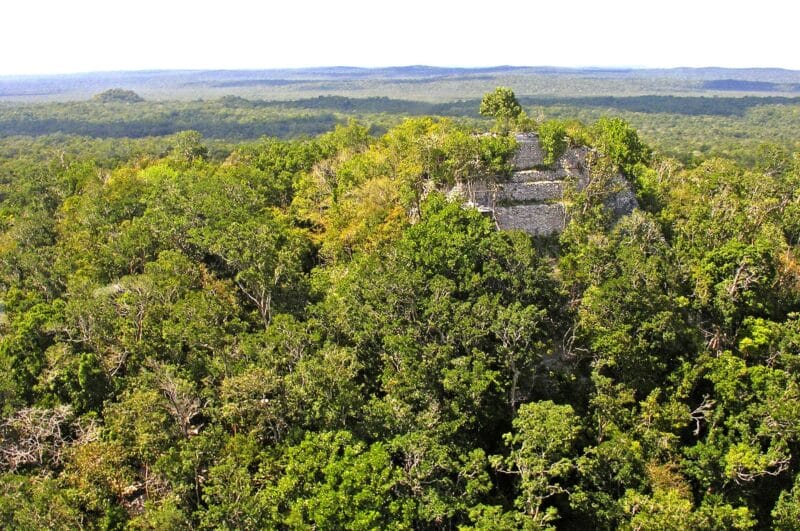 El Mirador
With its nickname meaning "The Lookout," El Mirador is one of the most mysterious Mayan ruins in Guatemala. Situated in the Peten jungle and with no roads to reach it by car, it's only reachable via trekking or (if you've got the money) a helicopter. It's remote – the first map of the area was only created in 1962.
Today the ancient site is overgrown by jungle, but was once a vibrant capital which flourished between the 6th century and 1st century BC, with later reoccupation in the 9th century AD.
Dubbed "the cradle of Maya civilization," in its heyday it was the largest city in the Americas and remains the largest known Maya site. Evidence of technological advances, such as irrigation and terraced agriculture, made El Mirador into a center of Maya civilization. Part of what makes the site so amazing is how it managed to flourish despite the jungle setting.
Very overgrown today, like a "lost city," there are still a number of complexes visible (and visitable), including pyramids and temples. There's even evidence of a large three-meter-plus wall, perhaps suggesting a threat perceived by the inhabitants prior to abandonment.
Highlights of El Mirador
La Danta – a 232-foot-tall pyramid with trees growing out of it. It's one of the tallest pyramids in the world, and one of the most massive ancient structures in the world.
El Tigre, at 180 feet tall, is another enormous pyramidal structure.
The lesser known, but still impressive, Los Monos is a pyramidal temple soaring to 157 feet.
You can only visit El Mirador on pre-booked guided tours departing from Flores. For more information, click here or here.
Seibal
Known as El Ceibal in Spanish, Seibal is situated in northern Peten. The site was first occupied in the preclassic period (2000-250 BC), but only came to prominence as a city in the 9th century AD, when the population is estimated to have been 10,000. And then it was completely abandoned.
Getting to Seibal is part of the charm. Most often, visitors arrive by boat along the Pasion River. However, for the more intrepid travelers, it's an adventurous trek through the jungle to reach Seibal.
Seibal was fairly sprawling, with priest kings and nobility occupying the ceremonial center of the city and commoners living on the fringes. Many of the city's ruined temples are covered in jungle plants – it's an archaeological work in progress, with the University of Arizona overseeing the current excavation project.
Highlights of Seibal
Structure A-16 – situated on the North Plaza, this limestone palace-like structure is thought to have boasted a colorful frieze in its heyday, with rooms painted orange and turquoise.
Stela 8 – a well-preserved monument that depicts King Wat'ul Chatel wearing jaguar claws on his hands and feet, representing the Bearded Jaguar God.
Structure A-3, a temple platform in the South Plaza, features stairways on each of its four sides and five stelae. The design is considered particularly innovative.
For guided tours of Seibal departing from Flores, click here.
Further Readings
Make sure to read my other posts:
Pin It For Later!