Semuc Champey is easily one of the most scenic places to visit in Guatemala. A bit hard to reach, it's honestly worth all the effort of getting there and you should make it a point to include it in your itinerary.
If you are looking for information on how to plan your visit, where to stay in the area and what to do once there, you are in the right place. Continue reading, and I will tell you everything you need to know for a smooth trip and a wonderful adventure!
Everything You Must Know Before Visiting Semuc Champey, Guatemala
Why visit Semuc Champey?
Located close to the town of Lanquin in the mountains of Alta Verapaz, Semuc Champey is a naturally stunning destination. It's a limestone formation that runs for 300 meters, blessed with a series of turquoise pools that have led to Semuc Chamey becoming an iconic swimming destination in Guatemala.
Even though it's a fairly remote destination, Semuc Champey – which actually means "Where the River Hides Underground" in Q'eqchi' Mayan – is so beautiful that travelers can't help themselves but to seek out this slice of natural paradise.
So if you like swimming, or you simply just want to hang out in this oasis (or perhaps you just want to take some cool photos), Semuc Champey National Monument, as it's officially called, is definitely worth your time.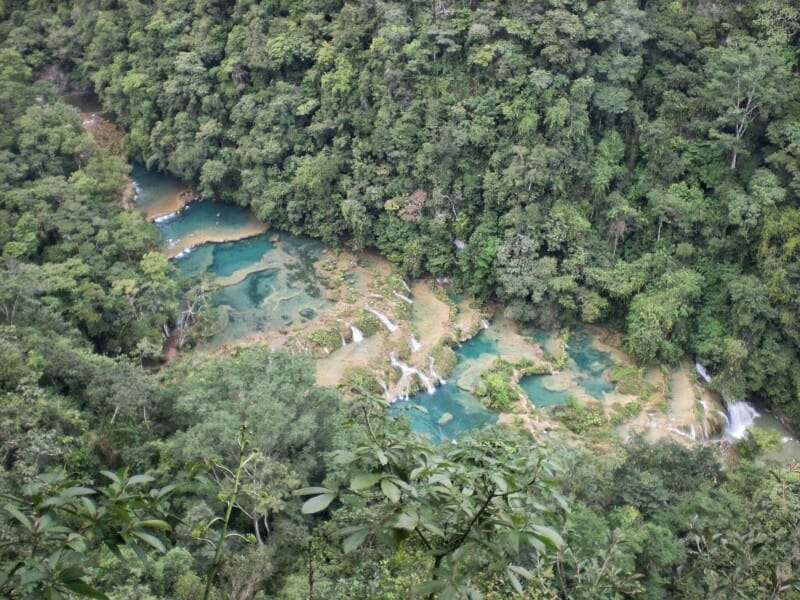 Best Things to do in Semuc Champey, Guatemala
Though it could simply seem like a place to swim and nothing else, there's more to Semuc Champey than just splashing around in its pools. This is often dubbed the most beautiful place in Guatemala. And far from being an overblown exaggeration, it actually does live up to expectations.
El Mirador Loop Trail
For one thing, you could hike. The El Mirador Loop Trail, for instance, takes you up to a breathtaking viewpoint out over the gleaming blue pools below. It takes around 45 minutes from the pools themselves, but only 15 minutes if you start from the carpark outside the entrance.
Once you're up at the top at the viewpoint itself, you'll be greeted with awesome views of the pools below. Make sure you've got plenty of storage on your cellphone camera – you'll definitely want to take some pictures!
Climb Down to the Lowest Pool
It's possible to climb down to the lowest pool, where the river emerges from its underground hiding place and you'll see a gorgeous waterfall. This is quite an impressive place, as you can hear the water gushing as you stand underneath Semuc Champey itself. But be careful – while this is an amazing experience, it can be quite risky with slippery rocks to contend with and a rickety rope ladder leading down, and the current is strong under the waterfall. Some tour guides may offer to take you this way.
Swim in the Natural Pools
If you don't feel like doing anything, then what better place to lay out and lap up the sunshine? Simply pick one of the rocks here and dip your toes in the water, soaking up the ambience of the place.
But if you're easily restless and feeling active, then you can also jump into the pools! Some of them are deep enough to dive into, but always be careful and maybe ask your guide (or at the visitor center) where it is safe to dive in Semuc Champey.
Explore K'an Ba Caves
Away from the pools themselves, there's the option to swing by the K'an Ba Caves (aka Candlelight Caves). These are situated around a kilometer from Semuc Champey, and can be explored to an extent. Make sure you bring a flashlight, adequate footwear, and clothing. Tours often take you rambling through these caves, which can be pretty fun if a little unconventional!
Admission to the caves is Q60 (short of $8 USD); tours run from 9:00 am to 3:00 pm every 30 minutes.
Swing!
Not far from the caves there is a fun swing – if you are brave enough you can even swing and jump directly into the water!
Go River Tubing
And then there's river tubing. If you like exploring, it's possible to hop on a tube and cruise down the Cahabon River. Starting at Semuc Champey, the tubing experience runs for around a kilometer and makes for a pretty relaxing way to spend some time.
Renting a tube costs Q65 ($8.50 USD).
When to go to Semuc Champey and how long to stay
You need to spend at least 2 nights in Semuc Champey – if anything, because getting there is such a hassle that you will want to rest your bones after such a long journey! Keep in mind that no matter where you travel from (more about that below) you will be arriving there in the evening, which means you'll actually visit the site the day after.
Surprisingly, it's not always warm at Semuc Champey. And depending on the time of year, it can actually be relatively cool, and with thick mist making the El Mirador viewpoint a non-event.
Going there during high season (December to April) means the river itself is clearer, so therefore the pools look more gleaming and eye-poppingly turquoise. It also means that the weather in general is more stable. However, during the high season, it actually gets a little crowded at Semuc Champey – not only with foreign travelers, but also with locals.
There will be far fewer people at Semuc Champey during low season, meaning you'll be more likely to arrive and have the whole place practically to yourself. The weather can be totally fine some days outside of high season too, so that's not usually an issue.
I visited in early December and had perfect weather and didn't find the place too crowded.
How to get to Lanquin
Lanquin is the main access point to Semuc Champey and while there are a couple of places to stay which are closer, most travelers stay there as there are more accommodation and eating options. As Lanquin is rather isolated, getting there isn't exactly easy and you should factor a full day of travel to get there and another one when you leave.
Make sure you stock up on motion sickness pills as the road is honestly very bumpy and the ride not comfortable at all – even if you opt for the shuttle. In fact, I don't recommend going by chicken bus!
Below are the main options.
From Antigua
You have two main options of getting from Antigua to Semuc Champey.
By Public Bus
If you are up for the challenge, you can use a combination of buses from Antigua to Guatemala City, from Guatemala City to Coban and from Coban to Lanquin (for a total of around Q100 – $13 USD); or by shuttle bus. However, unless you can master Spanish really well and are ready to travel very uncomfortably for 12 hours or so, opt for the shuttle, which only costs a little more.
By Shuttle
There are two daily shuttles connecting Antigua to Lanquin and most hostels, hotels and tour companies in town will be able to sell you a seat. Shuttles depart at 8:00 am and at 2:00 pm and go via Guatemala City. The ride costs Q150 and takes up to 10 hours.
Make sure to book your transfer a couple of days before departure.
Opt for the morning shuttle and plan to be in Lanquin by 5:00 pm or so. The last thing you want is getting in Lanquin late at night, at 10:00 or 11:00 pm, and find out that your hotel didn't hold your reservation. That actually happened to me but luckily I was there early enough to go in search of another place (that's how I ended up at Utopia!).
For a completely hassle free experience you may want to consider a 3-day guided tour from Antigua that includes transportation, accommodation and meals. For more information, click here or here.
From Flores
Getting from Flores to Semuc Champey is enough of a hassle by shuttle, that I refuse to even mention the possibility of doing it by chicken bus – mark my word!
Coban Travels runs a daily shuttle from Flores to Lanquin. It departs at 8:00 am and is supposed to reach Lanquin at 5:00 pm. The ride costs around $40 USD.
From Guatemala City
If you are departing from Guatemala City you have two options to reach Lanquin.
By Bus
Monja Blanca runs hourly buses to Coban. The ride lasts about 5 hours and costs Q70 ($9 USD). Once you are in Coban, hop on a local bus to Lanquin (another 3 hours).
By Shuttle
Coban Travels shuttle departs at 8:00 am and get to Lanquin around 5:00 pm. The ride costs around $38 USD.
From Coban
Local buses to Lanquin depart from Mercado La Terminal. The ride costs Q30 (less than $4 USD) and takes up to 3 hours.
Where to Stay in Semuc Champey
Deciding where to stay in Semuc Champey basically means choosing between basing yourself in Lanquin, or nearer to the pools themselves.
Best Accommodation in Semuc Champey
Hostel El Portal de Champey is right near the entrance and boasts a pool, restaurant, and bar, so it's a really comprehensive option. Also nearby is Greengo's Hotel. It's a rustic hotel with a pool and a bar.
For something more remote, Utopia Eco Hostel is where to stay in Semuc Champey. This riverside ecolodge is an affordable option with a family atmosphere, run by volunteers that help tend the garden and keep the hotel in order. It's got a tranquil vibe, and a lovely on-site vegetarian only restaurant. Morning coffee here comes with dreamy jungle views.
As for where to eat near Semuc Champey, if you're staying at a hostel such as Utopia, then you'll most likely be dining where you're staying. However, if you're just visiting for the day, there's a cafe right near the entrance. Some tours also bring lunch, or you could bring your own snacks along.
Nearby there's the Posada las Marias – It's accommodation, but they also serve up affordable meals to non-guests.
Best Accommodation in Lanquin
Over in Lanquin there are more accommodation and dining options. You could stay at the peaceful Zephyr Lodge, complete with swimming pool and jungle surroundings, or maybe Hostal Vista Verde Lodge – a tranquil spot with a restaurant and bar and cabin-style rooms.
There are a handful of restaurants in town – Guayaha serves generous portions of Guatemalan cuisine; Comedor Shalom offers low priced tipico food (good portions to boot); family-run La Flamenca Restaurante & Cafe boasts a delicious menu, featuring an array of dishes made with local ingredients with a modern twist – the sangria comes highly recommended!
Opening Hours and Admission Fees
Semuc Champey National Monument is open daily from 8:00 am to 5:00 pm. Admission is Q50 ($6.75 USD) for adults.
Visiting Independently vs. Guided Tours
This is a good question. Though you can visit Semuc Champey independently and have a great time, it's also possible to join a guided tour, too – either one-to-one or with a group. There are pros and cons to each. Let me point them out below.
Guided Tours
Guided tours will include a step-by-step itinerary – not just a visit to the pools, but also swinging by the El Mirador hike, a visit to the cave, tubing, maybe a swim to a waterfall, and depending on the tour operator, stopping by somewhere for lunch.
Although everything's arranged for you, a tour could be a little too contrived for some travelers. But if you're traveling solo or want to pack everything in because you don't have much time, a tour could be a good idea. They do cost, however – they start at around $26 USD per person and if you decide to go tubing the price go up to$35 or more. You will be able to book a guided tour via your accommodation in Lanquin or Semuc Champey.
Independent Visits
Visiting Semuc Champey independently on the other hand is a bit cheaper, and it allows you more flexibility with your schedule. That does mean that you've got to arrange everything yourself though. But being a well-trodden destination, that's not hard.
Depending on what you enjoy and what your budget is, you have several options.
WALKING – Semuc Champey is a two-and-a-half hour hike from Lanquin. This is not an option for everyone, unless you are staying closer to the national monument itself, ie at Utopia.
LOCAL TAXI – Another way to get to Semuc Champey from Lanquin is to hop in a shared 4X4 local taxi. These will typically charge around Q25 (around $3 USD) for the 30-minute journey (one way).
The overall cost of visiting Semuc Champey independently varies depending on what you decide to include. If you opt for a full day that includes a taxi there and back (Q50 in total), entrance fee to the national monument (Q50), tubing (Q65) and a tour of the caves (Q60), you'll spend a total of Q225 ($29 USD) – the savings are not so significant that you may end up choosing a guided tour and save yourself the hassle!
Packing List for Semuc Champey
Being a watery and quite rocky destination, you're going to want to wear suitable clothing and bring along everything you need for the day. This includes the following essentials:
Walking sandals/shoes (especially if you're hiking, not flip flops!)
Swimsuit
Change of clothes/easy-drying clothes
Camera
Snacks/packed lunch
Loose change
Final Considerations
Guatemala is a wonderful country, but it definitely presents a lot of challenges. Make sure to purchase a good travel insurance for your trip. If you are still unsure whether that is necessary, head over to this post. Otherwise, get your travel insurance here.
Further Readings
Make sure to read my other posts:
Pin It For Later!