With all the incredible things to do in Mexico, and the many things to do in Yucatan, I think I will never tire of it. I have been there 3 times already, and each time I visit I discover a little bit more. I am absolutely in love with its people, its culture, and the overall atmosphere and vibe I get when I am there.
Yucatan must see are many. Yucatan has a glorious history, of which the unique archaeological sites are just one inheritance. The colonial past also left its mark on the cities. The nature is lush and the beaches as beautiful as one can imagine.
And let's not forget about the food! Those who visit Mexico are rightly drawn to the variety of its cuisine, with all its ingredients and flavors. I confess that I have quite an addiction for tacos – and I won't settle for anything less than the ones I used to have on Avenida Satelite Norte in Tulum. For sure, eating is among the things to do in Mexico and Yucatan things to do.
Speaking of Tulum, visiting the Yucatan Peninsula is one of my favorite things to do in Yucatan Mexico. It has everything I need for a perfect trip – the right mixture of culture, sights, cities and nature that I always look for when I travel.
In fact, I generally recommend those who visit Mexico for the first time and have a limited time in the country to just concentrate their travels in the Yucatan peninsula: Mexico is huge and it is pointless to try and see it all in 10 days. This is a country that calls for slow travel.
So, for those who are planning to travel to that part of the world, here's a selection of the most recommended things to do in Yucatan.
12 Unmissable Things To Do In Yucatan
Visit the most famous archeological sites…
If there's one thing Mexico is famous for, it's the Maya sites. Chichen Itza, Uxmal, Tulum and Coba are only some of the archaeological sites of Yucatan, but for sure visiting them is one of the things to do in Yucatan. In fact, visiting the Maya sites is one of the things to do in Mexico.
Chichen Itza, considered one of the Wonders of the World, and listed among the UNESCO World Heritage sites, easily qualifies as one of the most amazing Yucatan must see. Yet I prefer Uxmal, which though quite popular is not as crowded.
Tulum is smaller than Chichen Itza and Uxmal, but its location, right in front of the Caribbean Sea, the views, the access to a gorgeous beach right below it make it one of the top Yucatan must see.
Visiting Coba, at about one hour from Tulum Pueblo, is certainly one of the coolest things to do in Yucatan peninsula. This is the most widespread site of Yucatan, so visitors generally rent a bike or a bici-taxi. Furthermore, it's one of the few sites where it is possible to climb a pyramid.
The best way to get to Coba is via a colectivo (a shared minibus), though for some unknown reason these don't leave from the site so it is necessary to get a bus or a taxi. A good alternative and one of the top things to do in Yucatan may be to book a guided tour of Tulum and Coba together.
Pro tip: I always recommend getting a guide when visiting archaeological sites, as it helps understand their significance. I know that it may be costly, but there are ways to save some $$$. One of the things to do in Yucatan (in fact, one of the things to do in Mexico) when visiting a site and looking for a guide is waiting around (it hardly takes more than a few minutes) and keep an eye out for other visitors who may be interested in sharing the guide and the costs. Alternatively, it is possible to book guided tours of Chichen Itza online.
These are some of the top tours of the sites of Yucatan that can be bought online:
… then look for the lesser known ones
Among the things to do in Mexico, and sure enough among the things to do in Yucatan there's visiting a handful of smaller archaeological sites that well deserve a visit. Kabah, not far from Uxmal, used to be the second most important city of the region. It is spread across two sides of Road 261. It's a lovely site that doesn't get nearly as many visitors as the others in Yucatan, thus the atmosphere is incredibly peaceful.
If one of the Yucatan things to do is searching for lesser known sites, then Ek' Balam is a good place to go. It is located near Valladolid. Though it is mostly covered by vegetation, excavations are ongoing. The pyramid is 32 meters tall. Tours of Ek' Balam depart from Cancun.
Not far from Campeche, there are Edzna and Calakmul, two beautiful sites that receive less visitors in a year than Chichen Itza does in a day. They are among the best places to visit in Mexico if looking for archaeological sites that have all the beauty but none of the crowds.
These are the best tours of the lesser known sites in Yucatan:
Swim in the cenotes…
Perhaps the most unique among the many things to do in Yucatan is visiting the cenotes. Cenotes are underground lakes. They are unique to this part of the world, and scattered around the peninsula.
Some cenotes, such as Ik kil, are considered Yucatan must see, and they are so popular that a whole resort has been developed around it. Others, such as Los Tres Cenotes de Cuzama, are much smaller but equally beautiful. Diving in cenotes is what to do in Yucatan to have a unique experience.
Here's a list of the best cenotes in Mexico.
And these are some tours that go to the best cenotes:
Laguna Bacalar is one of Yucatan must see
… then in a lagoon
The gorgeous Bacalar Lagoon is perhaps the most spectacular of the natural places to visit in Yucatan. Not far from Chetumal, Bacalar is a large lake, completely immersed in the vegetation of Yucatan. It boasts incredibly white sand, and the water is of a paradisiac aquamarine color. It deserves a visit (and a swim). Needless to say, visiting is one of the unmissable things to do in Yucatan.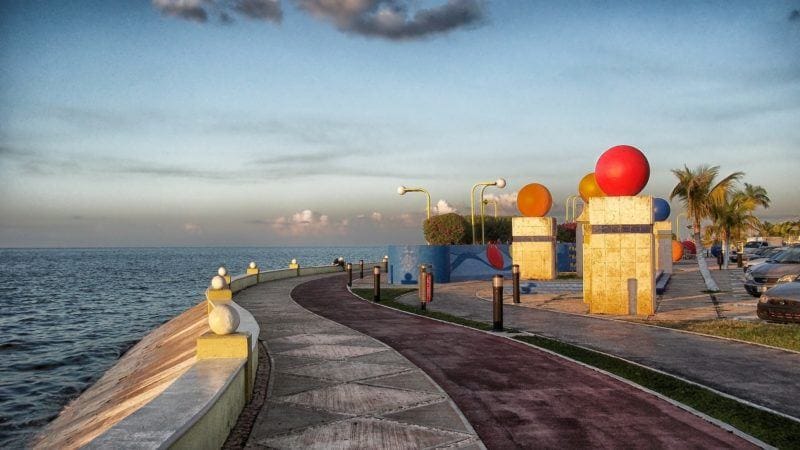 Pay a visit to the most famous cities…
One of the nicest things to do in Mexico, and among the things to do in Yucatan is visiting the beautiful cities. Merida is the largest city in the peninsula. It is often used as the starting point to visit Chichen Itza and some of the nicest cenotes in Yucatan, but it is worth visiting regardless of its vicinity to other sites.
What makes Merida one of Yucatan must see is the gorgeous colonial style architecture. Picture colorful buildings, cobbled alleys, a gorgeous cathedral, a beautiful square and an incredibly busy market, and it's easy to see why so many people who visit Mexico make it a point to go.
Campeche is another lovely colonial town, visiting is one of the things to do in Mexico. Its small centre, with the colorful, restored colonial buildings is aligned by the defense walls, which are beautiful to walk along. What differentiates it from other cities in Mexico is the Malecon – that is, a beautiful, new waterfront where people go for walks or to run and exercise. Just that makes me say that visiting is one of Yucatan things to do.
Last but not least, I have to mention Valladolid as one of Yucatan must see. I didn't spend long enough when I went, and I regret it because compared to other cities in the peninsula, it is much quieter and absolutely charming, with a beautiful main square and a great easygoing atmosphere.
Check out this post for more things to do in Valladolid.
… then head to the lesser known ones
Each time I visit Mexico I discover new places and hidden gems. That's how I realized that one of the nicest things to do in Yucatan is visiting the lesser known cities. What I love about them is that they are still relatively undiscovered – though through internet they are slowly becoming more popular.  
The good news is that there still are some Yucatan must see that are not crowded with tourists. One of them is Chetumal, the capital of Quintana Roo, located right on the Caribbean coast and a travel hub between Mexico and Belize. Let alone the fact that the city is beautiful – there's a lovely coastal walk (Boulevard Bahía) and good museums – Chetumal provides easy access to some lesser known Mayan ruins such as Oxtankah.
Visiting Izamal is bound to become one of the top things to do in Yucatan, if not among the things to do in Mexico altogether. Known as Ciudad Amarilla (yellow city), Izamal is mostly Mayan and yes, it really is completely yellow. There are remains of pyramids scattered across town, and from the top of the site there's a beautiful view of the city. The Spanish conquerors here didn't demolish the Mayan sites but built on top of them. So for example the church and convent are laid on the rest of a site.
Go to the beach
The perfect trip to me is one that puts together culture, nature and some well deserved relax time, preferably at a beautiful beach – I am from Sardinia, after all! With all the amazing beaches of the Riviera Maya, it is easy to see why Yucatan is a perfect destination. Indeed, one of the top things to do in Yucatan is going to the beach.
Playa del Carmen has some of the nicest beaches (at least in terms of services – it's one of the most popular destinations in the area. But they can get very crowded. Akumal is one of the best beaches in the area – you can even snorkel with turtles there.
Tulum is a very long stretch of incredibly fine white sand and you can find spots that aren't crowded. However, the last time I visited there was a terrible seaweed issue that didn't make it very pleasant to stay.
If going to the beach is one of the best things to do in Yucatan but you want to stay away from the crowds, Mahahual is the perfect place. This is a tiny coastal town of no more than 1000 inhabitants with a large public beach that is free to access and where you can definitely relax.
Visit the islands
The Caribbean coast of Yucatan is scattered with some beautiful islands, and one of the nicest things to do in Yucatan is visiting at least a couple.
Isla Mujeres is one of the best known islands, a Yucatan must see, and it can be easily reached via a short ferry ride from Cancun. The island is so small that it can be visited in a day – it is possible to rent bikes, scooters or even golf carts. There are some good beaches (though some can get very crowded at weekends or festivities). It is rather touristy, but nice.
Going to Isla Cozumel is what to do in Yucatan for diving and snorkeling: indeed, there's a gorgeous coral reef. There even are some Mayan ruins. The wildest part of the island is the east coast, that offers some beautiful marine landscapes.
Make sure to read this complete Cozumel guide for more information on what to see and do there.
Isla Holbox is located on the north of Yucatan peninsula. It has clear waters and gorgeous beaches and as such visiting is one of Yucatan things to do.
Enjoy the nightlife
There's no other place in Mexico like Yucatan in terms of nightlife. Cancun has a great selection of bars and clubs to party all night long, and the same can be said about Playa del Carmen. It is a fact that among the top things to do in Yucatan there's enjoying the nightlife.
Eat (and drink) like a king
Even though I am hardly a foodie, I must admit that one of the top things to do in Yucatan peninsula is eating. Mexican cuisine is so good and so varied that it is even protected by UNESCO.
Eating tacos is one of the things to do in Mexico, and among Yucatan things to do. The best places are the small carts that are scattered in the streets – wherever there is a small crowd eating, that's where the good food is. I have a thing for tacos al pastor, which I enjoy with plenty of ensalada de nopales (cactus leaves salad). Other things to try are the quesadillas, which are tortillas filled with cheese and other things, such as flor de calabaza (zucchini flowers) or mushrooms.
Mexico is the country of Tequila and Mezcal, so it goes without saying that one of the things to do in Yucatan is to try a good tequila and, even better, a proper margarita.
Practice yoga
As of late, I have developed a taste for yoga – especially for the Pranayama, which allows me to relax completely. One of the top things to do in Yucatan is practicing yoga in Tulum. Resorts and boutique hotels often offer this activity for free. If not, the classes are pretty cheap to join, and the benefits enormous.
Stay in a gorgeous resort
I have always thought I am not the kind of person who'd enjoy an all inclusive resort. Then I went to one in the the Maldives after a tiring trip across Sri Lanka (read more about my adventures in the Maldives here), and I had such a good time, I relaxed so much, that I am actually convinced that there's no better way to end a trip. Among the nicest things to do in Yucatan peninsula, is staying at an amazing resort.
All inclusive resorts have the benefit of perfectly catering to tourists who don't have too much time to organize their trip independently. They can schedule day trips to the nearby Yucatan must see; they have a great selection of restaurants to enjoy local food; they offer access to the most gorgeous beaches.
And if relaxing and pampering oneself is one of the top things to do in Yucatan peninsula, resorts offer all the best treatments one may wish for.
Here's a selection of fantastic places to stay in Yucatan:
Practical Tips To Plan Your Trip To Yucatan
When to visit Yucatan
I have been to Yucatan many times, and each time the weather was incredible. Summer can be rainy though. So I would say that among the top things to do in Yucatan there is visiting during the winter months, between November and March.
How to get to Yucatan
Yucatan is very well connected to the rest of the world via Cancun airport. There is an airport also in Merida. It is possible to also reach by land if coming from Belize.
How to travel around Yucatan
Yucatan is fairly easy to travel around. ADO buses connect the main cities and places of interest, and colectivos are cheap and easy ways to get to the smaller ones. However, one of the things to do in Yucatan that I recommend, in order to be completely independent, is renting a car. Click here for a good and reliable car rental service. Remember to always get a good travel insurance for your trips. You can find a good one here.
Safety In Yucatan
I have never had any issue in Yucatan, and Yucatan is safe to visit for tourists. Having said so, I recommend as one of the things to do in Yucatan keeping your eyes open for scams, as these on the other hand are common, as they are in any touristic places!
With all these things to do in Yucatan peninsula, it's easy to see why it is a favorite of travelers. Have you ever been there? What did you like the most about it and what would you add to my short selection?
Further Readings
Make sure to read my posts:
Pin It For Later!