Nestled between the mountains of Cantabria and the Bay of Biscay, Asturias, Spain is one of my favorite parts of the country. I have been there twice already, and enjoy it every time. What I love about it is the peaceful atmosphere, and the feeling I have of being let in to a secret place.
Indeed, despite the many places to visit in Asturias, the region doesn't get much international tourism. I suppose in a way this is what makes it what it is: charming, full of character, and with a great, unspoiled local feel.
Blessed with some of the most beautiful beaches in Spain – so different from the beaches in Sardinia I am used to, Asturias is packed with gorgeous cities and coastal villages; delicious food and even better cider; and a culture that is ready to be discovered.
Are you curious to find out more? Here is a list of 10 of places to visit in Asturias, Spain you should not miss.
11 Gorgeous Places To Visit In Asturias, Spain
Colombres and its Indianos Archive
If you visit Asturias, Spain, make it a point to go to Colombres. Located in Ribadedeva municipality, the village itself is a pleasant, peaceful place to walk around.
The main point of interest in Colombres is La Quinta de Guadalupe, a palace that used to be the mansion of Iñigo Noriega, a man born in Colombres who emigrated to Mexico in search of fortune, thus becoming an "Indiano." An Indiano is someone who – in the past – went to the colonies in search of a better life.
Nowadays, La Quinda de Guadalupe hosts the Fundación de Archivos de Indianos, a large archive of documents (which also include lots of press clippings and photographs) about the people who emigrated to the Americas in the 19th century and their perilous crossing to the other side of the world in search for a better life. It's a good place to learn more about the history of this part of the country and about the impact that Spanish immigrants had on the culture of the countries where they established themselves.
Llanes
The lovely Llanes is traditionally a fishing port, which is still very active. The town is pretty, packed with good bars and restaurants, and some lovely shops. The main point of interest is the romanic-gothic Basilica of the Virgin Mary. Yet, Llanes receives a lot of (local) tourists, especially in the summer, as it is right by the sea and there are some amazing beaches nearby – and you shouldn't miss out on them.
Sablon beach (Playa del Sablon) is right in town and it is famous for Los Cubos de Memoria, designed and painted by Augustin Ibarrola to break the water and protect the harbor and eventually become a lovely permanent art installation.
The best place to get a view of Llanes, Sablon beach and the gorgeous Bay of Biscay is a promontory that can be easily accessed from the beach and from where it is possible to reach Paseo de San Pedro. This path goes all the way to the nearby beaches, it is wonderful to walk, bike or even go on a horse ride and it is a favorite of locals, especially at weekends. Llanes itself is reason enough to visit Asturias!ù
SLEEP – Hotel Sablon: unbeatable location right by the beach, with impressive views. Rooms are spacious and comfortable.
EAT – Llagar Sidrería El Cabañón en Naves: great restaurant, but definitely not a good option for vegetarian as it mostly serves meat based dishes, with huge steaks grilled in the massive barbecue. It is a bit smokey inside. Cider is the drink to enjoy.
Ribadesella
Who said that the best beaches in Spain are all in the south of the country? I am actually positive that the most scenic coastline of the country is in the north: Asturias beaches are simply gorgeous.
Aside from the beaches of Llanes, make sure not to not skip Ribadesella. This pretty small town takes the name from the river Sella, which has its delta right there. At easy reach from the waterfront, there is a lovely viewpoint that offers views of Playa de Santa Marina. It's truly worth going up there for the impressive views.
SLEEP – Hotel Don Pepe: right by the beachfront, it has spacious modern room all with a nice balcony from where to enjoy the views.
Cueva de Tito Bustillo
At about 10 minutes walk inland from Santa Marina Beach, this UNESCO World Heritage site is a great place to admire prehistoric drawings that date back a whopping 35000 years. If you have a little extra time, definitely add it to your list of places to visit.
Llagar de sidra "Sidra Crespo" (Colunga)
While most of Spain is famous for its wine (see for example the wonderful, crisp Txakoli of the Basque Country), and wine tourism is sprouting more and more, if you visit Asturias you should not miss on the fabulous cider.
Forget about the sweetened, carbonated drink that you may be accustomed to and that you can get off the shelf in any shop. Cider in Asturias means serious business, and the traditional cider house Sidra Crespo takes it to a higher level: it only uses local apples and water to make its fabulous cider. The tour of the cider house is incredibly interesting so make sure not to miss it.
Bottled cider is served in a rather spectacular and artsy way, by which whoever pours it, holds the bottle high up and the glass as low as possible, in order to fully oxygenate the drink which then becomes slightly bubbly and has to be drunk in pretty much one sip. It is a fun thing to observe, and a great drink to have.
San Roque viewpoint (Lastres)
If you love sunsets make sure not to miss the one in Lastres, from whose viewpoint of San Roque you'll be able to see both the ocean and the mountains in the distance. Venture across the village to get to a good lookout and from there take a few good shots.
Gijón
Not nearly as touristy as the rest of the region, Gijón is a good place to visit for a few hours. The city is a nice mixture of modern architecture and old sights. It is right by the sea, and there is a lovely beach to walk (or swim, in the warmest months) called San Lorenzo. This may not be the best among Asturias beaches, but it is a nice place to walk around.
TIP: If you wish to visit some lesser known beaches, head to Estaño, La Ñora, Peñarrubia, and Serín beaches.
Other places not to miss are the Parque del Cerro de Santa Catalina, which offers splendid views of the ocean and the bold sculpture "Elogio del Horizonte;" and Plaza Mayor, one of the prettiest in the country.
SLEEP – Hotel Palacio de la Llorea: fantastic hotel a bit outside of Gijón. Rooms are large and comfortable, there is a spa for those that need to relax, and a great restaurant on site.
Oviedo
Even if only for a quick visit, if you are traveling around Asturias make sure not to skip the capital of Asturias – if anything, for the incredible restaurant scene (more about that later).
The beautiful Oviedo is a city packed with history and culture, with a gorgeous cathedral and beautiful squares galore. You will definitely enjoy its easy going vibe and appreciate sitting in one of the many nice cafés along the lovely locals.
If you happen to visit on a sunny, market day, it will provide many photo opportunities – a simple walk around the town center will be a great way to catch some local action. The best market in town is by far Mercado El Fontan, a large outdoor market located in the center of Oviedo and taking place on Tuesdays. It's stall after stall of fresh fish, cured meat and lots of fresh local produce.
SLEEP – Hotel and Spa Princesa Munia: It has beautiful, cozy rooms and a fantastic spa to relax before going out for dinner.
EAT – Sidrería La Finca: lovely sidrería and restaurant with an easygoing atmosphere. It serves fish, meat and vegetarian dishes – the fried calamari are delicious. There are "cider pourers" located near each table so that you can get fresh cider just pressing a button.
Cudillero
This has to be the most beautiful small coastal town in Asturias, Spain, and you really should not miss it. Cudillero is a lovely fishing village with a small harbor, and plenty of colorful buildings all located on the side of the mountains and overlooking the sea. The village is a medina of narrow alleys and pathways, and given how tiny these are, there are virtually no cars.
Perfect for a stroll and to admire the splendid views and quite easily one of the nicest places in Asturias, with all the fish and seafood restaurants by the harbor it also is a perfect lunch spot.
SLEEP – Apartamentos la Casa del Pintor: a lovely apartment with stunning views.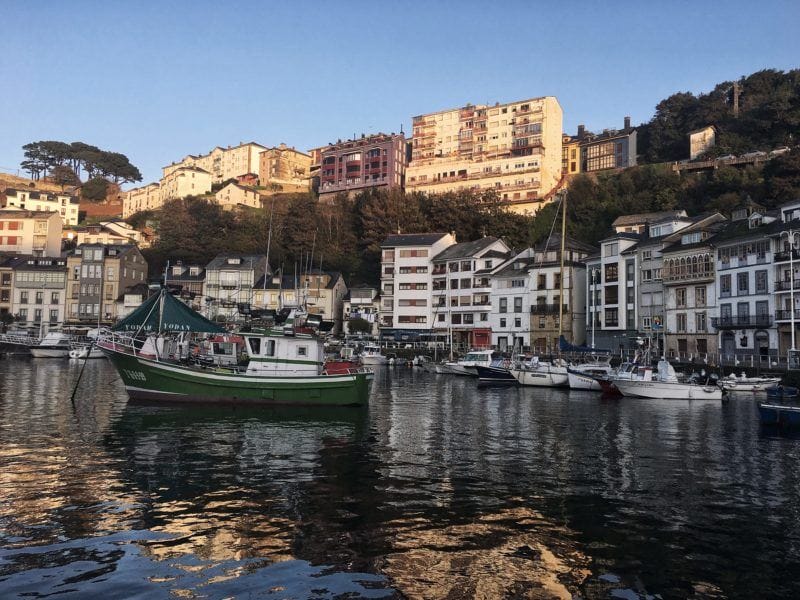 Luarca
Luarca is another coastal town that has retained all of its charm and that you should not miss. Known as the white town on the green coast, the view of it from the beautiful viewpoint next to the old cemetery and lighthouse, and a walk across town below reveal a pleasant charming, place.
The town is built around an S-shaped cove sitting between cliffs. A walk along the promenade and the harbor will give you views of the colorful fishing boats, providing more photo opportunities. Another not-to-miss sight is the stone bridge right outside of town, where the most luxurious tourist train in Spain goes through.
SLEEP – Villa la Argentina: in a seaside town such as Luarca, there's nothing better than staying by the beach.
Cabo Vidio, Oviñana
Cabo Vidio is like the cherry on the cake of trip to Asturias, Spain; a place you really should not miss.
It is located right outside the city of Oviñana, and overlooks the gorgeous Bay of Biscay. The views from there are simply breathtaking. Various hiking trails start from it, taking you to a variety of viewpoints where you can enjoy the views in the company of the many goats roaming freely, just to add a bit of rough charm to the already incredible scenery.
Final Tips For Visiting Asturias, Spain
Public transportation works quite well in this part of the world, but the best way to enjoy Asturias is on a road trip. I wholeheartedly recommend to rent a car to drive around at a slow pace, stopping in the various places to enjoy the sights, the atmosphere and the lovely people. Here's a good car rental company. 
Further readings
Are you traveling to Spain? Make sure to read my other posts
Legal Disclaimer: This article is written in partnership with Spain Tourism Board and the local tourism board of Asturias, and in cooperation with The Travel Mob as part of the #InGreenSpain campaign. All the views and opinions expressed are my own and based on my personal experience. The views expressed are honest and factual without any bias.
Pin It For Later!