There are many places where you can admire the paintings of Raphael in Rome. While Raphael (Raffaello, in Italian) was actually not from Rome, he certainly played a significant role in the artistic shaping of the Eternal City.
You will be able to see Raffaello's artistic expressions in some of the most beautiful churches in Rome; whereas others can be admired in Rome's best museums and art galleries.
In this post, I will show you the best places to visit to admire the paintings of Raphael in Rome, and share some useful tips to help you plan your visit and make the most of it. Before discovering where to see the works of Raphael in Rome, however, I'd like to give you a brief overview of his life and achievements.
Who Was Raphael?
Raphael is one of the most prominent artists of the High Renaissance. Together with Michelangelo and Leonardo da Vinci, he is considered a great master of that age, creating an extensive list of works that have stood the test of time.
He was born as Raphael Sanzio da Urbino – either on March 28 or April 6, 1483 – in the city of Urbino, one of the Papal States. His father, Giovanni Santi, was a painter employed by the duke of the Urbino and was a fairly influential artist in the court.
Raphael grew up in this regal world of literature, music and art, and well-versed in manners and social skills that suited his class. The soon-to-be artist was mixing with future cardinals and poets, who would go on to form the creative nobility of Rome.
His parents both passed away when he was a child, and he became orphaned at the age of 11. He was then placed under the guardianship of his uncle, a priest called Bartolomeo. Already showing artistic talent with self portraits and life drawings, the young Raphael played a part in his father's workshop that continued after his death.
Then, under the apprenticeship of artist Pietro Perugrino, Raphael attained his title of "master" in December 1500 as a fully fledged artist in his own right.
His first documented work was an altarpiece in a church near Urbino. Following this, he painted works for other churches in the area; it's likely that he visited Florence during this time.
Raphael's life could be described as nomadic. His work took him to various cities and towns across northern Italy, and from around 1504 to 1508 he spent much of his time in Florence. Around then, it's thought that he became acquainted with Leonardo da Vinci, who was also in Florence at this time (having just finished the Mona Lisa).
Raphael then found his way to Rome in 1508, where he was to spend the rest of his life. It was the new Pope Julius II who invited the artist to the city. He was immediately commissioned to paint frescoes in what was to become the Pope's library at the Vatican Palace – now known as the Raphael Rooms (or Stanze di Raffaello in Italian).
This large and very important commission was far greater than anything Raphael had worked on before, and are today considered his greatest masterpieces. Meanwhile, Michelangelo was busy painting the Sistine Chapel.
In fact, Raphael was able to get a sneak peek at the Sistine Chapel in progress thanks to his friends Giorgio Vasari and Donato Bramante. It was this that actually led to Michelangelo later accusing Raphael of plagiarism, complaining "everything he knew about art he got from me."
Raphael was then given further rooms to paint, increasing his level of work and detail as he went; even the death of Pope Julius II in 1513 didn't disrupt the artist's flow. His successor, Pope Leo X, became even closer to Raphael than the previous Pope, commissioning yet more work.
He was then named architect of the redesign of St Peter's Basilica, though only a few of his initial drawings for the basilica remain (Michelangelo eventually took over this role). He was also tasked with other architectural work around the city.
Eventually, Raphael was running a workshop of his own with around 50 pupils and assistants. The team working under him is arguably the largest under any single Old Master, and many of them went on to become established masters of their own right.
Raphael lived in the Palazzo Caprini from 1517 to his death on Good Friday, April 6, 1520, aged 37. He never married; he was engaged, but is thought to have had numerous affairs.
His cause of death was apparently exhaustion – brought on by too many affairs while working on the Vatican loggias (now known as the Logge di Raffaello). It's now thought to have been an illness.
His funeral was a large-scale event. There were crowds in the streets, four cardinals dressed in purple carried his body, and his hand was kissed by the Pope.
Raphael was buried, as per his request, in the Pantheon; the inscription reads: "Here lies that famous Raphael by whom Nature feared to be conquered while he lived, and when he was dying, feared herself to die."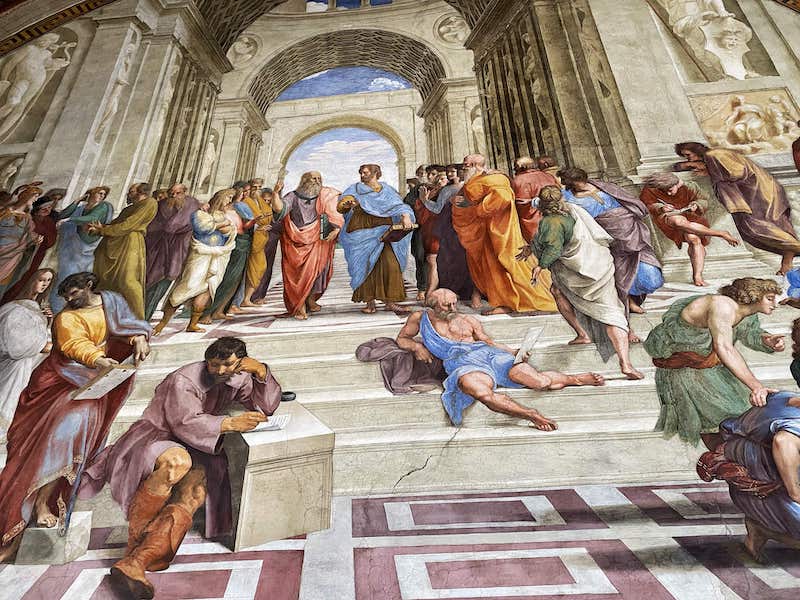 Where To See The Works Of Raphael In Rome
The Raphael Rooms
While Michelangelo was busy painting the Sistine Chapel, Raphael was commissioned to decorate the Papal library. It was 1508 and he was in his mid 20s – it was an enormous commission for the young artist to take on. Pope Julius II wanted to cover up the frescoes commissioned by the previous Pope with something even grander, and Raphael was the man for the job.
Running east to west, the rooms consist of the Hall of Constantine, the Room of Heliodorus, the Room of Segnatura, and the Room of the Fire in Borgo and they definitely are the main masterpiece of Raphael in Rome.
The first to be painted was La Stanza della Segnatura, intended to be the Pope's library. Raphael employed themes of theology, philosophy and poetic arts, showing a harmony between Christian teachings and Greek wisdom through his frescoes. It's a magnificent room.
Then there's the Sala di Constantino, which is the largest of the rooms and dedicated to the victory of Christianity over Paganism. Though Raphael designed the rooms, he didn't actually work on them himself. He had died by the time they were completed, and they were completed by his workshop instead (possibly why this is the least famous room).
Stanza di Eliodoro was painted between 1511 and 1514. This is a private chamber, thought to be an audience room for the Pope. Four paintings adorn the walls, and including flattering images of the patron Pope Julius II and, following his death, Pope Leo X. It shows a change from the Pope's library, with stylistic differences including more theatrics and tension in the composition.
Last but not least is the Stanza dell'Incendio del Borgo. This was a music room for Pope Leo X, and depicts Pope Leo IV miraculously extinguishing a fire in Borgo – a district of Rome – by making the sign of the cross.
The Raphael Rooms are located in the Vatican and can be visited on a tour of the Vatican Museums, which are open from Monday to Saturday, and each last Sunday of the month. Book a time slot for your visit and get tickets in advance here.
The Pinacoteca in the Vatican Museums
In the Pinacoteca (or Gallery) of the Vatican Museums, you can find some of Raphael's most famous paintings, including The Crowning of the Virgin (1503), Madonna di Foligno (1511), The Transfiguration (1520).
The Transfiguration was intended as an altarpiece, but is perhaps most well known for being Raphael's final painting. Painted in 1520, it marks the peak of the artist's skills just before his untimely death.
Another altarpiece is the Madonna di Foligno, which dates to 1511. It was initially painted on a wood panel but then painstakingly transferred onto a canvas. The painting depicts holy figures in conversation, with the Virgin Mary seated on a cloud holding the baby Jesus.
Finally, there's the Crowning of the Virgin. One of Raphael's earlier paintings (being painted in 1503), this was another altarpiece; it depicts the crowning of the Virgin Mary by Jesus while surrounded by angels playing music. Below, apostles look skyward as they stand around the Tomb of Mary.
The Vatican Museums are open Monday to Saturday, and each last Sunday of the month, Book a time slot for your visit and get tickets in advance here.
Villa Farnesina
The Renaissance residence of Villa Farnesina, located in the Trastevere district of Rome, is an incredible mansion built between 1505 and 1511.
It's a majestic structure that remains as a testament to the Renaissance artists of Rome, and touring the villa reveals rich frescoes from prominent artists of the time, including Raphael, of course. This is where you can see the Loggia of Galatea, the Loggia of Cupid and Psyche.
The Loggia of Galatea is a good place to start. Not only did Raphael work on this exquisite decoration, but a combination of other artists helped to finish the job. Raphael specifically painted the figure of Galatea – an elegant nymph appearing among sea creatures, and fleeing from her admirer on a shell drawn by dolphins.
Designed by Raphael, the Loggia of Cupid and Psyche was painted by the artist and his workshop in 1518. The loggia was used for theatrical performances, and so Raphael created a space fit for the occasion, in which mythical figures feast around a table in the clouds, festooned with greenery and floral decorations.
Villa Farnesina is located in Via della Lungara 230, in Trastevere. It's open daily and there is a fee to visit. For guided tours, click here.
Galleria Borghese
For more works of Raphael in Rome, head to Galleria Borghese, an art gallery situated in the elegant mansion at Villa Borghese. The gallery is home to a collection of sculptures (many of which of Bernini), paintings and antiques from through the ages.
Among them is Raphael's Deposition of Christ, an oil painting originally commissioned Atalanta Baglioni of Perugia to be a central altarpiece in the family church in commemoration of her son.
Interestingly for a popular theme of artists of the day, Raphael's version of the Deposition of Christ depicts neither the Deposition nor the Entombment of Christ, but the process of moving him between the two. In the painting, he is surrounded by his followers; Mary Magdalene holds the hand of Christ; and there is much use of bold reds, yellows and greens.
There are also two other pieces by Raphael at the Galleria Borghese. The Portrait of a Man is one of his early works (1503), and simply depicts what it says: a male sitting for a portrait. The second, a more punchy painting, is Portrait of a Young Woman with Unicorn.
This bold, colourful painting depicts a young woman with blue eyes in a red robe, sitting on a backdrop of bright blue skies, holding what seems to be a baby unicorn. It is thought to have been inspired by the Mona Lisa.
Strangely, this unicorn was only revealed during restoration work in 1934; before that, she was holding a cloak, a wheel and a palm frond, which appeared to have been added by an unknown artist in the mid 17th century.
Borghese Gallery is open from Tuesday to Sunday. Make sure to book your time-slot and get tickets in advance here. For a guided tour, click here.
Check out my post A Guide To Borghese Gallery.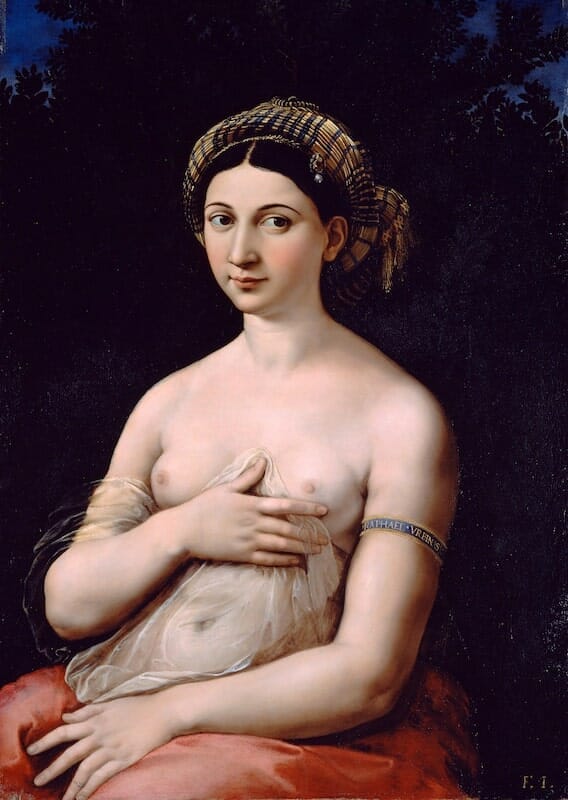 Palazzo Barberini
As part of the Galleria Nazionale d'Arte Antica, the 17th-century Palazzo Barberini houses many masterpieces. One of these is La Fornarina, painted by Raphael in the final years of his life. It's thought to depict Margherita Luti, a daughter of a Trastevere baker who was Raphael's muse and mistress.
It's widely considered that the painting was not a commission, but instead a personal painting by Raphael, and was (probably) found in his studio at the time of his death in 1520.
Holding her hands in a gesture of modesty, and with other symbols of the goddess of Love, the painting is thought to represent Luti as the Roman deity Venus. Her bracelet is inscribed with the words "Raphael Urbinas".
Palazzo Barberini is open from Tuesday to Sunday. Get tickets in advance here.
Church of Sant'Agostino
At the Church of Sant'Agostino you'll find another important work by Raphael, as well as pieces by other prominent artists of the time. Raphael's painting, The Prophet Isaiah, was painted between 1511 and 1512, and was clearly influenced by figures on Michelangelo's Sistine Chapel ceiling.
Raphael's depiction of Isaiah is so lifelike and three-dimensional, that it almost seems as if you could reach out and touch the figure. Various objects in the painting tell the story of Isaiah, with the prophet holding a scroll that foretells the birth of Christ, and a message to St Anne.
The similarity to Michelangelo's work is so great that it has even been suggested that Michelangelo possibly hired Raphael to work on his Sistine Chapel frescoes – particularly the figure of Ezekiel.
The church is located in Piazza Sant'Agostino; it is open daily from 7:30 am to 12:00 pm and from 4:00 to 7:30 pm.
Raphael's Tomb in the Pantheon
To round up your journey discovering the life and works of Raphael in Rome, a visit to his final resting place in the Pantheon seems appropriate. Here is where the great artist was laid to rest just over 500 years ago.
Raphael's grand tomb includes various engravings and an inscription by his friend Pietro Bembo. It was opened on September 14, 1833, to ascertain whether it was really Raphael who was interred there. During museum closures in 2020-2021, work took place to reexamine the tomb digitally and clean various elements of the tomb, so now it looks almost as good as new!
The Pantheon is open daily from 9:00 am to 7:00 pm. There is a small admission fee to visit.
Pin It For Later!