If you've come across my site before, you should have seen that Bernini is pretty much mentioned in most of my posts, and I often refer to him as "Rome's favorite artist."
Known as the "animator of marble," Bernini's sculptures are intense, dramatic and in their own way full of life and movement. It's not hard to find Bernini in Rome – his legacy is found in many squares, fountains, churches and in the best museums in Rome. If you are visiting the Eternal City, you should not miss the chance of seeing some of his masterpieces!
Before discovering where to see Bernini in Rome, let's however find out more about this incredible prolific artist.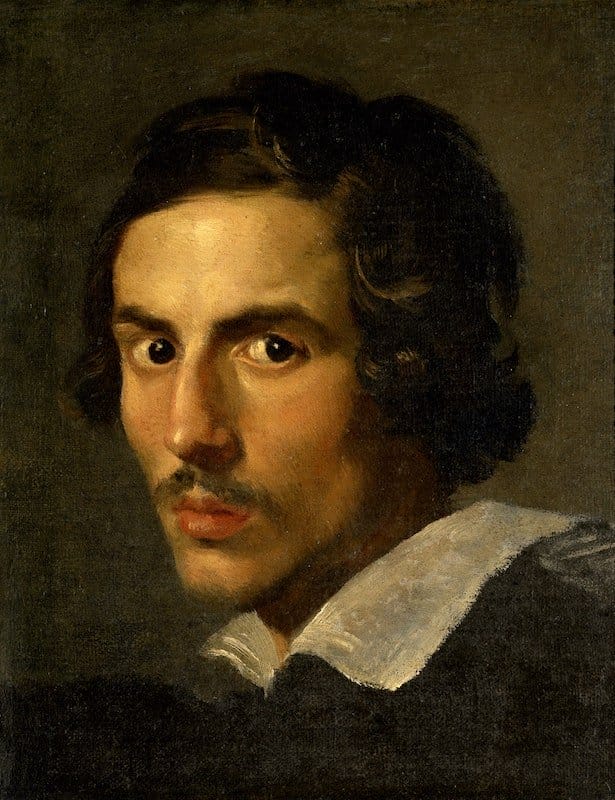 Who Was Bernini?
Gian Lorenzo Bernini was an extremely influential sculptor and architect. Born in Naples in 1598, he died in Rome, where he spent most of his life, in 1680, aged 81.
He's arguably one of the greatest sculptors of his era. In fact, Bernini is credited with having started a whole new style of art: Baroque, which literally means "irregularly shaped." This flamboyant style inspired many artists since, with Baroque buildings and pieces of art found all over Europe, and the world.
Bernini may be better known for his architecture, and also his furniture designing skills, but he was also an artist in his own right. Not only did he paint, however, he also wrote, directed and acted in plays. In fact, Bernini has been compared to Shakespeare in terms of his influence.
Hailed as a successor to Michaelangelo, Bernini was not only well trained, but he was also wildly talented. The sixth of 13 children, his father (Pietro) was also a sculptor who noticed and nurtured Bernini's talent which he displayed at as early as eight years old. It was then Pope Paul V who said, "he will be the Michaelangelo of his age."
That wasn't the last connection with the Vatican. His father received a Papal commission in 1606, and the Bernini family moved to Rome. Father and son collaborated on some works, and news of the young boy's talent spread throughout the city.
This news reached Cardinal Scipione Borghese, the nephew of Pope Paul V. He presented young Bernini to his uncle. Bernini did a quick sketch of Saint Paul for the Pope, who was wowed by his skill. Thus began Bernini's papal patronage.
Rome soon became Bernini's city. He rarely left and didn't want to either. Later, Pope Urban VIII of the Barberini family said to Bernini, "you are made for Rome, and Rome for you." His love for the city and connection to the Papacy was a defining factor in Bernini's success and even the symbols and styles used in his works.
However, you shouldn't think that Bernini was just an instrument of the Catholic church: he was a creative talent in his own right. He would go on to create countless masterpieces, both public architecture, private homes and works of art, forging his new Baroque style as he went.
If you are traveling to Rome, you will come across many pieces by Bernini – either willingly or without realizing it. Let's thus discover where to find Bernini in Rome.
The Best Places To See The Works Of Bernini In Rome
Being such an influential figure in Rome's art and architecture, it's easy to spot Bernini in Rome: his works can be found scattered throughout the Italian capital. Here are some of the most famous places where you can see Bernini's art in real life in Rome…
Capitoline Museums
The Capitoline Museums are positively packed with masterpieces of the ancient, medieval and Renaissance world. Spread over three main buildings set around the Piazza del Campidoglio, the museums showcase the art world in Rome as it has developed over the centuries.
There's the 12th-century Palazzo Senatorio, the Palazzo dei Conservatori (16th century; redesigned by Michaelangelo), and the 17th-century Palazzo Nuovo. There's a 20th-century addition, too – the Palazzo Caffarelli-Clementino.
Being as filled with masterpieces as they are, of course there are some works by Bernini to spot here, too. In fact, one of the most famous depictions of Medusa – the serpent-headed Gorgon of Greek myth – was sculpted in marble by Bernini himself.
Medusa's power is that she can turn anyone to stone who looks at her in the eye – Bernini's interesting rendition shows Medusa's origin story, her hair slowly turning to snakes.
Get tickets in advance here.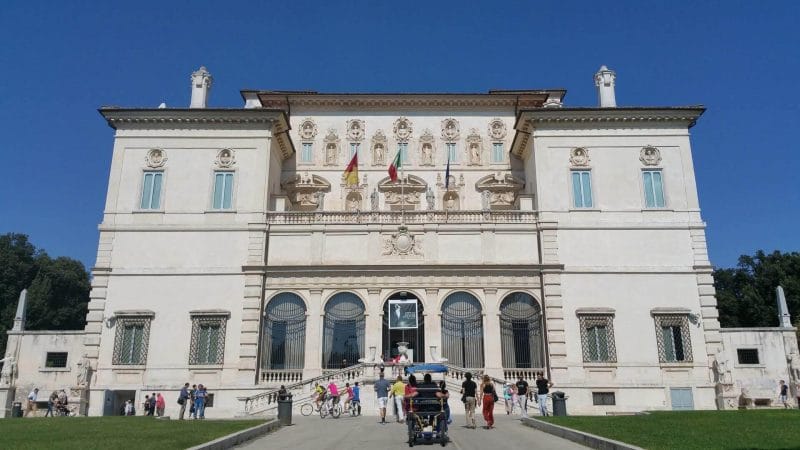 Borghese Gallery
Now an art gallery, the Galleria Borghese was once the Villa Borghese Pinciana. Commissioned by Scipione Borghese, and built by architect Flaminio Ponzio, the villa was used to host parties – and his growing art collection.
As Borghese was a patron of Bernini's, many of the works to be found here are actually by Bernini and this is one of the best places to see Bernini in Rome. There are other artists represented here, too, including Caravaggio.
The collection is spread across 20 rooms, with many of the Bernini sculptures on display still in the spaces where they were originally intended to be.
These include Apollo and Daphne (1622-5), David (1623) and the Rape of Proserpine (1621-2) – all seminal Baroque pieces. Here you'll also find Bernini's earliest known work – the Goat Amalthea with the Infant Jupiter and a Faun (1615).
Get tickets in advance here. For a guided tour, click here.
Make sure to read my post A Guide To Borghese Gallery.
Piazza Barberini
One of Rome's large city squares, Piazza Barberini is situated in the Centro Storico – the historic center of the city. The piazza dates back to the 16th century, and it was named after the Barberini family in 1625 after they commissioned the creation of the square as it is today. It's also home to the sizeable Palazzo Barberini, which is situated on the south side of the piazza.
At its center is another of Bernini's landmark creations: the Triton Fountain. This 17th-century fountain, commissioned by Pope Urban VIII, depicts a muscular Triton – Greek god of the sea – kneeling on dolphins with a conch shell raised to his lips (which is where the water comes from).
Nearby is another of Bernini's works: the Fontana delle Api, or Fountain of the Bees. Bees were the symbol of the Barberini family, which Bernini has made full use of at this compact fountain.
Ponte Sant'Angelo
One of the most beautiful bridges in Rome, Ponte Sant'Angelo is the one leading to Castel Sant'Angelo and it's entirely decorated with statues of angels – each holding an object linked with the passion of the Christ – that were designed by Bernini and actually sculpted by his students. The sculptures were commissioned by Pope Clement IX in 1669 to replace the existing ones.
Two of the statues – The Angel with the Scroll and The Angel with the Crown of Thorns – were sculpted by the artist himself but the pope kept them for his private collections. You can now see them in Sant'Andrea delle Fratte Church. The ones on the bridge are copies of the originals.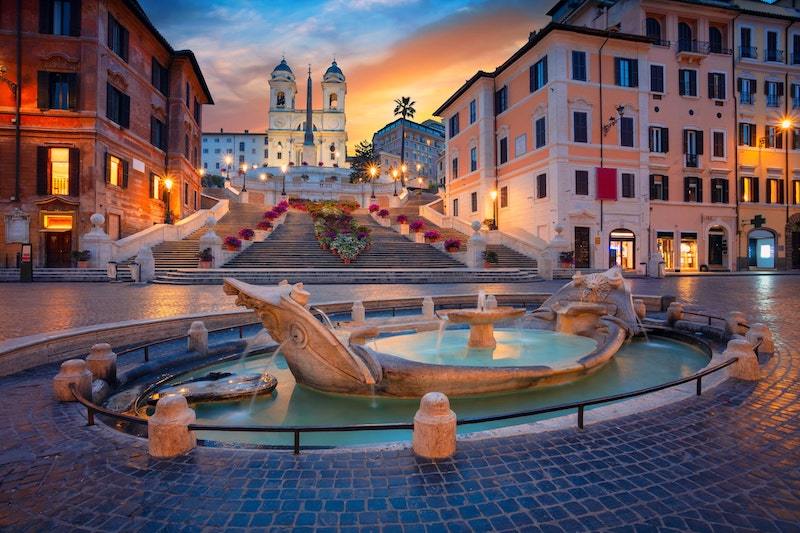 Spanish Steps
The iconic meeting point of the Spanish Steps connect the Piazza di Spagna and the Piazza Trinità dei Monti. Comprising 135 steps in total, this famous staircase was built between 1723 and 1725. While this may be well after Bernini's time, at the foot of the steps lies one of his most theatrical fountains – Fontana della Barcaccia, thought to be one of the most famous fountains in Rome.
Translating to "Fountain of the Longboat" (for good reason), it was completed in 1629. However, it wasn't actually built by Bernini by himself, as his father Pietro Bernini was the one who was commissioned to build it. It's thought, however, that Gian Lorezno also helped to create this Baroque masterpiece.
Palazzo di Spagna
At the bottom of the Spanish Steps is the Palazzo di Spagna. Situated in the piazza of the same name, this Baroque palace is home to the Spanish Embassy to the Vatican City, and it has been since 1647 making it the oldest embassy in the world.
Among the many sculptures that grace its halls are a pair of busts sculpted by Bernini in 1619: the Blessed Soul and the Damned Soul. The Blessed Soul (1690) depicts happiness and sweetness, while the Damned Soul shows pain and suffering.
Piazza Navona
Built on the site of the Stadium of Domitian (1st century AD), the Piazza Navona follows the outline of the ancient arena. There are numerous works by Bernini to be found here, including the Fontana dei Quattro Fiumi ("Fountain of the Four Rivers").
It's an impressive fountain depicting four river gods emerging from the basin, atop which there is a replica of an Egyptian obelisk. Each of the gods represent four major rivers of the known world back then – the Nile, the Danube, the Ganges and the Rio de la Plata.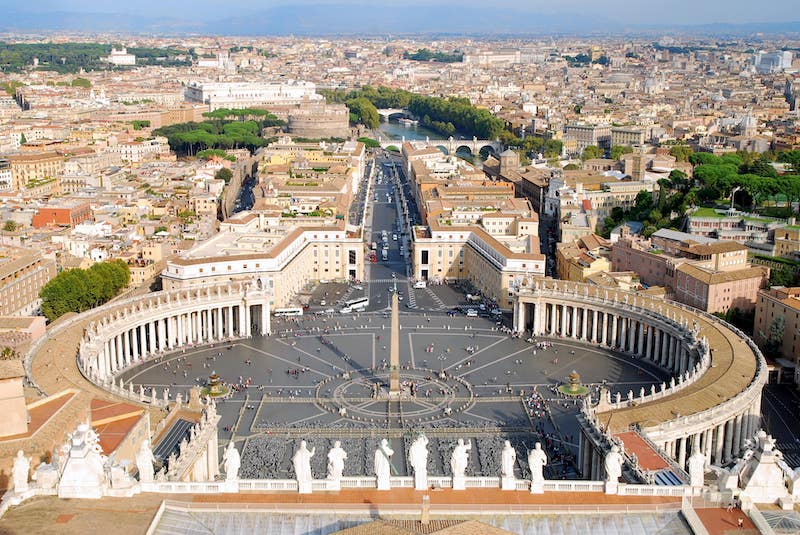 St. Peter's Square
A world-famous landmark in the Vatican City, and in fact, one of the most famous places to visit in Rome, this sizeable plaza – with room to fit thousands of worshipers – is dominated by St Peter's Basilica. Perhaps his largest claim to fame, the square was in fact designed by none other than Bernini himself.
Commissioned by Pope Alexander VII, Bernini undertook this work between 1656 and 1667, creating a vast space so that large crowds could see the pope give his blessing.
In fitting with its epic scale, it features enormous Doric colonnades skirting the open space, a large, ornate fountain, and boasts an ancient Egyptian obelisk at its center (Bernini designed around this).
St. Peter's Basilica
This Renaissance style church, situated within the Vatican City, overlooks the large St Peter's Square. It was designed by a string of renowned artists and architects, including Gian Lorenzo Bernini.
St Peter's Basilica is the largest church in the entire world, and (according to Catholic tradition) it was built over the burial site of Saint Peter himself.
Bernini's additions include a canopy over the altar, niches, towers and loggias. His final work for the basilica was the Chapel of the Sacrament – built to house the sacramental host, and marking St Peter's place of death – undertaken in 1676.
Doria Pamphilj Gallery
This impressive gallery is situated in the Palazzo Doria Pamphilj. Still privately owned by the aristocratic Doria Pamphilj family, and housing their large art collection, visitors can take tours of the state rooms and soak up the rich collection, gathered since the 16th century.
Much of the collection is made up of paintings and furnishings accrued by Pope Innocent X. Among these works of art is a marble bust of the pope himself, created by Bernini, of course. It's a realistic, detailed display of Bernini's masterful techniques, and it was created around 1650.
Tickets to Galleria Doria Pamphilj can be bought here.
Head over to my post A Guide To Visiting Doria Pamphilj Gallery.
Santa Maria della Vittoria Church
For one of the most beautiful works of Bernini in Rome, head to the Basilica Santa Maria della Vittoria, a fairly major Baroque church in itself. However, it is actually more famed for being home to one of Bernini's undisputed masterpieces: The Ecstasy of Saint Teresa.
It depicts a moment when Saint Teresa of Avila had a vision of her heart being pierced by a heavenly being and felt both joy and pain.
Bernini's realistic reimagining of this moment is a masterpiece of high Roman Baroque, complete with sexual overtones – an aspect that wasn't depicted in any artistic impression of Saint Teresa before or after.
Santa Maria Sopra Minerva Church
This 13th-century basilica is an impressive historic spot in itself, but of course, there is Bernini to be found here, too. This one (the last commission from Pope Alexander VII given to Bernini) is a particularly curious monument: Pulcino della Minerva.
Designed by Bernini in 1667, this sculpture depicts an elephant with an obelisk on its back. Bernini didn't create the obelisk – this is, in fact, one of nine ancient Egyptian obelisks that made their way to Rome in the 1st century AD.
On the side, a Latin inscription reads: "Let any beholder of the carved images of the wisdom of Egypt on the obelisk carried by the elephant, the strongest of beasts, realise that it takes a robust mind to carry solid wisdom."
Basilica of Sant'Andrea delle Fratte
This 17th-century basilica is dedicated to Saint Andrew, and it sits atop an older site that dates back to 1192. It's here that you'll find one of Bernini's most famous works – his angels.
In the presbytery (a part of the church reserved for the clergy) are the dual sculptures that make up Bernini's masterpieces. There's the Angel with Crown of Thorns and the Angel with the Scroll both created in the late 1660s.
They were at first intended for the Ponte Sant'Angelo but were considered "too valuable" by Pope Clement IX, and they were moved to their present location with copies left in their place on the bridge.
Chigi Chapel in Santa Maria del Popolo Church
Also known as the Chapel of the Madonna of Loreto, this chapel was completed in 1661 as an addition to the Basilica of Santa Maria del Popolo, one of the most impressive churches in Rome. This stunning religious building is home to an array of Renaissance and Baroque artwork.
However, it's not only in the pieces of art you'll find in the church that you'll spot Bernini's hand – it's in the building itself. Though originally built by Raphael, it was Bernini who carried out important changes to the structure of the chapel finishing pyramids, enlarging the windows and laying the present floor.
Two statues by Bernini occupy niches here – Daniel and the Lion (1655-7) and Habakkuk and the Angel (1656-61).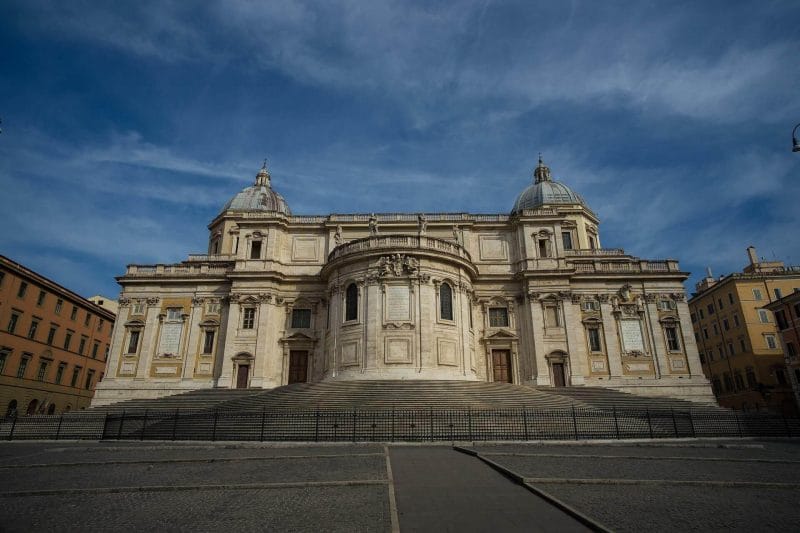 Santa Maria Maggiore Church
This sprawling Papal basilica is perhaps the most poignant place connected with Bernini. That's because Santa Maria Maggiore is the famed sculptor's final resting place. The tomb of Bernini and his family can be found just outside the Sistine Chapel.
Inside, evidence of Bernini's work can also be seen, further pointing to his role in the Catholic church. Here you'll find Saint Cajetan holding the Holy Child, a sculpture at a baptismal font as well as a hidden spiral staircase designed by none other than Bernini himself.
The 17th-century staircase, leading to the residential apartment attached to the basilica, survives to this day, and it can be seen on a tour of the Vatican.
Pin It For Later!