With all the things to do in Indonesia, I am surprised that most people who visit Indonesia usually go straight to Bali and skip other beautiful attractions located in other parts of the country. This is a real pity.
I have been lucky enough to visit Java, the Komodo Islands and Bali and I can confidently say that there are many more things to do in Indonesia; there are way better places to visit in Indonesia other than Bali. In fact, I think that Bali is actually overrated, both in general terms but especially compared to the rest of the country, which has a lot more to offer in terms of natural and man-made attractions.
Read more about what I think about Bali on my post "Has Bali Lost its Magic?"
The range of things to do in Indonesia is incredible. From interesting and lively cities such as Yogyakarta to small villages where the pace of life is slower; from the pristine beaches and waters of the Komodo Islands to the volcanoes of the ring of fire; from the thick jungle to the dry landscapes; from the traditional dances to the delicious cuisine there are many beautiful places to visit in Indonesia.
But before pointing out the many fun activities, here are a few facts that can help prepare a trip to Indonesia.
Essential Information To Organize A Trip To Indonesia
Deciding when to visit Indonesia
The temperatures in Indonesia vary little throughout the year. Unless in the mountainous regions, the weather in Indonesia it is always hot, at times unbearably so. There are two seasons: the dry season and the rainy season.
Yet, the climate changes have been such that the rainy season, which normally starts in October, is being pushed increasingly forward. Deciding when to visit Indonesia is thus rather easy: any time is good to go, but prices are significantly cheaper during the low season (which corresponds to the rainy season).
Arrival
People who visit Indonesia usually travel there by plane. Those who hold a valid passport from one of the European Union countries as well as the United States normally receive a 30 days visa which can be easily renewed. Upon entering Indonesia visitors are also generally required to show proof of onward travel – such as a plane ticket that proves they are leaving the country. I also advise to purchase travel insurance before traveling. You can get yours here.
Currency
The Indonesian currency is the Indonesian Rupiah (IDR). At the moment of writing, $1.00 USD is worth 14,000 IDR. The exchange rate is usually very convenient, which means that those who visit Indonesia generally find it more than affordable.
Safety
Despite what the media may say, people who visit Indonesia find it to be a safe country. I encountered no problems whatsoever as a western female traveler, and I must say that, other than finding crossing the street very challenging due to the terrible traffic, I did not perceive any danger. People were always kind, helpful, and friendly beyond belief.
The worst that can happen is finding some very persistent vendors or taxi drivers. In this case, one of the recommended things to do in Indonesia is saying a straightforward no or just ignore. I used minimum precaution in crowded places, just as I would do anywhere else in the world.
Transportation
The most common means of transportation in Indonesia is the bus. The quality varies depending on the price paid – more expensive buses are very comfortable, with fully reclining seats and air conditioning.
Taxis are everywhere and easily available, as well as motorbike taxis. They are fairly convenient, but it is important to negotiate the fare (as with almost everything, haggling is one of the things to do in Indonesia) before actually jumping on, as the tendency is that of charging travelers much more than they ought to be. Traffic in cities is so congested that at times I found walking would actually be faster, anyways.
Eating and drinking
One of the things to do in Indonesia is eating. The food is varied and generally quite tasty (not to mention very spicy!). White sticky rice and tofu or tempeh accompany almost every meal. My favorite thing to eat was by far gado gado, a salad made with bean sprouts, cabbage, tempeh and tofu, boiled eggs and seasoned with a delicious and mildly spicy peanut dressing.
Chicken satay (skewers of chicken meat grilled and accompanied with peanut sauce) is delicious. I also enjoyed nasi goreng, a dish of rice fried with vegetables, chicken, shrimps and served with a fried egg on top.
One thing that surprised me a bit during my first meal is that only fork and spoon are used to eat – knives are only used when eating western style food. Indonesians will generally hold the fork with the left hand and use their right hand to hold the spoon, with which they chop the (very soft) meat and then scoop that with some rice.
As a country where the majority of people are Muslim (yet, very liberal), Indonesian hardly drink alcohol during their meals. The most famous local beer is Bintang, which is quite flavorful. One of the things to do in Indonesia is enjoying a sunset Bintang to cool off after a day of exploration!
Shopping
With its convenient exchange rates and the incredible markets full of beautiful fabrics and crafts, Indonesia is a shopping paradise. Markets are among the best places to visit in Indonesia – they are so full of colors and scents, packed with interesting looking people, and a good way to see a bit of local action too. Not to mention, shopping is one of the things to do in Indonesia. Don't forget to haggle!
Toilets
Some public toilets require a small fee to be used. Toilet paper is generally available but it is good practice to carry some. Toilets are generally clean, although often flooded as it is common to have what to me seemed like small tubs with a bucket which is used to flush the toilet. In the less touristy regions the squat toilets are very common.
Fun And Interesting Things To Do In Indonesia (Other Than Visiting Bali)
Indonesia is a huge country and it would require a few months to explore it properly. There are many places to visit in Indonesia, but some are simply unmissable. Here are some of Indonesia tourist attractions that can't be missed.
Visit Bandung and its surroundings
The fourth largest city of Indonesia, and capital of West Java, Bandung was once considered the Paris of Java. However, the uncontrolled development has turned it into a chaotic web of small streets and big suburbs. Yet, I find that visiting is one of the things to do in Indonesia. Bandung is indeed a great starting point for visiting some of Indonesia tourist attractions, and it has a restaurant scene that shouldn't be ignored.
Here are the best places to stay in Bandung:
Go to the volcanoes around Bandung
One of the unmissable things to do in Indonesia is visiting the various volcanoes and craters that are scattered around the country. At about 30 km north of Bandung, Tangkuban Perahu is the huge crater of an active volcano that last erupted in 1969. It is still possible to see smoke coming out of it (and to smell the typical sulphur gases).
Known as the "upside down perahu (boat)", its shape is due to the fact that its walls collapsed under the weight of the ashes.
Although the first part of the crater line is literally invaded by vendors and their stalls, it is possible to walk around the entire crater (the walk lasts about two hours) and to get splendid views of it. In fact, it is so impressive that I find it to be one of the places to visit in Indonesia.
South of Bandung there is Kawah Putih, another of the places to visit in Indonesia. This is a beautiful crater, located at around 2300 meters above sea level. Although the crater is smaller than that of Tangkuban Perahu, in this case there is a gorgeous green lake in it, and the landscape is a bit surreal yet very beautiful.
Get involved in the cultural activities in Bandung
One of the things to do in Indonesia is learning about its diversity. A great way to do that is by experiencing the Saung Angklung Udjo show in Bandung. Mostly geared to tourists, this show is actually a lot of fun to watch and to take part in.
The director, Mr Udjo, has made it a point in teaching the children and teenagers that attend the school the importance of protecting their cultural heritage, whatever that is, and to always be proud of it and to respect each other.
The students take part in the show, and turn it into a great experience. The first part is dedicated to showcasing the various traditional dances, costumes and cultures of Indonesia (in a show full of color and rhythm).
The second part is more interactive: members of the public are given an angklung, which is a bamboo instruments that, shaken, produces varying sounds. The director of the school then directs the public into playing it, and the final result is that of an orchestra.
I found it very entertaining, and for sure I would say that Saung Angklung Udjo school is one of the places to visit in Indonesia.
Discover the great restaurant scene of Bandung
I am not what people would call a foodie, but there is no doubt that one of the things to do in Indonesia is trying its interesting food. The surroundings of Bandung are packed with great restaurants. The fantastic locations and settings and the amazing food make the experience an overall great one.
Among my favorite restaurants in the area there is Dusun Bambu, which is located on gorgeous hills and is a favorite of locals who crowd it at weekends not only for the delicious food but also for the amusement park on the ground – it is in and of itself one of Indonesia tourist attractions and a good place to spot some local life.
Another great restaurant is The Peak – the perfect location for a special night out with its fine dining, great live music, fantastic views and huge choice of wines.
Finally, Kampung Daun is simply outstanding: surrounded by a luscious jungle and bamboo forest, there are small huts that serve as eating platforms, each completely surrounded by nature. The overall impression is that of a very relaxed place, and the food is delicious.
Go to Borobudur
Among the ultimate things to do in Indonesia, visiting Borobudur (a short distance from Magelang) deserves a special mention. This is the world's biggest Buddhist monument, built in the 9th century and located in a gorgeous setting of hills covered in rice fields and palm trees swept by the wind.
It is little wonder this gorgeous monument is considered to be one of the most amazing Indonesia tourist attractions and that it is a UNESCO World Heritage Site.
A first taste of Borobudur can actually be enjoyed from the incredible Amanjiwo, a luxury hotel in the Menoreh Hills near Magelang that offers great views of the temple and that also has a fantastic restaurant. For as expensive as it may be, if having some money to spare, eating or spending a few nights in Amanjiwo is one of the things to do in Indonesia.
As nice as seeing Borobudur from afar is, I still think that one of the most amazing things to do in Indonesia is actually admiring the sunrise from Borobudur. This implies a very early wake up call to get to the site when it is still dark, and then waiting until the sun finally rises. For as tiring as it may be, the incredible view is worth every effort. Doing a sunrise tour of Borobudur is one of the best things to do in Indonesia.
These are the best tours of Borobudur:
And these are the best places to stay in Magelang:
Go on a day trip to Kaliurang and visit Ullent Sentalu Museum
At about 25 km north of Yogyakarta, Kaliurang is a popular weekend destination and one of the most pleasant places to visit in Indonesia thanks to its lovely climate. Indeed it is located at 900 meters above sea level and the temperatures are much milder than in the nearby Yogyakarta.
In Kaliurang, the Ullen Sentalu Museum is a pleasant surprise and deserves to be mentioned among Indonesia tourist attractions. The museum is a celebration of Javanese culture and its interesting exhibit is mostly focussed on the most influential and famous women of Java and in particular on the wives of sultans.
Explore Yogyakarta
Considered to be the soul of Indonesia and its cultural and artistic centre, Yogyakarta is the most interesting city in the country and thus visiting is one of the ultimate things to do in Indonesia.
This lively, fun city is a great mixture of modern life – imagine traffic jams, scooters zipping about, advertising boards, fast food chains and posh restaurants – and expressions of ancient cultures such as the production of batik, unique rituals and traditional music.
Not to mention, Yogyakarta is also a great starting point to visit a lot of other places in Indonesia, such as the temples of Prambanan and Borobudur.
Yet, what I loved the most about Yogyakarta are the great positive vibes it sends to its visitors: people are friendly beyond imagination, the city is welcoming, the range of things to do in Yogyakarta incredible. It is not surprising that those who visit Indonesia – myself included – end up falling in love with Yogyakarta.
These are some of the best tours in and from Yogyakarta:
And these are the best places to stay in Yogyakarta:
Discover Yogykarta history and culture
One of the things to do in Indonesia is uncovering its interesting history. Yogyakarta is one of the places to visit in Indonesia just for this purpose. Paying a visit to the Royal Palace and the Water Palace are both things to do in Yogyakarta.
These historic complexes are an oasis of peace from the chaos of the city, with their tiny alleys to wander around, artists parlours, mosques, schools and markets. Life is slower there.
The Kraton, or Royal Palace, is the giant sultans' palace of Yogyakarta and the heart of the fortified city. The innermost parts were built between 1755 and 1756 and the current sultan of Yogyakarta still lives there. Aside from the beautifully furnished buildings and great exhibits on the lives of the sultans, here it is possible to observe some of the most ancient traditions of Java.
Attendants pass on their profession to their sons. They wear the traditional javanese costumes and and take care of the palace. Another one of the things to do in Indonesia that can be enjoyed in Yogyakarta is attending a gamelan (traditional instrument) concert at the Royal Palace.
The Taman Sari, or Water Palace, is a beautiful park with palaces, pools and canals that was once used by the sultans, his wives and his court to entertain themselves. It is a pleasant place to walk around and therefore paying a visit is one of the things to do in Indonesia.
Do a workshop in traditional crafts
One of the things to do in Indonesia is taking part in workshops to learn its traditional crafts. Kota Gede is a district of Yogyakarta which is famous for its silver factories. I had the opportunity to visit and observe the art and technique in making silver jewelry.
However, I fully appreciate how difficult a job that is when I was given all the necessary equipment and invited to decorate a brooch myself. I was quite hopeless at that – yet, I must say that among the things to do in Yogyakarta this one was a lot of fun.
Learning how to make batik and… shopping!
One of the things to do in Indonesia is shopping for batik. There is no better place than Yogyakarta to do that: it is shopping paradise!
Yet, another of the things to do in Indonesia is actually learning how to make batik: there are several workshops where it is possible to observe the batik making process and where patient teachers will try to pass on some of their incredible skills to their visitors.
I gave it a try myself, but holding that hot wax pen and drawing on a piece of fabric was no easy task (although a lot of fun!).
Speaking of shopping, one of the things to do in Yogyakarta is going on a walk along Jl Malioboro, a shopping street packed with souvenir shops as well as clothing stores, although the most interesting thing is actually observing the very busy local life and befriending the lovely locals who gladly pose for pictures.
Visiting the archeological sites of Kraton Ratu Boko and Prambanan
As I have already said, Yogyakarta is a perfect starting point to explore some of the archeological sites and temples nearby. One of the things to do in Indonesia is visiting the many unique archeological sites.
Kraton Ratu Boko is not far from Yogyakarta. It is divided in various levels or terraces and whose exact functions are still uncertain. Walking around there is very pleasant, despite the heat!
Prambanan – a UNESCO World Heritage Site since 1991 – is a fascinating site, not to mention the largest Hindu temple in Java, and visiting is one of the things to do in Indonesia.
The overall site is quite spread out in a beautiful park where it is pleasant to go for a stroll. Yet the main attractions are the eight central buildings. The best time to do a tour of Prambanan is right before sunset, when the light makes the temples glow.
The best sunset views can actually be caught a bit far off from the central structure.
Admire Prambanan at night
Yet, seeing Prambanan at night is one of the nicest things to do in Indonesia! This amazing view can be enjoyed at its best from the nearby restaurant which, although mostly geared to tourists, has really tasty food.
Attend a show in Yogyakarta
Among the interesting things to do in Indonesia there is seeing the Ramayana Ballet Show and there is no better place to do it than Yogyakarta. This takes place in an open air theatre right next to the Prambanan temple and its lasts around two hours.
The pace of the show is quite slow, but the choreography and the special effects incredible. My best advice is to actually read the Ramayana story before attending the show, so to get a better understanding of the developments and to appreciate the show fully.
Watch the sun rise over Mount Bromo
Considered one of the bucket list destinations of Java, Mount Bromo definitely is one of the places to visit in Indonesia. Part of the Bromo Tengger National Park, this spectacular volcano may not be the highest one compared to others nearby, yet it is the most impressive one. Seeing the sunrise on Mount Bromo is one of the things to do in Indonesia.
These are the best tours of Mount Bromo:
And these are the best places to stay in the vicinity of Mount Bromo:
However, for as gorgeous as it is, Mount Bromo is seriously mismanaged and receives many more tourists than it can accommodate, thus often turning the experience of visiting into an unpleasant one – this is what happened to me.
My recommendation is to plan to visit Mount Bromo on week days to avoid the masses of tourists that go during the weekend. It is also important to pick a good tour operator and guide that work in a responsible way that is respectful to the environment, the people and the animals such as the horses that work on the site.
Hike to the crater of Mount Bromo
After seeing the sun rise over Mount Bromo, one of the nicest things to do in Indonesia is hiking all the way to the crater. In order to do that, it's necessary to drive through the sea of sand and then walk up for another hour or so.
Longer hikes can also be organized. Once again, let me stress the importance of not riding the horses to the crater, and to only employ responsible tour operators for guided tours.
For more information on how to organize a trip to Mount Bromo, read my post "Everything You Need To Know To Visit Mount Bromo, Indonesia."
Visit the Komodo Islands
One of the top things to do in Indonesia and visiting the Komodo Islands. These are the most incredible places to visit in Indonesia, and they are simply unmissable. I must admit that the Komodo Islands were indeed the highlight of my trip, I thought I had found heaven on earth and I would have gladly spent a bit more time there.
Compared to the rest of the country, these islands felt way quieter. There are less people living there, and this means that the traffic is not nearly as bad as in the rest of the country; and the pollution levels are significantly lower.
These are some of the best tours of Komodo Islands:
There are some excellent accommodation options in Labuan Bajo. These are some of the best places to stay:
Discover the local culture of Flores Archipelago
One of the best things to do in Indonesia is meeting the locals. Flores is the perfect place to get to know the culture of one of the many ethnic groups that live in Indonesia. In Melo village it is possible to experience a Caci traditional dance performance.
Yet, even a simple walk around the village will allow visitors to meet the friendly local community: everybody is interesting in sharing a bit of their daily life and curious about the visitors.
Volunteer
I have often said that I am not a big fan of voluntourism. Yet, if the organization that employs volunteers is a valid one, and the project is beneficial to the local communities, I am all in favor of it.
I have found that volunteering is one of the things to do in Indonesia, and joining the program of Taman Bacaan Pelangi, an organization that has set up libraries and reading workshops in the Eastern part of Indonesia, including the Komodo Islands, is a highly recommended one. I only spent a few hours at Taman Bacaan Pelangi, and I hold great memories of the experience.
Appreciate Indonesia's unique wildlife and nature
One of the ultimate things to do in Indonesia is enjoying its fantastic wildlife and nature. The Komodo Islands are among the places to visit in Indonesia just for this reason. There live the Komodo dragons, gigantic lizard-like creatures that can be as long as three meters and weight well over 100 kilograms.
They are normally spotted on the Komodo National Park, which is a heavily protected UNESCO site, and since they are actually quite dangerous and known for having attacked humans in the past, the park can only be explored with a ranger.
Hike around Komodo National Park
One of the nicest things to do in Indonesia is hiking around Komodo National Park. There are many trails, but whichever trail one picks, the company of a ranger is required. The difficulty and length of the hiking trails vary, but the views over the bays, the surrounding hills and the sea below are always spectacular.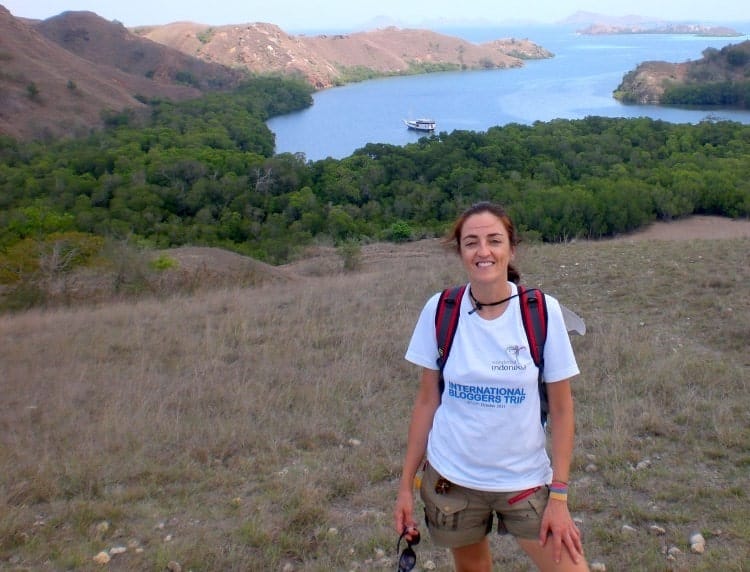 Go to Pink Beach
I am a spoiled girl from Sardinia. I know what beautiful sea and gorgeous beaches are supposed to look like and will hardly find anything that is up to my very high standards. I have to say, Indonesia did not fail to amaze me in this sense and it is for a good reason that one of the more recommended things to do in Indonesia is visiting Pink Beach.
This is a gorgeous, secluded beach in the Komodo Islands where the sand truly is pink and the setting fantastic: hardly any people around, as it can only be reached by boat.
Snorkel
There is no doubt that one of the things to do in Indonesia is snorkeling and, for the most adventurous ones, diving. Such clear waters and the incredible variety of marine life make it an excellent country for both sports, and sure enough I enjoyed it!
Have you been to Indonesia? What were your favorite things to do in Indonesia?
Legal Disclaimer: This article was written in partnership with the Ministry of Tourism of the Republic of Indonesia as part of the #WonderfulIndonesia campaign. All the views and opinions expressed are my own and based on my personal experience. The views expressed are honest and factual without any bias.
Pin It For Later