There are so many things to do in Nicaragua, that you will never be done with it!
Talk to me for a few minutes and it won't take you long to figure out that I am in love with Nicaragua. Known as the land of lakes and volcanoes, to many including myself this is the most interesting and beautiful country in Central America. I have been there 3 times already and crave to go again, for there still are places to discover.
With so many things to do in Nicaragua, you won't have a hard time finding something to suit your interests: beautiful colonial cities; interesting culture and art; a complicated yet fascinating history; very friendly people; lush nature; great wildlife and volcanoes. Besides, Nicaragua beaches are gorgeous and lakes have a magnetic beauty. Corn Island Nicaragua is a slice of untouched Caribbean paradise. Finally, add to this an exchange rate that is very convenient and prices that are very cheap, and Nicaragua becomes the perfect country to visit.
Since I know the country quite well, I thought I'd put together a post to let you know about the places to visit and the things to do in Nicaragua, with tips on Nicaragua best beaches and – needless to say, some useful advice on how to prepare a trip to Nicaragua.
33 Unmissable Things To Do In Nicaragua
Marvel at the colonial Granada
Granada usually is the starting point of a trip across Nicaragua. The city, located at just 1 hour drive from Managua, is one of the most famous Nicaragua tourist attractions, and for a good reason.
The weather in Granada is more pleasant than in other parts of the country because, while incredibly hot during the day, the breeze from Lake Nicaragua (known locally as Lake Cocibolca and through which the Nicaragua Canal should be built) cools it down a bit in the afternoon and evening.
You will fall in love with its architecture and splendor; with its bright colors and cobbled streets and with its slow paced life. This beautiful colonial city will make any photography lover go crazy with its elegance.
Spend a couple of days in Granada, where you should visit the Convento y Museo San Francisco. This is the oldest church in Central America: it was first built in 1585, then burnt to ground by pirates and later by William Walker, rebuilt in 1868 and finally restored in 1989. The blue facade is simply stunning.
The annexed museum, which is accessed through a small door on the right, exhibits a lot of indigenous art as well as a scale model of the city. The view of the lake and the volcanoes from the back patio is also a plus.
Another interesting place to discover is the Iglesia de la Merced, which was also destroyed by pirates and later on by Walker and eventually restored. The church is beautiful, but the best part of it is climbing the tower and enjoying the incredible 360° view of Granada, the surrounding volcanoes and the lake. The best time to access the tower is around 11 am.
The Cathedral of Granada, located in the Parque Central, is what comes to mind when thinking about Nicaragua tourist attractions – it makes for a perfect postcard picture.
On the side of the Cathedral, Calle La Calzada is the main pedestrian street in the city, packed with trendy bars, restaurants, and the best hotel in town (Hotel Darío, which takes its name from the most famous Nicaraguan poet). La calzada is very lively at night, when street artists and vendors populate it. Walking along it, you can get to the lake, about 1 km away from the centre. The view of the city on the way back from the lake is lovely, especially that of the Church of Guadalupe.
At about 9 blocks from the centre, the Old Train Station is a cool place to visit. You will find a few well preserved wagons on display. The station is right in front of Parque de los Poetas, which is dedicated to Nicaragua most important poets.
Finally, the market of Granada is a very lively place, so full of colors and interesting smells, and still very much local. Keep in mind it can get very crowded and there are pickpockets.
Make sure to check out my post "15 Cool Things To Do In Granada Nicaragua."
Where to stay in Granada
As the most touristic destination in the country, Granada caters for any budget. It is packed with upper scale hotels and good hostels. The best hotel in town is right on the Calle Calzada, and is the Darío. The position has its advantages, although the fact that it is on the busiest street in town means getting quite a bit of noise.
Hotel Colonial is very close to the main square and definitely gets less noise.
Where to eat in Granada
There are many restaurants and budget eateries in Granada. The ones on the Calzada are the most expensive ones. Tercer Ojo is in a very trendy location: it comes highly recommended on trip advisor, food is truly delicious, although it definitely isn't local.
I also really like Café de las Sonrisas, which is run by a nonprofit organization and where all the staff is hearing impaired. There also is a lovely hammock shop right next door, where all the profits go to the organization in favor of disabled children.
Finally, Garden Café serves great salads, sandwiches and delicious smoothies are served in a beautiful patio, and there also is a book exchange which to me is always a bonus!
Take a boat trip around Las Isletas
Taking a boat trip through Las Isletas is one of the things to do in Nicaragua. These islands are really small. There are supposedly 365 islands, which were formed as a result of the eruption of volcano Mombacho, which can be seen from Lake Cocibolca (Lake Nicaragua).
TOP TIP: Go on an afternoon tour leaving at around 3:45 pm.
This is the perfect time to view as many birds as possible, including the weaving bird and king fisher, as well as the 3 different kinds of monkeys that live in the area, and on the way back the sunset view of the smoke capped volcano is simply spectacular. 
These are two good guided boat tours of Las Isletas:
Hike Mombacho Volcano
Nicaragua is packed with volcanoes, and one of the things to do in Nicaragua is hiking a volcano up to the crater. Volcán Mombacho, which can be seen from the lake in Granada, is a fun one to go to. Although it has not erupted recently, it is very much active. I recommend going on a guided hike, as it is easy to get lost there. You can also try zip lining – there are 17 platforms from where you can fly. This Mombacho hike and canopy tour may be a good option.
See the lava at Masaya Volcano
Volcán Masaya is perhaps the most active volcano in the country, and visiting it is one of the things to do in Nicaragua. You can walk along the Santiago crater, although smoke and steam come out of it and the sulfurous gases give a funny smell. Access to some of the view points is sometimes closed as there often are rumors that people jump in the crater! There are various hiking trails and it is also possible to rent a horse to go all the way to the crater to see the lava.
The best time to do it is at night, when the sight of the lava will be even clearer. You can book a guided tour here or enquire locally – it's probably cheaper to book locally and you should expect to pay around $20 USD.
Go on a day trip to Masaya and Coyotepe
The entire Masaya area is actually very interesting to visit but you should go on a guided tour as it makes the various connections easier in terms of transportation. Besides a good guide can explain the facts of the region.
The Fortaleza de Coyotepe was built in 1893 on the Cerro de los Coyotes and it is where political prisoners were held during the Somoza dictatorship.
The Mercado de Artesanías of Masaya is also fun to visit, and make sure to finally stop in a family run pottery farm in Santo Domingo (my favorite is that of Duilio, who shows the entire process of making pottery and has some beautiful pieces for sale).
Here it is possible to book a good guided trip to Masaya online.
Spend a day (or more) at Laguna de Apoyo
One of the best things to do in Nicaragua is chilling at Laguna de Apoyo. This can be easily accessed from Granada and many will go on a day trip, but I really recommend spending a couple of days there, as it truly is idyllic.
This crater lake is 175 meters deep and since there still is a lot of volcanic activity the water is really warm, making it pleasant to swim. Add to this the fact that motor boats aren't allowed on the lake and that the water is incredibly pristine, and you will definitely want to jump in! Another fun thing to do there is renting a kayak or a SUP to explore the lake. There are various places where you can rent one for around $10 USD.
Walk around León
Visiting León is one of the things to do in Nicaragua, perhaps the best. There is an all Nicaraguan debate that tourists are often asked to join, where locals may ask you to express a preference for either León or Granada. To give you an idea of my preference, just know that I was meant to spend 3 days in Leon and ended up staying there for 3 weeks.
At little over one hour by bus from Managua, León is the most intensely political city of the country. It buzzes with energy, it is lively, full of young people (it is a university city and in fact Nicaragua's first university was founded here in 1912), packed with interesting museums and murals, and gorgeous in a decadent kind of way. León served as the capital of Nicaragua during colonial times.
It also the hottest city in the country, and I don't just mean politically. Temperatures stay well over 30° C throughout the year. No wonder the day start so early here: an air raid kind of alarm rings several times a day, the first one at 7 am, which is when the city comes to full life.
I recommend joining a walking tour of Leon to see all the city highlights before going into a more detailed visit of what the city has to offer. The best one is this Leon guided walking tour including entrance fees.
Try to also make it to Barrio Subtiava, a lovely neighborhood, around 12 blocks from the city centre, pleasant to walk around and very pretty. There is a market too, and this is where the buses to the nearest beaches leave from.
For more information about this fantastic city, check out my post "A Complete Guide To Leon Nicaragua."
Where to stay in León
There is an entire street in town that is packed with hostels and backpackers bars – up to you if you want to hang out there or not. My go to place is Posada La Gordita, not far from the La Colonia upscale grocery store, a great place and a very good budget option. Rooms are plain and simple and the place is kept spotless and very safe.
Hotel El Convento, on the other hand, is the most expensive one in town. The spacious rooms are lined around a gorgeous garden. The hotel is actually located in what really used to be a convent, so there is much of a museum feeling to it.
Where to eat in León
My favorite place in town is Asados Pelibuey, a comedor that is a favorite of the locals. It serves Nicaraguan staples in a friendly and relaxed environment. The average price of a full meal is an unbeatable $3 USD! On the more expensive side there is Al Carbón. The house specialty is meat. The food is good, but service is not the best, especially with larger groups.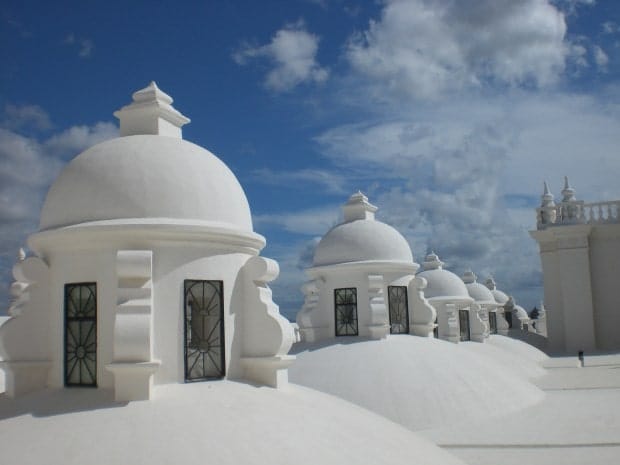 Visit the largest Cathedral of Central America
The Cathedral of León is one of the places to visit in Nicaragua. This is the largest cathedral in Central America, and it is said that the church was actually meant to be built in Lima, Peru. It is a massive building, that offers repair from the heat. The tomb of poet Ruben Darío is here. A fun thing to do inside the cathedral is trying to find the hidden eyes, which are triangles (representing the holy trinity) containing an eye inside and which are well hidden with the rest of the artwork. In my many visits, I have only been able to spot 3 but there are 7, apparently.
The roof of the cathedral has been recently restored and it can be visited for a small fee. The view from up there is spectacular, but I recommend to wear socks and sunglasses: everything has been painted white and you will be asked to take your shoes off, and the white paint reflects the light in a blinding way.
GOOD TO KNOW: Another cool church in León is the Iglesia de la Recolección, which has a beautiful yellow baroque facade.
Pay respect to the revolution fighters
Right on the opposite side of the main square from the cathedral, the Museo de la Revolución is a great one, and visiting it is one of the things to do in Nicaragua. The museum is entirely run by veterans of the revolution, who will take you around the exhibit for a small fee, but keep in mind they only speak Spanish.
For each print, picture and document they have a story to tell, and they often proudly show the scars they got during battles. The building used to be the telecommunication company headquarters that the revolution forces conquered in battle. It is run down yet charming and it is possible to get to the roof for a great view of León and its surroundings.
Marvel at art at Museo de Arte Fundación Ortiz-Guardián
Some of the best museums in Nicaragua are in León. One you shouldn't miss is the Museo de Arte Fundación Ortiz-Guardián, perhaps the best museum of contemporary art in Central America. There are pieces of famous Cuban, Peruvian and other Latin American artists; there are several Picassos, Rubens, Chagalls, Boteros and Diego Riveras. The museum is located in two beautiful colonial buildings facing each other, with lovely patios and fountains. The bonus? It is open even on Sundays.
Learn about Nicaragua traditions at the Museo de Leyendas y Tradiciones
Another interesting museum in León is the Museo de Leyendas y Tradiciones. It may appear tacky at first but it is very entertaining and it explains a lot about the culture of Nicaragua. It is located in what is known as La XXI (the 21st Garrison), a former prison, and along with the life size figures of people from Leónese history, there also are murals which depict the methods of torture used by the Guardia Nacional on the prisoners. To make sense of it, you really need a guide – you can get one directly at the museum for a really small fee.
Go volcano boarding on Cerro Negro
Nicaragua is the land of lakes and volcanoes, so one of the best things to do in Nicaragua is going on a volcano hike. But Volcán Cerro Negro will give you a whole different experience, because after the hike you can go volcano boarding.
The hike itself would not be hard, were it not for the incessant wind and for the fact that you have to carry the wooden sled all the way to the top. As it is a difficult place to reach, and you need boards which you aren't likely going to carry around during your trip, this experience can really only be tried on guided tours.
These two are the best ones:
Check out my post "What To Expect When Volcano Boarding Cerro Negro, Nicaragua" for more information.
Spend the night on an active volcano
If you aren't tired of volcanoes yet (I assume you know I love them!), one of the coolest things to do in Nicaragua is spending the night on top of an active volcano. Telica is by far the best, as it offers the most incredible views that span all the way to the Pacific and to the nearby volcanoes. As this is an active volcano, you will be able to see smoke coming out from it all the time, but there isn't as much lava as in Masaya.
The hike may be a bit of a technical one, and since it is easy to get lost in the area, you really should opt for a guided tour such as this Telica Volcano at twilight.
Go to Léon Vieja
León Vieja can be visited on a day trip from León. It takes about one hour to get there on public transportation. The ruins of the old capital lie at the foot of Volcán Momotombo. The city was founded in 1524 and abandoned a century later after being destroyed by a series of earthquakes. The site isn't certainly the most amazing one you will see, but the place is quiet and breezy, a guide is included in the entry fee making the visit more interesting and it is overall worth going.
Swim through Somoto Canyon
There is little doubt that one of the top things to do in Nicaragua is going to Somoto Canyon. This is one of the country's best kept secrets. It's a place where you will find a series of natural pools with clear waters, all surrounded by beautiful limestone cliffs from where you can jump.
GOOD TO KNOW: Though you can visit Somoto Canyon independently, it's much better and easier to go there on a guided tour departing from Leon. Ask at your hostel or hotel to organize the trip for you!
Spend a day at the beach
Some of the best Nicaragua beaches are near León. At about 30 minutes by bus it is possible to reach Poneloya and Las Peñitas. One of the best things to do in Nicaragua is catching an amazing sunset on the Pacific Ocean and these beaches are just perfect for that.
While Poneloya is a local beach where you won't find much in terms of services, Las Peñitas is a surfers' hub so you will find more in terms of services as well as restaurants and kiosks where you can rent all sort of equipment and have a bite or a drink.
Visit Reserva Natural Isla Juan Venado
The Reserva Natural Isla Juan Venado is a lovely place to visit not far from León, and a paradise for bird watchers. Depending on the season, turtles lay their eggs on the beach so it may be possible to participate in a tour to observe them.
Visit a rum factory
Not far from León ,Flor de Caña distillery is where the most well known rum in the country is made and visiting it is one of the things to do in Nicaragua. You can learn how rum is made and then try samples of various kinds offer samples! You can book a tour to Flor de Caña distillery here.
And a coffee farm
Not many know, but Nicaragua actually produces coffee and it's actually really good. The most interesting coffee plantation tours are in Isla de Ometepe (more about it below), but the highlands of Matagalpa are also good places for that. You may want to try to go to Selva Negra, where there usually are two daily tours for around $20 USD.
PRACTICAL INFORMATION: To get to Selva Negra from Matagalpa, take a chicken bus towards Jinotega and just get off at Selva Negra. It's just 12 km but keep in mind that chicken buses are slow!
Explore Managua
Most people who visit Nicaragua skip the capital Managua altogether. I say that visiting Managua is one of the things to do in Nicaragua. Sure, you may not want to spend a week there, but I think that it is worth going for at least half a day, maybe making a stop when going from Granada to León.
The centre of town is lined with some huge yellow metal trees, following a project of Nicaragua first lady. There are 100 of these trees in Managua. They are an adaptation of a famous drawing of Austrian artist Gustav Klimt. Each tree has costed $20000 USD, certainly causing concern in a country plagued by poverty. Yet, they are interesting to see.
Plaza de la Revolución, not far from Lake Managua, is a huge square where the Sandinista commander Carlos Fonseca tomb is located. This is also where the old cathedral is – it is now close to public, as it was shattered by the 1972 earthquake that destroyed much of the city.The clock on the tower has stopped at the exact time of the earthquake.
The Palacio de la Cultura is right next to the old cathedral, and exhibits lots of artifacts from the pre-colonial times.
One of the landmarks of Managua and among the interesting places to visit in Nicaragua is the Parque Historico Nacional Loma de Tiscapa. Right on top of the hill there is a huge statue of the national hero Sandino. The view from the Loma de Tiscapa is stunning.
Huellas de Acahualinca is a small archeological site in Managua, and perhaps its most interesting attraction. So including a visit during the trip is one of the things to do in Nicaragua. These ancient footprints used to be buried under compacted volcanic material and the tracks have been discovered by some workers in 1874.
There are 10 sets of prints, all dated back to around 6000 years ago, and all pace towards the lake – showing that people were leaving the area following a volcanic eruption. It is thought there are many more prints still to be found. The site is closed on Sundays.
The Nueva Catedral is not exactly the most beautiful church you will ever see, and visiting may hardly be one of the unmissable things to do in Nicaragua, I bet you will like it. It is a very big building, colorful inside and very airy thanks to the many windows and 63 domes that supposedly provide structural support in case of earthquakes.
Hang out in Isla de Ometepe
There is no doubt that visiting Isla the Ometepe is one of the best things to do in Nicaragua.
Ometepe is an 8 shaped island which hosts two active volcanoes (Concepción and Maderas). Vegetation is lush, there are nice small beaches, a lagoon, archeological sites, and incredible wildlife. And most of all, it just is so relaxing. The two biggest settlements in the island are Altagracia and Moyogalpa, both located at the bottom of Volcán Concepción. They are more geared to tourism than the rest of the villages. However, I think the best part of the island is that around Volcán Maderas.
Balgüe is perhaps the smallest village on the island, yet the most charming, no more than a few houses along the main road, no internet access, no ATM and only a few local shops. Life is slow paced, people are welcoming.
One of the best things to do in Nicaragua is going on a volcano hike, and Isla de Ometepe is perfect for that! Both volcanoes can be hiked. Maderas is less challenging, but still a tough 8 hours hike due to the muddy terrain and the thick vegetation of the cloud forest. Make sure to get a guide if you intend to hike, as it's easy to get lost! Hiking trips usually leave from Finca Magdalena, in Balgüe.
Volcán Concepción is even harder to hike (10 to 12 hours) on trails that start either in Altagracia or Moyagalpa. You can also hike to the 35 meters high waterfall of San Ramón, leaving on a bike from Balgüe.
PRACTICAL INFORMATION: Located in Lake Nicaragua, Ometepe can be reached by ferry from Granada, San Jorge (near Rivas) and San Carlos (on the border with Costa Rica). I don't recommend doing so, but if you are tight on time you can go on a full day trip to Ometepe Island departing from Granada.
Check out my post A Complete Guide To Ometepe, Nicaragua.
Where to stay and where to eat in Ometepe
On my last visit of Ometepe, I stayed in Balgüe, at Finca Magdalena. This is off the main road, at about 1.5 km which I had to hike, backpack and all, because no cars or buses get there. The Finca is a huge wooden hut with a lovely relaxed atmosphere. All around there are coffee plantations which you can visit on a guided tour. The accommodation is extremely basic, but the location makes it perfect. Meals are available too.
A better place to stay in Balgüe is Totoco Ecolodge, which has spectacular views and a fantastic swimming pool to hang out and relax.
The best restaurant in the area is Café Campestre. The English owner is a really great host, who has brought some variety in what is otherwise available on the island. I was delighted to find falafel and curry dishes there.
Catch the waves in San Juan del Sur
As far as Nicaragua beaches, San Juan del Sur is hard to beat. What used to be a fishing village has developed into a bigger place that is well geared to tourism, with lots of accommodations and restaurants and a vibrant nightlife. San Juan del Sur is a favorite of surfers and backpackers and is also a great place to catch a wonderful Pacific sunset – definitely one of the things to do in Nicaragua.
South of San Juan del Sur, Nicaragua beaches can't really get much better than Playa El Coco, a great stretch of beautiful sand and cliffs.
GOOD TO KNOW: If admiring local wildlife is one of the best things to do in Nicaragua, make sure to go to the wildlife refuge Refugio de Vida Silvestre La Flor, which is at about 20 km south of San Juan del Sur. It's a place where turtles lay their eggs – between 9:00 pm and 2:00 am, between July and January. It can be visited on a guided tour leaving from San Juan del Sur.
One of the best places to stay in San Juan del Sur is the Rancho Chilamate Horse Ranch. The surroundings are just amazing!
Discover Tola Beaches and Maderas Beaches
Tola beaches are among the best Nicaragua beaches, and they retain that feeling of a lost paradise.
Playa Maderas, which is North of San Juan del Sur, is one of the most stunning Nicaragua beaches. It is a lovely sandy beach perfect for sunbathing and has rocky expanses that offer great tide pooling.
Relax in the Corn Islands
Caribbean paradise couldn't get much better than this. Visiting the Corn Islands is one of the things to do in Nicaragua. These two small islands that have little bays, coves and underwater caves are located 70 km away from the east coast of Nicaragua.
Great Corn is the biggest of the two and is populated by Creoles living in colorful wooden houses. Little Corn is tiny, only 500 people live on this small island where there are no cars and which is a real jewel for diving enthusiasts.
Life is slow in the Corn Islands: these are the places to visit in Nicaragua to relax, snorkel, dive, lay at the beach, eat some amazing seafood and feel in paradise. Most people tend to opt for the quieter Little Corn but during the high season it may well be the case that there are more tourists than locals.
There are some guesthouses, hotels and bungalows on the island – my favorite is Yemaya Island Hideway & Spa – and restaurants (the most popular one is Habana Libre) offer great fresh seafood and fish as well as some of the Nicaraguan staples. Tranquilo café has great burgers!
PRACTICAL INFORMATION: In order to get to Great Corn Island, catch a flight from Managua via Bluefields or a boat ride from Bluefields. Another boat (locally called panga) is then needed to get from Great Corn to Little Corn: it may get really rough on the way there, and often passengers get soaking wet so it is a good precaution to carry garbage bags to cover the luggage.
Get lost in Río San Juan
The river that signals the border between Nicaragua and Costa Rica runs for almost 200 km from Lake Nicaragua to the Caribbean sea. Río San Juan has often been a cause of tension between the two countries. Visiting Río San Juan is one of the things to do in Nicaragua if you love nature, wildlife (including caymans) and bird watching.
The best starting point to visit Río San Juan is Boca de Sábalos, a town set at the confluence between Río San Juan and Río Sábalos, where there are various accommodation options. You can get there by boat from San Carlos, on Lake Nicaragua.
From Boca de Sábalos it is possible to visit the Reserva Biológica Río Indio-Maíz, one of the most impressive rainforests in Central America. The reserve is hardly penetrable until the village of San Juan del Norte, a small town that is surrounded by lagoons, dense rainforest and some great Nicaragua beaches on the Caribbean coast.
This is a great starting point to visit the indigenous communities or to explore the ruins of Greytown, a British outpost across the bay that has been abandoned and has been swallowed by the jungle. Definitely one of the places to visit in Nicaragua.
Go to El Castillo
Easily reached from Boca de Sábalos or San Carlos, and on the way to Reserva Biológica Río Indio-Maíz, El Castillo makes for a nice stop. It is a fortress built by the Spaniards in 1675 to stop the pirates going to Granada. It was sacked many times, including once by Horatio Nelson.
Discover Solentiname Archipelago
One of the best things to do in Nicaragua is visiting Solentiname Archipelago. This is made of 36 small islands and located on the southern shores of Lake Nicaragua and it became famous as the place where the priest Ernesto Cardenal founded a rural community in the 1960s. It is a great place for bird-watching, hiking, and just meeting the interesting local community.
The main island is Mancarron, and there you will be able to visit Cardenal chapel, which is decorated with paintings by Roger Perez de la Rocha.
PRACTICAL INFORMATION: you can get to Solentiname by boat from San Carlos.
Try all the local specialties
Nicaragua produces some amazing fruit and is actually one of the biggest producers of beef in Central America: in fact beef is delicious here. It is also common to find lamb (locally called pelibuey) and lots of fresh fish and seafood along the coast.
One of the best things to do in Nicaragua is having a fresh juice. Needless to say, fruit in Nicaragua is delicious, and fruit juice is always made from scratch: just lots of juice, purified water and ice, a hint of sugar and at most some yogurt.
It is very common to find fresh fruit stalls in the streets and squares: vendors peel and cut the fruit and sell it for a very cheap price. It's a really healthy snack! Other common snacks are fried yucca and plantain.
While the local cuisine is not internationally famous, you won't have troubles finding good eats. Gallo pinto (rice and beans) is the national staple, and chances are you'll have it for every meal.
Other local favorites include patacones (fried plantain croquettes, which can be accompanied by queso, a mild local cheese); vigoron, a dish made of a cabbage salad, yucca and chicharrones (pork scratchings) served on a banana leaf. Quesillos are delicious, filling and a real cholesterol bomb: a freshly baked corn tortilla is filled with two thin slices of a mild cheese, similar to mozzarella, then a salad made of onions and tomatoes and seasoned with vinegar is added, everything is wrapped together, salted and a lot of cream is poured on them. They are messy to eat, and thus served on plastic wraps. Not for the health conscious!
Local alcoholic drinks include rum – the most popular and best one is Flor de Caña – and light beers such as Toña and Victoria, which can be found also in bottles of 1 liter. There even is Nicaraguan wine, but you can honestly pass on that! Coffee on the other hand is very good.
The cheapest places to eat in Nicaragua are fritangas, which are street food stalls usually serving home cooked meals such as gallo pinto and also have a barbecue where they grill meat or chicken. Market stalls are also very cheap. Comedores or cafetínes are the Nicaraguan version of budget eateries.
They pretty much serve the same food that fritangas offer, and in fact most of them used to be fritangas which then became popular and expanded their business. A meal in a comedor usually costs no more than $4 USD. There also are some lovely international and fusion restaurants in the country, especially in the most touristy destinations.
GOOD TO KNOW: Water is supposedly safe to drink in some places in Nicaragua, but it's probably best to avoid tap water and opt for bottled one or bring a filter with you. Restaurants and bars use purified water for ice and to prepare food, so it usually is safe to eat and drink.
Check out my post "All The Nicaraguan Food You Should Try."
Go to Estelì
If you are exhausted from the heat of Nicaragua, pack your bags and head straight to Estelì for a change. I bet you will enjoy having to cover with a blanket to sleep!
To be fair, the city is nothing special. But the surroundings are packed with beautiful places and it is worth making the effort to go. The best thing to do in the area is visiting the waterfalls. The most famous one is Tisey Estanzuela, which you can reach on a cheap taxi ride.
GOOD TO KNOW: Other further away waterfalls are Colocondo and Quiabuc Las Brisas, but these require a bit more of an effort to go – and possible a guided day trip.
Visit a tobacco plantation
Chances are that if you think of tobacco and cigars, the first country that comes to your mind is Cuba. But – check this out – Nicaragua actually has its very own tobacco plantations, and the know-how to grow tobacco was actually brought to the country by Cubans who fled the revolution.
Not far from Estelì, you will find several cigar factories that you can visit for a few dollars. You will obviously be able to buy cigars (but keep in mind they need humidity and to be refrigerated in order to last) and you can even have a go at rolling one yourself.
Visit Reserva Natural Miraflor
Close to Estelì, this nature reserve is a paradise for bird-watching, hiking, horse riding and more waterfalls. You will be able to spot orchids, various species of birds, and even howler monkeys. As the reserve is run by the local community, you will also have the chance to experience a stay with a local family – it's one of the best things to do in Nicaragua.
Marvel at the Cliff Carvings of El Tisey
North of Estelì you will find El Tisey, a place where Alberto Gutiérrez Jirón spent 30 years carving all sorts of figures on the side of a cliff located in his family coffee plantation. The place is overall very pleasant to visit – and the experience definitely enhanced by the presence of Alberto, who will take you around his open air gallery. You can visit on your way back from Estanzuela waterfall.
Enjoy nature at Bosawas Biosphere Reserve
A UNESCO World Heritage Site since 1997, Bosawas Biosphere Reserve is a massive rainforest home to an incredible variety of wildlife. Though spotting the jaguar is practically mission impossible, you can still admire several species of birds and monkeys.
PRACTICAL INFORMATION: You need a guide and a permit to visit the reserve, as it really is a remote place and easy to get lost. Expeditions need to be properly arranged as you'll have to plan for food and drinks, and you really must go there well equipped in terms of clothing and prepared for a high level of discomfort. The reserve is at about 350 km north of Managua, and best accessed from Siuna, where you will find a Bosawas Office.
Practical Information To Plan Your Trip To Nicaragua
Deciding when to visit Nicaragua
The good news is that the weather in Nicaragua is always hot – at times unbearably so, actually. There are a few places to visit in Nicaragua where the temperatures are a bit milder. I bet you are thinking that you don't mind the heat too much, but trust me: you will end up sweating so much that you won't think about visiting Estelì and the surrounding mountains twice, just to have a break.
The best time to visit Nicaragua is during its dry season, from November to March or April: the sunny days and dry weather, however, attract more people (but Nicaragua is never too crowded).
The rainy season starts at the end of March, and this is when the country is as green as it gets. I hardly recommend going between September and November: prices may be much cheaper, but it is the tail of the hurricane season and floods and rain may really ruin the trip.
Arriving in Nicaragua
The only international airport in Nicaragua is Managua. There is a $10 USD entry fee that all visitors have to pay (it's just $2 USD if you cross by land). Customs is really easy to clear, but some officers may ask a proof of onward travel to a different country.
Nicaragua is part of the Central America-4 (CA-4) Border Control Agreement, a treaty that also includes Guatemala, Honduras and El Salvador and that allows the free movement across borders between the four countries. In practice, this means that when you are entering one of the four countries you get a 90-days visa and in order to renew that it will be necessary to travel outside of them (ie in Costa Rica, Mexico or Belize).
Crossing the border to Nicaragua
You can cross the border between Nicaragua and Honduras at Las Manos, El Espino or El Guasule. There is also a boat service crossing the Gulf of Fonseca and connecting Potosí in Nicaragua to La Union in El Salvador, where you have to pay a $2 USD exit fee.
Not many people actually use this crossing, and in fact I recommend not to as well (and that's because I have done it myself a couple of times). The tide changes dramatically within a few hours, the waves make the crossing a difficult one, and what is often described as a leisurely trip is in fact a bumpy crossing where you may get soaking wet.
The border with Costa Rica can be crossed at Peñas Blancas or by boat via Los Chiles. Costa Rican authorities require anybody entering the country to show proof of onward travel, in the form of either a bus or a plane ticket.
Make sure to read my post "Latin America Border Crossing: What You Need To Know."
Currency in Nicaragua
The Nicaraguan currency is the Cordoba. The exchange rate is around 35 Cordobas for one US Dollar at the moment. Dollars are widely accepted, and in any case you can exchange them at any bank.
Furthermore, money can be exchanged even in the street. At any corner in the center of cities and near a bank there are men, usually wearing a badge, who exchange money at the official rate. It is completely safe to do so – just make sure to count how much you need to change and calculate how much you should expect in return.
Safety issues
People sometimes ask me if it is safe to visit Nicaragua. You will probably hear stories of people being robbed, but I have always felt safe there even as a solo female traveller. In fact, I find it to be one of the safest countries in Latin America.
The safety measures you need to adopt are the usual one: keep an eye on my belongings and avoid walking alone and in the dark in areas that are not considered safe, but other than that, you shouldn't have any problems even when taking the bus.
Make sure to get a good travel insurance before traveling. You can find a good one here. Obviously, being able to effectively communicate in Spanish helps. Only the people who work in tourism really speak English!
Moving around Nicaragua
One of the best things to do in Nicaragua is traveling by chicken bus. Chicken buses are old American school buses that have been driven all the way to Central America, their engine substituted, and they are now used for public transportation. They are very cheap, if only a bit uncomfortable: they only leave when full – and by full, I mean packed to the point you may really feel like chickens in a cage.
I still think they are fun: they are a great part of the culture of the country, locals widely use them, and you even get to see the odd chicken every now and then. And in the middle of all those people, the ticket man goes around to collect the fares, and street vendors get on board to sell whatever goods – from fruit to drinks, from pens to medicines.
Make sure to check out my post Everything You Must Know About Chicken Buses.
The buses follow a fixed route, but there aren't real bus stops. So, as long as on the route, people can get on and off the bus continuously, which means that the bus stops every minute or so and that trips that would normally take 30 minutes may take even over one hour.
Stations are actually fun places to visit in Nicaragua: while the drivers wait for the buses to fill in, the ticket men go around the station calling the destination and looking for passengers. It makes the place very lively and noisy, as well as colorful. Some buses have been beautifully restored: newly painted and decorated, the ones that cover longer distances even have flat screen tv and a good sound system.
Taxis in Nicaragua are very cheap, and usually have a fixed price per area. Make sure to ask how much it will be to go to your destination before getting on board, and if you are traveling long distance barter a bit – but drivers tend to be honest. Taxis are shared, which means that even if there's already someone on board, the taxi will stop to pick up other passengers, as long as they are going in the same direction. A good way to meet local people.
Hitching rides is common, but use your good judgement before doing so.
What to pack for a trip to Nicaragua
One of the smartest things to do in Nicaragua is traveling with a backpack rather than a suitcase. The road conditions are such that it is hard to carry around a suitcase. As for a backpack, I recommend the Osprey Ariel 65, because it fits well and carries just the right amount of stuff. Another good one is the Berghaus Wilderness 65+15, but keep in mind it is much larger.
This is what I recommend packing:
Hiking boots

– one of the most fun things to do in Nicaragua is hiking, and they will be needed.
A pair of

Havianas

– perfect to go to the beach and walk around in the city.
Walking shoes – I love Converse All Stars. Otherwise, take a pair of good

sandals.

One or two pair of shorts.
Hiking pants, or

leggings

– if planning to hike.
A pair of

jeans

if going to the mountains, where it is cooler.
A few

t-shirts

and tops.
A fleece sweater.
– it may get chilly in the mountains in the evening. Also carry a light

scarf

.
A waterproof jacket, because it may rain. I love the one by

The North Face

.
A

bikini

, for those beach days.
A

toiletry bag

with shampoo and conditioner, a soap or shower gel,

toothbrush

and toothpaste, a good

sunblock

, deodorant, and

mosquito repellent

.
Pharmaceuticals – prescriptions drugs as well as off the counter paracetamol, motion sickness pills and Imodium.
A

quick dry towel

– this is one of the smartest things to do in Nicaragua, as some hostels don't provide towels.
Also bring a day pack to carry sunglasses, camera, powerbank, wallet and travel documents, and even a travel guide book (you can't really rely on the internet).
Pin It For Later!
.