With all the things to do in Panama, it's easy to see why it's becoming a travelers' favorite.
Panama is a fun country to visit. Despite the heat and humidity of Central America that make traveling to Panama at times very tiring, you are bound to enjoy this country, which has a lot to offer to its visitors.
Panama tourist attractions are many and varied – from tropical beaches, to jungle, hikes, incredible islands and a great capital city. Panama is developing quickly, perhaps a bit too much, and the contrasts between the poor majority of the population and a small extremely rich minority are out there, for everyone to see. Panama City is the kind of place where a few drive around in a Ferrari or Lamborghini, and then others who go dumpster diving or eat restaurant leftovers straight from customers' tables because they have no food.
Having said so, I still think that Panama is a fascinating country to visit. I have spent around a month in Panama, but I took it extremely easy and traveled really slowly. So you may be able to see the places I recommend here in around two to three weeks.
In this post, I highlight the best things to do in Panama and share some tips to help you plan your trip.
7 Absolutely Unmissable Things To Do In Panama
Explore Panama City
One of the best things to do in Panama is visiting its capital, Panama City. This is the most cosmopolitan capital of Central America. I think it actually is the most interesting and beautiful capital of the continent, indeed. I wholeheartedly recommend going on a guided tour of Panama Cityto begin with, so that you get to know the city a bit. You can then continue exploring on your own.
These are the best tours of Panama City:
Panama City is a constant work in progress. It is a huge construction site where new skyscrapers continue filling in the skyline. The city is pretty much divided in two main parts: the modern town, with the skyscrapers, the modern buildings (and the traffic) and the old city, or Casco Viejo, where reconstruction works have been ongoing to bring it back to its original splendor. You will love this contrast between modern and antique: minute you are walking through history and the next you jump back into the future.
One of the top things to do in Panama City is admiring the skyline from the Paseo las Bóvedas in Casco Viejo. From there you can also see the Puente de las Américas (Bridge of the Americas), which arches over the waterway and where the ships line to enter the Panama Canal.
Walking around Casco Viejo is a must. The location of Casco Viejo was picked by the Spaniards following the destruction of the old city by Henry Morgan in 1671 – it was a point easier to defend than the one where the city used to be located before. Casco Viejo is packed with lovely, tiny cobbled alleys. There are lots of derelict buildings, some of which are being renovated.
Nowadays, Casco Viejo – a UNESCO World Heritage Site since 2003 – is a hip part of town. There are some great hotels, some of the best restaurants in Panama City, as well as bars and clubs. Make sure to go to the gorgeous Plaza Indipendencia, Plaza de Francia and the Iglesia de San José.
I am sure you will also enjoy the street art scene. There are many incredible murals in Casco Viejo.
Attend the Panama Jazz Festival
Panama City is the jazz capital of Central America, and among the best things to do in Panama there is attending the Panama Jazz Festival which usually takes place each year in January. If you love jazz, it is a must!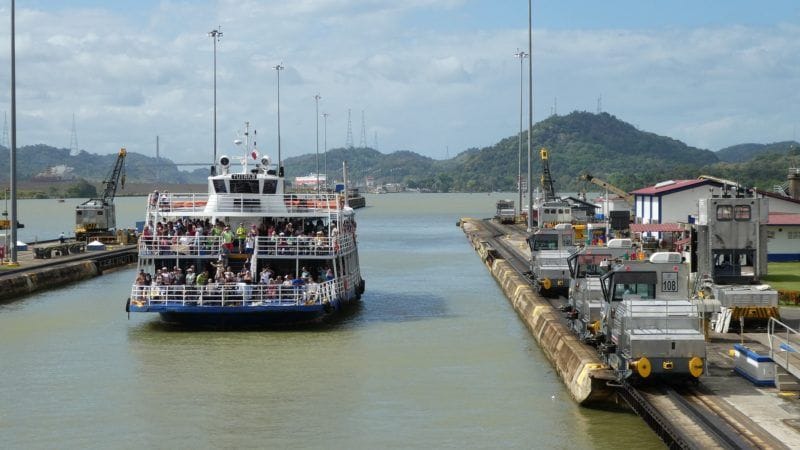 Visit the Panama Canal
The Panama Canal is one of the unmissable places to visit in Panama. Not far from Panama City, it is one of those attractions that anybody visiting Panama will love.
There is a very interesting museum that has a great exhibit of photos and documents on the construction of the Canal. Yet, it is undeniable that one of the top things to do in Panama is admiring the huge ships that cross the Panama Canal at the Miraflores Locks. They now even sell boat tours of the Panama Canal online.
These are the best tours of Panama Canal:
Where to sleep in Panama City
Panama City is the kind of place where you really need to make reservations well in advance. I didn't have any when I got there, and spent over an hour walking around Casco Viejo, carrying my backpack, to eventually find a dorm bed in a horrible hostel called The White Lion. I would not recommend that to anybody!
If you want to stay in the Casco Viejo, La Concordia Boutique Hotel is a great choice: it has a lovely decor and it is located close to all the nicest Panama tourist attractions.
In the new town, Baru Lodge is a great place to stay: comfortable rooms with air conditioning (which is a blessing in the heat of Panama), good wifi, great breakfast and very nice staff. Location isn't the best as it is a bit far from the main attractions of Casco Viejo, but it is well connected via bus and really quiet, ensuring a good night sleep.
This is a selection of places to stay in Panama City:
Where to eat and drink in Panama City
Panama is more expensive than the rest of Central America countries, so eating out can be pricey.
A good place for a tasty and inexpensive meal is the Mercado de Mariscos. The ground floor is lined with tiny eateries where $1 USD can buy a portion of ceviche (marinated raw fish) and a beer, whereas on the top floor there is a good restaurant that serves cooked meals at a reasonable price.
For a good craft beer head to La Rana Dorada. There are two locations in town – one in Casco Viejo and one in the new town. They also serve pub style food.
Hang out in Bocas del Toro Archipelago
Considered to be one of the ultimate Caribbean destinations, Bocas del Toro is definitely among the places to visit in Panama. This tropical archipelago is a favorite of backpackers, to the point that it can get very crowded on certain times of the year. The best way to discover Bocas del Toro is by boat.
Panama has invested a lot on Bocas del Toro, but while some of the islands have been developed in a sustainable way, other destinations have suffered the effects of uncontrolled development. It is not uncommon to see big piles of garbage around Bocas Town, the biggest town on the archipelago – something that takes away a bit of Bocas del Toro charm, in my opinion.
In Bocas del Toro you can practice all sorts of water sports such as kayaking, snorkeling and surfing. There are some hiking trails (though hiking in the humid heat is not ideal) too. Some of the best Panama beaches are to be found in Bocas del Toro, such as Wizard Beach and Red Frog Beach (on Isla Bastimentos).
If Bocas Town is crowded and dirty, Isla Bastimentos is all about nature and incredibly quiet. The main village there is Old Bank – no more than a few houses along a dirt road, no cars, and lots of jungle. It is a nice place to relax, walk around (though it often rains and it is better to wear rain boots or good hiking shoes, or else it is impossible to walk) and admire nature.
Make sure to also go on a boat trip that goes around various beaches and some of the best spots for snorkeling and admiring the marine life.
Where to sleep and eat in Bocas del Toro
Bocas Town has a wide range of accommodation options available. However, most budget options do not accept reservations, making it seriously troublesome to find a bed during peak season. A fairly good place that takes reservations and is run by a lovely Italian couple is Hotel Cala Luna. Old Bank, in Bastimentos, has some fairly good options which include Al Natural.
This is a selection of places to stay in Bocas del Toro:
With regards to eating options, there are some good and pricey restaurants in Bocas Town, as well as many small eateries where the quality of the food is sparse. Old Bank options are more limited. A good place in Bocas Town is Alberto's Pizzeria, run by a Sardinian couple and which makes some good quality pizza.
Relax in Las Lajas
Las Lajas, on the Pacific coast, hardly makes it on the list of places to visit in Pamama. Yet, of all the Panama beaches, this is the you are likely to enjoy the most. It is off the beaten path compared to the rest of the country and really enjoyable.
Playa Las Lajas is a 20 km long beach of fine light brown sand, lined with palm trees. The water is really warm so it hardly provides a break from the heat, but it is fun to play among the waves. You can also bike along the beach and observe the crabs as they went in and out of their holes.
One of the best things to do in Panama is admire the sunset on Panama beaches along the Pacific Coast.
Where to sleep and eat in Las Lajas
When I visited Las Lajas, I tried to stay at Hospedaje Ecologico Nahual but it was a little too "ecologic" for me – I left the same night I arrived because I didn't enjoy the company of cockroaches. A good place to stay is Naturalmente Boutique Bungalows. My advice if you don't want to make reservations is to travel early and get to Las Lajas when there is still light, so that it is easier to get a good room.
This is a selection of places to stay in Las Lajas, some in the village, others at the beach:
Fresh seafood is available in the various small eateries along the beach. There are also some upper scale restaurants.
Discover Portobelo
Portobelo is a lovely fishing village with a nice Caribbean feel and a fantastic, quiet bay. It's a place where boats headed to San Blas on their way to Colombia dock. The village itself is a nice place to explore and relax and a good starting point for visits to nearby beaches and sites, and I recommend to include it among the places to visit in Panama.
A good place to stay in Portobelo is El Otro Lado – it's a lovely place to wait for the departure of the sailing boat to San Blas.
Here's a selection of places to stay in Portobelo:
Sail the San Blas Archipelago
Sailing across San Blas is thought to be one of the unmissable things to do in Panama, but it is easier said than done. Even on good days, the Atlantic ocean is rough and it takes a good stomach not to feel sick.
PRACTICAL INFORMATION: There are various companies doing the crossing via sailboat, and depending on the season it may be necessary to book well in advance. The usual price for the crossing is $550 USD, which generally includes food but not alcoholic beverages, but you can bring those on board.
Some companies offer cheaper prices, but in my experience paying a cheaper price may sometimes equate to getting ripped off – having a really small boat that carries too many passengers, for example – meaning that there is no room to move around, to stay on the deck, etc.
TIP: Make sure to do your research and read all the reviews before booking your San Blas sailing trip!
There are also companies that offer to do the crossing via speed boat, where passengers only spend 3 hours per day on the boat and sleep and eat on the small islands. This is the best option if you don't enjoy sailing so much and since more time is pent on the islands, it's a great opportunity to get to meet the local communities.
San Blas Adventures used to have the monopoly of speed boats, but now there are more companies offering to do the trip, like Mia San Blas and San Blas Frontera. These companies work in cooperation with the Kuna Yala, so these will be benefiting directly from the tourism.
If you are tight on time, you can go on a day trip to San Blas departing from Panama City like this one that you can book via Get Your Guide. It's a long day – you leave from the city at 5:00 am. But worth it and it comes highly recommended.
If time is not an issue, book this 4 day sailing trip.
Read more about my misadventures on my post "How to be an unsuccessful backpacker."
Where to sleep and eat in San Blas
Although San Blas is becoming a more popular destination in Panama tourism, there aren't that many places to sleep on the archipelago. One of the best things to do in Panama, where possible, is actually camping on a beach – but you need permission in order to do so.
People who visit San Blas usually do so during a sailing trip and they sleep on board, so accommodation is hardly a problem anyways. Other than that, there are a few places scattered around, as well as some local eateries where the food isn't really great. It's interesting to note that although these are islands and seafood should be easily available, the main thing available is chicken!
Most places are very expensive for the kind of accommodation they offer.
These are some good places in San Blas:
Useful Information To Plan Your Trip To Panama
When to visit Panama
A quintessential tropical country, Panama has two seasons: the dry season from December to April, and the rainy season. Visiting Panama in the rainy season implies more difficult conditions on the road, but also cheaper prices.
TIP: Please note that while on the Pacific coast the distinction between dry and rainy season may make sense, it won't on the Caribbean side of the country.
Arriving in Panama
The only international airport in Panama is that of Panama City. You will be issued a 90 days visa but will be required to show proof of departure from the country in the form of a plane ticket back to your home country.
Crossing the border
The only border crossing in Panama is that with Costa Rica. The process of crossing the border is relatively easy, provided that you show proof that you are leaving the country.
There is no border crossing between Panama and Colombia – crossing the Darién Gap is dangerous and would require excellent surviving skills. The area is under the control of guerrilla fighters and drug traffickers, not to mention dengue fever is also an issue, along with other diseases that are spread in tropical countries and for which I recommend getting travel vaccinations.
Read more about border crossing in Latin America on my post "How to – questions and answers on Latin America border crossing."
The only way to get from Panama to Colombia is thus to either take a flight or to sail across San Blas (which anyways is one of the top things to do in Panama). There used to be a ferry service but it was recently suspended until further notice.
Viva Colombia is a budget airline that connects Panama City with Bogotà and Medellin at very reasonable prices.
Currency in Panama
The official currency in Panama is the US dollar. This makes things a whole lot easier for travelers. One thing to point out though is that there still are some coins which are not accepted in the US. I tried to use some Panamanian dollar coins in Miami and I was told off!
Safety in Panama
I didn't have any problems when I traveled in Panama, nor did I experience any danger. Having said so, crime is certainly an issue in some parts of Panama, such as in Colón (which is the main connection point between Panama City and Portobelo, and a major free port) and in the above mentioned Darién Gap.
I also noticed that drugs were flowing freely in Bocas del Toro.
TIP: Make sure to avoid streets that have little or no illumination at night and not to walk around alone at night.
Transportation in Panama
Panama City has a good public bus system that connects all the main parts of town, as well as a newly opened underground system.
Long distance buses are generally comfortable and punctual, and tickets can be bought in advance via agencies or even online. Shorter distances are usually covered by chicken buses, common in all of Central America. These have a fixed route and they stop to let passengers on and off along the way, so they can be quite slow – yet a very good way to mix in with the locals, not to mention very cheap: I'd say that hopping on a chicken bus is one of the things to do in Panama.
Make sure to check out my post Everything You Must Know About Chicken Buses.
Eating and drinking in Panama
Food in Panama is somewhat similar to that of the rest of Central America – at least to my tastebuds. The easiest (and cheapest) thing to eat is chicken with patacones (fried plantains croquettes) and rice. Yet, one of the top things to do in Panama is eating fresh seafood. Panama City has a great restaurant scene and the fish market is a great place to have some good seafood.
Fruit in Panama is fresh and delicious so one of the best things to do in Panama is having fresh fruit, or fruit smoothies.
Water is not potable, and it is good policy to avoid it especially in Bocas del Toro.
Beer is the most common alcoholic drink. Aside from bottled beer, La Rana Dorada in Panama City is a great brewery – one of the things to do in Panama is having beer there!
What to pack for a trip to Panama
One of the clever things to do in Panama is traveling with a backpack rather than a suitcase. Roads can be bad, making it hard to carry around a suitcase. I love the Osprey Ariel 65, because it fits me perfectly. The Berghaus Wilderness 65+15 is great too, but bigger.
Here's what I recommend packing
A pair of

Havaianas

– perfect to go to the beach and walk around in the city.
Walking shoes – My favorite are

Converse All Stars

. Otherwise, I recommend a pair of good

sandals

– in the heat of Panama it is important to stay comfortable.
A few pairs of

shorts

A few

t-shirts

as well as tank tops.
A waterproof jacket, because it often rains, even during the dry season, especially in the Caribbean side. I love one by North Face.
A bikini, because obviously.
A

toiletry bag

– to carry shampoo and conditioner, a soap or shower gel, toothbrush and toothpaste, a good

sunblock

, deodorant, and mosquito repellent.
Pharmaceuticals – paracetamol, motion sickness pills for that sea sickness, and Imodium.
A

quick dry towel

– this is one of the smartest things to do in Panama.
I also take a day pack to hold my sunglasses, my camera, powerbank, wallet and travel documents, and even a travel guide book (save for Panama City, one of the things to do in Panama is not to rely on wifi to search for places).
Finally, I also recommend getting a good travel insurance for your trip to Panama. Get yours here.
Check out my post "Why You Need A Good Travel Insurance."
Pin It For Later!