You absolutely must visit Petra during a trip to Jordan.
Most of people in my generation dream to visit Petra since having watched Indiana Jones and the Last Crusade at the cinema. A UNESCO World Heritage Site, Petra is absolutely massive, and although you may think that you can simply show up and wander around at your own pace to make the most of it, that is hardly true.
While I truly enjoyed my time in Petra, I was certainly taken aback by some of the things I experienced, by the sheer amount of visitors, and by the many places to visit inside the archeological park. So, I thought I'd put together a list of things you should know before visiting Petra, and some times that will help you make the most of your time there.
Everything You Must Know Before You Visit Petra
Petra is huge
If your original plan is to visit Petra for half a day, think again. There is no way it can be possibly visited in a few hours. On my second day there I saw lots of people coming from cruise ships and I wondered how they'd manage to visit the site in only a few hours.
You should plan to spend 3 nights in Wadi Musa (Petra port of access), and to get a 2-days pass to the site.
There is lots to see
While most photos of Petra show the Treasury and little else, a site so massive (60 square km, which is 23 square miles!) has lots of places to visit. Here is a selection of the main sights.
The Siq
This 1.2 km (0.75 miles) walk along the canyon starts right after you pass the Visitor Center and goes all the way to the Treasury. It's what you will walk along on your way to Petra at Night (more about it in a bit).
The Treasury
The official name of the Treasury is actually Al-Kazneh. I am not sure why it's called Treasury – in fact the site used to be the tomb of a Nabatean king. The building is very large – 40 meters tall (that's more than 131 feet) and symmetrical. Access to the interior is prohibited as of December 2018.
There are several viewpoints to admire the Treasury. One is very easy to reach – just a 10 minutes walk from the Treasury itself. Another one is also easy to reach – around 20 minutes.
If however you want to get really stunning panoramic views, it's a bit more of a hike and you are better off hiring a guide as the trail isn't well marked. Guides can be hired from the Visitor Center and they are not cheap – but the view is totally worth it! Once you get to the viewpoint, there is a small beduin tent where you can relax in the shade and sip a mint tea before walking down again.
The Theater
A short walk from the Treasury, it used to hold more than 8,000 spectators.
Royal Tombs
Close to the theater, you will see various impressive tombs, carved in the rock much like the Treasury and beautifully elaborate. You can go inside.
Colonnade Street
At the very heart of Petra, Colonnade street is lined by – err – columns. Most of the columns have actually fallen – a consequence of time and flooding.
High Place of Sacrifice
This is one of the least visited places in Petra, as it is actually quite hard to reach. It took me around 45 minutes to get there from the main street, on a rather steep trail and after having taken several wrong turns and having had to ask several local vendors to point me in the right direction.
This is the place where sacrifices where carried out – think libation, animal sacrifices, and possibly also human sacrifices.
The Monastery
The Monastery is the attraction furthest away from the Visitor Centre. The standard route to reach it from the Colonnade includes 820 steps going up.
This is one of the most impressive sights in Petra, and the furthest one from the Visitor Center. It takes a bit of an effort to get there – you have to walk up 820 steps which isn't exactly easy under the sun! But it is totally worth it!
Once a temple, this was never a Monastery – though it is named that way because of the crosses that are carved inside the main chamber and which date back to the Byzantine era. The facade is 50 meters (164 feet) tall, and beautifully carved in the rock.
A sign will point you to the view point to admire it from a distance.
Tickets
Visiting Petra is not cheap, but the good news is that the longer you stay, the better value you get out of it – not only in terms of what you see, but also financially!
Petra is one of the attractions included in the Jordan Pass, which can be bought online and allows you to save money and time and to wave the tourist entry visa fees if you spend a minimum of 3 consecutive nights in the country.
For travelers on a trip around Jordan who plan to spend at least one night in the country, these are the costs:
If you visit Petra on your first day in Jordan, you will be charged JD90 ($127 USD) but if you go again the following day you get a refund of JD40.
If you are visiting Jordan on a day trip from Israel, the fee is JD90.
Petra opening times
Petra is open every day from 6:00 am to 6:00 pm in the summer, and from 6:00 am to 4:00 pm in the winter. If you want to avoid the largest crowds – the groups that come on day trips from Aqaba cruise port, for example, plan to get there right when the site opens.
Petra by Night is stunning
The Petra by Night show – when the Siq and the Treasury are beautifully lit by candles – takes place three nights per week, on Mondays, Wednesdays and Thursdays. The tour starts at 8:30 pm and finishes at about 10:30 pm. It costs JD 17 ($ 24 USD) to see it, and you can buy tickets at the visitors centre.
How to get to Petra
The best access point to explore Petra is Wadi Musa, a nice town that was pretty much built around the site and that is connected to Amman and to Aqaba via regularly running JETT buses. If your hotel in Wadi Musa is close to the visitors center, you can simply walk there. If not, you can count on the free shuttles that most hotels run at specific times, or hop on a taxi. You won't have troubles finding one outside the site. A ride should be in the range of JD5.
Petra is at about 240-250 km from Amman, depending on the road you take. The easiest way to get there is via the Desert Highway – that should take around 3 hours. King's Highway is a nicer drive, but it will take you up to 4.5 hours.
For guided tours departing from Amman, click here.
The drive from Aqaba – Jordan's Red Sea outpost – is around 2 hours.
You can hike to Petra
For a truly unique experience, consider hiking to Petra! The 10 km (6.2 miles) hike starts in Little Petra and takes you canyons, viewpoints and more – after which you actually enter Petra from the Monastery.
The hike is relatively easy, with a few moderate ascents, and what's great about it is that you will start visiting Petra from the Monastery, a site where most visitors arrive much later in the day and after having climbed a whopping 820 steps, so you will actually have that all to yourself.
You will actually need a guide for this hike, as the trail isn't well marked. You can hire one from Petra Visitor Center – I actually suggest hiking one a day before your intended hike, so that you can depart nice and early!
You can visit Petra on day trips
If you are traveling around Israel and wish to go to Petra, you are certainly better off joining a guided tour where transportation, border crossing, tickets and even a guide is taken care of. It will be quite expensive, but definitely more hassle free. There also are day tours departing from Amman, the capital.
For day trips departing from Tel Aviv, click here or here. If you wish to visit from Eilat, click here.
Be prepared for a lot of walking
Aside from the main trail, which measures around 8 km (5 miles) (one way) and goes to the main points of interest, there are many other trails in Petra, of various levels of difficulty. You may end up walking 20 km (12.5 miles) on a day: the 8 km (5 miles) along the main trail; the hike to the Monastery and that to the High Altar of Sacrifice (both of them are all uphill).
In general, you can expect to walk a lot when exploring the site and may be tempted to hop on a carriage from the visitor center to the Treasury. I honestly don't recommend it. First of all, it costs JD20 (that's more than $28 USD) for a walk that should take you no more than 15 minutes and is mostly downhill. Secondly, carriage rides, horses, donkeys and camels in Petra are meant for the use of people with mobility issues. More about the use of animals in Petra in a bit!
But don't ride the animals
Aside from the many cats, the odd dog, and the goats that can be spotted round the site, Petra is packed with working animals. Horse carriages take around tourists; horse, donkey, mule and camel rides are offered. Some will tell you that if you want to avoid walking entirely, you can – just hire a donkey. I say, don't – unless you obviously have mobility issues!
The Tourism Board of Jordan invites only those that are physically unable to walk to use the animals, and encourages to report episodes of animal abuse.
However, you inevitably end up seeing many people happily riding carriages, donkeys or mules, and a few owners pushing their animals to go faster. You will be regularly offered rides when walking around the site (a common pick up line is "do you want to ride my Ferrari?"). My recommendation is to ignore. A simple no, or – if you want to practice your Arabic – la, shukran (no, thank you), will suffice.
Make sure to also read my posts: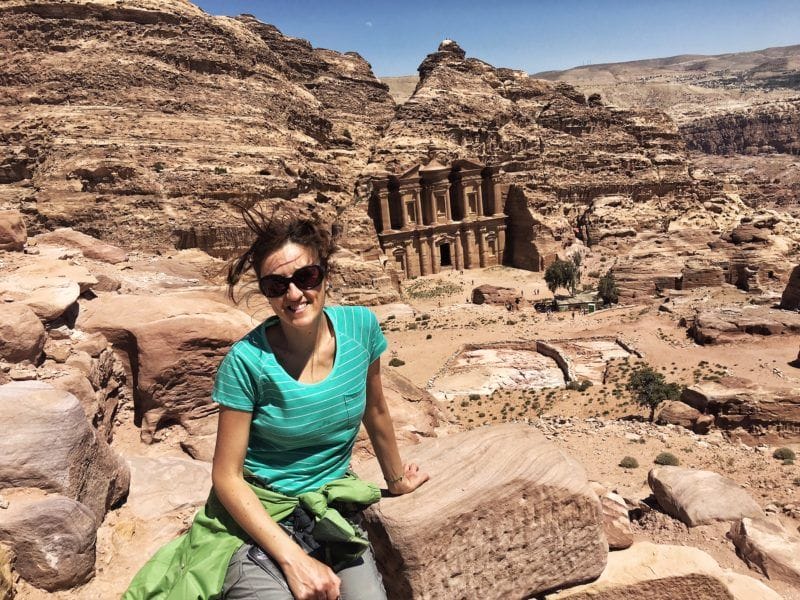 Get a guide
Most of the trails in Petra are well marked. The main trail is really self evident, and so is the one to the Monastery. The hike to the High Altar of Sacrifice is also marked, though you may need to ask directions every now and then.
If you want to go to the view point of the Treasury, on the other hand, you need to hire a guide as the path is pretty much unmarked and you can easily get lost. The roundtrip will take you around 2 hours, and there are no people on the trail or at the view point (aside from a local or two selling tea).
Guides are available from the visitors' center at fixed rates. If you are traveling alone, head there nice and early and hang around for a group to show up – you may join and share the fees.
The best time to visit Petra
Though you can travel to Jordan year round, it is much better to visit in spring – April and May; or in the fall – October and November, when the days are mostly dry and temperatures pleasant. However, keep in mind that Petra is at an elevation (around 800 meters / 2625 above sea level). A chilled wind may blow during the winter and spring months and it surely isn't as hot as you would imagine.
It may snow in the winter, when temperatures range between 2 and 14°C (36 and 57°F). Just as well, temperatures in the summer may well be above 35°C (95°F). Considering there's not much shade on the site, you may want to avoid visiting in the summer.
You must dress modestly and comfortably
Petra is a major tourist site, with lots of Westerners visiting every day. Yet, it is in Jordan, where most people still dress quite conservatively. Make sure to dress modestly when going to Petra. While you won't need to cover your head, you simply should not wear shorts or a mini-dress.
In any case, Petra is so huge and there's so much hiking, that dressing comfortably is a key factor. Wear a pair of hiking pants
or a long skirt; a colorful cotton technical t-shirt
, and carry a light light sweater
and a wind-proof jacket for the evening, when the temperatures start dropping. I also suggest reading a guide to some fabulous, modest dresses for the most conservative countries.
You really should wear hiking boots to visit Petra. There's a lot of walking to be done, on uneven pavements and gravel roads. If you don't have hiking boots, some good walking shoes will do. Just don't wear flip flops!
Apply sunblock and wear a hat
With such strong sun, it is easy to get sunburnt in Petra. Make sure to apply lots of sunblock throughout the day. Wearing a hat may also be a good idea.
Drinking lots of water is vital
Between the sun, the dry air, the altitude and all the walking, dehydration may be an issue while exploring the site. Carry two bottles of water and sip it regularly. The good news is that there are many local vendors spread around the site that sell cold water. For a more eco-friendly solution, opt for a bottle such as this one – it keeps your drink cold for hours!
Eating in Petra
Scattered around the site you will find vendors selling snacks and drinks, including tea and coffee. There also is a restaurant near the museum, called The Basin, that serves a buffet style lunch.
Alternatively, you can pick up some snacks before entering the site from the many stalls outside the entrance, or even ask your hotel to prepare a packed lunch for you.
Toilets in Petra
You will find toilets at the Visitor Center as soon as you enter the site and then around the site – some are chemical toilets, though. Get a map from the Visitor Center so you'll be able to locate them when needed.
People live inside the site
Before I went to Petra, my guide told me that the people that once lived in the site had been moved to a nearby city specifically built for them. Yet, there are still people living in Petra. If you walk off the main path you will see caves that look like someone is living in them; and on a couple of occasions you may even spot a family.
Solo female travelers are a target for scams (and more)
Though Jordan is generally a really safe country to visit, it won't help to observe a few precautions when visiting Petra – as apparently women are a target there.
It is a known fact that men inside the site are looking to take advantage of foreign women – whether it is for sexual reasons or for monetary ones. With the excuse of a donkey or camel ride women get chatted up and invited for tea, coffee or even dinner inside the site, which is often followed by Arak, the local liquor. There have been allegations that drinks have been spiked and that assaults and rapes have occurred.
I was invited too – but I knew the only answer to such invitation would have to be a no.
You will definitely be better off getting a good travel insurance for your trip, to protect yourself against accidents, scams, pickpockets and any other medical issue. Get yours here.
Guided tours of Jordan that include visiting Petra
If you're looking into planning a trip to Jordan, most guided group tours of Jordan will include time in Petra.
If you just want a short tour of Petra, Wadi Rum and the Dead Sea, you may want to consider this option or this one.
Where to stay in Wadi Musa
There is no shortage of good accommodation options in Wadi Musa, the best access point to visit Petra. These are some places you may want to check out:
Further Readings
Make sure to read these other posts
Legal Disclaimer: This article is written in partnership with The Jordan Tourism Board, of whom I was a guest. All the views and opinions expressed are my own and based on my personal experience. The views expressed are honest and factual without any bias.
Pin It For Later!