Are you freaking out deciding what to wear in Paris? Stop worrying, you are in the right place!
There's no denying it; Paris, France is a fashionable city. After all, it's known as one of the fashion capitals of the world. However, Paris is also a large European Capital City home to many people from all walks of life and the visitors to the city are just as diverse as the people who live there. Sure, you'll see some people dressed to the nines at all hours of the day, but you'll also see people dressed in comfortable casual wear like you would anywhere else in the world.
So, stop fretting! You really can get by in Paris with your regular clothes, as long as they are comfortable.
In this post, I will tell you what to wear in Paris – in all seasons. I won't provide fashion tips: that is not my job. But I will help you plan your Paris packing list so that you don't overpack and that you have enough useful items for any occasions.
Planning a trip to Paris? Make sure to read my posts The Best Places To Visit In Paris and The Best Tips For Visiting Paris.
What To Wear In Paris: Initial Considerations
Let me start by saying that traipsing around Paris in frilly dresses and high heels like Emily in Paris isn't reality! Mind you, she does look super cute in those pretty outfits and we'd all like to look Instagram-ready at all times, but it's just not realistic.
The majority of people walking around Paris are regular people dressed casually for a day of work, shopping or hanging out in cafes. In other words, nobody cares about what anyone else is wearing. In fact, the focus seems to be more on everyone wearing whatever they want, whenever they want.
Yes, fashion is high on the minds of Parisians (though not nearly as much as on the minds of Italians), but most people are actually quite informal and practical, and indeed very classically dressed – at least to the eyes of an averagely colorful Italian like yours truly. The only exception to this rule would be restaurants that enforce a dress code. Usually, this is only at Michelin Star establishments and the dress codes aren't overly strict as smart casual is usually accepted at most places.
With all this in mind, I bet you are still wandering about what to wear in Paris.
First if all, if you want to blend in with the crowd, the best thing you can do is dress comfortably and be yourself – seriously! That being said, some of the items you may want to avoid wearing if you want to blend in while exploring Paris include anything you would wear to the beach, to bed, or to the gym.
If you feel underdressed, any outfit can go from bland to knockout with the addition of an accessory. A cute hat, scarf, belt, or piece of costume jewelry goes a long way! Flashy colors are definitely ok but if you want to avoid looking too much like a tourist, stick with neutral colors – which is what Parisians seem to prefer.
All in all, the most important thing to consider when deciding what to wear in Paris is comfort because you'll be doing a lot of walking! Finally, continue reading for the perfect Paris packing list.
Things To Consider When Planning Your Paris Packing List
It's not hard to pack for a trip to Paris if you know what to expect and you consider the following things while packing.
The Season
Paris has four distinct seasons so it's very important to pack according to the time of year you'll be visiting! In summer, it gets very hot with average temperatures reaching 77°F (25°C), although it's not unheard of to have temperatures as high as 86°F (30°C) and above. Even on cooler summer days, the humidity is high which can make it feel hotter than it is.
Fall and spring are the most unpredictable seasons and the hardest to pack for since any type of weather is possible! Winter tends to get very cold although temperatures tend to remain above freezing. 44°F (not even 7°C) is about as warm as you can expect this time of year! You can also expect a lot of rain and even some snow during the winter months.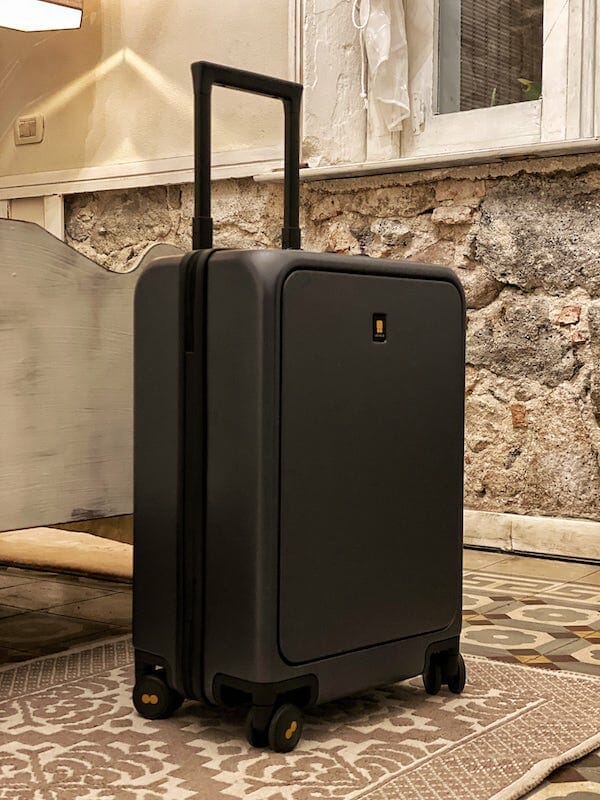 Your Luggage
Although you might be thinking that Paris is the perfect destination to show off your cutest outfits, resist to temptation to over-pack! And how might one resist this temptation? Just imagine yourself lugging a huge suitcase (or multiple suitcases) up and down stairs (especially if you are staying in an Airbnb in Montmartre or Le Marais, where buildings are old and elevators uncommon) and on and off buses and trains. The mere thought should be enough to have you packing as little as possible!
Your Budget
The fees for checked luggage on airplanes keep going up. If you're on a budget, a great way to save some money is by taking carry-on only. This might sound impossible, but with practice and some strategic planning, you can get your luggage down to carry-on only.
Imagine how liberated you'll feel to get off the plane and skip baggage claim! Of course, if budget isn't an issue, you may check some luggage but it's best to only check one bag if any. A good way to save on space (and save on your sanity when trying to decide what to wear each day) is to pack outfits rather than just single items of clothes.
Make sure to read my post How To Pack Light.
Finally, here's what to wear in Paris, in any season.
What To Wear In Paris
What to wear in Paris in Spring / Fall
Because the weather is so unpredictable in spring and fall, it's important to pack clothes that can be easily layered so that you can add or remove items throughout the day depending on the conditions.
A waterproof / rain jacket
Rain is always a possibility in spring and fall so a rain jacket or any light jacket that's waterproof is a good item to have on hand. Kuhl has some really good ones – some are dressier than other, which are more casual, so try to pick one that you can easily dress up with the right accessories.
Jeans / comfortable pants
Jeans are a staple item for fall and spring because they're usually comfortable, they match almost everything, and they can be easily dressed up when needed. Contrary to what you may think, it's perfectly ok to wear jeans in Paris even at places like the Louvre. Kuhl makes the most comfortable jeans, and there's anything to fit any style. I find their skinny jeans to be incredibly comfortable and perfect to wear at any time of day.
One or two pairs of leggings
Leggings are also great to pack for spring and fall. They're light, they can be worn with many things, they're easy to layer and they can easily go from casual to dressy. Leggings are also great for lounging around and can even be used as pajamas.
Long sleeve t-shirts
Long sleeve t-shirts are necessary for spring and fall. They are great because you can venture outdoors only wearing long sleeves in spring and fall most of the time but if it does get colder, you can just toss a jacket or sweater over yourself. Pack neutral colors to match everything else in your wardrobe. Once again, I am a massive fan of Kuhl as they have the cutest t-shirts that can be casual or dressy, depending on what you wear them with.
One or two short sleeves t-shirts
Since there's the possibility of warm days early in the fall and late in the spring, having a few short-sleeve t-shirts on hand won't hurt! Make sure to pack one that is sporty enough for day-wear and one that is perfect for a dressier night out.
A couple of lighter sweaters
Light sweaters are great for those days when you don't know what the weather will be! They are cool enough for warm days and warm enough for cooler days. When it gets too cold for just a light sweater, you can layer a warmer sweater or light jacket comfortably over it. My favorite sweater is the Lia Pullover Hoody. I wear it during the day, with jeans, and it feels very comfortable.
A warm sweater
When traveling to Paris in fall or spring, you should have at least one warm sweater. This type of sweater is great for those days when you don't want to carry extra layers but want to be warm enough while going about your day. It's also useful when you go up the Eiffel Tower: temperatures up there are much colder (and it's way windier) than on ground. Sipping a hot beverage at a chic sidewalk cafe comes to mind when I think of warm, fuzzy sweaters!
A nice dress for the evening
While in Paris, it's only natural to want to spend at least one night out on the town. Perhaps it's to enjoy some drinks at a cocktail bar or dine on a gourmet meal in one of the city's top restaurants. It's important to note that many of these places do require patrons to follow a dress code so women should pack a nice dress for those occasions. In doubt, the famous "little black dress" is the best thing to pack. Wear it with the right shoes and accessories, and you'll look beautiful. For men, a nice pair of pants and a nice shirt in neutral colors would be fine. Throw in a jacket for extra measure.
What to Wear in Paris in Summer
The temperatures and the humidity soar during the summer months in Paris. There aren't any beaches to run to on hot days so pack accordingly! This is the time of year when packing less is easy.
Light pants
Jeans are likely too heavy to wear in Paris in summer, but light cotton or linen pants are perfect for the conditions. Not only will light pants keep you cool, but they'll also protect your legs from the sun on those days when you don't feel like putting on heavy layers of sunscreen! As long as you stick to neutral colors, they'll match almost everything in your vacation wardrobe. Kuhl has an incredible range of easy-wear pants that are stylish and at the same time very comfortable.
Cotton t-shirts and tank tops
Cotton t-shirts are comfortable, versatile and easy to layer if it gets cold in the evening. The same goes for tank tops. The best thing about these items is they can be worn with shorts or pants so you can mix and match.
A couple of pairs of shorts
Shorts are perfectly ok to wear in Paris. Yes, you read that correctly! Many people are under the impression that shorts are frowned upon but that's just fiction. When it's hot, it's common to see many people wearing shorts while out and about including at the Louvre and other museums around the city. The only place where shorts may not be accepted is in churches where legs and shoulders are expected to be covered and in high-end restaurants.
A maxi-dress
Maxi-dresses are the perfect travel item for women! These dresses can easily go from casual to dressy if you pair them with the right shoes or sandals; you can wear them to visit churches; and they're cool and comfortable, especially on hot days.
A nicer dress for the evening
High-end restaurants and bars often have a dress code in place so women should pack at least one nice dress for those occasions and men should pack a pair of linen or cotton pants and a nice shirt.
A light cardi
Sometimes it cools down in the evening and this is when a light cardi comes to the rescue. It's easy to carry around and easy to layer over any outfit. Pick a neutral color – I am a fan of dark blue – to go with anything else you are wearing.
A light rain jacket
Rain is a common thing in Paris all year round so having a light rain jacket on hand will save you on those days when you'd like to get out and do some exploring but don't want to get super wet! Kuhl has some top quality rain jackets that also look pretty.
A swimsuit
There are no beaches around Paris, but if your hotel has a swimming pool or you think you might take a day trip to the coast, you should pack at least one swimsuit or bikini.
What to wear in Paris in Winter
The last thing you want to do is forgo packing properly for winter in Paris. Nothing will put a dampener on your vacation more than walking around the city shivering and damp from the cold!
A winter jacket
A winter jacket is a necessity in winter and it's best if it's waterproof too since precipitation in the form of both rain and snow is quite common. Make sure it's thick enough to keep you warm for at least a few hours while you walk around the city streets but try not to pack anything that'll take up too much space in your luggage – if that's the case, just wear it on the plane to save space. Kuhl Frost Parka will definitely keep you warm even on the colder cays, and it looks really pretty!
Thermal shirts / pants
Paris is a highly walkable city, so you'll likely be spending a lot of time outdoors walking around the pretty streets, window shopping and ducking in and out of museums, churches, and little shops and cafes. The best way to stay warm is to wear a thermal shirt and pants under your outfit if the temperatures will be closer to the freezing mark. These days, most of the thermal items on the market are lightweight so they're comfortable enough to be layered.
A pair of jeans
Jeans are versatile any time of year. They're also comfortable and warmer during the winter months than cotton or linen pants. And if it is really cold outside, you can actually wear thermal underwear as a base layer.
One or two pairs of pants
For those days when the temperatures are milder or you'll be spending more time indoors, it's good to have one of two pairs of pants in your luggage. Check out Kuhl or PrAna for pants that are are the same time comfortable, cozy and trendy looking.
Long-sleeve shirts
A few long-sleeve shirts are necessary for winter because it's easy to throw layers on top of them when the temperatures dip. Pack at least one flannel shirt for those times when you crave extra coziness on cold winter nights! It will keep you super warm!
Thick sweaters
Be sure to pack a few thick sweaters. Stick to neutral colors so they can be paired easily with your wardrobe. My favorite one is Sienna by Kuhl. It actually comes in a variety of colors, so you can even pick a couple to wear on different occasions.
A beanie / hat, scarf and gloves
After a winter jacket, the next most important items are a scarf, gloves and beanie or winter hat. Yes, it can get that cold! Again, neutral colors are best for these items so you can match them easily with the clothing you packed.
Other Items For Your Paris Packing List
Footwear in all seasons
No matter what season it is, there's one other item that is more important than anything when traveling to Paris: Shoes! And not just any old pair of shoes, comfortable shoes. You'll be doing more walking than anything else and the last thing you want mid-trip is sore feet or blisters.
In spring and fall, comfortable, supportive, waterproof ankle boots are a great choice, and they are stylish too! For a more casual daytime look, sneakers are fine too but nothing too flashy! We are massive fans of Saucony walking shoes here in Europe so get a pair of those if you want to look stylish and comfortable – they come in many colors!
In winter, you'll need to go with something a little warmer than an ankle boot but don't choose boots that are very clunky, or they'll take up too much room in your luggage. Heavy boots are also hard to walk in over long distances and tend to make any outfit look frumpy. Just make sure they're waterproof and have good grips for icy conditions.
In summer, open-toe shoes, such as walking sandals, are fine but leave the flip-flops and high wedges at home! Pack a second pair of nice sandals or ballet flats for the evening.
Bags and purses
Since there'll be times when you'll be gone for the whole day, you'll need something to carry your necessities such as your phone, wallet and extra layers. A larger bag or daypack is perfect for this. A small purse is all you'll need for evening outings.
Best luggage for Paris
If you're taking a short trip to Paris or you're traveling on a budget, a nice carry-on suitcase such as the Level8 or a cabin zero will do just fine. Either of these will fit the things you need, and you won't have to fuss with the fees and inconveniences of checked luggage!
If you're embarking on a longer vacation, your best bet is to take a larger suitcase with wheels so you can get it easily from one place to another.
Packing cubes are a great option if you like to be organized and want to easily separate items so they're quicker to find later.
Toiletry bag
A toiletry bag is a great way to keep your personal hygiene items separate from everything else so they're easy to grab and go when you need to get ready for the day. Make sure to get a waterproof one, and possibly one you can also hang in the bathroom.
Water bottle
No matter what time of year it is, it's important to stay hydrated at all times since you'll be doing a lot of walking and spending time in the sun. The tap water in Paris is safe to drink so you can refill your water bottle as you go.
As a way to cut down on the use of plastic, in the spring of 2022, many shops and restaurants around the city joined a campaign by Paris Waterworks that allows businesses to refill water bottles for free!
I am a massive fan of Super Sparrow refillable water bottles. They come in many sizes, colors and the cutest designs.
Plug adapter
If you're traveling from outside of Europe, you'll need a plug adapter, so you'll be able to charge and use your devices. Types C and E are used in France and the country uses 230V and 50Hz.
Power bank
There will likely be times when you'll need to charge your phone on the go. This is where a power bank comes in handy. Just take this portable item out of your bag or purse and plug your device into it. Make sure to charge the power bank itself beforehand!
Sunglasses
There are dreary days but then there are those very sunny days when you'll find yourself squinting at the brightness and those days can happen any time of year. Pack a pair of sunglasses to save your eyes from those damaging rays!
Sunscreen
You won't need it as much as you would at a beach destination, but sunscreen is a good thing to have on hand if you're going to be outdoors for any length of time.
Hand sanitizer
The last thing you want to deal with on vacation is a cold or another virus. Hand sanitizer is a great item to have stashed in your bag or purse so you can wash your hands on the go.
Final Considerations On What To Wear In Paris
Yes, fashion is big in Paris. However, comfort is also big in Paris. You are the only one who should choose what to wear in Paris! Do you want to wear jeans and a t-shirt? Go for it! Do you want to wear shorts and a tank top? Sure, go ahead. Do you want to wear a maxi-dress all day and into the evening? Why not, no one cares anyway! When in Paris, just be you and be comfortable!
Further Readings
Are you planning a trip to Paris? Make sure to read these posts:
Pin It For Later!