Located inside Palazzo Doria Pamphilj, Doria Pamphilj Gallery is one of the most interesting museums in Rome.
What makes it a truly special place to visit – and one you should not miss – isn't just the impressive art collection, which includes more than 650 works from various periods in history, but also the grand building – a series of rooms with chandeliers, tapestries, antique furnishings, frescoes and more.
Curious to find out more? Great! I am about to share the history of Palazzo Doria Pamphilj, the most important pieces in the art exhibit, and lots of useful information to plan your visit.
Make sure to read my posts The Best Hidden Gems In Rome and A Guide To Borghese Gallery.
The History Of Doria Pamphilj Gallery
The Doria Pamphilj Gallery is one of Rome's premiere art collections. Housed inside the Palazzo Doria Pamphilj, the gallery boasts one of the richest private art collections in the city and is, accordingly, well worth a visit.
And to get to where it all started, you have to wind back the clock to the 17th century. Specifically, it began with Cardinal Giambattista Pamphilj, who later became Pope Innocent X. He was part of the influential Pamphilj family, who already owned a palazzo in Rome (at Piazza Navona).
Construction on Giambattista's palace began in 1646, having been designed by architect Girolamo Rainaldi. Prominent Italian artists were brought in to decorate the galleries, painting frescoed ceilings and creating elaborate door frames, among other things.
The palace's collection began almost immediately, with not only paintings and sculpture being amassed, but also fine furniture and other historic pieces of art. Though it began with the Pamphilj family, eventually through marriages other noble families were added to the clan, namely the Doria, Landi and Aldobrandi families.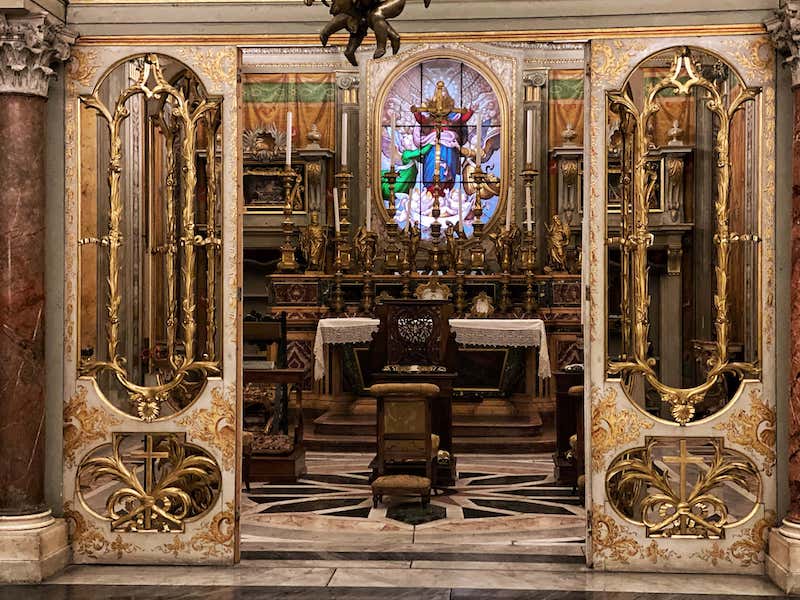 Rather than mash all these surnames together, the family line became unified simply under the Doria Pamphilj name. Many of this family line became cardinals, and were particularly powerful in the 17th century.
One example of their wealth and power: over weekends in August from 1652 onwards, the family would flood Piazza Navona in order to celebrate the family. This tradition of turning this famous square into a watery landscape continued until 1866.
Over the years, Palazzo Doria Pamphilj has changed and grown, with different members of the family moving in and out of its rooms. It's undergone much renovation, according to the tastes of the time.
One of these occasions of redecoration was specifically for the marriage of Andrea IV Doria Pamphilj Landi to Princess Leopoldina Maria of Savoy in 1767.
The collection of art also built up over the years, and was put on display across the palace's many state rooms. The palace itself is a grand piece of architectural art, featuring its very own chapel, which in a macabre twist boasts the mummified body of the family saint.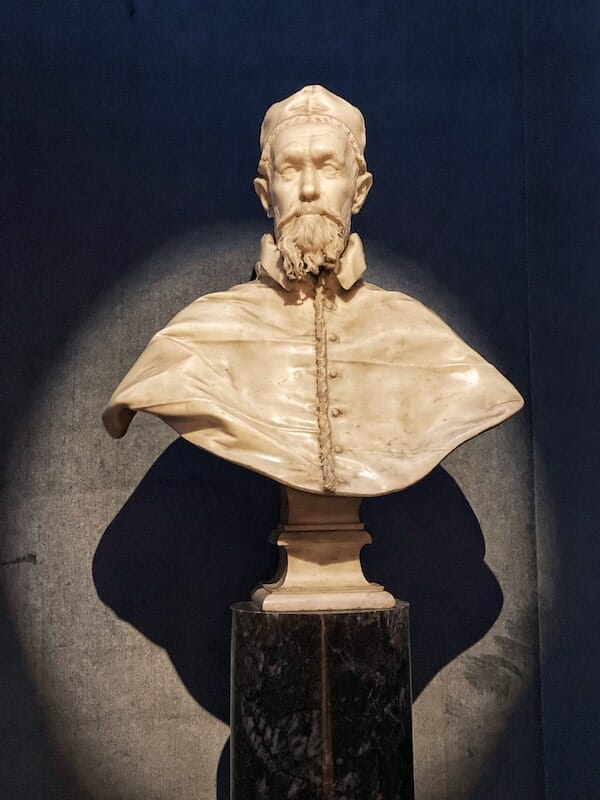 Interestingly, much of the art collection at the Palazzo Doria Pamphilj owes itself to a marriage which, at the time, didn't exactly have the blessing of the family.
Camillo Pamphilj decided against taking up a cardinalship, even though his uncle (the Pope) offered it to him, and instead married Olimpia Borghese.
This made the family so unhappy that the newly married couple spent a period of time in exile at Olimpia's own palace in the countryside (Palazzo Aldobrandini) to avoid any conflict with the Pope.
But following Olimpia's death in 1666, her vast collection of art was divided between her sons, Giambattista Borghese and Giambattista Pamphilj, who conveniently had in recent years built the Palazzo Doria Pamphilj – the perfect place to put his newly inherited art.
Much of the opulent palace itself as it looks today was created by the Doria Pamphilj family (not just the Pamphilj family) in the 18th century. This family still own the palace, and lives in it, to this day.
According to some estimates, the palace is two thirds the size of St Peter's Basilica, and could even be the largest private residence in the whole country. The collection of art on display includes masterpieces from an array of notable creators, including Raphael, Caravaggio, Velasquez and Titian.
You should also read my post The Most Beautiful Palaces In Rome.
What To See When Visiting Doria Pamphilj Gallery
On entering Doria Pamphilj Gallery, visitors can immerse themselves in the opulent world of the 18th century Roman aristocracy. The walls of the grand galleries are covered in huge oil paintings – the style of the time. There's an abundance of artworks to admire, and it can be hard to discern one from another, so here are a few highlights to look out for.
Velasquez's Portrait of Innocent X
Considered the entire collection's masterpiece, the oil on canvas portrait of Pope Innocent X – painted by Spanish master Diego Velasquez in 1650 – may not seem to stand out at first. However, this painting is celebrated for its realism, and shows the face of an intelligent (if slightly despotic) man.
Just looking at the work on the Papal vestments, the colors used and the richness of it all, shows the skill of Velasquez.
It's thought that when the Pope himself saw the portrait he had commissioned, he exclaimed, "It's too true! It's too true!" Today, the painting is so important that it has been placed in its very own specially designed room – along with a sculpture of the same Pope by Gian Lorenzo Bernini.
Make sure to also read my post Where To See The Works Of Bernini In Rome.
Caravaggio's Rest on the Flight into Egypt
Michelangelo Merisi da Caravaggio, or just Caravaggio, features quite frequently in the collection at the Doria Pamphilj Gallery. This particular piece is notable, as it shows the Holy Family (Mary, Joseph and Jesus) fleeing into Egypt after being warned of King Herod's murderous rampage.
The picture shows a pause in their journey as they rest in the shade of trees and look for fruit to eat. The date of the painting is disputed, but it is thought to have been painted around 1594, and was the first large-scale work by Caravaggio.
Caravaggio's The Penitent Magdalene
Another work by Caravaggio sees Mary Magdalene as the subject of the painting. Here, she's kneeling with her hands in her lap, surrounded by jewelry and other items. There's a single tear rolling down her cheek. The painting was completed in 1595 and was commissioned by Pope Gregory XII.
More modern scrutiny of the painting has led experts to believe that the model used, Anna Bianchini (a sex worker), has also featured in other works by Caravaggio – such as Rest on the Flight to Egypt.
Caravaggio's Saint John the Baptist
One of Caravaggio's favorite subjects, Saint John the Baptist, features in this painting, but this time the artist depicts him as a young boy. Here he sits with a melancholy expression on a characteristically dark background, with a sheep grazing nearby. The artwork is one of Caravaggio's later works and is dated to 1610.
Check out my post Where To See Caravaggio's Paintings In Rome.
Titian's Salome
This painting by Titian (full name Tiziano Vecelli) is believed to depict a popular subject for the time: Salome with the head of John the Baptist. It's dated to around 1515.
However, others believe that it's thought to show Judith (from the Book of Judith) with the head of Holofernes, an invading Assyrian general. It's also been suggested that the disembodied head was actually a self-portrait of Titian himself, pointing to perhaps a private, more personal relationship with the model.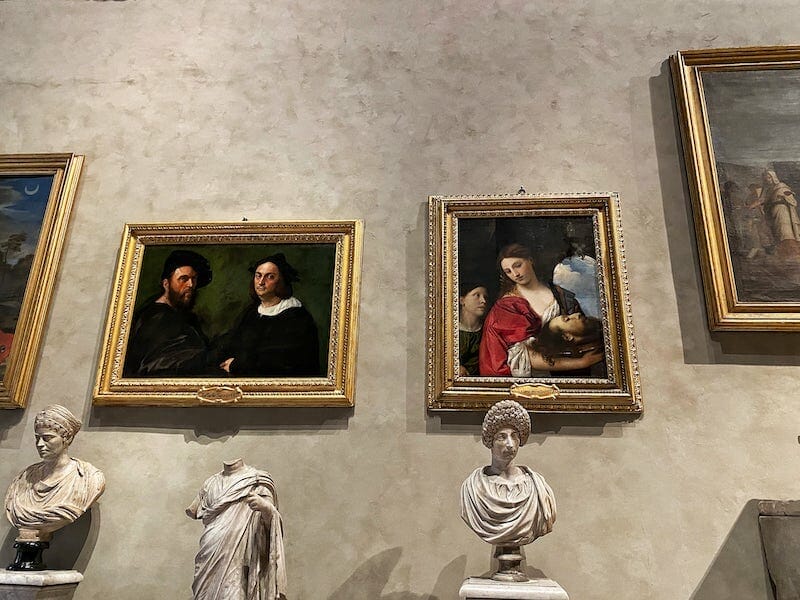 Raphael's Portrait of Andrea Navagero and Agostino Beazzano
Created in 1516, this work by Raffaello Sanzio da Urbino (better known as Raphael) is noted for depicting two subjects at once. They were originally supposed to sit separately for two different paintings, but Raphael thought it would be better if the two men sat together, thus showing their companionship.
His attempt was to show their characters, and so they are depicted with natural-looking faces, on a plain (albeit dark) background with plain clothing, too.
Head over to my post Where To See The Works Of Raphael In Rome.
Pieter Bruegel the Elder's Naval Battle in the Gulf of Naples
A slightly different artwork to portraiture, this large landscape scene shows a naval battle happening seemingly as it unfolds. The artist, Pieter Bruegel had traveled to the Italian peninsula from his home in the Netherlands in the 1550s.
On his journey he stopped by Rome, Naples and Messina. This naval battle, however, was entirely made up by the Flemish artist: the event actually didn't take place, and the setting is actually Messina, not Naples.
Filippo Lippi's Annunciation
The Renaissance painter Filippo Lippi actually painted several versions of the Annunciation (when Mary is visited by Gabriel). These hang in various galleries across Europe.
However, the one in the Doria Pamphilj Gallery is particularly interesting, as it flips the "traditional" positions of Mary and the angel. Here, the angel appears from the right rather than the left, allowing the artist to use a different light source to illuminate the subjects.
Some have questioned whether Lippi actually painted this painting, or if it was a student from his studio, but it's generally considered that the artist was indeed behind the masterpiece. It was created between 1445 and 1450.
Practical Info About Visiting Doria Pamphilj Gallery
Palazzo Doria Pamphilj opening hours
The gallery is open from Monday to Thursday, 9:00 am to 7:00 pm. Last entrance is 5:30 pm. On Fridays, Saturdays and Sundays, opening hours are 10:00 am to 8:00 pm (last admission 6:30 pm).
The museum is closed on every third Wednesday of the month, 1st January, over the Easter period, and Christmas Day. There are also shortened opening hours on Christmas Eve (10:00 am – 4:30 pm).
Best time to visit
The gallery never gets too crowded – at least, not compared to other museums in Rome. Try to avoid visiting on a Monday, when many museums in Rome are closed, and pick the first or the last time slot for your visit as they are usually the least crowded.
Doria Pamphilj Gallery tickets
Tickets cost €14, with an additional €1 reservation fee. Children under 12 go free, but are also subject to the €1 reservation fee.
For students under the age of 26 and seniors over 65, the cost of admission is €8 (plus the €1 reservation fee).
The ticket office is open from 10:00 am until an hour before closing. However, you have to book your tickets online in advance according to a time-slot system. The 90-minute slots are available every 30 minutes, with the last slot 90 minutes before closing. You must get there at least 5 minutes before your allotted time.
You can book your ticket online on the official website here. Simply select your number of tickets, the date and time, and click to book. Keep in mind that tickets purchased on the official site can't be refunded and changes to the reservation are not allowed under any circumstances.
For more flexibility, you may want to purchase your tickets on a third party booking site for a slightly increased rate. For more information, click here.
Should you get a guided tour?
I regretted not hiring a guide for my visit of Palazzo Doria Pamphilj the minute I arrived, but was relieved to learn that an audio-guide is available to all visitors – free of charge, and in a multitude of languages. Fun fact: the audio guide is narrated by Jonathan Pamphilj, the current owner of the palace.
Needless to say, if you want a deeper insight into your visit, then a guided tour a good idea. Plus, if you're an art lover anyway, then you'll want to lap up all the information possible.
The only guided tour available online is a private one and it is rather costly. You can check it out here.
Lockers and security checks
All visitors will have to go through a security check before entering. Keep in mind there is no bag storage or lockers at Doria Pamphilj Gallery, and you aren't allowed big bags inside, so I would recommend leaving any large luggage elsewhere – there are nearby lockers in Via della Vite 42, which is a short walk away – it's managed by Stow Your Bags and you have to book it in advance.
Is photography allowed?
Private photography is admitted, but no flash photography is allowed – and no tripods, either.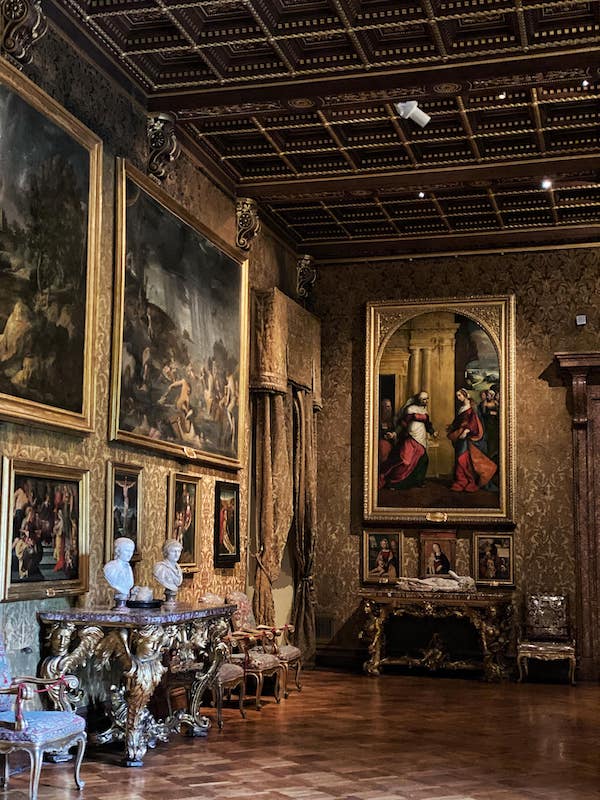 Toilets and other services
There are toilets for public use at Doria Pamphilj Gallery. You'll also find a really nice bookshop with lots of souvenirs and a very elegant cafeteria where you can sip a good cappuccino after your visit.
Disabled Access
There is access for wheelchairs at the Doria Pamphilj Gallery, with both ramps and lifts available. However, not all parts of the building are easily accessed by those using wheelchairs.
How to get there
You'll find the gallery in the Palazzo Doria Pamphilj, which is situated in Via del Corso 305 (it's just a short stroll from Piazza Venezia, where the Altar of the Fatherland is located).
If you're walking, the gallery is just a stone's throw from a number of other historic sights in Rome. For example, if you're coming from the Pantheon, you simply amble along Via della Minerva and Via del Piè di Marmo.
From the Trevi Fountain, it's just a five-minute walk along Via delle Muratte until you reach Via del Corso. From there, take it left towards Piazza Venezia until you reach the gallery.
If you are coming from Termini Station, you can take bus 64 and get off at Piazza Venezia; from there it's just 100 meters from Via del Corso. The nearest bus stop, however, is Corso/Ss. Apostoli (served by buses 51, 62 and 63 among others).
For the metro, take Line A to Piazza Barberini. From there you can take one of the many buses that stop here towards Via del Corso.
Alternatively, take Line B to Colosseo and take bus 85 or 850 and get off at Via del Corso.
Check out my posts How To Use Public Transport In Rome and How To Use Rome Metro.
Pin It For Later!