Playa del Carmen is is a famous tourist destination in the Mayan Riviera! With incredible attractions nearby, beautiful beaches, delicious restaurants, lots of shopping opportunities and a vibrant nightlife, tourists simply love it.
If you are planning on visiting Playa del Carmen and are still looking for where to stay in Playa del Carmen, you are in the right place! I have been there a bunch of times and have my fair share of experience with Playa del Carmen hotels, having stayed in a few of them. So, whether you are looking for the best hotels in Playa del Carmen or are in search of the best hostels in Playa del Carmen, I have you covered.
Continue reading to discover where to stay in Playa del Carmen – let me start with a brief overlook of the best areas.
Make sure to read my post The Best Things To Do In Playa Del Carmen.
Where To Stay In Playa Del Carmen – Best Areas
Downtown
Downtown Playa del Carmen is actually made up of several neighborhoods: Quinta Avenida (or Fifth Avenue), El Centro, and Playacar. This is where to stay in Playa del Carmen if you like having nightlife, dining options, and shopping opportunities on the doorstep. This is also the place where you can find more affordable places to stay in Playa del Carmen.
Bordered by Juarez Avenue to the south, Fifth Avenue is the main thoroughfare of Playa del Carmen. It leads all the way to the beach and is awash with plentiful places to stay, eat, drink, and shop. Playacar is home to yet another beach, while El Centro is a little more local, but still very much in the middle of all the tourist action of Playa del Carmen.
North Playa del Carmen
Choosing to stay in North Playa del Carmen is a good option if you don't want to be distubed by loud music and party goers at all hours of the night. But even though it's far enough away from the center that you don't hear all of that, it's close enough that you can walk it – if you like – or hop in a taxi for a quick ride into town.
The neighborhood here is home to a smattering of luxury all-inclusive hotels and high-end eateries and beach clubs that edge the sand along this portion of Playa del Carmen. It has an altogether more secluded atmosphere, making it a good option for families or simply an easygoing beach break.
Mayakoba
Situated to the northeast of North Playa del Carmen is the chic Mayakoba. This stunning area boasts mangroves, cenotes, and jungle, with just a handful of the best luxury hotels in Playa del Carmen to choose from. Staying here means stepping out of your all inclusive villa right onto powdery white sand beaches, and exploring along forested footpaths that wind through the natural scenery.
It may not be very lively, but it's a tranquil spot that's good for nature lovers. You can even spot wildlife living among the canopy: think spider monkeys, tropical birds, and iguanas.
South Riviera Maya
Towards Tulum from Playa del Carmen, there are a number of small towns and luxury resorts located along miles of undeveloped sandy beach. This is where to stay in Playa del Carmen for those who want to spend their time almost exclusively kicking back on the beach, and exploring nearby cenotes with a rented car.
Most accommodation in this area is quite pricey, and it's not exactly near to the center of Playa del Carmen, but the main town in the area – Puerto Aventuras – has restaurants, resorts and adventure parks nearby.
North Riviera Maya
Between Playa del Carmen and Cancun to the north, there are yet more exclusive resorts. Scattered between the two small towns of Puerto Morelos and Punta Maroma, these hotels are actually some of the largest all-inclusive hotels in all of Mexico.
But staying in this area, you'll get to explore many lesser visited beaches and enjoy the amenities of the accommodation. It's great for families who want a totally stress free vacation in the sun.
Now that you have a better idea of the best areas in town and nearby, let's focus on where to stay in Playa del Carmen and find you a good place to stay!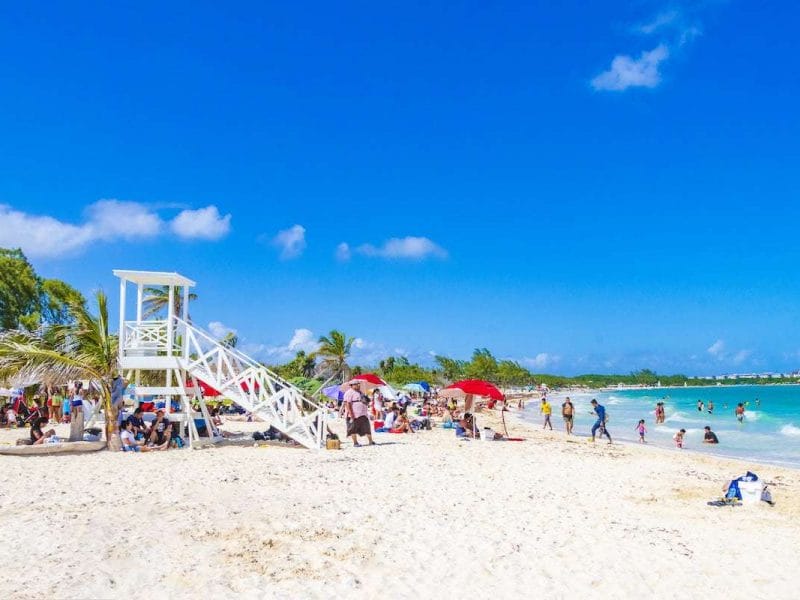 Where To Stay In Playa Del Carmen – The Best Accommodation Options
Best Hotels in Playa del Carmen – Luxury
For all round style, sophistication, and elegance book yourself in at Palmaïa. This self-styled "Wellness Enclave" is the place to totally unwind in Playa del Carmen. It's an all inclusive luxury resort located on the shores of the Caribbean Sea.
The hotel is dedicated to wellness practices, so you can expect holistic and wellness programs such as yoga classes, tai chi, cacao ceremonies, and meditation. And for when you feel centered, you can enjoy live music, dinner and drinks at one of the five on-site a la carte restaurants.
Guest suites continue the natural wellness theme, with warm wood furnishings and sea-inspired decor throughout.
Another enormous resort in Playa del Carmen, Grand Velas Riviera Maya is nestled among the coastline's tropical landscape overlooking the Caribbean. Here the sprawling hotel encompasses manicured gardens and multiple swimming pools, as well as a private beach for guests to use.
A great place to stay for families, there are organized activities for adults and children alike, plus wellness treatments for when you want to unwind.
The location – six miles from Downtown Playa del Carmen – means it's away from the crowds, but close enough to explore when you want to. Here polished, minimalist rooms boast their own private terraces or balconies, complete with stunning views of the sea.
This luxury boutique style resort is a 5-star offering where guests get to stay in luxurious high-end villas, steps from the white sands of a private beach. Each of the villas come with their own private swimming pools and landscaped gardens.
Every inch of Banyan Tree has been immaculately designed, with sophisticated, tasteful interiors throughout, from the sparkling guest rooms to the shared spaces of the hotel. There are a whopping 11 specialty restaurants serving various menus of international cuisine, as well as three bars to choose from during your stay.
This luxury hotel truly feels like it's been designed to be a part of the surrounding nature; some of the villas open out onto the sand itself, while others hang suspended over water.
Best Hotels in Playa del Carmen – Mid-Range
Located mere meters from Playa del Carmen beach, this boutique hotel is a perfect place to stay if you want to be right in the middle of the action. It's close enough to the bars, restaurants, and shops of Playa del Carmen, but far enough away that you're not affected by the noise of the town's party scene.
This 4-star accommodation boasts guest rooms that feel rustic yet modern, with eye-catching furnishings, and a warm color palette. Each comes with its own terrace for extra luxury.
La Leyenda features a large outdoor terrace with a swimming pool, as well as a bar and a garden. There's a complimentary breakfast served up to guests each morning, while there is also free private parking.
With the huge array of tropical plant life here, staying at Hotel La Semilla feels like you're staying in an actual jungle. Situated in the heart of Playa del Carmen, just a short walk to the beach along a cobbled street, the hotel is the ideal balance of rest, relaxation, and adventure.
The design of this Playa del Carmen hotel is impeccable, with a strong eye for detail and a bold sense of character. Each room has been decorated with care and consideration, with a mix of contemporary cool and relaxed tropical vibes.
Amenities include a stylish on-site restaurant and bar, as well as a garden terrace and bicycles to hire.
This hotel in Playa del Carmen is situated around a five minute drive from central Playa del Carmen, and just a minute from Xcaret Parks. Run by friendly owners, this place is a hidden gem full of both home comforts and luxuries.
Hacienda Xcaret is great for those who like to explore further afield – especially if you've got your own car (thanks to the on-site parking). If not, it's simply just an ideal spot to kick back and unwind.
The hotel is a true Mexican hacienda, true to its name. Guest rooms are situated in a large building overlooking a garden courtyard with a pool. The decor is traditional, but stylish, ochre walls and terracotta tiled floors, and overflowing with tropical plants throughout.
Best Hotels in Playa del Carmen – Budget
Sticking to a budget does not mean having to skimp out on style – as proven by Meliora. Providing 4-star accommodation for a snip of the price, this amazing hotel in Playa del Carmen boasts chic and fashionable guest rooms, decorated in a gorgeous minimalist aesthetic.
Further helping out those on a budget, rooms also come with a small kitchen and seating areas, so you can whip up some meals and make yourself at home. There's also an outdoor swimming pool situated on a rooftop terrace, along with tropical greenery and hammocks.
Location-wise, you'll find the clean and well maintained Meliora close to Playa del Carmen beach, meaning you'll have all the bars and restaurants of town on the doorstep.
Claro de Luna offers the chance for you to stay in Playa del Carmen on a shoestring budget. But even so: the rooms here are spacious and polished, with five types of apartment to choose from, each of which offers something a little different. Here, too, you'll have full use of your own private kitchen to help you keep costs low.
This self-styled aparthotel includes a swimming pool within the grounds, as well as a terrace and garden, making for a chilled place to relax after a day of exploring. Those with rental cars should also take note that there's parking on-site, making day trips to surrounding attractions and cenotes very much a possibility.
A new hotel situated in a great location – right in the center of Playa del Carmen on Fifth Avenue – Hotel Mariachi is a laid-back place to stay.
Here you'll find spacious and comfortable guest rooms, featuring cool and calm decor, accented with traditional textiles and textures. Some rooms come complete with their own private sun terrace, too.
On-site there's a garden and swimming pool to relax in, complete with sun loungers. Elsewhere the friendly, helpful staff here can offer tips and advice on what to see and do – and where to eat and drink – in the local neighborhood.
Best Hostels in Playa del Carmen
The ideal place to stay for those traveling solo, or on a tight budget, Wabi Hostel isn't just affordable: it's also situated in a great location. Specifically, the ADO bus station is a stone's throw away, meaning travelers arriving by bus (or planning to explore further afield) can do so with extra convenience.
There's a range of room options to choose between, from budget double rooms all the way to spacious and clean dormitories (beds have their own privacy curtains). To help you out with that budget, there's a delicious complimentary breakfast provided each morning. It's also easy to meet other travelers here, with a chilled out terrace area for socializing.
This fun, vibrant hostel in Playa del Carmen is a youthful place to stay. Just 200 yards from Playa del Carmen's main square, and just under half a mile from the beach, staying at Che Playa Hostel & Bar means being situated in the city center with all the action practically on your doorstep.
There's the option here to stay in a private room, which is clean and minimalist, while dorm beds are also available – there's even a female-only dorm for solo female travelers to have peace of mind.
Guests staying here can get involved in the hostel's roster of various events, including tours, drinking games, beer pong, happy hour, karaoke, and live music. It's not a crazy party hostel, but it's definitely a place to have a good time and save some cash, too.
For something more chilled in Playa del Carmen, this hostel may be for you. Ideal for those on a shoestring budget, there's a cozy atmosphere at Red Panda Hostal, which is run by a friendly team of staff who'll help you get to grips with the town.
It's a good place for solo travelers to meet like-minded individuals; staying here means being able to get involved in social events such as BBQ and games nights. There's even a swimming pool on-site in a courtyard boasting colorful murals.
Dormitories at this Playa del Carmen hostel are spacious and basic, but clean, while private rooms have bohemian feel to them. Location-wise, you'll find this hostel in the center of Playa del Carmen, but in a quiet area away from loud partying.
Further Readings
For more information about Playa del Carmen, make sure to read the following posts:
Pin It For Later!