The bohemian neighborhood of Barranco offers up the chance to see a particularly cool side of Lima. This fashionable district is a hipster hub with a long list of cultural sites for visitors to discover and learn about – and plenty of entertainment besides. Many streets in romantic Barranco are daubed with colorful murals; in fact, this neighborhood has long had a connection with Peruvian artists.
Together with Miraflores and San Isidro, Barranco is one of Lima's social bubbles, a place that has a completely different feel compared to other areas of the city. It's probably my favorite part of town, and never miss a chance to go whenever I am in Lima.
If you are planning to spend a few days in the Peruvian capital, Barranco should definitely be on your radar. Not sure where to start exploring? Don't worry, in this post I will share everything you need to know about Barranco, its best attractions and tips for visiting.
For more information about Lima, read my posts The Best Things To Do In Lima, Is Lima Safe For Tourists? and The Best Lima Travel Tips.
The History Of Barranco, Lima
Located on the coastal portion of the city, Barranco lies south of Miraflores as one of Lima's smallest districts. Though it has a reputation for being home to hipsters and creative types, Barranco actually has an illustrious past of hosting painters, sculptors and writers, among other literati.
But Barranco, one of the newer neighborhoods of the city, didn't start off this way. The district was first settled by fishermen, who built a hermitage here in the early 19th century. It was officially recognized as a village in 1860 and named Barranco, which literally means "ravine" in Spanish.
The new settlement soon became a destination for wealthy vacationers from Lima, who traveled to the area to enjoy the fresh air and amiable atmosphere. These upper-middle-class citizens built large European-style mansions and ranches in the area; many were destroyed during wars in the late-19th century and earthquakes which have shaken the city.
Barranco didn't just attract the local elite – it began to attract international visitors. Accordingly, a resort-style atmosphere began to be fostered by the construction of several pretty attractions in the district. Some of these are Bajada a los Banos (created in 1870), the footpath that runs down to the shoreline, and the Bridge of Sighs.
Some of these beautiful old houses and other period buildings survive to this day. It's this historic architecture that gives Barranco a feeling all of its own – worlds away from the crumbling 20th-century buildings and sparkling high-rises that typify much of central Lima.
Having undergone additional gentrification, Barranco is now home to freelancers, intellectuals, and writers, and features cool coffee bars, hidden bars – where weekend party-goers flock to enjoy nights out – and interesting museums. The district is a colorful slice of the city that's just waiting to be explored.
Let's continue to see the places you really should not miss when in Barranco, Lima.
The Best Places To Visit In Barranco, Lima
Puente de los Suspiros
The Puente de los Suspiros or Bridge of Sighs opened on 4th February 1876. It was built to connect the two sides of the ravine that pass through Barranco (which gives the neighborhood its name). Specifically, it connects Ayacucho Street to the Church of the Hermitage on the other side.
The bridge has seen much history during its time, and has been repaired several times through its lifespan – including after the Chilean destruction of the area during the War of the Pacific (1879-1883).
Today the bridge is a defining symbol of the Barranco neighborhood and is connected to the romance of its past glory. And in case you were wondering, while it may have the same name as the more famous bridge in Venice, it's certainly not as ornate – instead, this is a simple wooden walkway that's around 30 meters (less than 100 feet) long.
Even though it was built originally out of necessity to connect the two sides of the ravine, it soon became a place where poets came to find inspiration – and where lovers would meet. Here, artistic and philosophical figures from Peru's past, such as Jose Maria Eguren and Martin Adan, have lingered.
Its status as a place for romance has even lent itself to the lyrics of a classic Peruvian song, 'El puente de los suspiros', a 1960s number written by composer and singer Chabuca Granda. The lyrics describe the famous wooden bridge and tells the story of two lovers meeting there.
Nowadays, this is probably the most popular attraction in the area. Legend goes that if you express a wish and cross the bridge while holding your breath, you will get what you wished for. In case you are wondering, I gave it a try, but my wish hasn't come true yet (but I am hopeful!).
Bajada de los Banos
Passing beneath the Bridge of Sighs at the bottom of the ravine is a winding cobbled pathway: Bajada de los Banos (literally "Descent to the Baths"). Edged by greenery and colorful historic buildings, this pathway is a popular place to stroll and enjoy a bite to eat at one of the nearby restaurants.
Originally, however, Bajada de los Banos was the route that local fishermen would take with boats down to the sea. It was created into a promenade for the well-to-do in 1870, and to this day, connects down to the beach below. The eateries along this path serve an array of seafood and other local dishes – it can be a nice spot to eat, if a little hassly at times.
Museum of Contemporary Art
The Barranco district is, of course, no stranger to the art world, which is what makes it the perfect place to host Lima's Museum of Contemporary Art. Abbreviated to MAC, the museum first opened its doors in 2013 as a place to showcase the nation's emerging artists and established names alike.
The museum grew out of the private collection of artists and collectors who formed the Institute of Contemporary Art in the 1950s. Over the years, this collection grew and, in the 1980s, the group had the idea to start up a museum to house it in. There was no other modern art museum of this kind either in Lima or anywhere else in Peru at this time.
Artworks are displayed across three eye-catching glass-paneled structures, all of which are surrounded by reflective water that separates the structures from one another. The museum has a constantly revolving collection of temporary exhibitions, often playing host to thought-provoking contemporary art. Past exhibitions have focused on identity and discrimination; some have even provoked protests against blasphemy in art.
Visiting the Museum of Contemporary Art is a peaceful way to spend a few hours in Barranco. You can wind up your time there with a coffee in the onsite cafe. It's open Tuesday to Sunday, 10:00 am to 2:00 pm and 3:00 to 7:00 pm.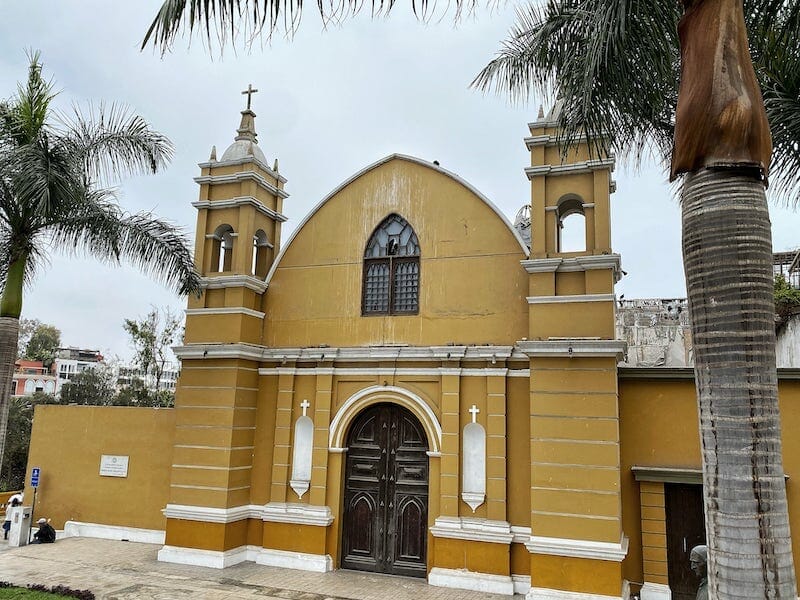 Iglesia La Ermita
The most famous church in Barranco is Iglesia La Ermita, which is linked to a local legend. In the early 19th century, fishermen lost at sea in a thick fog were praying for salvation when suddenly they saw a glowing crucifix in the distance. They steered their boat towards the shining light and managed to safely arrive back at shore.
Upon disembarking, the fishermen discovered that the light wasn't shaped like a crucifix. In fact, it didn't exist at all; they had been saved by a miracle. The hermitage was built on the site where the glowing cross was said to have appeared, and from here, the Barranco neighborhood grew up.
Sadly, the church today has fallen into disrepair and half its roof seems to have collapsed. But it's still interesting to see the earthquake-proof construction techniques; it was originally built out of adobe and thatch, allowing the building to flex. You can still see it by traversing the Bridge of Sighs. Hopefully in the future it will be better cared for, being such an integral part to the founding story of Barranco as a district.
Malecon Saenz Pena
Given that one of Barranco's most defining attributes is its beautiful old architecture, it makes sense to seek out some of these lovely historic buildings. One of the best places to do this is Malecon Saenz Pena. Located a short walk from Iglesia La Ermita, this leafy boulevard is one of the most iconic (and affluent) in the area.
Complete with a park running through the middle – the Alameda Saenz Pena – a stroll along this avenue reveals a collection of European-style mansions. Some of them have been repurposed as boutique hotels, but some are still residences for the wealthy.
At the end of the Malecon Saenz Pena you'll find the Mirador Saenz Pena. This observation point looks out over the sea, making for an ideal spot to glimpse a sunset or just gaze at the beautiful Pacific Ocean from this equally beautiful avenue.
For more architectural goodness, head on a short walk southeast of Malecon Saenz Pena. Here you'll find Plaza San Francisco, backed by the Baroque-style Parroquia San Francisco de Asis church. The area near the square is home to several historic buildings, from the grand Sousa Palace to the home of Jose Maria Eugen on the corner of Calle Colon. Here also are several art galleries, including Artesanias Las Pallas.
Street Art
Barranco has become synonymous with street art. It seems around every corner is a colorful creation adorning the walls; the street art scene here is particularly vibrant, reflecting the creative atmosphere of the district.
The local government actually permits for murals to be painted on the side of buildings (as long as the owner of the building is ok with it, too), making for an al fresco art gallery. You'll find them in car parks, inside cultural centers, on the sides of old houses.
In fact, the local authorities have been so supportive of street art that they launched a contest in 2015 called Las Paredes Hablan ("The Walls Speak"). In this initiative, 15 artists were allotted a wall each, and given 5,000 Peruvian Soles, to create a mural that would be on display for two years.
It's easy to take yourself on a walking tour of the street art around Barranco, stopping off at prominent artworks or pieces that you like the look of as you go. There are also street art tours led by locals, allowing you to get a better insight into the street art here, the meaning behind it and its importance to the city as a whole.
Shopping!
You can't come to the Barranco neighborhood without stopping off to do a spot of retail therapy. This district has a host of amazing stores and local boutiques where you can spend time browsing (and buying). It's particularly good for those who want to take unique or interesting souvenirs back home with them.
One of the best spots in town for local gifts and handicrafts is Dedalo. This art gallery/boutique sells a great selection of home decor, art, and Peruvian crafts. There's also Artesanias Las Pallas, which I mentioned earlier, for artistic wares.
Puna, which takes up space on the first floor of an old ranch property, is a modern space to pick up carefully curated textiles, furniture, and home apparel – all laid out on a backdrop of this historic building. Books, soap, and cool tote bags make up just part of the offering at Puna.
Street markets are also popular in the district. The most well-known of these is La Feria Union de Barranco, which sells only local products. You can often buy things from independent designers here, too, including clothing, natural cosmetics and jewelry, plus a program of workshops to get involved with. When you're hungry, the food stalls have you covered. Sundays are particularly busy here, when the market is alive with friends and family paying a visit.
If you're a chocolate fan, look no further than El Cacaotal. This hotspot for everything cacao-related uses ingredients sourced only from Peru. The knowledgeable owner visits the farms where these chocolates are made, and then puts them on sale in the store. You can also sample a few of the wares on sale at this beautiful chocolate shop, too.
Practical Guide
Guided tours of Barranco, Lima
The best way to appreciate everything that Barranco has to offer is to join one of the many guided tours that will take you to the most important attractions. We did one that started in Miraflores and also took us to Barranco and San Isidro, and we were pleased with the guide, the pace of the tour and the overall places we visited.
For a guided tour of Miraflores that also goes to Barranco and San Isidro, click here. It's the one we did and I can highly recommend it.
For a bike tour of Barranco and Miraflores, click here.
For a food tour of Miraflores, click here. For a vegan food tour, click here. For a classic food tour, click here.
Where to sleep in Barranco, Lima
Barranco is a hotspot for everything cool in Lima. The creative credentials of this district overflow at every opportunity, making for a neighborhood where visitors can soak up everything from cool cafes to street art. It's also a great place for local life, where you can stroll streets lined with grand buildings, stop off at inviting eateries, and stay in some cool accommodation to match. Below is a selection of the best places to stay in Barranco, Lima.
Make sure to also read my post Where To Stay In Lima.
Luxury: Hotel B
Set in a beautiful old mansion, Hotel B offers up the utmost in elegance in the Barranco district. Staying here certainly feels like you're vacationing with a wealthy family in the 1920s rather than the 2020s. Accordingly, the interiors here have been updated to keep in touch with modern tastes but retain much of their old-world charm.
The tranquil hotel offers up a selection of rooms, including studios and suites; facilities include a hotel restaurant and bar. The coastal location, close to many restaurants and bars, is the cherry on top.
Mid-range: Casa Republica Barranco Boutique Hotel
Casa Republica Barranco Boutique Hotel is an ideal mid-range hotel to suit discerning travelers staying in this cool district. Located in a former mansion, interiors at this hotel reflect the building's heritage with many traditional touches and period features remaining intact.
You'll find this hotel within walking distance of Barranco's main attractions, yet its situation in a quiet avenue – with other historic buildings as its neighbors – gives it a tranquil setting. There's an on-site restaurant, bar and breakfast included as a bonus.
Budget: Lima Wari Hotel Boutique
You don't have to break the bank to stay in one of Barranco's lovely old mansions – the affordable Lima Wari Hotel Boutique provides you with the opportunity to enjoy the experience without spending a fortune. Guests enter through the wrought iron front gates into a lush front garden, before stepping into a house with high ceilings and filled with antique furniture.
Rooms here are simple yet comfortable, plus there's a team of helpful staff on hand to help make your stay as stress-free as possible. There's also breakfast included in the price of your nightly stay.
Best restaurants in Barranco, Lima
While Barranco is completely bursting with places to eat, not all of them are amazing. If you want to really maximize your time in this creative neighborhood, then it's best to pinpoint the best places to eat in Barranco and make a beeline to them. This certainly beats wandering around not knowing where to go for lunch or dinner when you're feeling hungry. To help you with your itinerary, here are some of Barranco's top eateries.
Central
Run by Peruvian chef, Virgilio Martínez Véliz, Central is a Michelin Star restaurant and the place to go to enjoy an array of Peruvian dishes with modern twists. It's been named the best restaurant in Latin America and has been ranked the second best restaurant in the world in 2022.
Here, diners can enjoy the whopping 17 course tasting menu which aims to reflect various regions and traditions of the country – from all altitudes. Gaining a global reputation, Central continues to wow diners with its inventive dishes. It may not be cheap, but if you want a real treat and a culinary experience, come here.
It's open every day 12:45 pm – 1:45 pm and again from 7:00 to 8:30 pm (closed Sundays).
Kjolle
Another of Barranco's finest restaurants, the highly rated Kjolle takes its name from the kjolle flower that grows in the high altitude of the Andes. Having been founded by Pia Leon (the wife of Virgilio Martínez Véliz), it's the sibling restaurant to Central, but is a slightly more relaxed affair. There's an exceptional menu of colorful dishes to try out here; Leon herself has won the accolade of being the best female chef in Latin America.
Opening hours are from 12:45 to 2:45 pm and 7:00 to 9:00 pm (closed Sunday, Monday and Tuesday).
Pan Sal Aire
If you're looking more at the affordable end of the dining scale, then make sure to head to Pan Sal Aire. Set inside an old building, this easygoing establishment has earned itself a reputation as the place to go for all things Italian in Barranco. Not only are its lunchtime sandwiches and coffee very worthwhile, but in the evening the pizza and pasta dishes keep diners coming back.
It's open from 8:00 am to 8:00 pm every day.
Arlotia
Another affordable dining option in Barranco, Arlotia is a Basque restaurant offering up a menu of goodies from the autonomous Spanish region. Here in this small, cozy restaurant you can enjoy a selection of paella and pintxos, all on a backdrop of a friendly atmosphere and good music to match. It's a great place to spend a few hours over dinner, ordering various different dishes to try (the wine list is good, too).
It's open Tuesday to Saturday, 12:00 pm – 11:00 pm; Sunday, 12:00 pm to 5:00 pm (closed Mondays).
How to get to Barranco
From Miraflores
If you're staying in Miraflores, getting to Barranco is fairly easy as it's the neighboring district. From the center of Miraflores, you can hop on the number 301 bus from Avenida Diagonal to Avenida Almirante Miguel Grau. But if you don't want to catch the bus, it's a fairly pleasant half an hour stroll through the central streets to get between the two districts. Alternatively, you could opt for a much more scenic walk along the coast, which will take around 45 minutes.
Make sure to read my post The Best Things To Do In Miraflores.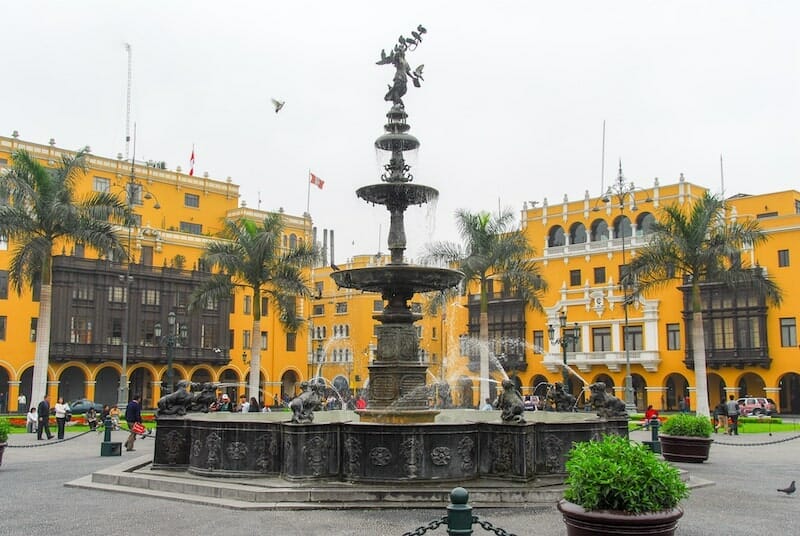 From Lima Airport
By Taxi
Getting to Barranco by taxi used to be pretty much the only way to get from Jorge Chavez International Airport. It's easy to find an official taxi at the airport; there are official taxi ranks where you can arrange a taxi to take you to your destination in Barranco. Note that everything is a fixed fare; these are regulated. It shouldn't cost you more than $25, and takes around 40 minutes.
By transfer
Private transfer is the most convenient way to travel between the airport and your accommodation in Barranco. Unless your hotel offers this free of charge, then arranging this can be fairly expensive, but if you are traveling in a group it can actually be quite convenient. The bonus is having the driver waiting for you at the airport without the hassle of getting a taxi or waiting around for a bus.
Book your transfer from Lima Airport to Barranco here.
By bus
The Airport Express 40-seater coach service actually only goes as far as Miraflores. From the terminus in Miraflores, you'll have to take a public bus or a taxi to your final destination. Basically, getting the Airport Express Lima is a great option if you're staying in Miraflores, but perhaps not so good if you're staying in Barranco.
Looking to explore outside of Lima? Head over to my post The Best Day Trips From Lima.
Pin It For Later!