Are you planning on visiting Lima? The Peruvian capital is one of the most thriving cities in South America. Lima is packed with history; there are many interesting places to visit; and some of the most unique vistas in the country (sunset from Miraflores is truly out of this world!). One thing for sure, as you plan your trip to Peru and think about Lima, you will be asking yourself many questions. I am here to give you all the answers! In this post I will tell you everything you need to know before visiting Lima and share the best Lima travel tips.
Everything You Must Know Before Visiting Lima
The History Of Lima
Today, Lima is the capital city of Peru and home to almost ten million people, which makes it one of the most populous cities in South America. The city was established in 1535 by Francisco Pizarro. But previous to that, the region was inhabited by various indigenous groups.
From 1543 onward, Lima prospered in the fur trade network and its population started to grow. In 1687, 1746, and 1940, strong earthquakes devastated the city, but it was rebuilt and the population continued to grow to 4.8 million by 1980.
This vibrant city's fascinating history is on display in the well-preserved colonial center where you'll find the Museo Larco and its collection of pre-Columbian art, Museo de la Nacion, and the Plaza de Armas.
How many days should you spend in Lima?
Although Lima is spread out over a large area, the main attractions are mostly located close together, so it's easy to see everything you want to see in a minimum of two days. The extensive and affordable transportation system also allows for easy movement around the city so this makes it easy to see many things in a short amount of time.
However, if you want a more in-depth experience in the city where you spend more time immersing in the culture and foodie scene, three, or perhaps even four days is better. Any extra day can be used to visit one or more attractions outside the city. Last time I traveled to Peru, I actually spent 4 full days in Lima and let me tell you, they were packed with activities!
Make sure to read my posts The Best Things To Do In Lima, Where To Stay In Lima and The Best Day Trips From Lima.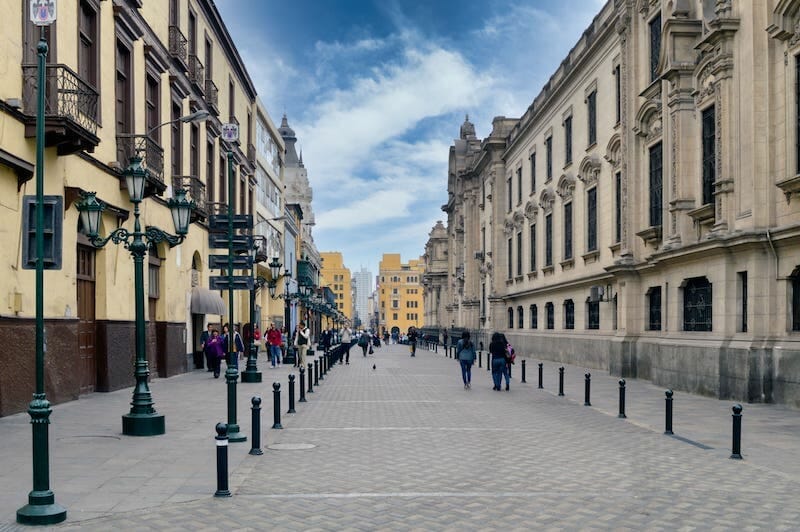 The best time to visit Lima
When thinking about the best time to travel to Lima, remember that Peru is in the Southern Hemisphere so if you're coming from a place north of the equator, your summer is Peru's winter. For many visitors to Lima, the best time to travel to the city is between December and April during the summer when temperatures are warmer and average 80 degrees.
That being said, this also happens to be the rainy season. So if you prefer to avoid damp weather, you may prefer to travel in the dry, but colder season between May and October. February is the hottest month and August is the coldest.
I have been to Lima a few times, twice in April and once in October, and I enjoyed beautiful, sunny and actually quite hot days in April, with temperatures dropping at night. October, and generally speaking winter in Lima, mean solid overcast days (but not a drop of rain)
Read my post The Best Time To Visit Peru.
How to get to Lima
As Peru's gateway to international tourism, Lima is very easy to get to and that's due to the number of airlines operating frequent direct flights to the city's Jorge Chavez International Airport. Most major cities in North and South America offer these direct flights, but direct and connecting flights from many countries around the world are also frequent.
While flying into Lima is the best way to get there, you can also arrive by boat on one of the many cruises that have the city as a major stop or via the Pan American Highway from other points in South America. Finally, you can get to Lima by bus from many other cities in Peru.
How to get to Lima from the Airport
Central Lima is about seven miles (little over 11 km) away from the airport so you will need to find a way to get to your hotel. The best way to get from the airport to the city safely and efficiently is by taxi which takes about 30 minutes and costs around $16.00 USD.
Another option is to take the Airport Express Bus which travels from the airport to the Miraflores district. The bus leaves the airport every hour and costs $8.00 USD. Combis minivans also travel from the airport to the city center. While these minivans are not recommended because they don't run on a fixed schedule and the trip into the city takes longer than with other methods, it only costs $0.55 USD one way.
How to move around Lima
Renting a car when visiting Lima is not necessary because most of the tourist sites you'll want to see are in the same area which is highly walkable. The city is spread out if you wish to visit other districts away from the downtown and central area, but cabs are convenient and affordable and buses and metros are available.
An easy way to help you navigate the various public transit options is to download the app Moovit. This journey planner app combines crowdsourcing and official public transit information to help with route planning. For those who don't speak Spanish or have no idea how to get around the city, this app is a life-saver!
Buses are quite extensive around the city, but the metro bus that has its own dedicated lane only serves some districts. Taxis are more convenient but you'll pay a little more.
Food in Lima is delicious
One of the many perks of visiting Lima is the food. Time and time again, Lima has been ranked the food capital of South America and one of the top foodie cities in the world. I can attest to that! One of its top restaurants, Central, was voted fourth on the list of the world's 50 best restaurants and the restaurant's chef is said to be the best in the world.
Lima's food is spicy, colorful, and delicious, and it's not just lavish sit-down restaurants that serve the city's best food. The street food of Lima is widely popular with locals and visitors alike. Much of the local cuisine gets its taste from a few basic ingredients including the aji pepper which gives dishes that unique flavor without making them too spicy. Rice is often served on the side.
Some of the traditional dishes in Lima that you should try include lomo saltado, arroz chaufa (which is actually similar to Chinese-style fried rice), picarones, causa, sanguche de chicharron, anticucho, and aji de gallina. Quinoa is a common staple at breakfast and if you hear people talking about the dish cuy, you might be surprised to learn that this popular delicacy is roasted guinea pig.
There are many restaurants in Lima but some of the best ones that serve a variety of traditional dishes include La Gloria, El Mercado, Cosme, Kjolle, Isolina and the recently opened Mayte.
You should also read my post A Guide To Peruvian Food.
Ceviche is best eaten for lunch
Something that Peru can claim as their own is ceviche, and Lima is where you'll find many variations of this world-renowned and much sought-after dish.
The star ingredient in this delicious creation is the fresh fish caught the same day it appears on your plate. The diced fish is raw, but the danger of food poisoning is diminished due to it being marinated in lemon or lime before being served.
Ceviche is typically served with sweet potatoes, plantain, corn, and onions.
Whether you eat ceviche as an appetizer or main course doesn't matter. What matters is you eat it fresh. The fish is usually caught that morning, so to enjoy maximum freshness it's best to enjoy the dish by lunchtime. Eating it earlier in the day will not only guarantee the best taste and texture but also prevent bacteria from settling in the raw fish which is more likely as time passes. While it is common to see ceviche on dinner menus around Lima, this is because many tourists expect to be able to order the popular dish as their main meal.
Pisco Sour is for tourists
When visiting Lima as a tourist, you'll likely receive recommendations to try a favorite local drink called Pisco Sour. However, this drink is mostly marketed towards tourists, as there's some debate about whether the drink was even invented in Peru or even by a Peruvian!
Pisco is made with Pisco brandy, syrup, lime juice, egg white, and Angostura bitters, and the alcohol content is anywhere from 38% to 48%. The finished product has been described as having a unique taste that is a mix of tart and sweet with a foamy texture (that's the egg white) and it's best served chilled.
Although Peruvians claim the cocktail as their national drink, so does Chile. The truth is the drink was invented by an American named Victor Morris who owned a bar in Lima in the 1920s.
Now, I appreciate Pisco Sour may be for tourists, but when visiting Lima it really is a must-have!
There are lots of cats at Parque Kennedy
There are many lovely parks and green spaces around Lima, but would you believe that there's a park with lots of friendly cats? Yes, that's right! At Parque Kennedy in the Miraflores District, you can kick back in a beautiful park while adorable kittens and cats compete for your attention.
Also known as the Cat Park, Parque Kennedy is home to more than 100 cats.
Cats have made this park their home for over 25 years, but no one really knows where they came from! It's not certain whether they are descendants of the cats once used as pest control at a nearby church or of cats that were dumped by owners who didn't want them anymore. Whatever the reason, these cats are not wild strays. They are anything but! They love the attention they get from the hundreds of visitors who come to the park every day and they often approach visitors looking for tummy rubs and head pats.
As you walk around the park you'll see cats of every size and color lying out in the sun or seeking refuge in a shady spot. A local volunteer group takes care of the cats and the park and despite there being so many cats around, the park is immaculately kept. The cats are well-groomed, well-fed, and happy too!
Make sure to also read my post The Best Things To Do In Miraflores.
Beaches in Lima are nice – but not as you'd imagine
Lima is a port city on the Pacific Ocean so naturally, you can expect to find some nice beaches around the region. There are beaches but they may not be what you'd expect, especially if you're seeking tropical stretches of soft sand, palm trees, and warm waters.
Although the beaches around Lima tend to be rough and rocky and aren't the nicest ones in Peru, you can find some pretty nice ones in the south of the city in the Miraflores, Barranco, and Chorrillos districts. It might come as unexpected, but the waters surrounding Lima are often colder than you might be used to.
Some of the popular beaches near the city include Huacho, Chilca, San Bartolo, Muelle de Ancon, Playa Costa Verde Barranca, Caballeros, and Playa Pulpos.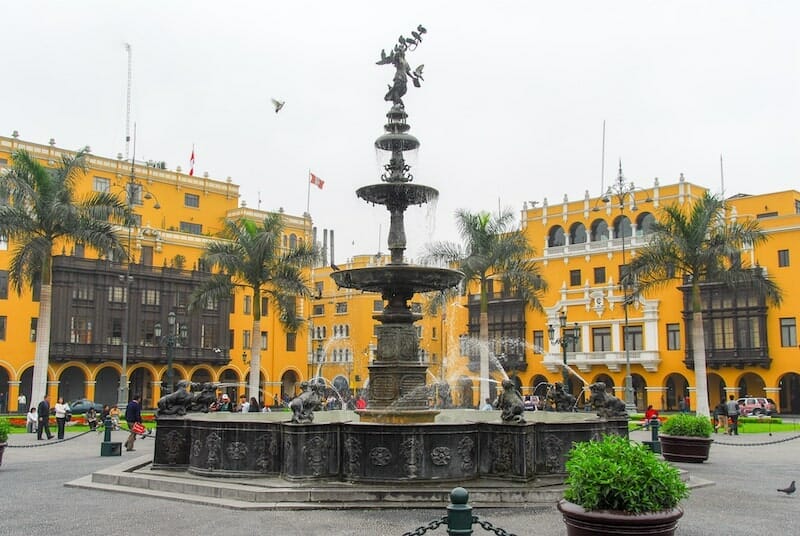 Is Lima safe?
Peru is a fairly safe country to visit and Lima is about as safe a capital city as any other. Violent crimes happen, although rarely. But petty crimes are fairly common, especially towards tourists traveling alone in certain areas of the city.
There have been incidents of assaults in taxis, but you can easily avoid this risk by always using certified radio taxis from reputable companies including Green Taxi, CMV, and Mitsui Taxi Remisse. Always call from your hotel or restaurant rather than flagging one down on the street. Even if you have no idea where you're going, make it seem like you do so you don't get overcharged. Some taxi drivers will use your lack of knowledge about the city to take the extra-long way to your destination so you end up paying more.
Pickpocketing is common at tourist sites so make sure to keep your bag or purse secured and in front of you at all times and watch out for overly friendly people trying to distract you from your belongings. ATMs are also a target for robberies. One of the best Lima travel tips is to try to only use ATMs in well-lit indoor spaces where you're not alone.
Walking alone in certain areas any time of day puts you at risk for muggings or other violent crimes, but the risk is much higher at night anywhere in the city. In the majority of cases, a mugger is only interested in your money. It's best to just give in and let them take it rather than risk being harmed. Some areas of the city are safer than others, such as Miraflores, and Barranco, but it's important to be vigilant. On the other hand, the central historic district is best avoided completely after dark.
To reduce your risk of being attacked, don't wear flashy jewelry or carry a lot of cash. Leave valuables in your hotel safe if you have access to one. If you're in a nightclub, keep a close eye on your drink. There have been incidents of people being incapacitated with a spiked drink so it's easier to rob them.
If you do fall victim to theft or assault when visiting Lima, it's important to report it to the Tourist Police as they are responsible for protecting tourists and the tourism industry as a whole.
Be aware that natural disasters do happen in Lima, too. Large earthquakes are quite rare but do happen and flooding and landslides are common after heavy rains.
For more information, you should also read my post Is Lima Safe For Tourists?
Pin It For Later!