Is Lima safe? If you're paying attention to the news of protests and riots, you might be wondering about the overall safety of Lima, Peru.
The U.S. Department of State currently has a Level 3 Travel Advisory: Reconsider Travel for Peru. This was most recently updated on December 22nd, 2022, due to civil unrest and the U.S. government restrictions on personnel.
For comparison, some other well-known countries are listed with a Level 3 Travel Advisory: Colombia, Egypt, Honduras, Jamaica, Nicaragua, and Saudi Arabia. Notice how many relatively safe countries are listed with a Level 3 Advisory. I have been to more than half of them, and can tell you that I have never had an issue.
While Peru has been going through political turmoil in recent months, and the situation got pretty intense in December, the country is fully open to tourism, guided trips are taking place and you can still thoroughly enjoy a trip to this beautiful country if you practice mindfulness and respect and stay aware of the situation.
According to the U.S. Embassy in Peru, and other sources, crime has been on a steady incline in Peru, and Lima in particular. Most crimes involve petty theft, phone snatching, and other semi-minor inconveniences.
However, some more intense stories about crime in Lima are still floating around. Infobae highlights several incidents from 2022, including a robbery of 10,000 Peruvian Soles (around $2650 USD) that resulted in two deaths.
While much is happening in Lima, you can still enjoy this beautiful city with common street smarts and proper preparation. I am here to help you do exactly that with these safety tips for your visit to Lima. Continue reading as I answer your question "is Lima safe?"
Make sure to also read my post 33 Incredible Things To Do In Lima, Peru.
Is Lima Safe?
Let me start by saying that I have been to Lima three times. This is an incredible city that far exceeded my expectations. Before my first trip to Peru, everyone told me to only spend one or two days in Lima, that the weather was terrible and the people were worse, and that it was just a boring big city. However, I spent one month in Lima and appreciated every moment of it.
Lima has a lot to offer. Whether you enjoy fantastic food (both local and international), affordable prices, modern amenities, artisanal shopping, or lively cat parks, there is something here for you.
Unfortunately, Peru has been in the news recently for political turmoil and a spike in violence and robberies. The country took a big hit with the pandemic lockdowns, and the economy hasn't fully recovered. Additionally, the former president (Pedro Castillo) was impeached on December 7th, 2022, and later arrested.
Presidential unrest is familiar to Peru. In fact, this Washington Post article from 2020 is about how Peru went through three different presidents in one week. It's been a long time since Peru has had a reliable president and an even longer time since Peru has had a president even fulfill his presidency term.
That being said, Lima has been on the safer side of travel in Peru. The police generally have more control over protests and riots compared to small rural villages that corner off major areas of the country. In addition, it is much easier to avoid these events in Lima than in other areas.
In recent years, Lima has had long periods of peace and very short periods of turmoil, so everything can still go very smoothly for your trip! You can certainly still enjoy your time in Lima. And there is truly so much to enjoy! You should be mindful and read up on current events before your trip to know what to expect.
Don't forget to read my post 12 Things To Know Before Visiting Lima.
Don't travel to Peru without a good insurance. Check out my recommended travel insurance here.
Is Lima Safe? Safety Tips For Visiting Lima
There's no need to worry about an upcoming trip to Lima. If you practice these simple safety tips, you should be more than prepared for everything in store!
Despite all the news stories, whenever I am asked "is Lima safe?" I answer confidently: Lima is a pretty safe place to visit, especially if you know the best neighborhoods and all the tips and tricks to stay out of trouble.
I will now talk about common dangers, annoyances, and safety tips for travelers who are planning a trip to Lima, Peru! If you give it a chance, you'll be happy you spent a little time in this South American concrete jungle. We certainly enjoyed it and much like I expected, my sister and brother in law, who were with me on my most recent Peru trip, loved it!
Beware of political turmoil
As mentioned, one of the biggest concerns for Lima, and Peru as a whole, currently is political turmoil. Lima often sees protests, riots, and other forms of aggressive gatherings due to civil unrest and displeasure with the current presidency.
Most of the unrest occurs near the capital and the Historic Center. Try to avoid these areas, especially during sensitive times.
Most of the time, things are perfectly fine within Lima. But it doesn't hurt to stay educated and aware of how things look. The best thing to do is to read through the local news and maybe Peru's Facebook pages to find out what the situation is like during your planned travel.
You should keep track of what's going on prior to your arrival. If there are planned protests, try to avoid the targeting areas. These areas will likely be near the capital buildings and historic center.
Don't travel to Peru without a good insurance. Check out my recommended travel insurance here.
Look out for the "snatch and run"
Once you're in Lima, you should definitely be aware of the common "snatch and run" form of robbery. This is a common type of theft (not just in Peru but in many other crowded cities) involving two men on a motorbike who pull up beside you, grab your bag, and drive off. Sometimes it can happen with a man on foot. However, most robberies occur by a group of men rather than a man alone.
You should not walk too close to the road; instead, try to walk on the inside of the sidewalk, putting plenty of space between you and others moving along the street.
Additionally, you should have a secure bag that won't get ripped off too easily and keep a tight grip on it.
Don't travel to Peru without a good insurance. Check out my recommended travel insurance here.
Avoid large crowds and hold onto your bags
It's incredibly easy to get pickpocketed, robbed, or taken advantage of in overly crowded areas. You should try to avoid these areas as much as possible, and if you find yourself in large crowds, hold onto your belongings tightly.
For example, Gamarra is a massive local-oriented clothing market about a 12-minute train ride from Miraflores. This market is so much fun to visit, but unfortunately, the market is notorious for pickpocketers. I recommend visiting in the morning on a weekday to avoid this, as weekends are much busier.
The same applies to other markets in Lima. Whenever you go in, make sure to take the bare essentials and wear your backpack in front of you, and by all means don't flash your belongings and look too much like a tourist!
Don't travel to Peru without a good insurance. Check out my recommended travel insurance here.
Stay out of bad neighborhoods
Like most other cities, there are dangerous and safe regions of Lima. You should stick to the more populated and touristic areas, as they have a much higher police presence. Much of the crime in Lima occurs in the outskirts and neighborhoods where foreigners have no business entering anyways.
Here are some neighborhoods to avoid:
Comas
Villa Salvador
Los Olivos
Surquillo
La Victoria
Centro Historico (avoid after dark, it's perfectly ok during the day)
These are just a few of the more dangerous slums or neighborhoods in Lima.
Make sure to read my post Where To Stay In Lima.
Know the best neighborhoods
You should not only know the areas to avoid, but also the areas that are considered safe for travelers. If you're planning a trip to Lima, consider these neighborhoods for a foreigner-friendly atmosphere:
Miraflores
Barranco
San Isidro
These three neighborhoods are right next to each other and along the coast. You can enjoy a long walk between the neighborhoods, rent a city bike, or take a short Uber or even taxi ride (in the second case, you'll have to haggle the fee before getting on). Each neighborhood will also have higher-end cafes, restaurants, bars, and beautiful parks.
Barranco is best for nightlife but is a little more dangerous in the late evenings. Miraflores and San Isidro are calmer and have a clean, friendly, and safe vibe.
Head over to my posts 13 Best Things To Do In Miraflores Peru and A Short Guide To Barranco, Lima.
Don't be too flashy
Don't wear expensive jewelry, clothes, or other valuables to avoid petty theft and crimes of opportunity. Many criminals target wealthy-looking individuals, so you should try to blend in with the average person and wear simple clothes and accessories.
I've heard many stories about "Rolex" thieves in Lima, who target those wearing expensive watches or smartwatches. You can easily avoid this by wearing nothing essential or of value.
Keep a grip on your belongings
If you end up in a crowded place, try to keep a tight hold on your belongings. You can travel with secure bags and purses designed for travel in pickpocket-heavy cities. But if you don't have one of these bags, you can still get by just fine by staying aware of your surroundings and holding onto your belongings. By all means don't place your smartphone and wallet the back pocket of your pants!
Don't fight if someone does rob you
If you are in the unfortunate situation of being robbed or some other confrontation, don't fight the people confronting you. Many people get into trouble when they try to fight back or run. You might just have to give in to what they are trying to take and get out of that situation as quickly as possible.
Don't travel to Peru without a good insurance. Check out my recommended travel insurance here.
Watch your back– even in Miraflores
Miraflores, and several surrounding neighborhoods, are known to be the best and most beautiful areas for tourists and foreigners. Miraflores is modern and clean and has higher-end properties, parks, and restaurants.
While it is a perfectly safe area to stay in (actually, I recommend it and it's usually where I stay whenever I visit Lima), you should still watch your back. Robberies still happen in Miraflores, especially at night.
Take an Uber whenever possible
I take taxis in Lima without any issue, but I do speak Spanish fluently, haggle the fare before getting on, and act confidently to let the driver understand they have no business trying to rip me off. I also normally ask a local (a guide, the hotel) what they think is a fair rate to pay to get from one part of town to another, and use that as leverage to negotiate a fee I am comfortable paying.
Street taxis may try to rip you off, but Lima has plenty of Ubers and other Rideshare options. This is definitely the safest way to navigate around Lima, especially in the evenings.
A general rule of thumb in Lima is to take an Uber directly to your destination, especially if you are unfamiliar with the area. This will remove much of the anxiety surrounding finding the best neighborhoods and areas.
Know a little Spanish
Many people in Miraflores or San Isidro speak at least some English, but not everyone. Your travels in Lima, and all of Peru, will be easier if you can speak a little Spanish. This will help you communicate with locals, ask for help, or just converse with others.
Don't travel to Peru without a good insurance. Check out my recommended travel insurance here.
Is Lima Safe For Solo (Female) Travelers?
Many solo female travelers visit Peru every single year. In general, Lima is perfectly safe for solo female travelers. However, you should take a few precautions as a female traveler while in Lima. These tips will be helpful to women traveling anywhere in South America; they are not entirely exclusive to Lima.
Stay in a nicer neighborhood
If you are a solo female traveler, you should definitely stick to one of the more well-known neighborhoods, like Miraflores. Not only will you be in a more "secure" neighborhood, but you'll also be within walking and biking distance of some of the most popular attractions and activities.
Learn your way around
Try to get a lay of the land before you arrive in Lima, especially for your arrival at the airport. Taxi drivers can get aggressive, and things can get chaotic. If you understand where you are going and the surrounding area, you will feel much more comfortable and confident.
A good thing to do prior to your arrival is to book your transfer from the airport to your accommodation in Lima. You can do that here.
Don't walk around alone at night
Unfortunately, most bad things happen at night in Lima. During the day, streets are bustling and full of life. But in the evening, things clear out. Many streets aren't lit well and feel quiet and eerie later in the evening.
You should avoid walking alone at night, as this can make you a target for ill-intentioned individuals. If you plan on exploring at night, try to make friends or meet other solo travelers to partner up with.
Lima is still a fascinating city in the evening, so it's best to meet others to enjoy this piece of the town.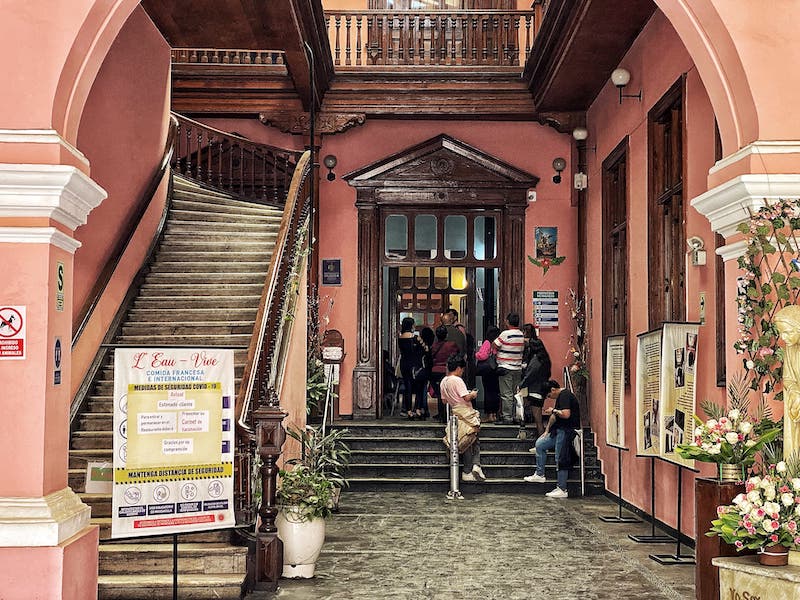 Join guided walking tours and city tours
Guided walking and city tours are among the best ways to safely explore a city and meet other solo travelers.
Lima has tons of free as well as very budget friendly walking tours in almost all well-known neighborhoods. They also have other fun cultural activities, like cooking classes, market visits and museum tours.
If you are a solo female traveler in Lima, this is one of the best ways to experience the city while making new connections.
Check out my post The Best Day Trips From Lima.
Don't tell strangers your personal details
You don't want anyone you don't know or trust to know where you stay or your future travel plans. I tried to be vague whenever strangers asked where I was going in Lima or afterward, at least until we built up trust and a personal connection.
You can follow your intuition here. If someone is giving an off vibe, don't let them know any more personal details about yourself, your accommodation, or your travel plans.
Don't travel to Peru without a good insurance. Check out my recommended travel insurance here.
Conclusion: Is Lima Safe For Tourists?
So, is Lima safe? Lima has been in the news lately with safety concerns and political unrest. This is understandable, as the country and the capital are in a very vulnerable position. However, the turmoil has been on and off for many years. There are moments of peace and moments of disruption.
You definitely must pay attention to Lima's news and current events, specifically about potential protests and riots.
That being said, Lima has so much to offer for the typical traveler, whether it's food, culture, or city views. You can still enjoy your time in Lima by practicing customary safety precautions.
Pin It For Later!