There are many incredible places to visit in South America. This immense continent is known for the breathtaking mountainous landscapes of the Andes; for the vastness of the Amazon basin and for the variety of its wildlife. Travelers are attracted there by the rich history and culture, best manifested in beautifully kept archeological sites. And in recent years, even the food has taken an important role among the many attractions.
But there's more! There are many beautiful cities in South America. From small colonial towns to large metropolis with a thriving art scene, you can really see it all in this part of the world. But what are the best cities in South America? Having been there more times than I can remember, I certainly have my favorite ones. But to add to the selection, I have asked other travel bloggers to select the ones they like the most.
Continue reading to discover the best cities in South America – by country.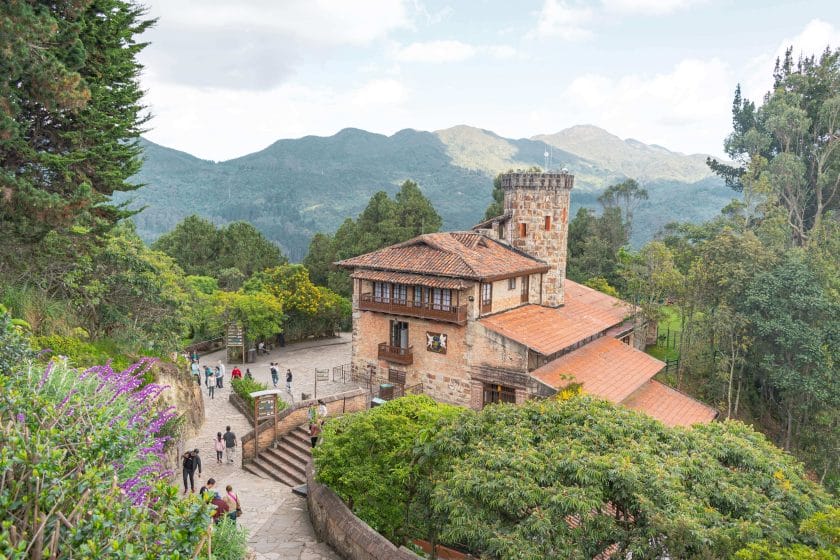 The Best Cities In South America
Best cities in Colombia
Bogota
Easily one of the best cities in South America, the capital of Colombia used to have the reputation of being a dangerous place that was best avoided. Contrary to that, it's actually one of the most interesting places to visit in South America! The city was founded in 1538 with the name of Santa Fe de Bogota. Set at 2,600 meters above sea level, the impressive vistas you'll get across town will (quite literally) take your breath away.
The main things to do in Bogota include exploring the old colonial area of La Candelaria; visiting Plaza Bolivar and the Catedral Primada; going up the Cerro Montserrate for views of the city; and visiting the many museums, among which the Museo del Oro, Museo Botero and the Nacional Museum. Bogota is also known for the vibrant nightlife. The best spots for that are the Zona Rosa, Chapinero and Usaquen.
To make the most of Bogota, consider joining this Bogota full day grand city tour.
Medellin
*Contributed by Bailey, Destinationless Travel
Colombia's "city of eternal Spring" not only has ideal weather all year round, but also tons of exciting things to do to offer travelers. Just wandering around El Poblado, the most popular neighborhood for tourists, you'll see street art everywhere you turn along streets lined with trendy cafes.
Be sure to venture out of El Poblado on your Medellin itinerary to really experience the city though. Head to downtown to see how the locals live as well as learn about the history of the city. This is best done on a tour and the free walking tour in Medellin is really worthwhile.
Another great activity in Medellin is to ride the cable cars up to Parque Arvi. These cable cars are actually used as public transport for the locals, but the view is incredible. From up in the sky you can really see the size of the city – it's so impressive.
To fully grasp the city, you can join a guided tour such as this coffee tour or this Pablo Escobar tour. You can also book your guided tour of Comuna 13 graffiti here.
Head over to my post 12 Best Things To Do In Medellín, Colombia.
Cali
*Contributed by Yaren and Antoine, Bug In Our Bag
Although it is overlooked by many travelers in Colombia, there are many reasons to visit Cali. It is an amazing city with great food, amazing landscapes and of course, salsa music. Cali is also known as the world capital of salsa. When in Cali, you can do many activities related to salsa: you can take a salsa lesson, visit the Salsa Museum and go to a salsa club. Even if you are not a dancer, you will enjoy the experience as you will see how important salsa is for the locals.
Other great things to do in Cali include visiting the Cat Park located along the Cali River, visiting the church La Ermita in the center and buying artisanal souvenirs in Parque Artesanal Loma de la Cruz. If you like local markets, you will love Galeria de Alamada for its fresh fruits and traditional Colombian food. For safety reasons, the best places to stay are San Antonio, El Penon or San Cayetano.
If you want to do a guided tour, consider this one.
Cartagena
A UNESCO World Heritage Site since 1984, Cartagena is known to be one of the best cities in South America. The city was founded in 1533. It's a pleasant place to explore. The main sight is the well kept Old City, where you'll find many examples of colonial architecture.
Among the best things to do in Cartagena there is spotting the Porta del Reloj (the clocktower); visiting the cathedral and the many museums. Make sure to also go to Plaza Santo Domingo; wander around San Diego neighborhood; and spot the street art in Getsemani.
Other places to visit are the Paseo de Las Bovedas covered market and the Castillo de San Felipe, perfect to take in the views of the city.
To fully appreciate Cartagena, join a guided tour such as this one or this one.
Best cities in Ecuador
Cuenca
*Contributed by Megan, Packing up the Pieces
Cuenca is a beautiful UNESCO World Heritage colonial city and one of the best cities in South America. It is the third largest city in Ecuador and has a unique fusion of Indigenous cultures with a modern European flair.
There are many diverse things to do in Cuenca, Ecuador. Stroll the picturesque cobblestone streets, visit one of the many free museums, wander through the bustling and authentic markets, and catch an epic sunset from the Turi Mirador. Cuenca boasts a fun and exciting culinary cuisine from cozy coffeeshops to chocolate shops. It's easy to get around since Cuenca has a budget-friendly and effective city bus system and a new state of the art streetcar.
Close to the city, soak in the natural and volcanic fueled hot springs in Baños de Cuenca. There are incredible day trips from Cuenca including: Inca ruins, natural parks, artisan villages, and waterfalls in cloud forests. Don't simply skip by this charming city in Ecuador. It's definitely one of the best places to visit in South America.
For a city tour of Cuenca, click here.
Guayaquil
*Contributed by Disha, Disha Discovers
One of the best cities in South America is Guayaquil, Ecuador. It has an abundance of outdoor activities and natural attractions, from hiking and bird watching to touring cocoa farms. Also, Guayaquil is home to some of the best nightlife in South America, with an endless array of bars, live music, and restaurants. Last but not least, the food in Guayaquil is delicious with crab being the specialty.
Strolling the Malecón 2000 is the very best thing to do in Guayaquil. This riverfront promenade will give you beautiful views of the River Guayas. For epic views of the city, take a ride on the largest ferris wheel in South America – La Perla. You can also climb 444 steps and explore the historic and beautiful neighborhood of Las Peñas.
Some must-see landmarks include Museo Antropológico y de Arte Contemporáneo, Balcon Mirador Cerro Paraiso, Fortín del Cerro, La Rotonda, and Church of San Francisco.
To make the most of Guayaquil, you may want to join a guided tour. For more information, click here.
Otavalo
*Contributed by Anna & Anthony, Green Mochila
The traditional Andean town of Otavalo, a 2-hour ride north of Quito, has become unmissable on any visit to Ecuador. Its indigenous population is very recognizable with their typical dress, and you should check out the food market for a cultural dive and a cheap, hearty meal.
But nationals and foreigners alike come here to visit the Otavalo market, known to be the largest and probably most colourful open-air market in Latin America.
Although you can find beautiful Andean clothes, ponchos, hammocks and jewelry every day of the week, you should visit on a Saturday to see the market at its biggest, covering all of the Plaza de Ponchos and stretching into the adjacent streets. You'll be immersed in a flood of colorful fabrics and Indigenous crafts that'll leave you with the head full of images and the luggage full of souvenirs.
For a guided day trip to Otavalo from Quito, click here.
Quito
*Contributed by Ayngelina, Bacon is Magic
The capital city of Ecuador, Quito is the highest constitutional capital in the world. At 2,850 metres above sea level, many people who land here find it takes some time to adjust to the altitude, especially if they are coming from sea level.
But this means plenty of time to see the sights of Quito: many are within easy walking distance in the historical centre.
Top attractions in Quito include the Basílica del Voto Nacional, where you can climb to the top for a spectacular view. You can take a taxi to Virgen de El Panecillo, a giant winged statue which overlooks the city protecting its inhabitants.
And if you're looking to take it easy there are several food markets throughout the city home to traditional Ecuadorian food from all over the country. You can find stalls that specialize in different regions from Coastal seafood in the Manabi province to roasted pork from the Andes.
To make the most of Quito, you may want want to join a guided tour. For more information, click here or here.
Best cities in Bolivia
La Paz
*Contributed by Martha, May Cause Wanderlust
La Paz has a certain intrigue about it. Not only is it the highest capital city in terms of altitude, it also has a fearsome reputation for street crime.
You can significantly reduce the risk by following the normal common-sense rules like not flashing your valuables and keeping your belongings in sight, zipped up. So, if you're careful, there are lots of things to do including museums, people-watching and exploring the street markets, including the famed Witches Market.
However, one thing you must do is simply admire its geography from one of the many vantage points, including cable cars. Not only is La Paz located at dizzyingly high altitude (3,900 m above sea level), but the city sprawls up the sides of a round canyon like an amphitheater, looking out across the Andes mountains that surround it. Photos struggle to do this place justice: it has to be seen. For colonial charm, head to Calle Jaen.
For a guided walking tour of La Paz click here.
Potosi
*Contributed by Cazzy, Dream Big, Travel Far
Potosi is one of the highest cities in the world and one of the best places to visit in South America. This city is located at 4,000 meters above sea level in the Bolivian Andes. And once you've taken some time to adjust to the altitude, it's a very unique and sweet place to explore. Everything about Potosi feels authentic, you'll see both men and women in traditional wear.
There are lots of beautiful churches to explore, including the Church of Saint Lawrence of Carangas and Cathedral Basilica of Our Lady of Peace. Don't forget to visit the National Mint of Bolivia which is a unique museum that holds coins and money-making tools.
You can also arrange a day trip to Cerro Rico which is famous for its silver and actually it has been nicknamed as being "made of" silver ore and famous for bringing large amounts of silver to the Spanish Empire. Due to the large supply of silver from Cerro Rico, Potosi became one of the largest cities in the new world!
Sucre
*Contributed by Jen, Dabbling in Jet Lag
Nestled in the center of Bolivia lies one of its most picturesque cities, Sucre – definitely one of the best cities in South America. This UNESCO World Heritage Site boasts immaculate whitewashed colonial buildings, stunning churches, and colorful parks. It has a laidback atmosphere that draws travelers of every kind. Not only that but it's one of the cheapest and safest cities in South America.
For the best viewpoint, head up to Cerro Churuquella. Along the way, stop at Recoleta, a beautiful terrace with excellent views and a delicious café. If you're looking for a more culturally immersive experience, visit Sucre's largest market, Mercado Campesino.
From handmade textiles to hearty meals, you'll find anything and everything here. And, of course, no trip is complete without visiting a dinosaur excavation site. There are several locations around the city, but Parque Cretacico has the largest collection. This is, without a doubt, one of the coolest things to do in Sucre.
Best cities in Peru
Arequipa
The White City (La Ciudad Blanca, in Spanish), Arequipa is definitely one of the best cities in South America. Set at about 2,300 meters above sea level, it's here that most travelers exploring Peru start experiencing the effects of altitude.
The city is a gorgeous series of narrow cobbled alleys and colonial building. The main sight in town is Santa Catalina Monastery, a must see. Arequipa is also a great starting point to visit the Colca Canyon – you can join a guided hike, or visit on more classic bus tours.
Free walking tours of Arequipa depart from Plaza de Armas daily at 10:00 am and 3:00 pm. Alternatively, you can opt for this tour.
Cusco
Certainly one of the best cities in South America, Cusco is often referred to as the getaway to Machu Picchu – but there's more to it than that. The city is home to gorgeous churches – such as the Iglesia de Santo Domingo and Koricancha – the former sun temple of the Incas.
The Plaza de Armas is an ample square, home to the beautiful cathedral. The San Blas district is the nicest neighborhood to explore, but you should also make sure to visit the main market – a colorful place packed with action and colors.
Cusco is also the ideal base to explore the nearby sites of the Sacred Valley – including Pisac, Sachsaywaman (which is the closest to town) and for some of the best hikes in Peru such as that to Rainbow Mountain.
Free guided tours of Cusco depart daily at 9:50 am, 12:30 pm, 3:30 pm and 6:00 pm from Plaza del Armas. Alternatively, you can join this guided tour.
Lima
While many travelers will shrug it off as less than interesting and recommend spending as little time as possible there, Lima is actually truly worth visiting. Among the unmissable things to do in Lima there is visiting the historic center, where you can spot the Plaza de Armas and the Cathedral; visiting one of the many museums, such as the Museo Larco, home to an interesting exhibit of pieces from the pre-Inca period.
Other places you should not miss are the Miraflores district, the trendiest in town and where you'll find a boulevard that goes along the coast and perfect for sunset spotting; Barranco, a neighborhood packed with art; and Parque Kennedy, home to a lovely cat sanctuary.
Free walking tours of Lima depart daily at 10:40 am from Plaza de Armas. For a more private experience you can book a guided tour here or here.
Best cities in Chile
Punta Arenas
*Contributed by Talek, Travels With Talek
Punta Arenas, in southern Chile's Patagonia region, was once a mandatory stop for ships traversing the Atlantic and Pacific Oceans. Then the Panama Canal was built, cutting ship transit time by 8,000 miles, and the city's geographic advantage disappeared. However, you still see traces of splendor in the city's mansions.
Today the city is famous for its stunning necropolis, Cementerio Municipal de Punta Arenas Sara Braun, named after a Latvian immigrant who made her fortune in Patagonia and donated the land. The cemetery is a National Monument of Chile and one of the most beautiful in Latin America.
Punta Arenas' other claim is as a gateway to Tierra Del Fuego. Travelers come to Punta Arenas to board a Strait of Magellan cruise. The ships also traverse the Beagle Channel and other waterways explored by Ferdinand Magellan as he circumnavigated the globe and Charles Darwin as he researched the region on his ship, The Beagle.
Santiago
I was actually thorn about listing Santiago among the best cities in South America, as it is hardly my favorite. Yet, the street art, the cultural life, the thriving political and social scene make it truly worth visiting – if only for a couple of days. The best examples of the colonial past of the city can be fond in the Plaza de Armas, where you'll spot the beautiful cathedral.
Yet, one of the unmissable things to do in Santiago is visiting the many museums. The Museo Nacional de Bellas Artes has a strong focus on Chilean artists. Yet, it is the Museo de la Memoria y los Derechos Humanos (the Human Rights Museum) that will give you the strongest experience and where you will learn about the country's difficult past.
To make the most of Santiago, consider joining a guided tour. I recommend this private tour with a local or this full day bike sightseeing tour. You could also consider this small group street art tour.
Valparaiso
*Contributed by Roxanne, Faraway Worlds
One of the more bohemian towns in Chile, the port city of Valparaiso is a quirky and accessible destination if you want to add some color and vibrancy to your trip.
The city is set on the hills overlooking the coast, with narrow streets twisting and turning up the slopes. One of the best things to do in Valparaiso is simply wandering through the city, admiring the wide range of murals all around the town. For many visitors, the street art in Valparaiso is the highlight of their trip.
If you care for a guided tour of Valparaiso street art, you may wish to check out this one.
Valparaiso is also home to Pablo Neruda's former house, La Sebastiana. Filled with whimsical décor, it's now a museum and well worth visiting. Fill your days with trips to the beach and beautiful coastal walks. The port-side fishing village is also a must see and food is cheaper on this side of town. If you want to explore a bit further, the resort town of Vina del Mar is a quick and cheap train ride away.
Best cities in Argentina
Bariloche
*Contributed by Or, My Path in the World
If you're looking for a South American city that feels more like a small town and is surrounded by natural landscapes, Bariloche is the place for you.
In the city itself, the Centro Civico is where you'll find the main points of interest, including the Francisco Moreno Museum of Patagonia, the Cathedral Our Lady of Nahuel Huapi, and many restaurants and bars. It's also one of the best places to enjoy Bariloche's Swiss-inspired architecture and the location of the city's best chocolate shops like Rapa Nui and Mamuschka. Bariloche is the Argentinian capital of chocolate and ice cream, and the smell of melted chocolate surrounding you as you walk down Mitre Street is something you won't forget.
Within a short bus ride, you'll also get to serene lake beaches, stunning viewpoints like Cerro Campanario, the Llao Llao Municipal Park that offers scenic hikes for all levels, and many other beautiful natural spots.
Buenos Aires
The capital of Argentina, Buenos Aires is one of the best places to visit in South America, thriving as it is with culture, history, art and with a fabulous array of restaurants and bars for a fun night out.
Among the unmissable things to do in Buenos Aires there is exploring the colorful La Boca, home of the famous Caminito; wandering around San Telmo, where you can enjoy impromptu tango performances and shop at one of the best city markets; a street art tour of Palermo, probably the trendiest neighborhood in the city.
You will also want to visit Recoleta Cemetery, where Evita Peron is buried; and admire the Casa Rosada. Finally, make sure to cross Calatrava's Puente de la Mujer and make your way to Puerto Madero, one of the most affluent districts of Buenos Aires.
If you are into street art, you can consider joining a guided tour such as this graffiti and street art guided tour in English or this small group Buenos Aires graffiti art tour.
El Calafate
The town of El Calafate itself is hardly special; yet its location at the heart of Patagonia, close to the famous Perito Moreno Glacier and as the getaway to Los Glaciares National Park make it one of the best cities in South America.
You can visit Perito Moreno independently, but if you care to hike the glacier you will need a guided tour. You can book your Perito Moreno ice trek here.
Not far from El Calafate, you can also visit one of the many Patagonian estancias – farms for cattle raising, typically for cows and sheep. If you don't want to get out of town, head over to the Laguna Nimez, a 15 minutes walk from the center of town and a great place to admire wildlife, including pink flamingos.
Mar del Plata
*Contributed by Erin, Sol Salute
If you want to cool off on a sweltering summer day, find your way to the best beaches near Buenos Aires in Mar del Plata. As summer descends on the best cities of South America, the bulk of Buenos Aires' population migrates south to Mar del Plata. This city was developed by the infamous Peron when he established Union hotels so that everyone could afford a beach holiday here.
If you plan on spending the peak months (January and early February) there, book hotels far in advance. The best months to enjoy the beaches without the crowds are in early December and March. You can rent a car for complete freedom or take an easy 5-hour bus ride from Buenos Aires. Being a major city there is no shortage of activities. Cafes, museums, and even casinos will keep you busy when you're not sunning yourself on Argentina's Atlantic Coast.
Salta
*Contributed by Elizabeth, The Fearless Foreigner
Salta, Argentina is one of the best cities to visit in South America. It's only about a 2 hour flight from Buenos Aires, but is a world away. Located within the northwest province of the same name, Salta is surrounded by colorful mountains.
The colonial town of Salta is known for its impressive architecture. You'll want to take a walking tour to see Salta's historic buildings. Also reserve some time to visit a few of the city's museums such as the Museo Histórico del Norte.
Either by foot or cable car take a climb up San Bernardo Hill. At the top you will be treated to beautiful views of the city below.
Salta is also an excellent city to visit because it is the best place to base yourself to explore the Jujuy and Salta provinces which are full of adventures in beautiful scenery. A day trip to the Salinas Grandes (salt flats) is a must.
For a guided tour of Salinas Grandes from Salta, click here.
Ushuaia
Another city that would hardly make it to a post about the best cities in South America, Ushuaia is more about the surroundings than the city itself. The getaway to the magnificent Tierra del Fuego, Ushuaia is the perfect base to explore the Tierra del Fuego National Park, where you can ride the Fin del Mundo train, and also embark on several hikes of varying difficulty levels. For more hikes, you can go to Laguna Esmeralda or the Cerro Guanaco.
Departing from the city harbor on a regular basis, tours of the Beagle Channel provide many opportunities to admire wildlife, including various species of penguins; whales; seals and sea lions.
You can book your boat tour of the Beagle Channel here.
Other places you can explore from Ushuaia include Cabo San Pablo, a lesser known place best visited on guided tours; Estancia Rolito and Estancia Haberton; and Martial Glacier.
Best cities in Uruguay
Colonia del Sacramento
Colonia del Sacramento well deserves to be included in the list of best cities in South America. Founded by the Portuguese in 1680 on the estuary of the Rio de la Plata, Colonia is a UNESCO World Heritage Site that has managed to retain its colonial charm and is a pleasant place for a walk along the cobbled alleys. Make sure to spot the tiny Calle de los Suspiros and head to the lighthouse for incredible views. A walk around town will reveal many charming buildings and lots of vintage cars too.
Many visit Colonia on day trips from Buenos Aires or from Montevideo, but if you have a chance opt to stay at least two nights as the atmosphere is especially pleasant when the largest groups of tourists leave.
You can book your day trip to Colonia from Montevideo here.
Montevideo
The capital of Uruguay isn't often selected among the best places to visit in South America. To be fair, the city isn't that special – not when you compare it to other cities in South Americas such as Buenos Aires, Lima or Cartagena. What makes it a fun place to visit is the atmosphere: Uruguayos are truly friendly, welcoming people and the city – though buzzing with life – is much more slow paced (and less chaotic) compared to other capitals in the continent.
Having said that, there certainly is a good selection of things to do in Montevideo. Don't miss the Plaza Indipendencia, home to the Palacio Estevéz and the Puerta de la Ciudadela. You will also want to see the Palacio Salvo, once among the tallest buildings in South America. Another must see is the Ciudad Vieja (Montevideo Historic Center). You should also plan to have lunch at the Mercado del Puerto – though this is definitely not a good option for vegans and vegetarians!
For a chance to spot some local life during the weekend, make sure to also go for a walk – or a bike ride – along the Rambla.
To make the most of Montevideo, you may want to join a guided tour. For a tour of the Ciudad Vieja, click here. For a sightseeing tour, click here. For a guided tour of Palacio Salvo, click here.
Best cities in Brazil
Rio de Janeiro
Nobody would dream of writing a post on the best cities in South America and not include Rio de Janeiro – and there's a good reason it is known as the Cidade Maravilhosa (marvelous city). While the most famous landmark in the city is by far the massive statue of Christ the Redeemer (where you can get by cog train), there are many more interesting places to visit that you should not miss.
Get your tickets for Christ the Redeemer here.
You certainly shouldn't miss the Sugar Loaf – one of the many granite mountains that sprout along the gorgeous coastline of Rio.
Get your cable car tickets to visit the Sugar Loaf here.
Copacabana and Ipanema beaches are other must-see, and so is the staircase Escadaria Selarón. And don't forget the Carnival – by far the most famous in the world.
One thing you should be aware of when in Rio is safety. The city is known for petty crime, so watch out for your belongings at all times and make sure not to flash them around!
To make the most of Rio de Janeiro, you may want to book a guided tour. For more information click here or here.
São Paulo
*Contributed by Paula, Paula Pins the Planet
Anyone exploring Brazil should visit Sao Paulo. The city is large but also very unique, with plenty of easy day trips from Sao Paulo that you can enjoy the beach, or a quiet farm lifestyle just less than a 1-hour drive.
While you may feel overwhelmed and intimidated with the size of the city, there are plenty of places to visit in Sao Paulo, such as the amazing Parque de Ibirapuera where you can enjoy the green spaces, well crafted with gardens and many attractions including museums, right in the middle of the busy city.
Other famous landmarks in Sao Paulo you cannot miss are the Mercado Municipal, where you can see and try a large variety of local fruits and food, and walk the Paulista Avenue and enjoy the hundreds of local shops, restaurants, and many museums along the way.
Best cities in Guyana
Georgetown
One of lesser known places to visit in South America, Georgetown, the capital of Guyana, enjoys a fun Caribbean atmosphere and is full of character. the best thing to to there is visiting the many local markets – Bourda Market is perfect for fresh produce; Starbroek Market is known for its cast-iron building and the clock tower and which dates back to the 1700s (though the current structure was built in 1880).
Georgetown St. George's Cathedral is the most impressive building in the capital: the sheer white church was completed in 1892 and built in Gothic style. Other places to visit include the Botanical Gardens; and the small National Museum and Anthropology Museum.
Pin It For Later!