Countless travelers each year pick Israel as their holiday destination. This small country in the Middle East is a place of unique beauty, and its complicated history and culture only add to the charme. I have been to Israel countless times and go every few months. I regularly drive there – either rent a car or drive my friends' cars. Driving is certainly a fun way of exploring.
Driving in Israel is, for the most part, safe and easy. I am from Italy and as such I am certainly more accustomed to a driving style that is more similar to that of Israelis; but if you are coming from another country where drivers are more respectful of rules, it will help knowing what to expect when driving in Israel.
I thus thought I'd help and put together a post and share a few tips that are based on my personal experience.
Already convinced you want to drive in Israel? Check out the prices of car rental here.
Make sure to read my post A Guide To Renting A Car In Israel. Not sure where to go in Israel? Head over to my post The Best Places To Visit In Israel.
What You Must Know About Driving In Israel
Driving in Israel is on the right
Like most countries, drivers in Israel drive on the right, so if you're coming from a country where you're used to driving on the left, this is something to take into consideration because the driving can be tricky no matter what side you're used to!
Roads are good, for the most part
Roads in Israel are excellent for the most part. Highways are mostly toll roads. They connect the main cities so getting around is quick and easy. The country is actually quite small – it only takes 6 hours to drive from North to South! – and there are actually very few highways you need to learn about when planning your road trip.
Chances are that for the most part you will be driving along highway 1, which connects Tel Aviv to Jerusalem. This can be heavily trafficked during the week, and even on Saturday evenings as people return to town after Shabbat. Most apps (more about that in a bit) would tell you if there's a traffic jam / lots of traffic, so you can plan to travel at a different time. Or else, you can simply take the central lane, which is a fast lane. However, keep in mind this comes at a cost, as there is a toll for that (and it can go up to $20 USD for a drive that is ultimately quite short).
Other highways you may be driving along are highway 2, which follows the coast from Tel Aviv to Haifa, and highway 4 which follows also goes south to north, from the Gaza strip all the way to the Lebanon border, but is a bit more inland.
There's also highway 6, which goes from Jerusalem all the way to Rosh Hanikra.
Secondary roads are generally in good conditions too, but you may find they are way windier!
Israeli drivers are merciless
While the highways in Israel are very efficient, the same can't be said for many of the drivers who use them. While driving is generally safe if you're alert, prepared, and familiar with the rules of the road and what to expect while driving, tourists occasionally get into accidents and that's because they don't know how to deal with Israeli drivers.
Israeli drivers tend to drive fast and are generally impatient and aggressive behind the wheel. It's not uncommon to see cars tailgating, passing where they shouldn't and weaving in and out of traffic. Turning signals are rarely used while horns seem to be blaring constantly. To me, that's not a big deal at all. But I live in Italy, and we have a reputation for being just as bad behind the wheel. You, on the other hand, may need some time adjusting to this style.
Road signs come in multiple languages
In Israel, the center lines are white instead of yellow like you're probably used to if you are traveling from North America, and most traffic signs are multilingual with English being one of the languages used. That's for main signs, at least. If you are in the city, parking signs – the ones that explain whether it is safe / allowed to park in a specific spot – are typically only in Hebrew, meaning that if you can't read them you may well end up getting a fine.
My friend and I once stared at a sign for a good while before stopping a local and asking to please translate the meaning for us!
Rules of the road in Israel
The rules of the road in Israel are pretty straightforward. Seatbelts must be worn at all times; using a cell phone while driving is prohibited unless it's hands-free and headlights must be on at all times when driving on intercity highways between November 1st and March 31st. There's no right turning at red lights either (something I have only seen in North America, to be fair!).
All vehicles are required by law to be equipped with a yellow reflective vest to be worn any time you have to exit on the side of the road and in case of an emergency, you dial 100.
Also remember that if you're planning to drive like the locals, it doesn't come without risk from the authorities because many traffic lights are fitted with equipment that can photograph your license plate and record your speed. The last thing you want to get in the mail upon returning home is a speeding ticket!
All in all, you'll likely have the most trouble driving in the cities where traffic tends to get congested, and the streets can be very narrow compared to what you may be used to. Driving outside the major cities is a lot more relaxing. The roads are very well-maintained with good signage and potholes are rare.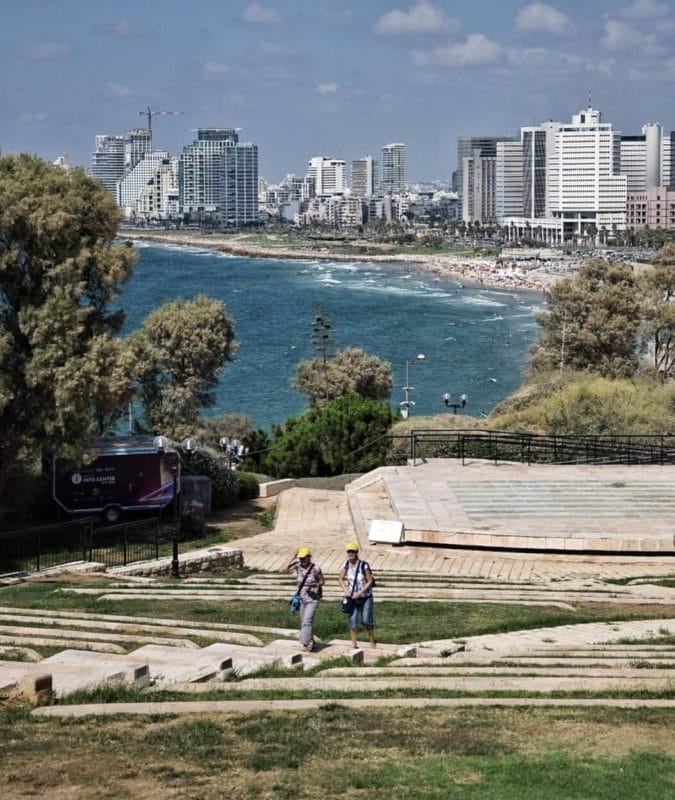 Parking in Israel
Parking in Israel is color-coded in many areas. The main thing you need to know is that red and white means you can't park there at all and blue and white means you have to pay a fee to park there. The most difficult places to find parking are in the cities – but if you are prepared to pay it is not so bad. If you're lucky to find a spot on the curb that has no markings, you can park there for free. Otherwise, you'll be looking at paying by the hour in most parking lots.
If you decide to drive in Tel Aviv, be prepared to spend up to $20 USD per day to park in the city. Beachside hotels typically have an underground parking lot – you may want to double check that upon booking.
The prices and conditions for parking in Jerusalem are pretty similar, except traffic in my experience is even worse (the streets are all really narrow) and parking even more of a nightmare. Not to mention, it looks like the road police is super keen on giving parking tickets there.
There are some free parking lots in Jerusalem including the Gan Hapa'amon Parking Lot and two Park and Drive lots. In Nazareth, you can park for free at the parking lot next to Derech Ariel Sharon or along Tawfiq Ziad Street. Sometimes malls will reimburse parking fees if you present a receipt as proof that you shopped there. It's free to park in national parks.
Gas stations in Israel
First of all, gas is super expensive in Israel. At the time of writing, a liter costs $2.15 USD (that's €1.90 or ILS6.92 Israeli Shekels). That means paying around $8 USD per gallon.
The most confusing thing about filling the tank at an Israeli gas station is that everything is in Hebrew. Once again, my friend and I stared a good deal at the sign before deciding that the color code was the same as in Europe and we could safely fill the tank. We honestly took our chances and I don't suggest doing the same! In fact, either ask some other customer to translate for you, or simply ask an attendant to fill your tank.
In theory, you should be able to pay by card. That is definitely easier if you pay the attendant. Otherwise, if you use a self-service pump, it will be infinitely easier to pay cash (and this will avoid the extortionate foreign transaction fees).
When it comes to finding a gas station in Israel, good luck! I honestly don't remember seeing one in Jerusalem, ever. I've seen a few scattered around Tel Aviv. They are definitely easier to find on the highway, though less common in lesser populated areas (for example if you drive towards Eilat or Be'er Sheva, through the Negev Desert). If you are planning a long journey, plan to fill in the tank any time you find a station.
A gas station is also located inside Ben Gurion Airport.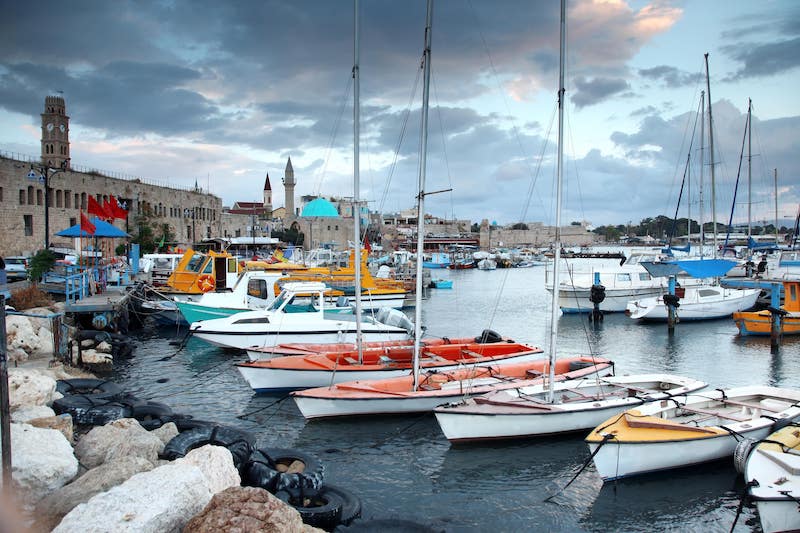 Useful apps when driving in Israel
In these modern times, we have so many tools available at our disposal to help navigate everyday life and when it comes to driving in Israel, there's an app for that. Actually, there are many.
Parking around the country can be made easier with the help of several apps including Cellopark, Citypark, Where did I Park, Tweet Park, Pango and Kachol Lavan.
Other apps that help make driving around Israel easier include iOnRoad, TourPal, TireCheck and Moovit. Waze is one of the most popular driving apps because it allows users to share traffic information in real time. Whether you want to find the fastest route to get somewhere, check your tire pressure or make sure you haven't had too much to drink before you get behind the wheel, there's an app that has you covered.
Further Readings
Are you planning a trip to Israel? These posts will be useful:
Pin It For Later!