Tel Aviv is my second home – the place I go to whenever I can, and that I never tire of. You see, there are so many things to do in Tel Aviv, so many places to visit, that you could spend weeks there and never get done exploring. But more than anything else, what you'll love about it is the friendly vibe, the easygoing atmosphere, the feeling that there always is something fun, something interesting happening.
Tel Aviv to be lively yet chilled; political yet welcoming. It is the kind of place where it's virtually impossible to get bored.
Tel Aviv is a fantastic summer destination if you like the idea of basking in the sun and swimming in the sea (though I warn you, the heat is fierce). The rest of the year, you will find plenty of other things to do – including hanging at the beach, which is a locals' favorite hangout place.
Curious to find out more about this incredible city? Let me tell you everything about it!
23 Best Things To Do In Tel Aviv
Go on a city tour
To get a proper introduction to what Tel Aviv is all about, going on a city tour is a good idea. A good walking tour will hit most of the places to visit in Tel Aviv, such as the Tel Aviv Museum of Art; Habima Square and the Helena Rubinstein Pavilion; Rabin Square and Rabin Memorial; Reading, the old power station; Rothschild Boulevard and even the beaches and the waterfront. A fun way to explore the city is that of going on a segway tour of Tel Aviv.
For a guided tour of Tel Aviv architectural highlights, click here or here.
Visit one of the many museums
If you want to get to know the city better and fully appreciate its cultural life, make sure to visit one (or all) of its museums. Here are some you may be interested in.
TEL AVIV MUSEUM OF ART – The largest museum in town has a fantastic collection of local and international art and has recently opened a new wing. The square where it is located is one of the nicest in town.
HELENA RUBINSTEIN PAVILLION – Located between Tel Aviv Museum and the small but lovely Gan Yaakov Park, this is a prominent museum of contemporary art.
BEIT HATFUTSOT: THE MUSEUM OF THE JEWISH PEOPLE – Located in Ramat Aviv, in the campus of Tel Aviv University, this incredible museum will take you through centuries of Jewish history and diaspora.
ERETZ ISRAEL MUSEUM – An archeology museum located in Ramat Aviv and also known as the Museum of the Land of Israel.
NAHUM GUTMAN MUSEUM OF ART – Entirely dedicated to Nahum Gutman, one of the most famous Israeli artists. The collection is great, and the building where the museum is located definitely worth checking out too.
RUBIN MUSEUM – In Bialik St, it's dedicated to the life and art of Israel's most influential artist.
BAUHAUS MUSEUM – This small gallery located on Bialik Street will help you get a better understanding of the Bauhaus architecture that gained Tel Aviv the nickname of White City.
BIALIK HOUSE – A small museum dedicated to the most famous Israeli poet, Hayim Nahman Bialik, in what used to be his house. Of course you won't understand much of his poetry if you don't speak Hebrew or Yiddish, but you can still browse around the lovely building and some information is available in English.
BEIT HA'IR MUSEUM OF ART – A small art museum across the street from the town hall and facing a lovely small square.
Bike around
Tel Aviv is extremely bike friendly, and pretty much everyone in Tel Aviv goes around by bike (or by scooter, locally known as korkinet). Biking lanes connect the entire city, and bikes can be rented at pretty much every corner in town and at any good hotel or hostel. Once you can get hold of a bike, head to the beach front and follow the bike lane north to get to the old Reading power station; or south to make your way to Old Jaffa.
You can book your bike tour of Tel Aviv here or here.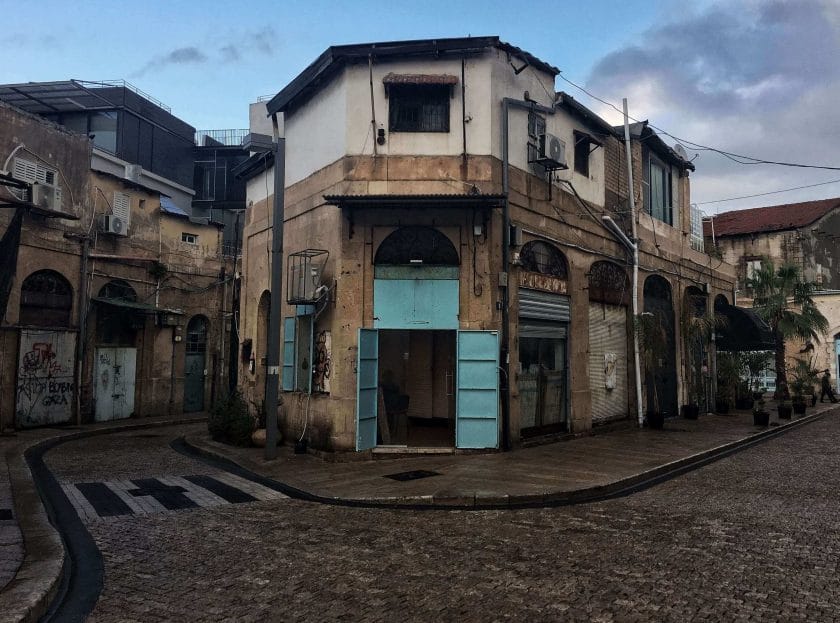 Explore Old Jaffa
Old Jaffa is considered part of the greater Tel Aviv area, and one of the best places to visit in Tel Aviv. Wander around the narrow alleys of Old Jaffa; pass by the Clock Tower, the Flea Market, the Wishing Bridge, Andromeda's Rock and Al-Bahr Mosque. Jaffa Port is an incredibly cool place to visit during weekends, when Tel Avivians crowd its many fabulous restaurants.
There are daily free walking tours of Old Jaffa that depart at 11:00 am and 2:00 pm from the Clock Tower. You'll have to tip the guide. Alternatively, you can join a private tour such as this one.
Walk around some cool neighborhoods
I can't quite decide what my favorite area of Tel Aviv is. I love Levontine and its low key bars and restaurants, the music scene and the interesting buildings – so decadent yet so charming. Florentine and Lev'Hair are my go to areas for a night out, as there is an incredible choice of pubs and bars.
And Neve Tzedek, Tel Aviv's oldest neighborhood, is the perfect place for an afternoon hang-out, with its cute coffee shops and boutiques. In doubt, I recommend walking around all neighborhoods.
Observe the beautiful Bauhaus architecture
In 2003, Tel Aviv White City was declared UNESCO-rated for its beautiful Bauhaus architecture. This style was implemented throughout the city by architect Sir Patrick Geddes in the 1930s and 1940s. The architects who designed the buildings believed in egalitarianism and carried socialist ideals – hence the flat roofs of the buildings, thought to be communal areas for the residents. Of the original 4000 Bauhaus style buildings of Tel Aviv, only a few hundreds have been restored.
Taking a guided Bauhaus tour is is a great way to admire this interesting architectural style. You can book it here. You can even go on an architecture walking tour which you can book here.
Wander around in search for street art
Street art in Tel Aviv is pretty much anywhere. You'll find a lot of it in Old Jaffa; you'll come across some great pieces in Levontine. Yet, the biggest surprise in terms of street art is the new bus station in HaHagana. Hardly considered a must visit in town, this incredibly intricate building (it's so easy to get lost inside) is fun to explore in search of street art. Plan to go even if you don't have to catch a bus. Or else, go on a guided tour.
For the best graffiti tour of Tel Aviv, click here.
Go to the beach…
Mark the words of an expert – I come from Sardinia after all, and I know what a good beach looks like. Tel Aviv is blessed with really good urban beaches. Whether for a simple walk along the waterfront during the fall or spring season, or a dip in the clear Mediterranean waters when the temperatures rise, going to the beach is one of the best things to do in Tel Aviv for either fun and relaxation. Many of them them are also pet-friendly!
f you manage to swim across the waterbreak lines, you'll get a fabulous view of Jaffa from the water.
Make sure to read my post 15 Great Tel Aviv Beaches.
…to the pool…
If you happen to be in Tel Aviv during the summer months (you'll be happy to know that summer drags alone for quite a few months here), plan to spend a day at Tel Aviv coolest open air pool. Gordon Pool is right by Gordon Beach, at the very beginning of Tel Aviv waterfront's walk.
This fabulous swimming pool is a dream of all swimmers. It's a 50 meters long open air pool filled with sea water at just about the perfect temperature for swimming. It is great for training but also perfect to hang out on a hot day.
Access to Gordon Pool is around €20 ($20 USD) for a full day, and with that can use the changing facilities, showers and a locker, as well as to the loungers by the pool.
… or to the park
Park Hayarkon is a great urban oasis in Tel Aviv and the place to go to for a family picnic, biking, running, climbing (yes, there's a climbing wall!) etc. It's a great place to hang out during the weekend.
Not far from it, Tel Aviv Old Port – called Namal – is a fantastic waterfront with a boardwalk, restaurants, cafés, art galleries and much more. It's a great hangout spot at weekends.
Hang out in Dizengoff
Meir Dizengoff was the first mayor of Tel Aviv, and he has an entire area of town dedicated to him, starting with Dizengoff Square, home to a beautiful Fire and Water fountain designed by Yaacov Agam, one of the most famous Israeli artists; a lovely boulevard lined with cafés, restaurants and shops; and even a massive shopping mall called Dizengoff Center with which locals have a love-hate relationship. The latter was built in such a way to push visitors to go around in circles and thus spend more time looking at shops. Many however complain that they simply get lost there!
Admire a fabulous sunset
Tel Aviv is a perfect place to stare at the sun setting on the horizon and dipping into the Mediterranean. Make sure to note down the sunset time and walk to the waterfront to enjoy the show.
Get the buzz of Carmel Market
Markets are the perfect place to observe a bit of local action, and to learn more about the culture of the city and country you are visiting – whether through the items on sale (food does say a lot about a country!); or through the behavior of people at the market (do they bargain the prices? Do they yell for attention?).
Markets are also where to go in search cheap yet tasty street food. The place to do that in Tel Aviv is Shuk HaCarmel – aka Carmel Market, in the Yemenite Quarter Kerem HaTeimanim.
You can easily explore the market independently. If you feel you need guidance, consider joining this guided tour. For an alternative food and culture experience in Tel Aviv, click here.
Make sure to read my post A Complete Guide To Israeli Food.
Have a fabulous brunch
When it comes to breakfast, Israelis take it to a whole new level. Salads, bread, tahini, eggs and what not are ever present at any proper breakfast table there. In Tel Aviv, breakfast (or better, brunch), is the most important meal. It is the perfect way to kick off Shabbat, apparently, and there's a wide range of fantastic restaurants that are famous for their amazing brunches.
The best places for brunch in Tel Aviv are Café Sheleg, on Ge'ula street almost at the corner with Allenby: it's a small, quaint café where you'll get a fantastic local vibe. Alternatively, try Benedict, which has several locations around town (I tried the one on Rotschild) and serves breakfast 24/7.
Get stuffed on hummus…
Food in Israel is simply delicious and actually very healthy. There's an abundance of vegetables and salads, and a great selection of vegetarian and vegan food. In fact, Tel Aviv is considered one of the best cities for vegan travelers. Whether you are vegan, vegetarian or not, you have to get stuffed on hummus. The best hummus in town is at Abu Hassan, in Old Jaffa.
Make sure to read my post Tel Aviv Vegan Food Guide – The Best Vegan Restaurants In Tel Aviv.
… then burn it off
People in Tel Aviv stay fit by biking, running, walking their dog, surfing – fun to go throughout the year, though don't expect a massive surf, swimming, playing beach volley and matkot – a popular game similar to beach tennis. You should join the locals, and do the same!
Go shopping
The beautiful boutiques scattered around Tel Aviv are very tempting. Whether looking for the latest trends or for vintage clothing, shopping is one of the things to do in Tel Aviv when wanting to splurge some cash.
If you want a local shopping experience, go to the already mentioned Dizengoff Center. Shops aren't honestly that great, but the architecture of the mall is interesting. If you are looking for luxury items, shopping in Neve Tzedek is one of the nicest (and most expensive) things to do in Tel Aviv.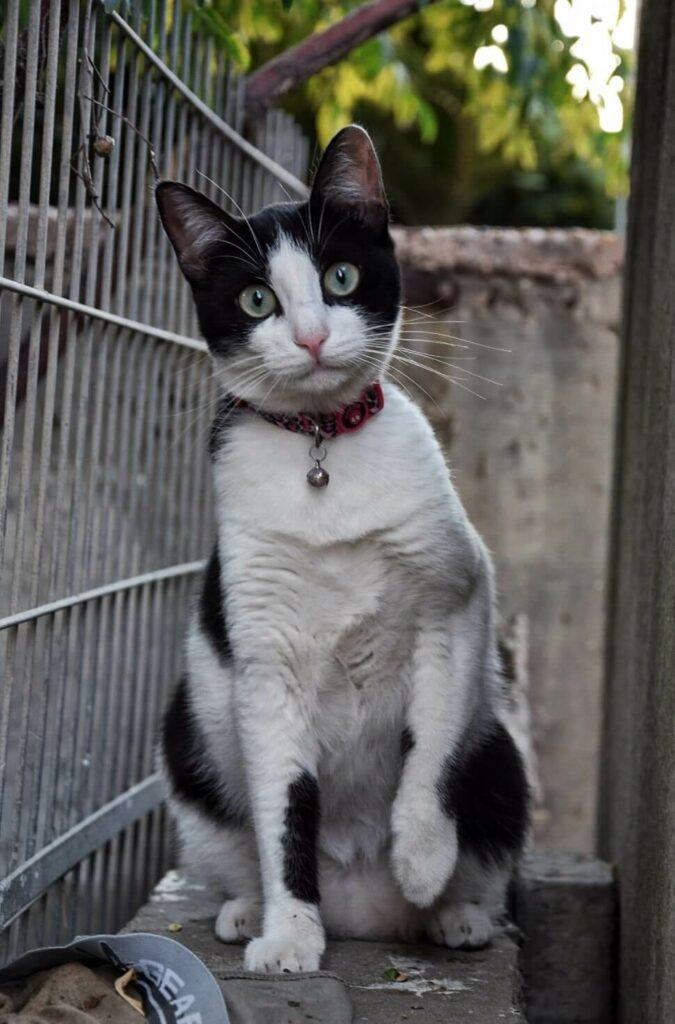 Pet all the cats
The fun thing about Tel Aviv is that there are a lot of cats around. Many are strays and the locals take care of them, paying for their health care and food expenses. If you love cats as much as I do, you'll have a blast stopping and taking photos of the many strays and petting them. Some are incredibly shy, but there are some who are very human-friendly.
Go on a pub crawl
Even if you aren't really a drinker, you have to make the most of the bar and pub scene in Tel Aviv, which is absolutely legendary!
Not sure where to start? Join a pub crawl such as this one.
Enjoy the vibrant nightlife
Tel Aviv nightlife is so much fun that you have to make it a point to go out. Sputnik and Radio are among the most fun places – although I shall warn that they are very smokey. Other cool places are The Great Synagogue, just off Allenby, and Port Said. Either way, enjoying the city's incredible nightlife is one of the things to do in Tel Aviv.
Go to a festival
Among the unmissable things to do in Tel Aviv there's attending a festival. Not a month goes by in Tel Aviv without one taking place. Whether it is a cultural event, a concert, or a huge parade there's always something going on and it would be a pity to miss it if in town.
If you happen to be visiting Tel Aviv in June, make it a point to attend Pride. Tel Aviv is the Middle East's LGBTQ capital, and the event is absolutely huge. Anyone is welcome to attend.
Hang out at a fantastic hostel
As one of the best destinations in Israel, there's no lack of great hotels in Tel Aviv. If you are more of a hostel kinds of person check out Abraham – I stayed there a bunch of time and enjoyed is. Another friend loves Little Tel Aviv, because it's smaller and quieter.
Don't go to Tel Aviv thinking that a hostel is just a place to sleep, though! Hostels here have been taken to a whole new level, becoming incredible meeting points for artists and musicians; places where you can enjoy a drink, a concert, an art exhibition and even a traditional meal, and that welcome both locals and tourists.
Looking for more information? Read my posts:
Get out of the city
Tel Aviv can be incredibly intense at times. There's a lot of traffic on weekdays, and it does get very hot in the summer. So, getting out of the city is a great way to recharge your batteries.
Getting out is really easy – you can count on buses, trains, collective taxis (known as sherut), car rental which is actually very cheap, and of course guided tours.
One of the best day trips from Tel Aviv is to the Masada, Israel's most beloved archeological site, and the Dead Sea. Jerusalem is at only 45 minutes drive from Tel Aviv, but unless you are stuck on time it honestly deserves way more than just a day. Haifa and Akko up north are easy to reach; you can also go for a hike to the Golan Heights or even visit the holy places in Galilee. Looking to get off the beaten path? Head to Netanya, at just 20 minutes north of Tel Aviv, or hop on a train to Be'er Sheva.
For guided tours to the Masada, click here. Looking to go to Jerusalem and the West Bank? Click here. For guided tours to Haifa, Akko and Caesarea, click here.
Check out my post The 13 Best Day Trips From Tel Aviv.
Further Readings
If you are planning to visit Israel, make sure to check out my other posts:
Pin It For Later!