The Italian capital is known to be one of the most expensive cities in the world, but did you know there actually are many free things to do in Rome?
That's right! Even if you are a budget traveler traveling to Rome on a shoestring, you are bound to be able to visit many incredible places without having to pay a single cent.
All it takes is knowing where to go – and when (indeed, some of the best museums in Rome, as well as other landmarks, are free to visit certain days of the month).
Curious to find out more? Continue reading for a selection of the best free things to do in Rome.
The Best Free Things To Do In Rome
Hit up the Pantheon
This may be surprising to you, but one of Rome's most famous monuments is actually free to visit. You don't have to spend a load of cash on tickets to big attractions during your stay here, as shown by the free admission to the iconic Pantheon.
This 2,000-year-old temple-turned-church is one of the best-preserved ancient monuments in the whole city. It was completed in 125 AD during the reign of Emperor Hadrian, and sits on the site of an even older temple, constructed by Marcus Agrippa in 27 BC. Expect to be wowed.
Read my posts A Guide To Visiting The Pantheon and The Most Famous Landmarks In Rome.
JULY 2023 UPDATE: As of 3 July 2023 there is a €5 admission fee to visit the Pantheon. While this is no longer one of the free things to do in Rome, it definitely remains very budget friendly!
Take time out at the Trevi Fountain
Another of Rome's many world-renowned monuments, the Trevi Fountain is, of course, free to see for anybody who strolls past. It's the largest baroque fountain in Rome and marks the terminus of three ancient roads but is perhaps more well known for its connection to the 1953 movie Roman Holiday, starring Audrey Hepburn and Gregory Peck.
Visit and take part in the legend that says if you throw a coin into the fountain – backwards, over your left shoulder with your right hand – you'll return to Rome. All the coins get scooped up and given to charity annually.
Check out my post The Most Beautiful Fountains In Rome.
People watch at Piazza Navona
One of Rome's most famous public spaces, Piazza Navona lies in the boundaries of what was once the Stadium of Domitian which was built in the 1st century AD. This vibrant piazza has long been a place of gathering for local Romans.
Make sure to spend some time here at different parts of the day; before it gets crowded by tourists around mid-morning; in the afternoon when it's busy with street performers; or head here after dark, when the piazza and its exquisite fountains are illuminated. During the festive season, a Christmas market takes place here.
Head over to my post A Quick Guide To Piazza Navona.
Check out the ancient walls of Rome at Museo delle Mura
Another of Rome's ancient wonders that can be visited for free is the Museo delle Mura, or Museum of the Walls. This archaeological site is situated inside the Porta San Sebastiano, an imposing gate to the city that has been standing for almost two millennia.
The museum offers up an insight into the Aurelian Walls through time – from medieval inscriptions all the way to Fascist-era mosaics. Here you can learn about construction techniques, who built them, and even walk along some of the best-preserved parts of the wall itself.
Discover the Via Appia Antica
Leading from the Porta San Sebastiano is the Appian Way, one of the most important Roman roads, which once led to Brindisi on the southeast Adriatic coast. Founded between 312 and 264 BC, long stretches of the road are still intact and traversable by foot.
The Rome portion of the road is now part of a nature and archaeological park (Parco degli Acquedotti, pictured above), so strolling along this almost impossibly old thoroughfare makes for a beautiful day out.
The best time for a stroll is the weekend, when it's a pedestrian-only affair – you'll see locals, visitors, dog walkers, and joggers enjoying this storied highway.
Soak up the atmosphere at Campo de' Fiori
South of Piazza Navona is yet another of Rome's main squares – the Campo de' Fiori. Originally a rustic field – hence the name "field of flowers" – the area was developed into what it is today by Pope Callistus III in 1456.
Once a place of public executions, today the piazza is a popular spot for browsing the market that takes place here for flowers and fresh produce. It's thought to be one of the oldest markets in the city, and you'll find it happening every morning (except Sundays). While there, make sure to take a look at Giordano Bruno's statue too!
Read my posts A Short Guide To Campo De' Fiori and The Nicest Markets In Rome.
Be amazed at the masterpieces in the Church of Santa Maria del Popolo
Among the many free things to do in Rome is visiting the churches – there is no fee to go in! One of Rome's many beautiful churches you should make sure to pay a visit to is the Church of Santa Maria del Popolo.
Consecrated in 1477, the church – like many in Rome – is gorgeously decorated inside, and is also home to a number of centuries-old paintings and sculptures by artists such as Bernini, Raphael, and Caravaggio.
That means you don't have to pay the entrance fee for an art gallery to see some incredible masterpieces. Legend has it that Emperor Nero's troubled ghost once tormented the population of Rome around this area.
Head over to my post The Most Impressive Churches In Rome.
Stroll up the Spanish Steps
The Spanish Steps are probably one of the first places you might visit as you're strolling around the city. This famous stairway consists of 135 steps and first opened in 1725. It's a lively, bustling area, where you can soak up some of the atmosphere of the city.
You can also climb the steps themselves and reach the Convent of Trinità dei Monti, an impressive late Renaissance church packed full of stunning works of art and frescoes. It's truly worth your while to step inside this hallowed church for a peek at the amazing decorations adorning the walls.
Make sure to read my Complete Guide To The Spanish Steps.
Take a breather at the Orange Garden
The Giardini degli Aranci, or Orange Garden sits atop the Aventine Hill. This public garden lined with orange trees is the ideal spot for getting some great views of the city from up high. Stroll its manicured, sun-dappled pathways, choose a bench near the edge, and take it all in.
If you're a fan of sunsets, then you should definitely visit just as the sun is beginning to go down – they're beautiful from here. Aside from the views, the Orange Garden is drenched in history – for example, legend has it that Saint Dominic brought the first orange trees to the garden from Spain.
Make sure to read my post Where To Get The Most Impressive Views Of Rome.
Take a peak at St. Peter's Dome
A short distance from the Orange Garden you'll find the Knights of Malta Keyhole. It literally is just that – a keyhole. But you can peep through it to admire one of the most incredible views of St. Peter's Dome – and it is completely free.
You may find a short line but it moves rather quickly: most people take a look, marvel at what they see (the sight of the Dome at the end of the hedge row is impressive) and walk away. Catching this view on camera is actually quite hard.
It took me several tries with different settings on my DSLR to get the modest-quality photo you see above, and catching it with a smartphone is virtually impossible. So, unless you are a photography geek, just go to enjoy!
Read my post The Most Hidden Gems In Rome.
Enter a world of sculpture at the Hendrik Christian Andersen Museum
You wouldn't immediately associate a Norwegian sculptor, painter, and town planner with Rome, but that's before you step inside this museum. Travelling to Europe to study art in 1893, Andersen settled in Rome, where he eventually died. This palatial museum is set in his former home, Villa Helene, which he later left to the city, along with his sculpture collection.
It's free to enter today and is something of a hidden gem – walking through the rooms here is an otherworldly experience like walking through a forest of (all very different) statues. Don't expect to see many other people here.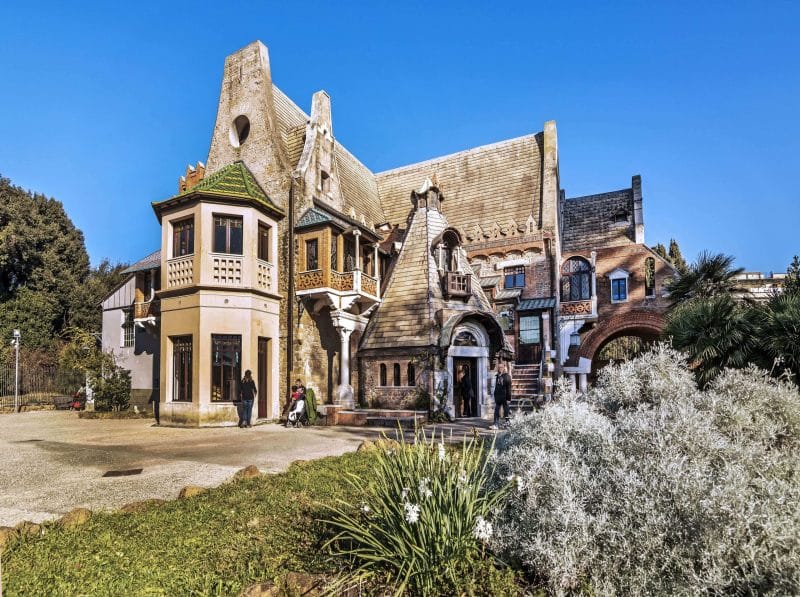 Admire the quirky architecture of Casina delle Civette
Translating to "House of the Little Owls", the Casina delle Civette is an architectural oddity that was designed by Giuseppe Jappelli in 1840 in a Swiss hut style. Originally intended as a garden refuge for Prince Alessandro Torlonia, its subsequent owner – Giovanni Torlonia – turned the house into a medieval town.
The result is a crazy mix of Art Nouveau and Liberty style, with stained glass, wood planking, marble sculptures, stucco, and wrought iron. It's free to visit this architectural concoction and is a must for those who like their destinations a little more off the beaten track.
Discover the magic of Quartiere Coppede
Speaking of quirky architecture, there's also the Quartiere Coppedé. This slice of the city, which is made up of 26 small palaces, sits between Via Salaria and Via Nomentana in the Trieste district.
Packed full of architectural intrigue, here you'll find an incredible mix of styles, from Gothic and Baroque to Greek, Gothic and Medieval – a bizarre combination that somehow works.
This fairytale nook of Rome was the pet project of architect Gino Coppedé, who constructed the area between 1919 and his death in 1927. Stroll and find fountains, compact piazzas, and filming locations (for The Beatles, among others).
Meander down Via Margutta
In the center of the city is the small but interesting Via Margutta. Although narrow and fairly short, the history of Via Margutta dates back for centuries, but it's the street's more recent history that attracts visitors to this day.
As well as being home to craftsmen and workshops, which attracted painters like Rubens and composers such as Debussy and Liszt to visit and settle in the street, Via Margutta was also the location for Gregory Peck's apartment in Roman Holiday.
Today it's a relatively exclusive area, with art galleries and chic restaurants, but it's the picturesque nature of the street itself that will appeal to most visitors.
Find Michelangelo's Moses
If you want to see a very famous statue, then simply head on over to the lesser-known Church of San Pietro in Vincoli, which you'll find in the heart of the village-like district of Monti. Here you'll find Moses, a Michelangelo masterpiece, but one that is often skipped over by tourists to the city.
The statue itself is an enormous 2.35 meters tall and was commissioned by Pope Julius II in 1505. Initially, the statue was intended as a funerary monument for the pope, but after some disagreements, the statue went to this church instead of Saint Peter's Basilica.
The statue is renowned for its realism – so real, in fact, that (according to legend) Michelangelo ordered the statue to speak once he'd completed it.
While the church is free to enter, it observes opening hours for tourists: from 8:00 am to 12:30 pm and from 3:00 to 7:00 pm daily.
Head over to my post 30 Statues In Rome You Must See.
Stop to smell the flowers at Roseto Comunale
Sometimes you need a break from seeing big ticket attractions, imposing architecture, and centuries-old statues, and that's where the Rome Rose Garden comes into play. Open for a few months per year (when the roses are in bloom), and completely free for the public, here you'll find over 1,100 varieties of roses to admire.
The park was opened in 1931 and sits on the Aventine Hill. As well as permanent collections of roses, you'll also find extravagant flowerbeds created for competitions, heart-shaped trellises. It's situated on the grounds of what was once a Jewish cemetery, and the layout of the gardens remembers its origins, with paths shaping a menorah, for example.
Explore the Jewish Ghetto
The Jewish community of Rome is believed to be the oldest in the world outside of the Middle East. But in 1555 the Pope issued a decree that ordered all Jewish residents of Rome to move to a walled quarter that would be locked at nighttime. The Jewish community had to pay for the construction of this wall.
Stretching from the Largo di Torre Argentina to the River Tiber, this ghetto was constantly flooding and was not a desirable place to live. With the walls torn down in 1888, today the former ghetto is home to the Great Synagogue of Rome, the largest in the city. However, just one section of the ancient wall still stands.
If you have a budget, I recommend joining a guided tour of the ghetto to make the most of it. Otherwise, exploring on your own is definitely one of the top free things to do in Rome.
Pay a visit to Cimitero Acattolico
Situated south of the Aventine Hill, right by the Piramide metro station, visitors will find the sprawling Cimitero Acattolico. Literally the "Non-Catholic Cemetery", this sizeable graveyard is the last resting place of a number of well-known individuals from its founding in 1716.
Among the notable residents of the cemetery are English poets John Keats and Percy Shelley, but you will also find other artists, scholars and diplomats. Part of the Pyramid of Cestius – an ancient tomb built between 18-12 BC for Roman priest Caius Cestius – is in the graveyard.
It's a peaceful place in the city to learn about some of Rome's former residents and for a tranquil meander away from the bustling city. Even Oscar Wilde visited and quipped: "The holiest place in Rome".
While the cemetery is free to visit, you may be invited to leave a small donation for its maintenance – a couple of euro will suffice.
Check out the Vatican Museums on the last Sunday of the month
The Vatican Museums are definitely one of the biggest attractions in Rome and make up some of its most visited museums. The incredible artworks that have been collected and gathered here by successive popes over the years is enough to make your head spin – there are around 70,000 artworks with only a portion of those on display.
Although on most days the museums are ticketed, during normal times the Vatican Museums open up their doors on the last Sunday of every month and the enormous collection – yes, including the Sistine Chapel – is available to be viewed by anybody (willing to queue) free of charge.
Explore St. Peter's Basilica And Square
Unless you want to join a guided tour, visiting St. Peter's Square and St. Peter's Basilica is completely free – indeed, this is one of the best free things to do in Rome!
While you can walk around the square as you wish to admire the works of Bernini – the fountains and the colonnade, as well as the obelisk, you will have to line to go through security to enter the Basilica; but the line moves quite quickly.
Once inside, it's simply stunning: Bernini's canopy and Michelangelo's Pietà are just two of the many works of art you will spot there.
Check out my Guide To St. Peter's Square.
Listen to the Sunday Angelus
Each Sunday, at 12:00 pm sharp when the Pope is in the Vatican he addresses the audience in St. Peter's Square in what is known to Catholics worldwide as the Angelus – a 20 minutes speech during which he typically talks about contemporary events and sends a message of love and peace.
You will have to get to St. Peter's Square around 20 minutes in advance – more in the peak season – and line to go through the security to access the square.
Whether you are Christian or not; and even if you don't speak Italian, it's honestly a memorable experience. I am an atheist myself and despite that, listening to him talk was truly moving.
Wander around Trastevere
If you are looking for more free things to do in Rome, simply head to Trastevere. This is one of the most charming, fun neighborhoods in Rome.
Simply stroll around to enjoy the lively atmosphere; enjoy a bite of street food (the best places for that are Trapizzino and Supplì); enter the many churches (Santa Maria in Trastevere is stunning, but don't miss Santa Cecilia and San Cosimato!); and enjoy a round of window shopping.
Climb the Altar of the Fatherland
Most people stop to admire the Altar of the Fatherland – also known as Vittoriano – from the outside. But did you know you can actually go in to catch some of the best views in town?
While taking the elevator to the top floor has a fee – which you pay once there – climbing to the second terrace is completely free, and I can assure you the views of the Colosseum and the Roman Forum from there are just as breathtaking.
Admire Teatro Marcello
Tucked between the Jewish Ghetto and Via dei Fori Imperiali, Teatro Marcello is an open-air theater that was built at the very end of the Roman Republic. Indeed, it was completed in 13 BC. Back then, it was one of the largest theaters in Rome, capable of holding up to 20,000 spectators.
In the 16th century, a building was added right on top of it – in fact, rumor has it that there even is an exclusive bed and breakfast there! You can't visit inside, but you can certainly go around and take a good look. It's one of the coolest free things to do in Rome.
Enjoy a walk around Villa Borghese Gardens
A favorite of locals and tourists alike, Villa Borghese Gardens are a huge 80-hectares park located around the famous Borghese Gallery. There, you will find landscaped pathways, fountains, grottoes, and unique buildings.
It's one of Rome's prime spots for running, but you will also see families having a bit of fun on small golf carts or bikes. It's completely free to enter and a fantastic place to spend a couple of hours during the hot summer days!
Head over to my post The Nicest Parks And Gardens In Rome.
Pin It For Later!